Top 19 Most Popular Foods in Mauritius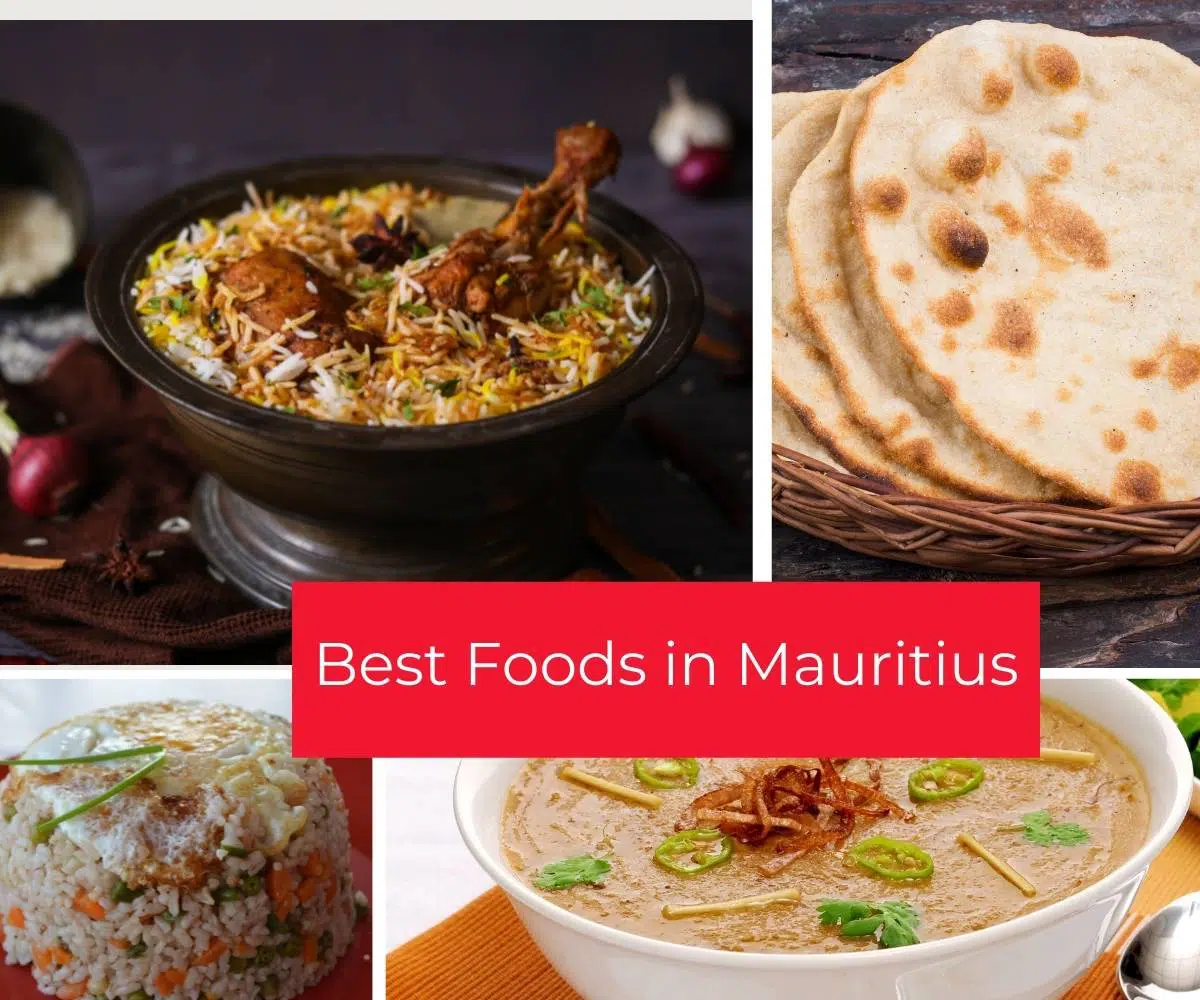 If you wish to discover the culture of Mauritius, you should immerse yourself in the richness of its gastronomy. Incorporating Indian, French, Chinese, and African influences, Mauritian cuisine is one of the most unique fusions of flavors in the world.
Discovering the island and its food
Mauritius is a paradise for the palate and the senses, as the ethnic diversity of the local population is reflected in its cuisine. Officially known as the Republic of Mauritius, this volcanic island is a dream destination due to its climate, the kindness of the Mauritians, and the diversity of its food. Most Mauritians are multilingual, speaking Creole, French, and English.
The island has palm-fringed beaches, turquoise lagoons, and coral reefs surrounding most of its coastline. It is a wonderful country where you can experience a variety of flavors and aromas. The products used in Mauritius are both local and imported. Meat is sourced internationally though venison is local. Seafood is sometimes caught locally but can also come from surrounding islands such as Madagascar.
Let's dig deep into the 20 local dishes that will send you straight to Mauritius, even during lockdown!
1. Bol Renversé (Magic Bowl)
Bol renversé is my favorite Sino-Mauritian dish! Literally translated, it is Upside Down Bowl, but has come to be known as Magic Bowl. It can be ordered in most Asian restaurants.
Magic bowl is rice-based and topped with a sauce which looks like Chinese Chop Suey. It is prepared with oyster sauce and soy sauce and must be accompanied by rice and stir-fried vegetables, usually bok choi, mushrooms (shitake), and carrots. Shrimps, chicken, pork, or thin slices of beef may be added too.
What is amazing about this dish is the structure of the presentation. Each ingredient is arranged in a bowl: eggs are put first, then the sauce, and finally the rice. Having stacked it all elegantly in the bowl, this delicious preparation is then flipped upside-down onto your plate!
2. Mauritian Biryani
This dish is of Indo-Islamic origin and is made of saffron rice with a choice of beef, chicken, or sometimes marinated fish. The Mauritian biryani is prepared with perfumed basmati rice, with a mixture of spices. The smell of cloves, cinnamon, crushed cardamom, star anise, cumin, and saffron will certainly give you Indian vibes! The ingredients are all cooked in a big copper cauldron called a deg. Potatoes and fried onions are added and it is slow-cooked.
The local biryani is a modification of the Indian original, using a different blend of spices to suit Mauritian taste. Sometimes chili and tamarind sauce are added and the dish goes well with cucumber and carrot salad.
3. Dholl Puri
Dholl puri, or dhal puri, is a real delicacy and is loved by tourists and locals alike. It is a dish made of split peas, turmeric, and cumin grilled on a flat disc-shaped frying pan called a tawa. It can be filled with potato or kidney bean curry or rougaille, depending on your taste. Add a hint of pickled vegetables and Mauritian chutney if you are looking for a complete experience!
Dholl puri offers so much flavor in every mouthful! Like all Mauritian dishes, it can be enjoyed with chili! It is often served at Indian wedding ceremonies or, if you didn't get an invite, you can buy this delicious snack wrapped in paper all over the island.
4. Chili Bites
There are few snacks that pay tribute to the island better than the Chili bite. This ball of yumminess is extremely popular with Mauritians and you can buy them from street stalls.
Chili bite comes from the French Gateau aux Piments, in creole Gato Pima. It is not always as spicy as the name evokes. The main ingredient is dhal, onion, and turmeric and it is seasoned with chives as well as sliced green chili. But if you want less of the spiciness, don't add chili. The mixture is formed into small balls and fried until golden.
The best Mauritian start to the day is a warm handful of chili bites with butter and bread. They can also be eaten for lunch along with other fritters, or you can enjoy them as a snack throughout the day.
5. Fish or Octopus Vindaye
Seafood and curry lovers will be delighted by fish vindaye. This dish involves marinating fish with spices, turmeric, mustard seed, and ginger and vinegar. The most commonly used fish is sea bass, tuna, hake, or yellowtail.
Vindaye can be enjoyed as a main course or as a starter with a slice of bread. It may also be stuffed in a baguette. Your choice!
6. Poutou
It is impossible to pass a poutou stall without craving a taste. The aroma of this sweet cake literally titillates your nostrils, so you simply have to buy some! Hot poutous are made with rice and grated coconut. These small soft rice cakes are one of the traditional sweet delicacies that are unfortunately becoming rare in Mauritius. So, if you come across a poutou vendor, know you are partaking in a dying tradition!
7. Boulettes (Mauritian Dumplings)
Steamed dim sum or dumplings are prepared in Mauritian style. They are filled with either chayote, chicken, river prawns, prawns, beef, pork or seafood and various vegetables. They are commonly cooked in a broth.
However, you can also enjoy boulettes without the soup. Mauritians call this version salade boulettes. These small bites can be bought in restaurants as well as from street stalls around the island, especially in the Chinatown area of Port Louis.
8. Mine Frit (Fried Noodles)
Fried noodles are not only popular all over East Asia, but also in Mauritius. The name mine frit is a Cantonese/Hakka combination for noodle, mein, and the French fried, frit. Hence, mine frit is essentially fried noodles cooked Mauritian style.
For this wonderful dish, put fresh or egg noodles in a wok with carrots, cabbage, and other vegetables. Then, add shrimps, chicken, and thin slices of meat. Season with fish sauce, black soy sauce, salt, and pepper, and garnish with fried egg strips. Garlic sauce and chili paste can go in too if you like your food spicy.
9. Gâteau Arouille (Taro Cakes)
Arouille (taro) is a root vegetable and arouille cakes are fritters made with grated taro. Soft on the inside and crunchy on the outside, taro cakes are usually eaten with chutney, chilli sauce or on their own. These popular fritters can be found on street stalls and in most Asian restaurants.
10. Confit (Fruit Salad)
In Mauritius, fruit salad (mainly known as the Creole confit) is like no other. This dessert, which is a staple around the world, will certainly please your soul. Here, it comes with juicy pineapple chunks, pickled mangoes, olives, jicama (patate chinois), and other exotic fruits such as guava (goyave de chine), bilimbi, ambarella (fruit de cythère) and cucumber.
And it doesn't stop there! Mauritians often add chili salt and hot tamarind sauce, creating a real explosion of flavors. It is a hot and refreshing sensation! Some people like it with white vinegar.
A tropical fruit salad in Mauritius is a sensory adventure not to be missed! You may want to soothe your palate with fresh coconut water!
11. Sept Cari (Seven Curries)
Although Seven Curries is culturally linked to Hindu weddings and religious ceremonies, it is a well-liked dish among all ethnic groups in Mauritius and can be found in some Indian restaurants throughout the island.
Seven vegetable curries are served with rice and ti puri or roti on banana leaves.
The dish normally consists of lima or broad bean curry, dhal curry, rougaille, pumpkin stir-fry, chouchou (chayote) or banana curry. Sometimes other specialties are included, such as bari (gato pima) or jackfruit curry.
Various condiments are also served with the dish, for example, Tamils eat it with rice rather than ti puri. It may also be accompanied by rasson, a very spicy soup, and a portion of sago (sagoo)served with appalum.
12. Rougaille
Nothing is more Mauritian than rougaille. This typical Creole dish is very versatile and can be served with anything you want.
Rougaille is a speciality cooked with tomatoes. It also includes garlic, onions, and chilies, braised in a tasty sauce with coriander and thyme. You can either eat this sauce plain, or with beef, chicken, mutton, seafood, or, Mauritians' favorite, salted fish. The sauce also has vegetables and other ingredients, such as canned sardines, paneer, or sausages.
13. Coconut Cakes
If you have been to Mauritius, you will have tasted this fabulous coconut cake flavored with chocolate or strawberry. This delicacy is rooted in Mauritian culture and you can find it in almost every small grocery store and pastry shop. It is also an extremely easy cake to prepare at home with milk, grated coconut, and sugar!
14. Salade de Cœur de Palmiste (Heart of Palm Salad)
This salad is made from the heart of the palm. This unusual ingredient comes from the inner palm tree trunk and is harvested from trees at least seven years old. Its soft center is thinly sliced and tossed with smoked salmon or marlin, then topped with a delicious dressing.
The heart of palm has a subtle taste, but it gives the salad a wonderful crunchy texture and adds a lot of freshness. It is very versatile, which is why heart of palm is used in a wide variety of dishes accompanying different meats.
As a whole palm tree is cut down to get the heart, requiring a lot of effort, palm heart is quite expensive. However, this is a truly authentic Mauritian dish that you must try!
15. Alouda
Alouda is brother to the Indian drink Falooda. The famous Mauritian alouda is a favorite of tourists from all over the world. Made with milk, basil seeds, syrup, and often a scoop of ice cream, this very refreshing drink comes in three main flavors, strawberry, almond, and vanilla, and is great on hot summer days.
16. Fried Rice
You will know of fried rice. It is a popular street food all over the world, and Mauritius is no exception. This dish is prepared in a similar style to Mauritian fried noodles and needs hardly any introduction.
But Mauritian fried rice, unlike the traditional Cantonese-style fried rice, is cooked in Creole style with no sauce. The ingredients are thrown into a wok and fish sauce, soy sauce, chicken, shrimp, and eggs are added. It can be served with chili paste or garlic sauce for extra flavor.
Fried rice can be found in almost every Asian restaurant and on every beach stall in the country.
17. Gato Patate (Sweet Potato Cakes)
Prepared with boiled sweet potato, flour, cardamom, and grated coconut, these cakes are a delicacy of Indian origin adored by Mauritians. They are traditionally served during Diwali but are available everywhere, especially on street stands, in small stores, and in some supermarkets. If you have a sweet tooth, you should try one!
18. Roti
Who does not know the famous roti? You can find it everywhere, on street stalls, from motorcycle vendors, and at Indian restaurants. Cooked on a tawa, this Indian pancake snack is usually eaten with curry and peas, rougaille, pickles, chili, and chutney. If you want a quick, cheap meal on the go, try roti!
19. Haleem
Haleem, or halim, is a spicy soup made with lamb or other meats and sold on food stalls and in small restaurants. It can easily be made home, but it is so cheap that whenever you have a craving, just pop out to eat it. Nowadays, there is also haleem with vegetables, soy, chicken, venison, and beef as well as the traditional lamb.
Conclusion
Mauritian cuisine reflects the influence of the culinary traditions of France, Africa, India, and China, which are among the most revered gastronomies in the world. The island has adopted these influences, along with their fruits, vegetables, spices, and other ingredients. All these rich sources are used to create a unique fusion of cooking.