Top 20 Most Popular Senegalese Foods & Dishes
Senegal is a country located in East Africa with a population of 17 million. It is a country rich in art and culture but also, above all, in a vast and diverse gastronomy. It is a democratic country, with strong institutions, making the Republic of Senegal one of the most stable countries on the continent.
Welcoming, warm, and hospitable, it is a crossroads of ethnic groups and traditions: the land of the Wolofs, the Pulaar (pastors Peuls and Toucouleurs of the river Senegal valley), the Soninkes, the Diolas of the Casamance, the Séréres of the Sine, and the Mandingues, all contributing to the country's cultural richness.
Senegal is so at one with itself that it has remained stable despite the economic situation in Africa, and welcomes everyone showing the utmost respect for visitors.
Senegalese Lunch and Dinner
1. Thiéboudieune: Fish and Rice
Thiéboudiene is the national dish of Senegal, a pure Senegalese product. Neighboring countries even call it djolof rice, djolof being one of the ancient kingdoms of Senegal.
It's made of rice cooked with tomato sauce and nokos, which is a mixture of spices and herbs such as parsley and lots of garlic. The rice is served with fish and many different vegetables, simmered in the tomato sauce used to cook the rice. But be careful, not any vegetable can go in this dish. Only carrot, cabbage, cassava, eggplant, okra, and turnip make this dish.
It's sometimes accompanied by an onion sauce, called "diaga", which has diced carrots, fish balls, and a spoon of tomato paste.
In Senegalese culture, Thiéboudiene, as are the majority of the dishes, is served on a large plate with the whole family seated around grabbing their spoons ready to eat this delicious dish.
2. Thiebou Diola or "C'est Bon"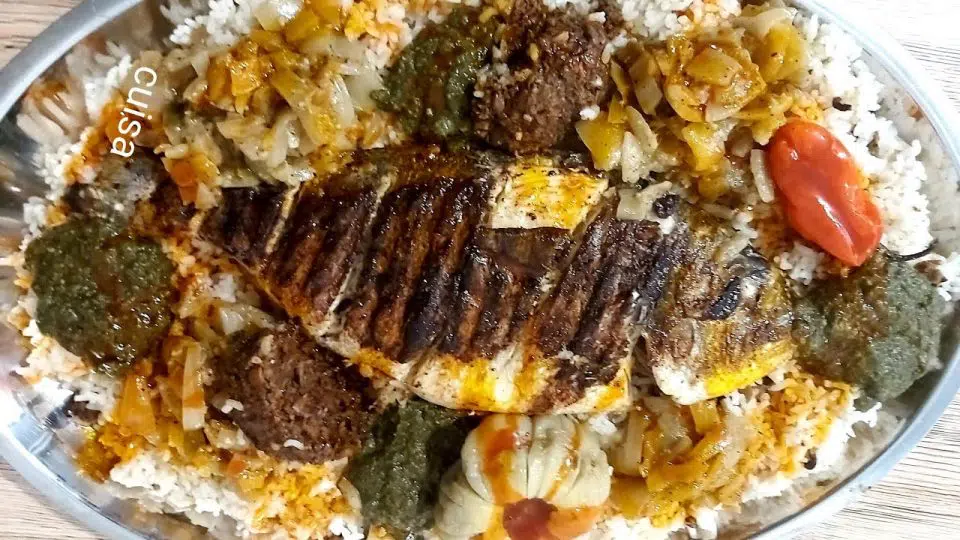 Yes, this meal has a French name. For those who speak French, you will know that "c'est bon" literally means "that's good". Senegal being a former French colony, its influence is felt even in the names given to our dishes.
However, the composition of this meal is anything but French. The dish was created by the Diolas, an ethnic group who live in the region of Ziguinchor in the south of Sénégal.
It's based on white rice cooked with dried shrimp and various shellfish such as clams or mussels. The grilled fish and rice is served with Moyo sauce, a combination of raw onion, red, green, and yellow sweet peppers, and chili, all diced and seasoned with mustard, salt, pepper, and vinegar, and boiled and mashed okra seasoned with salt and pepper.
3. Soup Kandia: Okra and Palm Oil Sauce
Okra is kandia in Wolof and kandia soup is a stew of okra, palm oil, and white rice. A good Kandia soup requires quality ingredients. Avoid using larger okra as they are usually dry. Medium-sized okra is better and easier to cook. Let's not forget the fish. It must be a good fish with a lot of flesh and not too many bones.
The dish comes with souloukhou, a peanut butter sauce, to which some people also add a few gombos.
While okra originated in Africa, it can also be found in South American, Guyanese, and Haitian cuisine.
4. Yassa Guinar or Dieun
In Wolof, the most commonly spoken language, guinar means chicken and dieun mean fish. Yassa is probably the simplest dish to make. It's based on rice and served with an onion sauce cook with nokos (nokos, as you can see, is pretty popular), mustard, and lots of lemons.
It can be served with braised or grilled fish or chicken, stuffed with nokos, again. Because it is so simple and the ingredients are easy to find, it is very popular with expatriate Senegalese.
5 Mafe
The origin of Mafe is controversial. There's quite a big debate about whether it came from Senegal or Mali, and both of which make claims to its origin. So to keep it simple, let's just call it a Senegalo-Malian meal.
Mafe is a combination of white rice and a sauce made with peanut butter, meat, tomato paste, potato, and sweet potato simmered for a few hours. It's very simple to make because you just need to put all the ingredients together and wait.
You can find Mafe in almost every West African country, not only Senegal and Mali.
6. Thiebou Yapp: Rice and Meat
Thiebou Yapp is pretty much a meat version of Thiebou Dieun.
It is almost the same process but, in the Yapp, there are no vegetables. The meat is braised, then put in water with meat broth and nokos, and the rice goes in when it starts to boil. when it is all perfectly cooked, it is served for all the family to enjoy.
7. Domoda
Domoda is a Senegalese dish based on a fragrant lemon sauce. Beef, veal, lamb, and balls of fish can be used for this, stew which cooks in a sauce of tomato paste, onions, vegetables, and a lot of lemons. Once cooked, the sauce is thickened with a flour and water paste.
For some reason, domoda is more popular with women than it is with men. And no one knows why.
8. Thiere
This is a millet couscous (millet is a small-seeded grain that's gluten-free and nutrient-rich), a sweet and savory dish with Berber influences, and is cooked for big celebrations such as Tamkharite. It includes meatballs, potatoes, white beans, dates, and sweet potatoes.
It is often prepared with two types of meat and is always served with a sauce prepared by simmering together meat and vegetables.
9. Vermicelle Poulet: Broken Vermicelli and Chicken
Vermicelli is the Senegalese dish of excellence and has over the years become a dish preserved for festive occasions, weddings and baptisms, and any other time people come together to celebrate.
And yet it is so simple. Steamed broken vermicelli, chopped onions, and braised chicken or lamb are all it takes to make this super simple and delicious dish. It's one for the lazy cook.
10. Dakhine
Dakhine is a traditional Senegalese dish made with meat, peanut paste, and rice. In Senegal, we used to reserve the Dakhine for the evening meal, but for some, it is a little too spicy for an evening meal.
Dakhine is a nourishing dish that the Senegalese simply live. Not only that, it is quite a cheap dish to prepare as it contains simply rice, oil, and vegetables.
Senegalese Streetfood
11. Dibi: Grilled Lamb
Dibi, the star of Senegalese fast food. It is very difficult not to come across a small gargote (informal restaurant) on the streets of Dakar, oozing smoke and the fabulous aroma of cooked meat. We call them dibiterie.
Marinated meat, spices, and onions cooked over a wood fire and served with mustard and hot pepper. Dibi is prevalent street food in Senegal. It is a West African culinary specialty, but it is in Senegal that you will find the best.
Dibi is a piece of grilled lamb piece whose specificity is its type of cooking: first en papillote then grilled, and served with onion rings. You get a slice of tender meat and a divine taste.
12. Pastel and Fataya
Pastels are salted fish fritters that are dipped in a tomato sauce made with onions and garlic. Fataya is the exact same thing but with ground beef, which is really the Senegalese version of empanadas (a type of pastry that originated in Spain).
These street foods are really popular because they are very cheap, can be found everywhere, and are pretty tasty too.
13. Acara: Cowpea Donuts
Niebé, also called cowpea, is a very common variety of beans in Africa, especially in Senegal. There are different types of cowpeas. In Senegalese markets, you can find red, white, and black beans. Cowpeas are rich in protein, fiber, and essential vitamins and minerals, making them a valuable addition to diets.
This recipe is quite complex and has a long tradition. The acara dough requires a lot of effort as the acara had to be ground into flour. Today, you can buy cowpea flour from supermarkets and African food shops.
14. Madd
Let me present one of the best street foods of Senegal, the Maad, otherwise known by its scientific name, Saba senegalensis. Madd is the fruit of this creeping plant, which generally grows along streams. It matures with the first rains after more than a year on the vine. Saba senegalensis is a species of the Apocynaceae family, a species of wild liana that grows in the African savannahs and is cultivated as a shrub.
This fruit has a globose shell that contains seeds coated with a very mellow and juicy yellow pulp. They taste both tart and sweet, and you can eat them as they come or season them with sugar, salt, and pepper. Mixed with water and sugar, they make a delicious juice.
Senegalese Sweets
15. Lakh
This is a very popular meal for celebrations such as baptism and it is eaten in the morning. It's simply a porridge of millet with sugar and ground nutmeg and with buttermilk on the top. Basic and simple.
16. Sombi
This is the best sweet dish in Senegal and it's really easy to make. You may know it as rice pudding or in French, Riz au Lait. There seems to be a variation of this dish in just about every country.
Generally, Sombi is a popular children's snack. But it's also a cheap and hearty dish for those who want or need to be frugal.
17. Ngalakh
In Senegal, Easter is not celebrated with chocolate and an egg hunt, but with the preparation of a delicious sweet of peanut butter and millet semolina.
The richness of the peanut butter combines with the tangy sweetness of baobab juice: a surprising combination that really works. It represents the Senagalese sense of sharing.
Senegalese Juices
18. Bouye Juice
Bouye juice is a famous drink. It is made with monkey bread, the fruit of the baobab, the most recognizable tree on the African savannah, mostly in the sub-humid to semi-arid regions south of the Sahara.
This fruit is an essential food in Senegal, but also in many other African countries, and has been for hundreds of years. The unique Bouye juice has a slightly acidic taste. So you can drink it in the traditional way (a delight), or use it to make a super original cocktail.
19. Bissap Juice: Hibiscus Flower Juice
Bissap is a Wolof term that refers to a species of hibiscus called Hibiscus sabdariffa. This plant is more commonly called Guinean sorrel or reed.
The shrub is usually between 1 and 2 meters tall, and once the flowers have fallen, purple chalices appear. The hibiscus flower is infused with fresh mint leaves. The juices are sweet and can be enjoyed warm or cold.
20. Ditakh Juice
The Detarium Senegalense, commonly called Ditakh, is a fruit native to tropical Africa. It is a strong apple green and very rich in vitamin C (20 times more than an orange). And so it is said to have therapeutic values, particularly against coughs, angina, and aches and pains.