Lamb Shank Tagine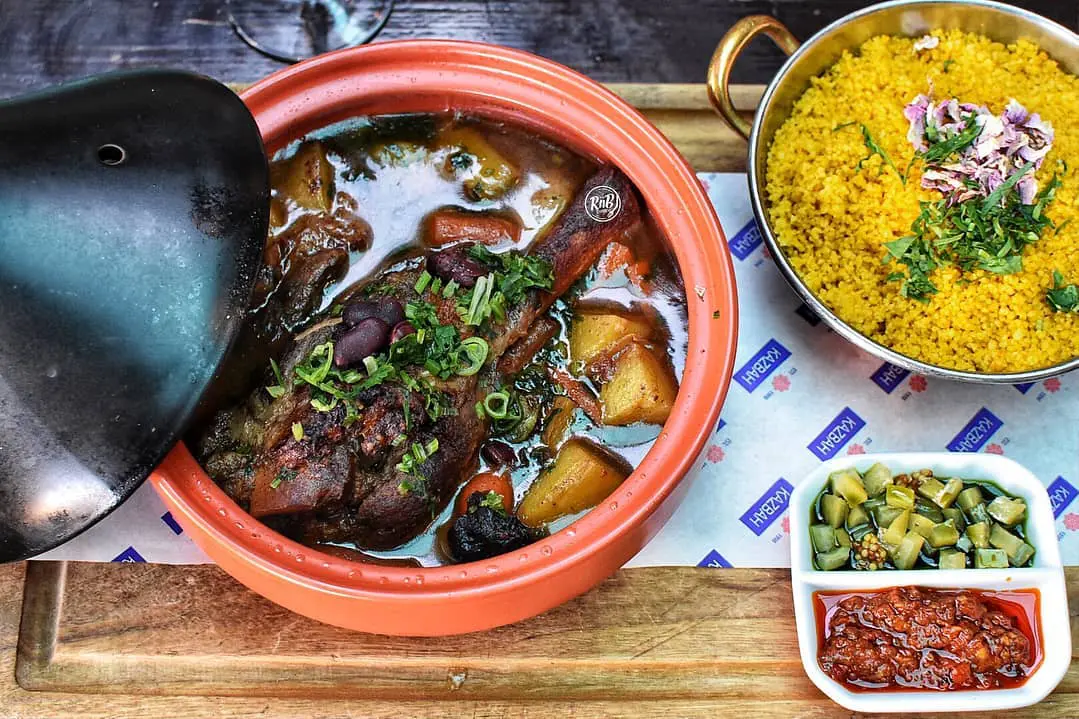 Lamb Shank Tagine is a traditional Moroccan dish that's very popular throughout North Africa. The lamb is very succulent and full of spices – a trademark of the Moroccan cuisine.
This Lamb Shank Tagine recipe was shared by Chef Wasim Shaikh of Kazbah Darling Harbour, a perfect choice for trying out authentic Moroccan dishes in Sydney, Australia.
Lamb Shank Tagine
Ingredients
6

pieces

lamb shanks

1

teaspoon

ras-el-hanout

½

teaspoon

ground cinnamon

½

teaspoon

ground ginger

½

teaspoon

smoked sweet paprika

½

teaspoon

ground cumin

¼

teaspoon

freshly ground black pepper

¼

teaspoon

ground turmeric

3

tablespoons

olive oil

2

onions

thickly sliced

2

garlic cloves

peeled, finely chopped

½

teaspoon

saffron

1

litre lamb stock

10

grams

chermoula

100

grams

stoneless dried prunes

100

grams

stonelesss dried dates

salt to taste

2

preserved lemons

rind only, chopped

50

grams

kidney beans

soaked for 8 hours in warm water

100

grams

small desiree potato

cut into 4

100

grams

baby carrots

10

grams

shallots
Instructions
Preheat of the oven to 160 °C/315 °F.

Mix the ras-el-hanout, ground cinnamon, ground ginger, smoked sweet paprika, ground cumin, prunes, freshly ground black pepper and ground turmeric together in a bowl.

Heat a large pan until smoking hot, then add a tablespoon of the olive oil and sear the lamb shanks on all sides until golden-brown all over. Remove the lamb shanks and set aside.

In the same pan and fry the onion until caramelized. Then add chermoula garlic for 2-3 minutes. Add the lamb shanks back to the pan and stir well, then add all the remaining tajine ingredients – except for the shallots and bring to a simmer.

Reduce the heat, cover the pan with a lid and place in the oven for two half hours, or until the lamb is tender. Taste and season, if needed.

Remove some of lamb shank sauce and cook the kidney beans for 30 min then add potato. Cook it until both are cooked.
Serving:
Place the Traditional earthenware Tajine on the Hot plate with Lamb Shank in the middle with lot of sauce, add cooked kidney bean, potato and baby carrot and Prunes and cover it with tajine lid. let it Boiled until the steam is develop and garnish with Shallot. Serve with warm fluffy Couscous
Notes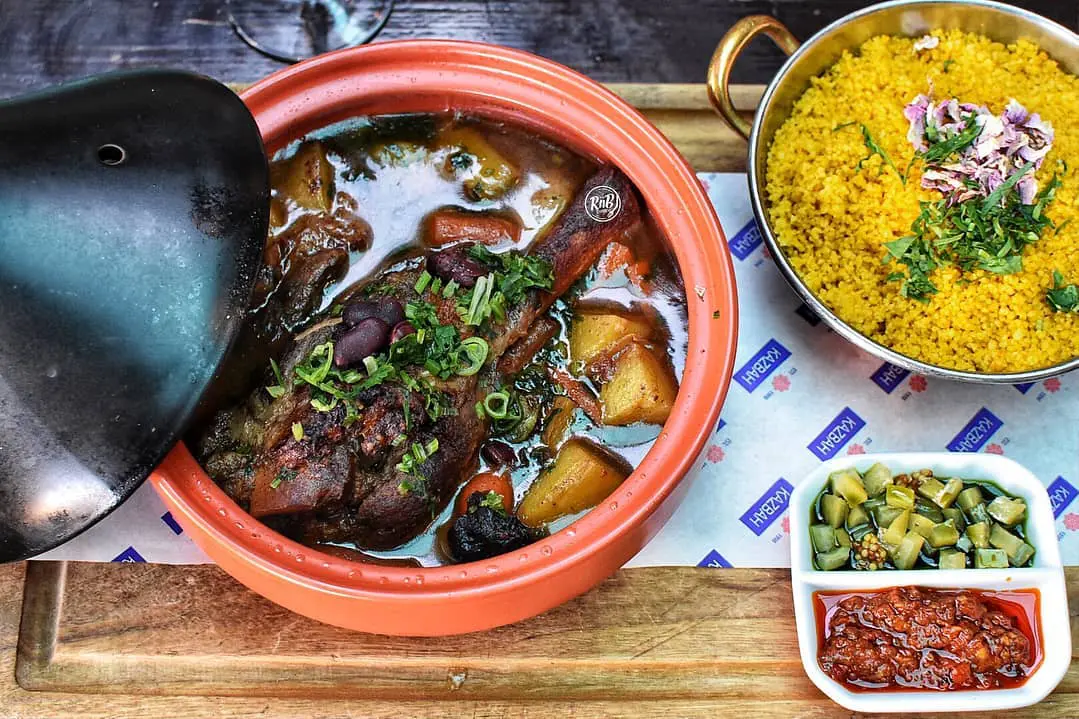 Related: Braised Lamb Shanks with Mushrooms
Related: Braised Lamb Shanks with Creamy Polenta
Related: Our Favorite Leg of Lamb Recipes
Related: Homemade Moroccan Spice Blend
Related: Lamb Kleftiko