Top 20 Most Popular Lithuanian Foods & Dishes
The traditional food of Lithuania has much in common with Northern European countries and shares similar staple ingredients like potatoes, beets, greens, rye, and mushrooms and culinary traditions such as pickling, for preserving food for the winter. Some dairy dishes are also very popular.
Due to the rather harsh climate, Lithuanians are used to preparing heavy meals rich in fat, but during the warm seasons they also include plenty of available greens in their meals.
There is a strong German influence in Lithuanian cuisine, and stuffed intestines and potato pudding are among the dishes that everyone is advised to try when visiting Lithuania. But let us take a look at the top 20 most popular foods that Lithuanians are most proud of.
1. Cepelinai
Potatoes are a core ingredient in most Lithuanian meals and all Lithuanians would agree that cepelinai is the most traditional potato dish .
Named after Graff von Zeppelin, it is a hearty and rich potato dumpling that has a similar shape to the airship von Zeppelin invented.
Made from potato dough and stuffed with pork, it is a dish that the uninitiated may find quite heavy on the stomach. However, it is one of the cheapest meals you will find in Lithuanian restaurants. It is a filling comfort food that can be served with sour cream, bacon, or sautéed onions, and every cook has their own spin on the recipe. However, it takes a while to prepare so it is kept for special occasions.
2. Kibinai
What was first only popular among the Karaim ethnic minority has now become a go-to dish when visiting Lithuania. Originally a small pastry filled with pork and onion, it can now be found stuffed with all kinds of ingredients: curd cheese, spinach, lamb, chicken, etc.
It is very popular and the best place to try it is in the small city of Trakai, since a strong Karaim community live there and they prepare the best kibinai.
3. Kugelis: Potato Pudding
This traditional savory potato pudding with pork is extremely common during the holiday season. It is served with sour cream, applesauce, or crumbled bacon bits to make the dish even more filling.
Leftover kugelis makes a great breakfast on Christmas morning, when it is pan-fried on both sides and served with a sauce of choice.
4. Pickled herring
This is one of the lighter dishes on the traditional Lithuanian menu, typically served on Christmas Eve.
Pickled herring is normally covered and kept in the fridge for at least two days before serving and is usually served with a range of vegetables and onions as well as seasoned with mayonnaise.
This favorite summer dish of cold beet soup (also known as borscht) is served with boiled or fried potatoes. It is easy to prepare and very delicious.
Fresh beets and sour cream combined create a beautiful pink color that makes cold beet soup quite unique. That is why some call it the most aesthetic soup in the world! A boiled egg is sometimes added to make it more filling.
Borscht is a favorite dish throughout the Baltics, Central and Eastern Europe, highly popular in Poland, Moldova, Russia, Eastern Romania, and the Ukraine, with the latter cited as its place of origin, though some Russians might disagree with it.
6. Potato Pancakes
Believed to have originated in Poland, potato pancakes have become a traditional dish in Lithuania. A wide variety of flavors can be added to the pancakes: onion, grated cheese, garlic, or even some bacon to make them even richer and perfect on cold winter evenings.
Any leftover potato pancakes are usually served for breakfast, since leftover breakfasts are very typical in Lithuanian households. Sour cream can be added for the richer taste and they are just as tasty hot or cold.
7. Fried Bread with Garlic
This is hardly a dish, but it is incredibly popular together with a beer in a bar. Fried bread with garlic is probably Lithuanians' favorite food.
It is the small strips of bread fried in a skillet and then rubbed with garlic. It is often served with a mixed cheese dip on the side to make it even more filling. Easy to make at home, too.
8. Peas with Bacon
This is another nibble for accompanying a good beer, and it is extremely easy to prepare. Fry some bacon and boil some peas. Simple but delicious.
9. Lašiniai
This snack is often served to welcome guests. It is smoked meat made with pork fat with a generous pinch of salt, served with a slice of dark rye bread.
But this one is not for snacking on with a beer. Lašiniai goes best with something a little stronger—a good vodka. It can also be cut into small pieces and fried to render the fat for cooking, while the leftover crackling can be added to dishes such as peas with bacon.
10. Skilandis
This is a cured sausage that is prepared by stuffing a pig's stomach with pork and then dry-smoking it. Add a slice of dark rye bread and some chopped cucumber and it is now a traditional Lithuanian snack.
The color of the sausage varies between crimson red and dark red. Some consider this a delicacy but not everyone is convinced. But foreigners are often game and find it entertaining to give it a try.
11. Chebureki
This crispy meat-filled turnover was especially popular during the time of the USSR, but it is still highly appreciated in Baltic countries. Normally considered street food, chebureki can also be found on the menus of traditional Lithuanian restaurants.
It is a quick dish to prepare as most cafes and restaurants use a pre-made dough. Chebureki is usually stuffed with meat, onions, and spices, and a lot of oil.
12. Balandėliai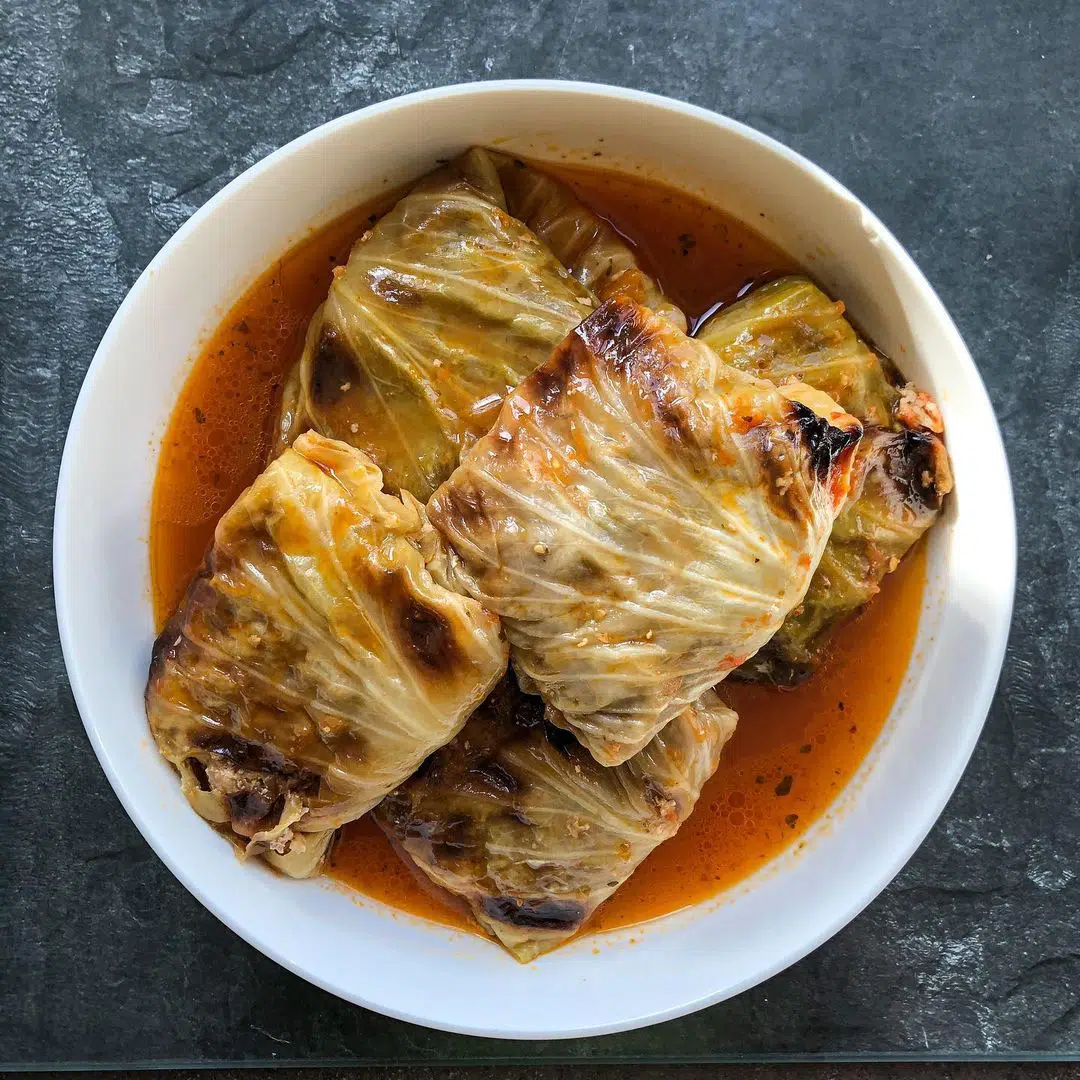 Balandėliai, or little doves, are cabbage rolls stuffed with minced meat, onion, and rice and served with sour cream (as most Lithuanian dishes are).
It is a very typical meal for serving to guests as it does take some time to cook: having softened the cabbage leaves, prepared the filling and rolled it up in the leaves, it then takes at least another hour to cook, so it is definitely not an everyday dish.
13. Vėdarai
The most controversial of all Lithuanian dishes, vėdarai, is a baked sausage made from pig's intestines and filled with potatoes and pork blood. It is considered an acquired taste and is believed to originate from Germany, where blood sausage is common.
It is mostly enjoyed by traditional Lithuanian families and is not particularly popular in restaurants. However, tourists find it amusing to taste when visiting the country.
14. Lithuanian sauerkraut
Lithuanians love fermented foods and this one is the most popular of them all. Sauerkraut mostly includes cabbage, carrot, and caraway seeds and is very easy to make: the vegetables are grated and salted, the juices are extracted, and they are left to ferment for a few days. Sauerkraut is normally served as a side dish with meat and potatoes.
15. Šakotis
Let's move on to the popular Lithuanian desserts. Šakotis is a tree-shaped cake that is the star attraction at any feast such as Christmas or Easter. Made of simple ingredients such as butter, eggs, cream, and flour, Lithuanians are very proud of šakotis and it can even be found at airports to buy as a souvenir.
Also, šakotis varies in size: starting from pocket sized, it can reach up to 50 cm for serving at weddings. The finished cake is often decorated with flowers for really special occasions.
16. Curd Cheese Doughnuts
Curd cheese is a very special ingredient for Lithuanians. It can be served with jam for breakfast or as a dessert. No yeast is used here so it doesn't need time to rise; the batter can be ready for frying in less than 15 minutes.
It is the curd cheese that makes these doughnuts outstanding. Shaped into small balls and covered with powdered sugar, these fluffy desserts melt in your mouth.
17. Beer
Despite popular belief, vodka is not the most popular drink in Lithuania. This accolade goes to beer. Lithuania is well known for its beer, with the brewing of farmhouse ales going back as far as the 11th century. Nowadays, beer is produced by main breweries and it is known as one of the best in Europe.
Traditional Lithuanian beer has an earthy flavor and rich color. Most of the local breweries produce beers in ways that are unknown in the rest of the world, making Lithuania a great destination for the beer-lovers.
18. Midus
Midus or mead is a must-try drink in Lithuania and is locally known as the drink of Gods. Its unique flavor is achieved by mixing fermented honey wine with berries, cinnamon, lemon, and water.
Local pubs offer it as an alternative to beer. However, the alcohol content can be as high as 14% and we do not guarantee you'll be able to drink a whole glass due to it being very sweet.
19. Grybukai
Mushroom cookies are not cookies made with mushrooms. The name of these sweets comes from their mushroom-like shape. These are little morsels of flavor, with cinnamon, nutmeg, and cardamon, and are glazed, creating the image of a black cap and a white stalk.
20. Gira
A beverage that Lithuanians are proud of and that does not usually contain alcohol, making it loved by adults and children alike, is gira, It is made from fermented bread. However, if gira is allowed to ferment for longer, the concentration of alcohol can go up to 2.5%, so it is always best to check on the bottle.
Widely available in bottles and on draft, gira can also be made from beetroot juice, caraway tea, and rye malt.
---
The traditional cuisine of Lithuania is simple and its many dishes are made with easy-to-find ingredients. They will warm you up on a cold winter's night or cool you off during a hot summer's day.
Over the past five years, numerous restaurants have emerged in Lithuania specializing in historic Lithuanian dishes and offering an experience of local heritage. Some of the most popular offer unexpected interpretations of traditional meals such as rye bread desserts, meat dumpling soups, and roast boar with pears.
Lithuania is a modern country, but there are a few superb restaurants that will take you back to the old days, giving you an exciting historical and culinary experience.
Related: Lithuania's Most Popular Desserts
Related: Most Popular Lithuanian Cheeses
Related: Most Popular Lithuanian Snacks