16 Popular Polish Drinks
Poland is well known for its heartwarming, nutritious cuisine and for a wide selection of top quality vodka, which perfectly accompanies their meaty delights. However, as well as being a true master in the production of strong alcohol beverages, Poland is much more than spirit and sausage!
Read on to find out more about typical Polish drinks with an imposing history, dating back to early medieval times, and discover the unique heritage of this Slavic culture.
Non-alcoholic beverages:
1. Kvass (Kwas Chlebowy)
It's no coincidence that Kvass, or as it is known in Poland kwas chlebowy, proudly opens the list of typical Polish beverages. This unique soft drink made from fermented dark rye bread is of solely Slavic origin and was very popular as an everyday drink in medieval times throughout Eastern European countries.
Kvass has a cloudy appearance, is brown in color and has a sweet-sour taste. With a very low alcohol content (generally less than 1%), it is the perfect beverage for quenching thirst on a hot summer day or for soothing a hangover.
Kvass is a truly simple, natural drink made from just three ingredients: sugar, water, and natural yeast.
2. Kompot (Fruit Juice)
Introducing kompot, a traditional Eastern European non-alcoholic fruit drink made of fruit and sugar, cooked and infused in boiling water.
Kompot is often made with berries, such as blackberries, cherries, raspberries, and strawberries. But almost any combination is accepted as it is generally prepared with fresh seasonal fruits.
Kompot was originally a technique for preserving fruits and the first appearance of the drink dates from the 15thcentury. Due to the high concentration of sugar, the fruit is conserved for many months, meaning a plentiful supply of fruit for the long, harsh winters.
3. Kompot z Suszu (Dry Fruit Juice)
This traditional non-alcoholic Polish drink is a winter version of plain summer kompot. It is based on local fruits, collected in the summer and early autumn, dried, and stored with care until winter. However, unlike summer kompot, it may also consist of exotic spices such as ginger or clove.
Generally, kompot z suszu is like a fruit soup with loads of different local fruits floating on the surface (plums, apples, pears, etc.). It is served in glasses as a dessert, usually warm in the cold weather.
What is actually most important about dry fruit juice is that it is a traditional Polish Christmas drink, a must on every Christmas Eve table. But due to the wide selection of spices, it tastes different in every household.
4. Oranżada (Orange-flavored Soda)
Oranżada is the Polish name for an orange carbonated soft drink. The word originated in the 18th century, when carbonated orange soft drinks made of water, sugar, and orange syrup were introduced from France.
However, oranżada as we know it today is a true relic of communism. It is a not so successful alternative to Western Fanta, but is still quite popular for mostly sentimental reasons.
5. Zsiadłe Mleko (Soured Milk)
Soured milk is a light, tart beverage and a true staple of traditional Polish cuisine. It is produced by bacterial fermentation, as raw milk acidifies naturally with time due to the bacteria that is exists. These cultures multiply throughout, acidifying the milk by releasing lactic acid and eventually the milk sets and forms a curd.
Soured milk is a great base for many summer dishes. It often accompanies young potatoes with melted butter and dill. In addition, it is also great as a milkshake along with seasonal fruits such as strawberries.
Soured milk is really healthy, because the lactose present in raw milk is broken down by bacteria so it is better tolerated by the body.
6. Kefir
Poles are true fans of this heavenly, healthy milk drink. Poland is the world's second biggest producer of kefir after Russia!
What is kefir? It is a refreshing sour drink made from fermented, skimmed, and pasteurized milk. High-quality kefir is considered a natural probiotic since it stops the development of harmful bacteria within the digestive system. It regulates the body's metabolism and helps to assimilate protein and calcium. It is also a rich source of vitamins and minerals. In addition, it lowers blood pressure and cholesterol levels!
Kefir goes perfectly with simple Polish summer lunches such as young potatoes with dill or buckwheat groats. Similar to buttermilk and soured milk, kefir is sold in plastic bottles, cartons, or traditional glass. 
Spent the night tasting Polish vodkas? Well, it is good to know that kefir can be a great hangover cure.
7. Maślanka (Buttermilk)
Maślanka, the word for buttermilk in Poland, much like soured milk or kefir, is a very popular and refreshing drink.
It has a slightly sour taste, but it is also a bit sweet so it can be consumed on its own or added to smoothies as it works as a natural leavening agent.
Traditional buttermilk is made after fat is separated from buttered cream. So, in spite of its name, buttermilk has no milk in it what so ever. Also, even though it has a creamy and rich texture, buttermilk has low-fat content, so it is a great product to enjoy even when dieting.
And please don't buy flavored buttermilk, as they contain huge amounts of sugar. If you want a fruity drink, just add the fruit yourself and blend it.
Light alcoholic beverages:
8. Cydr (Cider)
Poland is the largest apple producer in the EU. With 3 million tonnes of apples grown every year, Poland produces as many apples as Spain produces grapes. No wonder this light, alcoholic beverage made from fermented apple juice is a popular accompaniment to many Polish feasts.
Polish cider alcohol content varies between 3% and 5%.
Cider can be sparkling, when it has natural bubbles or when it is artificially carbonated. However, cider can also be still.
In accordance with Polish regulations, cider produced in Poland needs to contain at least 90% pure apple juice (not concentrate!) in order to be called cider.
The flavor of cider may vary from one year to the next because it is produced from fresh apples, and no two apples taste exactly the same.
9. Piwo (Beer)
Poland, quite unexpectedly, is a leading producer of beer. It takes an honorable third place in EU production after Germany and the UK. The high quality of Polish beer is the result of a long history of brewing traditions. Poland, with its climate and abundance of spring water, has always been a good place to grow cereal crops and hops.
Production boomed in the Middle Ages as monks took up beer brewing. First records of Polish breweries are found in the 14th century covering Kalisz, Pułtusk, and Gdańsk. The oldest brewery in Poland is Lwówek Brewery, which dates back to 1209.
The last decade showed distinct changes in consumer trends, a revival of traditions, and a return to old recipes. This resulted in both an increasing number of family breweries and specialized pubs offering several beer taps. These are called multi-taps and offer different beers every day – dozens of draught beer to be tasted all in one place.
Funny fact: The word piwo (beer) is one of the oldest Polish words, created on the basis of the pre-Slavic language meaning "to drink". Even in the Middle Ages, "beer" had a general meaning, referring to everything that could be drunk. This means beer must have been a basic drink since the 14th century.
Alcoholic beverages:
10. Miód Pitny (Traditional Polish Mead)
Mead is one of the most traditional Polish alcoholic drinks and is produced by fermenting honey. In the olden days, juices or herbs were added to the mixture to enhance the taste but this is no longer done.
This golden beverage has been manufactured in Poland since the Middle Ages. Poles were known for high quality mead production, but these were exclusively drunk at the royal court and manors, and not necessarily on daily basis.
It was a luxurious and expensive alcohol, which was highly sought after, until cheaper and easier to produce vodka took its place at the end of 18th century.
Meads differ in concentration of alcohol and level of sweetness due to a degree of watering-down. There are five basic types of mead: półtorak (1.5), dwójniak (2), trójniak (3), czwórniak (4), piątak (5) – the intensity of the honey taste and alcohol content decreasing with each one.
Fun fact: The larger content of honey, the longer maturing it requires. Trójniak matures for as long as 8-10 years!
11. Wódka (Vodka)
Poland is famous for the production of the best vodkas in the world, achieving true mastery in this sophisticated craftsmanship.
Did Poles invent vodka? Well, this is an argument that will never be settled. However, the first written record of the word "vodka" was around 1400, in the Akta Grodzkie recorder of deeds. So, the first to publicly note the word vodka was Poland of the 15th century!
Just like wine, beer, and whiskey, there are many different types of vodka. Most Polish vodkas are classified as "clear".
Poland produces several exquisite luxury vodkas, highly recommended by connoisseurs. The most valued clear Polish vodka brands are Belvedere, Baczewski, Luksusowa, Pan Tadeusz, Wyborowa, and Chopin.
In Poland, vodka is traditionally served chilled or even frozen, and downed in one gulp. In addition, it should be accompanied by zagryska (a one-bite vodka snack): salted herring, pickled mushrooms, pickled gherkins, meat jelly (often listed in the menu as jellyfish), and so on. All are strongly flavored to stand up to the overwhelming taste of vodka.
It's worth mentioning that a shot of vodka is the perfect addition to festive meals, helping you digest Polish heartwarming cuisine.
12. Żubrówka
Żubrówka was the highest-ranked Polish vodka brand in 2019, according to the Shanken's IMPACT magazine, and the third most popular vodka brand in the world! Also known as Bison Grass Vodka, it has been produced in Poland since the 16th century. It is famous for having a blade of grass, specific to the primeval Białowieża Forest, inside every bottle. Żubrówka has faint yellow tinge, the mild fragrance of mown hay, and a subtle floral taste.
Żubrówka can be served on its own but is most commonly combined with apple juice – a refreshing drink called szarlotka (apple pie).
13. Żołądkowa Gorzka
A literal translation of żołądkowa gorzka is 'bitter stomach vodka', which is not surprising since this unique beverage is strongly believed to have vast medicinal properties, especially for gastric disorders.
Żołądkowa gorzka delights with its beautiful amber color, spicy aroma, and complex taste, which, contrary to the name, is surprisingly sweet with just a hint of bitterness. Incredibly appetizing!
14. Krupnik
Krupnik is a traditional sweet and spicy liqueur made from an old Polish recipe of the 17th century. It usually contains as much as 40% alcohol, which is exceptionally high as for a herbal liqueur.
Traditional krupnik is made with honey, spices, and a multitude of herbs – up to 50 different ones!
This unique alcohol is usually served on its own, either hot or cold. Hot krupnik will warm you up wonderfully after sledding on a winter's day or a rainy autumn walk, and will soothe your senses with its aromatic flavors.
15. Nalewka (Polish Fruit Vodka)
Polish liqueurs called nalewka are alcohol extracts from fruit, spices, and herbs. Usually, Polish fruit vodka contains around 40% alcohol, just like the usual vodka. However, according to many Poles, nalewka tastes much better and is often the homemade pride of the family.
The name of most nalewkas are derived from the main ingredient, and so we have plum nalewka, cherry nalewka, lemon nalewka, and so on. In the olden days, family recipes where often kept secret and only passed on to the senior child upon the death of the father.
Polish fruit liqueurs are traditionally served in a little glasses and often accompanied by spicy, meaty, and other heartwarming Polish dishes.
16. Śliwowica (Polish plum brandy)
Śliwowica is a very aromatic, traditional, and extremely strong plum brandy produced from an old plum variety. It is famous for its alcohol content, which is around 70%, so drink it carefully!
It is believed that originally Śliwowica came from the very south of Poland and has been produced by Polish highlanders since the 16th century. They carried the recipe further north during their migrations and soon this super strong beverage became a popular delicacy on the Polish table.
Usually, it is served pure, either chilled or at room temperature, without any additives.
Śliwowica is often mistaken with plum liquor. But authentic Śliwowica is a very strong spirit, not a liquor. The name Śliwowica is registered as a Polish heritage.
What more is there to say? Having in mind that Poland offers a wide selection of delicious drinks for literally every possible occasion, don't hesitate to come to Poland, raise a toast and say "Na zdrowie"!
---
Related: Most Popular Polish Foods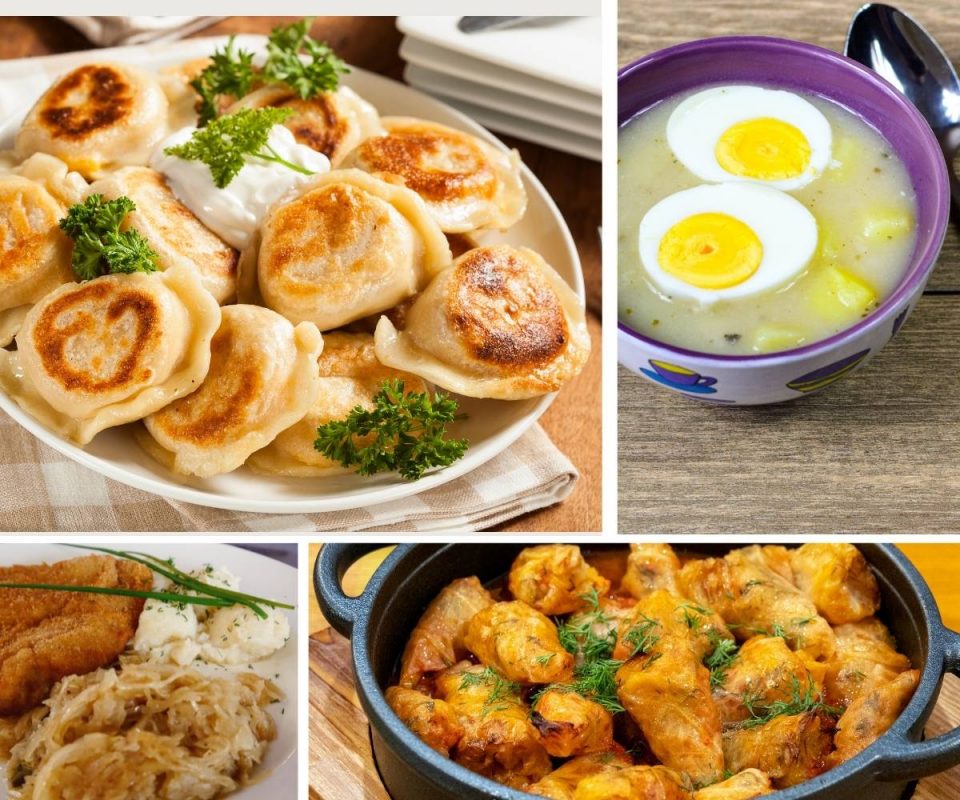 Related: Most Popular Polish Desserts