12 Must-taste Polish Easter Dishes 
Polish people are known for religiousness and family values. They do not only associate Easter with making a feast but also, and primarily, with cleaning the house, going to church to bless nicely decorated Easter baskets, and gathering around a large, lush table with the extended family to share food and love.
Even non-believers tend to partake in traditional celebrations and rituals and prepare themselves for this holiday both physically and spiritually. 
Easter is filled with symbols and implications. Thus, the basket and table are covered with a white cloth, reminiscent of Christ's shroud, and decorated with daffodils and greens standing for the utmost joy of the victory of life over death.
1. Jajka Wielkanocne (Easter Eggs)
Eggs symbolize Christ's resurrection and are the highlight of Easter in Poland and neighboring lands.
Traditionally, eggs are boiled with onion peels (to lend them a brownish tint) or red cabbage (for a purplish hue), and decorated with religious patterns using a designated sharp tool similar to a needle. Such painted eggs (pisanki) are normally placed into an Easter basket and brought to church to get sprinkled with holy water.
They are the first thing to taste during Easter breakfast. One of the options to serve Easter eggs is to make devil eggs or jajka farzerowane. 
The stuffing differs from family to family: some prefer traditional horseradish and mayo filling while others get creative and use salmon, caviar, mushrooms, pickles, and ham. Either way, no Polish Easter can pass without eggs.
2. Ćwikła z chrzanem (Beetroot and Horseradish Relish)
A perfect company to boiled and stuffed eggs, this relish is very simple but surprisingly palatable. It includes finely shredded cooked beetroot and a generous helping of horseradish.
Horseradish itself is a key ingredient on both Easter and Polish Christmas tables – it may even be sprinkled over sliced ham or sausage for an enhanced taste. Poles say horseradish stands for Jesus' bitter sacrifice. 
Ćwikła is spicy and pairs well with Easter meats. Its intense dark-red color adds to the aesthetic appeal of any dish. Disclaimer: Beware of the intense taste of this relish when tasting it for the first time. It's not something you'd want a spoonful of.
3. Schab ze śliwką (Prune-stuffed Pork Loin)
Meat dishes are key to the Easter table. There are two reasons for this. First, Easter Day is preceded by a long period of fasting (which is still kept up by older and even some younger people).
Second, meat represents abundance and joy that overcomes sacrifice. One of the first choices for any important celebration, this meatloaf is juicy and has a pleasant smoked aftertaste.
The best way to serve schab ze śliwką is hot, straight from the oven, with a generous helping of sour cream and dill sauce as well as a side dish. Another option is to have a cold, sliced schab in a yummy sandwich.
While Easter pork loin may also be stuffed with dried apricots or cranberries (loved in Poland), it is prune that's both more traditional and preferred for its smoky aroma.
4. Biała kiełbasa (White Sausage)
Polish unsmoked white sausage is one of the oldest Easter dishes that always steals the show.
It is made with minced pork meat, some beef and veal, as well as onions, garlic, and marjoram. While biała kiełbasa is a key ingredient in Polish żurek, it may be enjoyed as a filling dish on its own.
It is important to serve kiełbasa right away and to place some ćwikła z chrzanem, a helping of chrzan, or a spoon of mustard on top. Yummy!
5. Żurek (White Soup)
Arguably the first dish anyone tries when visiting Poland, żurek is also one of the center pieces of the Easter table.
What's interesting is that this filling soup used to be mainly consumed by the poor: back in the day, it would only contain potatoes, bread, and milk or sour cream. Now, the festive version is meat-based and includes biała kiełbasa and smoked ham.
It has a distinct sour taste lent by the sourdough rye starter (usually store-bought, but originally home-made). The soup is white like sour cream, very thick and nutritious, and served with a halved boiled egg. The most impressive serving choice is inside a freshly baked round bread loaf. Bon appetite!
6. Śledź (Polish Pickled Herring)
Poles love herring all year round and just a bit more on holidays. You'll easily find all kinds of marinated śledź in supermarkets, but making one at home is almost a must for the festive table. In some households, herring is even marinated weeks in advance to acquire a special aftertaste.
The simplest and arguably most widely favored version is fillets marinated in oil and vinegar and served with sliced onions and apples. Śledź tastes best with a thin slice of rye bread.
7. Galaretka z Kurczaka (Polish Aspic)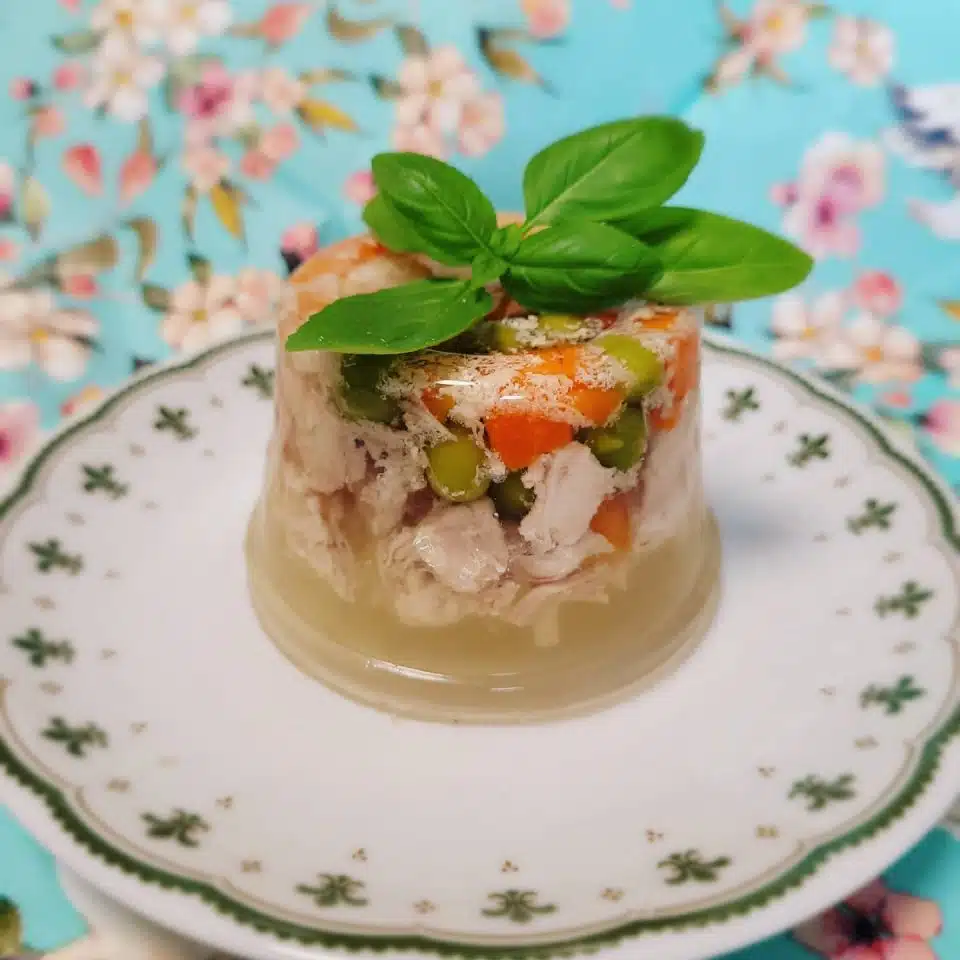 A dish that requires some time to make, this jelly is usually reserved for Christmas and Easter. Galaretka is reminiscent of Ukrainian kholodets, but the latter is usually fatter. Simply put, this aspic is a gelatin soup with chicken, boiled and chopped carrots, and parsley inside. Alternatively, one can add boiled and sliced eggs.
While I am not a fan of sour gelatin dishes, this one is simply eye-candy: you can see all the ingredients thought the transparent jelly shell, and the dish looks like a cake. 
8. Pasztet z Kurczaka (Chicken Paté)
There are as many recipes for Polish chicken paté as there are regions in Poland, perhaps even more. Some like their pasztet firm to slice it like ham; others prefer it wobbly to spread it on top of crackers or dark bread slices. Either way, the main ingredients include minced chicken and chicken (or other poultry) liver.
One should beware of the typical bitterness any liver lends to a dish and not overdo it. Then, you add softened bread (Poles use traditional Kaiser rolls but any read should be fine), fried onions, eggs, and sautéed sweet peppers and/or tomatoes. Pasztet z kurczaka is a perfect dish to enjoy both on Easter Day itself and a few days afterwards.
9. Bigos (Polish Sauerkraut)
Poles usually pass on pierogi (stuffed dumplings) on Easter, but they swear by their beloved bigos as a hearty main dish. It is stewed sauerkraut (cabbage) with lots of chopped sausage and meat. There are all kinds of meat, poultry or pork, and smoked kiełbasa (sausages) that one can add to this dish.
Easter is a perfect time for the most unique bigos of the year because everyone buys (or makes) smoked ham, bacon, and sausage in abundance. Now, here's the real trick explaining why such a simple, unpretentious dish tastes so heavenly. It contains prunes, which balance the smoked meat and sour odor of the fermented cabbage.
10. Mazurek (Polish Short Crust Tart)
No Easter is complete without this flatbread cake. It is traditionally made with sweet sauce reminiscent of condensed milk, generously filled with nuts, dried fruit and berries, and sometimes jam.
Homemade Mazurek should not only taste great but also look aesthetically pleasing – there's usually a symbolic pattern or words Wesołych Świąt! 'written' on top using almonds or other ingredients.
Don't miss a chance to taste crunchy Mazurek on spring holidays as it's not typically sold or served all year round. 
11. Babka (Sweet Easter Bread)
The word babka comes from babcia (grandma in Polish) as this sweet round bread is shaped like an older grandmother's pleated skirt.
Babka is a yeast bread that has traditionally been baked at home and reflected the housewife's creativity.
There are all kinds of babkas – lemon, orange, coconut – filled with nuts or dried fruit, sprinkled with poppyseeds, or topped with rum, white or dark chocolate. The dish is palatable and fluffy, and Poles like having a slice with their tea even days after Easter. 
12. Makowiec (Poppy Seed Roll)
Another sweet Easter table treat is makowiec. It's a yeast strudel filled with poppy seed and ground nut paste. Legend has it that poppies once sprouted in the exact place where Jesus Christ's blood dropped, making this ingredient highly symbolical for many Easter dishes. 
Makowiec is usually topped with white sugar icing, which balances the slightly bitter taste of poppy seeds. 
---
Polish Easter is a perfect time of the year to visit the country and partake in the festive mood. The traditional dishes are a dream for fans of comfort foods and unique combinations. The Polish Easter table has it all regardless of whether you have a sweet tooth or love heavy pork. 
Related: 25 Famous Polish Dishes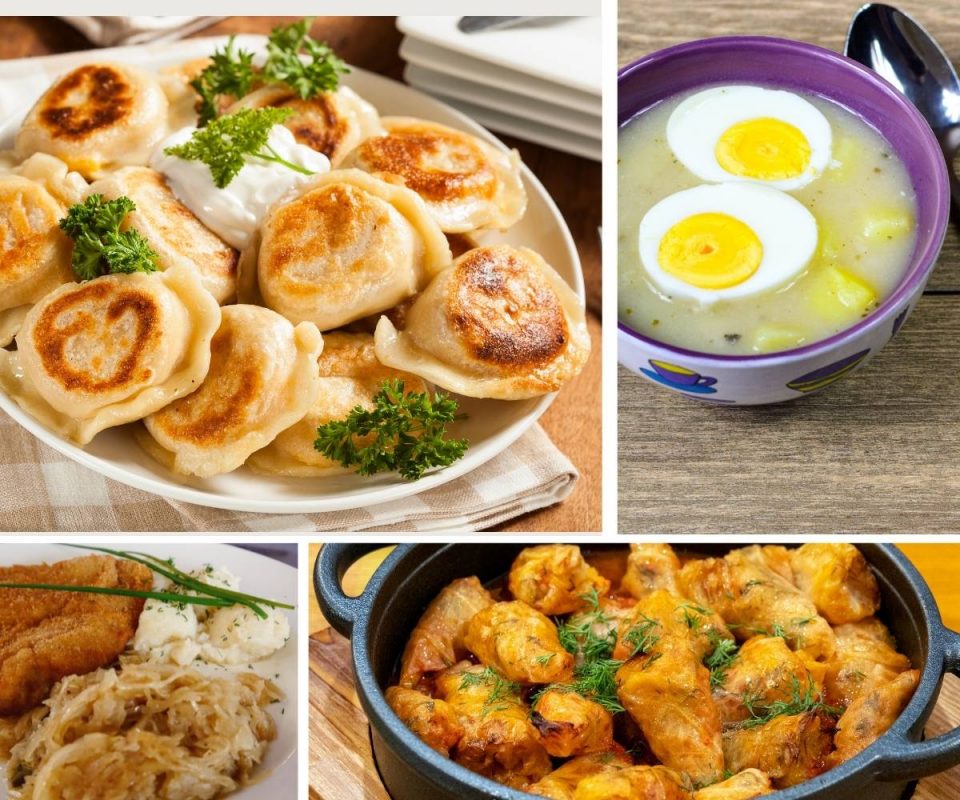 Related: 25 Famous Polish Desserts