10 Polish Christmas Cookies to Put on Your Bucket List
If you think you can only experience culinary heaven in France or Italy, come to Poland and prove yourself wrong.
A country of hearty, filling meals and a homeland of jam-filled desserts, it will take your stomach on a wonderful journey giving your taste buds a truly pleasant tease. You'll see how simple ingredients can be combined to impress, and how tea cookies can lead to an incurable cookie addiction.
So yes, there's a downside to travelling to Poland – you might feel the urge to stay just to snack on angel's wings every time you have a coffee break at work and store boxes with ammonia cookies in your wardrobe just in case.
Are you courageous enough to risk it and read this list? Then jump into my cookie car and explore the top 10 Polish cookies that'll make their way to your bucket list.
1. Faworki (Angel's Wings)
These thin, see-through cookies used to be reserved for Polish Doughnut Day or Fat Thursday (Tłusty Czwartek), but you can find them all the year round now, and most Christmas fairs sell them. Consider faworki a sweet version of salty chips.
They are crunchy, a bit messy due to their crumbliness, and divinely scrumptious. There's no mutual agreement regarding who created angel's wings – the Poles or Ukrainians. The recipes seem identical, but, well, the two countries share a long history, with many dishes borrowed from each other.
Immigrants actually took these deep-fried cookies to all corners of the world, so they have become an international legacy and acquired multiple variations.
Today, the twisted recipes may contain a few drops of alcohol such as rum or bourbon for a more festive flair. That's an extra that few people would refuse, isn't it?
2. Kołaczki (Cream Cheese Cookies)
My favorite version of these cream cheese dough pieces is little cute diamonds, although the cookies can come in all kinds of shapes.
They look especially festive when made colorful, so use apricot, raspberry, strawberry, cranberry, or blackberry jams as a filling! I personally swear by rose jam in kołaczki, and I strongly encourage you to try it if you haven't yet.
Kołaczki are on repeat in most homes during winter season. Well, isn't it refreshing to have something tartish after a pumpkin-crazed fall? Plus, you can replace jam with poppy seeds, ground walnuts, or sweetened cottage cheese if that's what you prefer.
The variations are endless, but the trick is to generously dust every piece with powdered sugar for a snow-capped flair.
3. Rogaliki Waniliowe (Vanilla Cookies)
These shortbread crescent-shaped cookies are popular at any Christmas market around Europe. No one knows for sure from where they originated. Was it Austria, Germany, Poland, or the Czech Republic? That's a never-ending debate. In any case, rogalki are truly beloved in Poland and adapted to the Polish taste.
With vanilla bean and ground almonds, they boast of a nutty aftertaste and rich texture. You can never have one or two. You'll just reaching for 'just one more'.
4. Ciasteczka Cytrynowe (Lemon Tea Cookies)
I call these ones Polish macarons. While they have nothing to do with meringue, both the Polish and French cookies are on the fancier side and have a filling to die for.
As the name suggests, ciasteczka cytrynowe (lemon cookies) have a strong association with lemon – you have creamy lemon filling sandwiched between two cookie caps. A pro tip: get a drop of food dye to make the filling bright yellow.
Some people experiment with the citrus cream and try anything from tangerine to grapefruit. I'm a conservative, who swears by the original lemon recipe though.
5. Ciasteczka Warszawskie (Warsaw Cookies)
One more competitor of French macarons, Warsaw cookies are crunchy sweet sandwiches with mouthwatering, tender semolina cream squeezed between two crunchy bases. They are covered with shredded coconut for a festive look, and you typically have a white glaze topping too.
Ciasteczka warszawksie are normally reserved for special occasions such as Christmas or parties and aren't found in every bakery round the corner. Posh and classic, like Warsaw itself, they are worth a try even if you're not going to bake them too often.
6. Pierniczki (Gingerbread Cookies)
While arguably every country has its own recipe of gingerbread, the Polish city of Toruń is special in this regard. The legend says that these cookies came to life after a baker drank a bit too much mead and overused honey while making dough. Sounds quite feasible to me.
You'll find pierniczki at every Christmas market, and they come in all kinds of shapes. Not just a food, they're a symbol and a great souvenir. You can get a giant heart-shaped piernik with a sweet message. What a smart investment! A snack and a card in one.
Check both plain pierniczki and plum-jam stuffed pierniczki. The jam makes all the difference, although both versions are fantastically soft.
7. Ciasteczka Maślane z Dżemem (Jam-filled Butter Cookies)
The trick of these shortbread cookies is hidden in their simplicity. You won't find it difficult to make a few batches at home (and you can endlessly play with the shapes), but you'll appreciate them as your default cookie for school fairs and parties.
If you're planning to stick to the original recipe, get some strawberry jam. But there's no pressure – Poles use all kinds of jam nowadays. Some bakeries even offer butter cookies with pineapple jam, which is nothing but out-of-place in a traditional Polish cookie.
8. Ciastka Kruche Amoniaczki (Crumbly Ammonia Cookies)
It just can't get easier than this – the most difficult part about making Polish kruche ciastka is choosing a cutter for the shape you want. Little Christmas trees, hearts, stars, circles, or crescents? Take your pick.
These are basically shortbread cookies classically made with fat instead of butter and ammonia instead of baking powder. I know it sounds disgusting, but it's just a tiny bit of ammonia, not a whole bottle. This ingredient lends the cookies an unbelievable crunchiness that you can't get with baking powder.
Ammonia cookies would be baked in enormous amounts back in the day and stacked in shoe boxes, layered with parchment paper. This way, they were always at hand for unexpected guests. I should probably have a few batches just in case too. What about you?
9. Rurki z Kremem (Horn-shaped Cream Cookies)
While dozens of countries claim these horns as theirs, I strongly associate them with Ukraine and Poland. You will see the difference when you cross the border, though.
The Polish version uses either flaky or puff pastry, and its filling is heavier and sweeter. While Ukrainian trubochky are made with whipped cream or condensed milk, Polish rurki are stuffed with what's called budyń, a thick Polish custard made of sugar, potato starch, a drop of vanilla, and warm milk.
If you opt for some of the trendiest recipes, you'll end up with mascarpone filling, which will, to my mind, ruin the whole concept of an Eastern-European horn-shaped cream cookie. I'd strongly recommend going with the whipped cream and powdered sugar coating to get a real feel of the good old dessert. My hand would never even reach for a different cookie if there were rurki z kremem on the table.
10. Andruty (Chocolate-filled Wafers)
Strictly speaking, it's not a cookie. But what is it? Every Pole knows this taste of childhood – ready-made thin wafers (which are tasteless on their own) spread generously with a mixture of chocolate and/or shredded coconut. It's as simple as that – you don't need to be a kitchen wizard to make heavenly andruty and have your guests' mouths watering. And the taste competes with the fanciest recipes that require hours of preparation.
Disclaimer: While Ukrainian wafers are traditionally made with condensed milk, Polish ones are typically filled with chocolate/cocoa and shredded coconut mixture. Try both options to decide which one is for you. I am, without doubt, on team 'condensed milk'.
I love every single cookie listed in this article, and I love that they all have a history. Enjoyed for generations and passed to children and grandchildren – handwritten in old recipe books that smell of vanilla and ammonia. Borrowed from other cuisines, they haven't lost their original soul.
While contemporary living leaves little time for baking cookies at home, some Poles use the baking process as a mediation. Isn't that a beautiful way to connect with your family's legacy and, at the same time, treat your new family to some homemade sweet cookies made with love, especially during the Christmas season.
---
Related: Traditional Polish Christmas Dishes
Related: Popular Polish Desserts & Sweets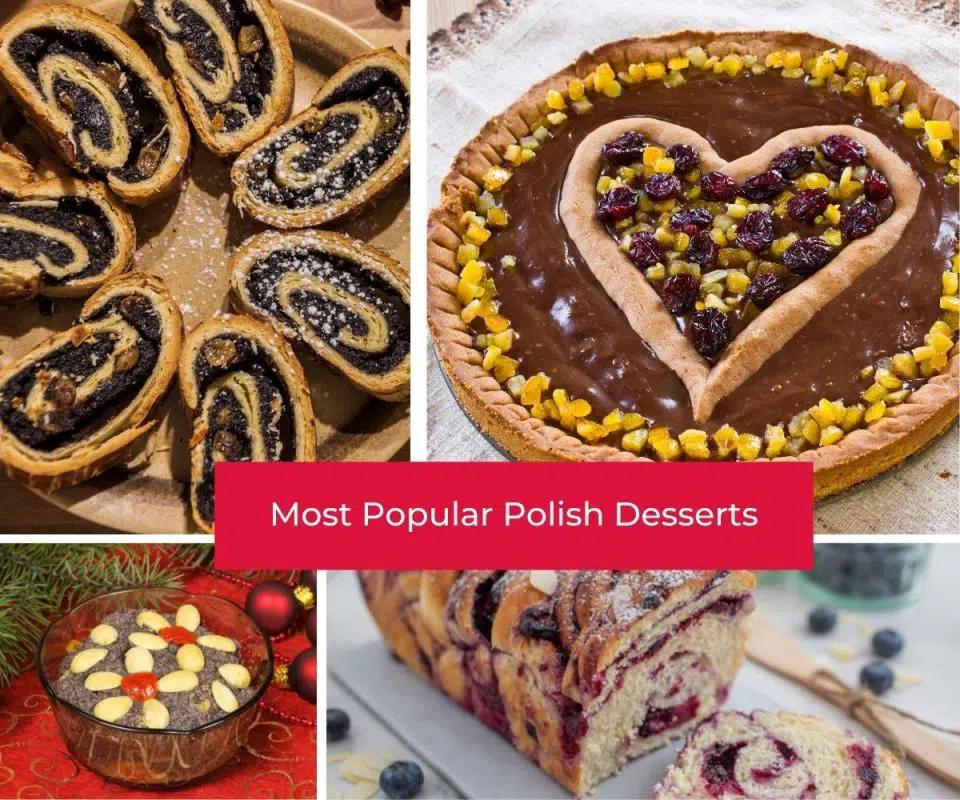 Related: Popular Polish Food