Top 25 Polish Desserts & Sweets
Poland is one of the last European countries where the production of fruit and vegetables, meat and bakery products is not highly industrialized. Most of it still comes from small family farms. But Polish cuisine is truly eclectic and diverse due to its geographic location, as it has integrated many elements of foreign cultures.
Dining in Poland is highly seasonal and influenced by Christian festivals. So Polish desserts change with the seasons. Spring brings Easter, a time of cakes like babka (a tall bundt cake) and mazurek (buttery short crust pastry with jam or caramel cream).
Summer is a parade of fresh strawberries, cherries, plums, pears, and much more. Autumn brings apples—it really does; Poland is the largest apple producer in the EU! Winter is, obviously, all about Christmas, featuring poppy seed cake and traditional Polish gingerbreads.
Feeling down? Come to Poland on the last Thursday before Lent and discover Polish Doughnut Day, literally translated as Fat Thursday. Cram in calories with doughnut-loving Poles and make your day!
A lot has been and it still to be said about Polish cuisine, but on the whole Polish food, with its hearty flavors and creamy textures, is known for being true comfort food, providing a sense of well-being and safety.
I assure you that these delicious Polish desserts will take you to pure culinary heaven, healing your soul and leaving you cheerful and relaxed.
1. Szarlotka (Apple Pie)
With 3 million tonnes of apples grown every year, Poland is the largest apple producer in the EU. No wonder, the well-known apple pie, called szarlotka or jabłecznik, tops the list of Polish desserts.
The beloved szarlotka is made from sweet crust pastry and spiced apple filling. It can be topped with crumble, meringue, or a dusting of powdered sugar. In restaurants and cafes, it is usually served hot with whipped cream and often a scoop of vanilla ice-cream.
2. Wuzetka (Chocolate Cream Pie)
Wuzetka is a Polish chocolate sponge cake filled with whipped cream and a thin layer of marmalade, topped with chocolate icing and a dollop of cream.
This amazing cake originates from the very modest times of socialism when there were shortages of everything. It was named after the East-West Route (Wschód-Zachód, shortened to 'W-Z').
3. Kremówka (Cream pie)
Kremówka (also known as Napoleonka) in its simplest form couples vanilla-flavored pastry cream (custard cream) placed between two layers of thin, crisp French puff pastry and is usually sprinkled with powdered sugar. This creamy delicacy became most famous when Pope John Paul II reminisced about the pastry from a bakery in his hometown of Wadowice.
4. Makowiec (Poppy Seed Cake)
The poppy seed roll is a strudel-esque, yeast-based cake. The filling is made of finely ground poppy seeds, honey, butter, raisins, and walnuts. The cake is then glazed with icing and finished with orange peel.
Makowiec is a traditional Christmas Eve dessert and a symbol of harvest and fertility. Poles still believe that eating poppy seed cake during religious feasts will bring them luck and prosperity.
5. Ciasto Drożdżowe (Yeast Cake)
There are few more comforting smells for Poles then the smell of a freshly baked yeast cake sprinkled heavily with crusty crumble. It is served for breakfast together with homemade butter (at least in the 1960s on Polish family farms) and homemade marmalade (to this day). But it can also be eaten as early lunch, with your afternoon tea, or as a soul-healing supper.
6. Pączki (Polish Doughnuts)
Pączki have a long tradition in Polish cuisine and are most often translated to English as doughnuts. These popular pastries are prepared with leavened dough that is deep-fried until golden and crispy on the outside, while soft, light, and airy on the inside.
Polish doughnuts always have a jam-filled center, traditionally rosehip or plum marmalade, and are usually topped with powdered sugar.
On the last Thursday of Fat Thursday (Tłusty Czwartek), it is a tradition for Poles to eat doughnuts. Do Poles like doughnuts? It is enough to say that almost 100 million doughnuts, worth up to 250 million zloty ($67 million), are sold and consumed during the spree!
7. Mazurek (Traditional Easter Shortcake)
Mazurek is a flat cake with various bases and toppings, traditionally prepared for Easter holidays. Typical Mazurek is made of short (or half-short) pastry covered with a sheet of butter sponge cake. The two sheets sandwich a thin layer of marmalade. The cake is covered with a fudge caramel cream and decorated with nuts, dried fruits, and jelly.
The cake was, most probably, inspired by sweet Turkish desserts that were brought over to the country in the early 17th century. But I should let you in on a secret: Poles don't really like Mazurek. But, as it comes in so many versions, in many homes they bake and Easter apple pie, and say "This is how we make Mazurek in our family". No one says a word.
8. Babka (Traditional Easter Bundt Cake)
Babka is a traditional Polish Easter cake baked in a bundt pan. It owes its name (which means grandma) to its skirt-like shape. There are many variations of this popular dessert: Sandy Babka, Marble Babka, Lemon Babka, Mayonnaise Babka, Poppy Seed Babka, Yeast Babka and many more.
Babka plays an important role on the Polish Easter table. A piece of this soft, moist cake is always placed in a basket and taken to church for blessing on Easter morning.
9. Toruńskie Pierniki (Toruń Gingerbread)
Toruńskie pierniki is a variety of traditional Polish gingerbread that has been produced since the Middle Ages in the city of Toruń. The very first reference to Toruń gingerbread dates back to 1380! No wonder, the famous Polish gingerbread is today an icon of Polish cuisine.
Toruń gingerbread is also very much associated with the Christmas season, often baked at home altogether by all the family to the sounds of Christmas carols.
10. Chałka (Polish Sweet Yeast Bread)
Chałka is a delicious, sweet yeast bread, shaped into a characteristic braid. You can get it in every Polish bakery or little grocery shop.
Chałka originates from Jewish cuisine where challah was the name given to a German bread when it was adopted for the Sabbath and holiday rituals by Jews who moved east to multi-ethnic Poland in the 15th century.
Polish challah bread is a bit sweeter than the origin as it consists of more sugar. It is often heavily topped with sweet streusel like crumble.
Served with butter, homemade marmalade, and honey, it is perfect as an afternoon treat.
11. Budyń (Polish Custard)
Budyń is very similar to English custard. However, it is not a pouring sauce but is rather thick in texture. The word budyń comes from the French boudin, as does the English word pudding.
This delicious Polish custard is traditionally made of potato starch and sugar, mixed together with warm milk and boiled for a couple of minutes until the mixture thickens. The most popular flavours are vanilla and chocolate.
Budyń is usually served in a small bowl, well chilled, with a drop of homemade fruit syrup. But, it is also used in cakes and pastries as a filling in several recipes; one of them being Karpatka—see below.
If you don't feel like making it yourself, you can buy it in a packet at the store.
12. Racuchy (Yeast Pancakes)
Fluffy racuchy are small doughnut-like pancakes, often stuffed with apple, pan-fried, and served with powdered sugar.
There are many variations of racuchy, but eggs, milk, sugar, and yeast (or baking powder) create the magic mix for this tasty Polish dessert. Remember that these golden delicacies should always be crispy on the outside and soft on the inside.
They're best eaten hot and crispy, right out of the pan, especially on a cold winter's evening.
13. Kołacz (Polish Wheel Cake)
Kołacz is a traditional Polish yeast cake, similar in texture to babka but made in a pan without a central hole, and with a sweet curd cheese filling. Poles use twaróg, a type of curd cheese that has been used in Polish desserts for hundreds of years.
This old-fashioned wheel cake was traditionally served at weddings and on special holidays, especially in the south of Poland, but is rarely seen today.
14. Faworki (Angel Wings)
Polish faworki are crispy, deep-fried pastries that are very similar to English angel wings, both in taste and appearance.
The faworki-making process requires patience, dexterity, and years of experience. An elastic dough consisting of egg yolk, flour, and cream is rolled into see-through thin, rectangular shapes. Each piece is than twisted in a form that resembles decorative bows. When fried, faworki turn into a crispy, light, and airy treat, which is served with powdered sugar.
Faworki are prepared for special occasions. It is a traditional Polish carnival season delight, very much desired and enjoyed on Fat Thursday (Polish Doughnut Day).
15. Kogel-mogel (Polish Egg Dessert)
Kogel-mogel is an extra fast, egg-based homemade dessert of Jewish origin that is very popular in Poland. It is made from egg yolks and sugar, and… nothing else! It is very similar to eggnog. It can be flavored with cocoa or aroma extracts.
While kogel-mogel is truly loved by children, we also have an adult-only version flavored with vodka (ajerkoniak). And so, the tasty kogel-mogel turns into a delicious liqueur-like egg brandy, very popular on the Polish Easter table.
16. Kisiel (Custard-like Fruit Dessert)
Kisiel is a simple summer fruit dessert that is very popular with Poles and other Eastern Europeans.
This silky desert is made of sweetened fruit puree thickened with some type of starch, typically potato or corn starch, stirred in a pan, and warmed up until boiling hot. It has a sticky structure, just like jelly before it sets.
Kisiel can be served both hot or cold, but usually it is eaten as a refreshing cold dessert, commonly topped with a dot of whipped cream.
17. Kutia (Polish Christmas Wheat Pudding)
Kutia is a sweet grain pudding of Ukrainian and Russian origin and traditionally eaten in eastern Poland.
There are hundreds of variations of kutia, but original Polish kutia is a cooked wheat pudding consisting of whole or cracked wheat or barley, poppy seeds, honey, and extras such as dried figs, raisins, nuts, and sometimes cream.
Kutia is traditionally served on Christmas Eve as a dessert.
Cheesecake is one of the most popular desserts in Poland, a mixture of old Christian and Jewish traditions. Sernik is primarily made of twaróg, a type of fresh curd cheese, a common ingredient of Polish desserts.
It is believed that the sernik recipe was brought to Poland by King Jan III Sobieski after his victory against the Turks at the Battle of Vienna.
Today, there are many varieties of Polish cheesecake, some baked, some unbaked, but it is usually made on a layer of crumbly cake, accompanied by raisins and dried fruits, topped with chocolate icing or jelly.
We also have an avant-garde version of sernik called seromark (cheese-poppy seed cake), featuring a layer of curd cheese settled on a thin layer of poppy seed cake. The cake just couldn't be more Polish!
19. Karpatka (Carpathian Mountain Cream Cake)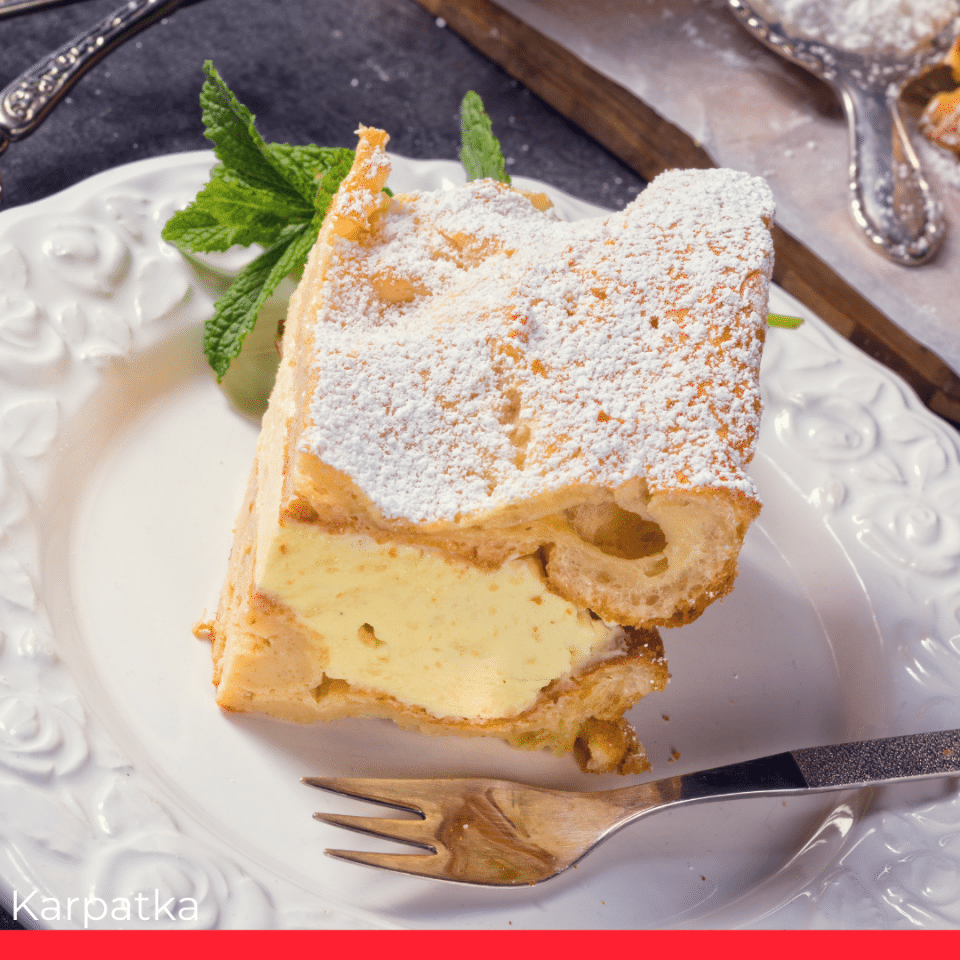 Karpatka, a crispy, creamy traditional Polish dessert, is one of the most popular sweet treats in Poland. It is usually composed of two layers of choux pastry filled with a generous amount of vanilla milk pudding or fragrant custard cream.
Carpathian Mountain Cake got its name thanks to its look—the pastry puffs when baked, creating rugged, irregular mountain tops and the powdered sugar finish looks like a fine covering of snow.
Actually, karpatka is one giant éclair and a dream come true for all cream puff lovers!
This irresistible Polish dessert is usually eaten around Shrove Tuesday, but you can easily buy it anytime of the year.
20. Ciepłe Lody (Warm Ice Cream)
The word Poland does not refer to the North Pole, but still we do have frosty winters sometimes way below 0° C. Maybe, this is the reason for serving fake ice cream.
But, let's get to the point: Ciepłe lody (warm ice cream) is an affordable Polish dessert made of egg white-based mousse topped with syrup, chocolate, or other icing, served in a waffle. It actually really does look like a scoop of real ice cream.
It was invented and became quite popular during the communist regime, when sweets were in short supply. Nowadays, it is just a sentimental walk for the Millennials. However, Polish warm ice cream is still to be found in old fashioned cafeterias.
21. Sękacz (Polish Tree Cake)
Sękacz is a Polish tree cake made of layered sponge cake baked above a flame on a rotary spit. The cake originates from Lithuania, and later in history, it became popular in the Polish Eastern borderlands.
The name of this dessert comes from its distinctive appearance. As a result of pouring the spit with layers of dough, the layers of this bright cake are striped with some dark and thin scorched layers, which are visible in a cross-section. That appearance resembles the growth rings in the trunk of a tree (sęk means tree).
This delicious Polish cake can be covered with icing or chocolate, but is most often eaten plain, without any addition or decoration.
22. Ciasto Z Rabarbarem (Rhubarb Cake)
Polish rhubarb cake has a very long tradition, especially in the countryside, where rhubarb is found in abundance. Originally, the cake was rather a poor people's food but eventually it became the rather decadent rhubarb meringue cake.
There are dozens of recipes for this delicious dessert, so you can prepare a shortbread, sponge cake or even yeast cake. On top, obviously, goes the rhubarb pulp, generously covered in sugar. Most often the cake is topped with crumble.
What is truly interesting about this pinkish dessert is the fact that rhubarb is actually a vegetable, not a fruit. It has a very sour, tart taste and it looks like a red version of a green celery stalk.
23. Krówki (Polish Fudge)
Krówki, literally translated as little cows, are Polish fudge, semi-soft milk toffee candies. It is one of the most common Polish sweets, invented at the beginning of the 20th century by Feliks Pomorski. Original krówki were wrapped in paper with a picture of a cow, which most probably rendered the name Little Cows.
The candies have a complicated nature and they mature with age. As a result, older krówki have a delicious crunchy crust on the outside and a silky and soft drop of caramel on the inside, the perfect finish to this guilty pleasure.
24. Kompot Z Suszu (Dried Fruit Compote)
And, here we have another Christmas Eve sweet dish, kompot z suszu. This traditional Polish non-alcoholic drink is based on local fruits, collected in the summer and early autumn, dried and stored with care till winter.
Generally, kompot is like a fruit soup with loads of different local fruits floating on the surface (plums, apples, pears etc.). It is served in glasses as a dessert either warm or cold, but it tastes best chilled as it is great for quenching thirst.
25. Chocolate ready-to-eat sweets
We all know the magical healing power of chocolate. Below you will find my three favourite Polish chocolate-based sweets:
Chocolate-covered dried prunes: Very popular as a gift or as an afternoon snack,
Ptasie Mleczko (Bird's Milk): A soft chocolate-covered rectangular candy filled with a marshmallow-like vanilla flavored centre; it was developed by E. Wedel Company in the 1930s,
Torcik Wedlowski (E. Wedel tart): This is a large, circular, dark chocolate covered wafer with hand-made decorations.
---
If you love Polish cuisine, check out our story on the most popular Polish foods (sweet and savory) and Polish cheeses.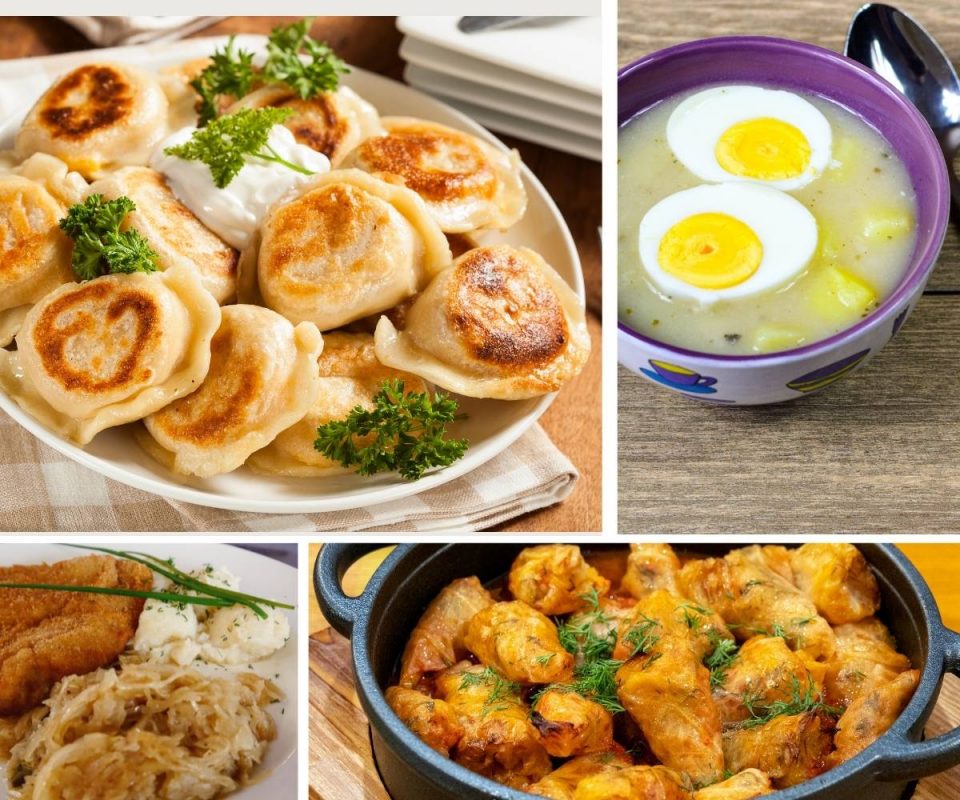 Related: Popular Polish Christmas Cookies