Tomatokeftedes (Greek Tomato Fritters)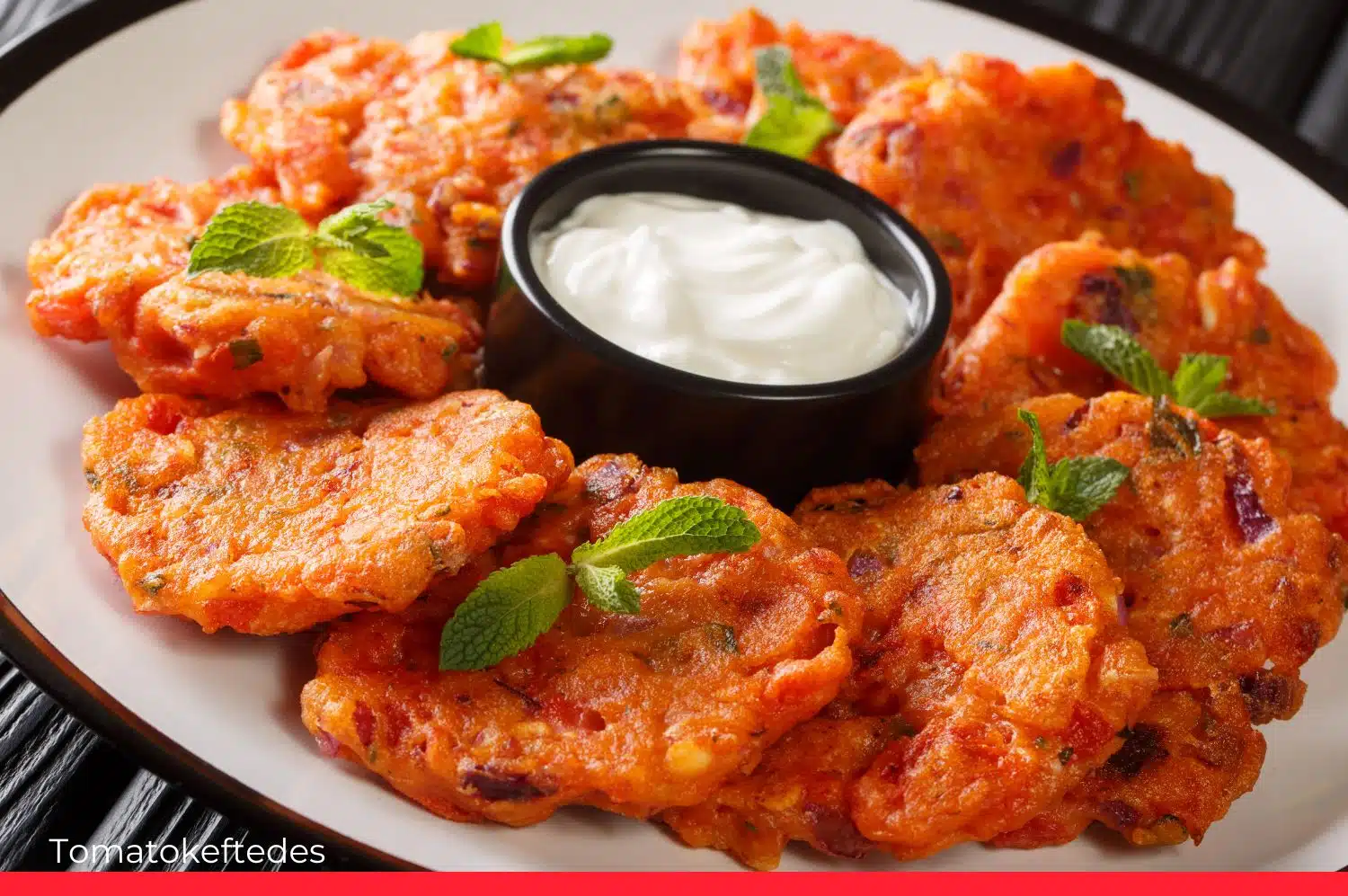 Santorini Tomatokeftedes (tomato fritters) is one of our favorite Greek dishes and is a traditional appetizer on the island of Santorini. Made with diced tomatoes, onions, mint, and feta cheese, these small bites of heaven provide a unique combination of flavors.
Due to the volcanic nature of the island's soil, the local tomatoes have an amazing texture, which make for the best tomato fritters! Greek food is extremely delish, and you can also make this recipe vegan by dropping the feta cheese, which is optional.
Tomatokeftedes (Tomato Fritters)
Tomatokeftedes, also known as tomato fritters, are a delightful Greek dish that encapsulates the essence of Mediterranean cuisine. These delectable morsels are crafted from a harmonious blend of ripe tomatoes, aromatic herbs, and a touch of regional flair. Each tomatokeftedes is a burst of flavor and texture, with a crispy outer layer that gives way to a juicy, tomato-infused interior.
Ingredients
Ingredients
8

ripe tomatoes

1

whole eggs

5

tbsp

all purpose flour

5

slices

bread 

5

tbsp

dried spearmint

4

tbsp

dried thyme

2

tbsp

ground cumin

1

tsp

tomato paste

2

red onions 

3

cloves

garlic

salt and pepper

250

gr

crumbled feta cheese 
Instructions
How to Make Tomatokeftedes:
Cut the tomatoes in half and take out the seeds. Grate the tomatoes on the thick side of a grater. Dispose of the tomato skins.

Put the grated tomatoes in a fine strainer for to strain for 15 minutes. You don't want too much water from the tomatoes in your mix.

Soak the bread in water for a couple of minutes.

In a large bowl, put the strained tomatoes, the onions and garlic, the egg, the strained bread (squeezed to get rid of most of the water), the flour, the herbs, cumin, and the tomato concentrate.

Salt and pepper to taste. Start mixing everything together gently with your fingers. Don't squeeze the mix. If your mix is too watery, add more flour until you have a mix with enough moisture but is not too loose.

It is best to leave the mix for at least 2 hours in the refrigerator, covered with a pvc film, so the aromas blend together. Personally, I make the mix the previous day and leave it overnight in the fridge.

Before you are ready to fry the tomatokeftedes, take the feta cheese, crumble it with your fingers and mix it well into the mix.

Put the oil in your pan (I use sunflower oil but you can use olive oil) and heat it well.

With two big spoons (or with your hands) shape balls from the mix and put them in the hot oil to fry. Don't put in too many at once as the temperature of the oil will drop.

Fry on each side for approximately 3 minutes, until they get a golden-brown color.

When finished frying, out the tomatokeftedes on kitchen towel to drain the excess oil!
Notes
Related: Taramokeftedes: Greek Fish Roe Balls (Fritters)
Related: Corn Fritters with Smoked Salmon, Feta and Watercress
Related: Cheese-Stuffed Kebabs (Kaserli Kebab)
Related: Hortopita: Greek Greens Pie
Related: Greek Grilled Octopus with Lemon Sauce
Related: Kolokithokeftedes (Zucchini Fritters)
Related: Taramosalata