Best 10 Baking Powder Substitutes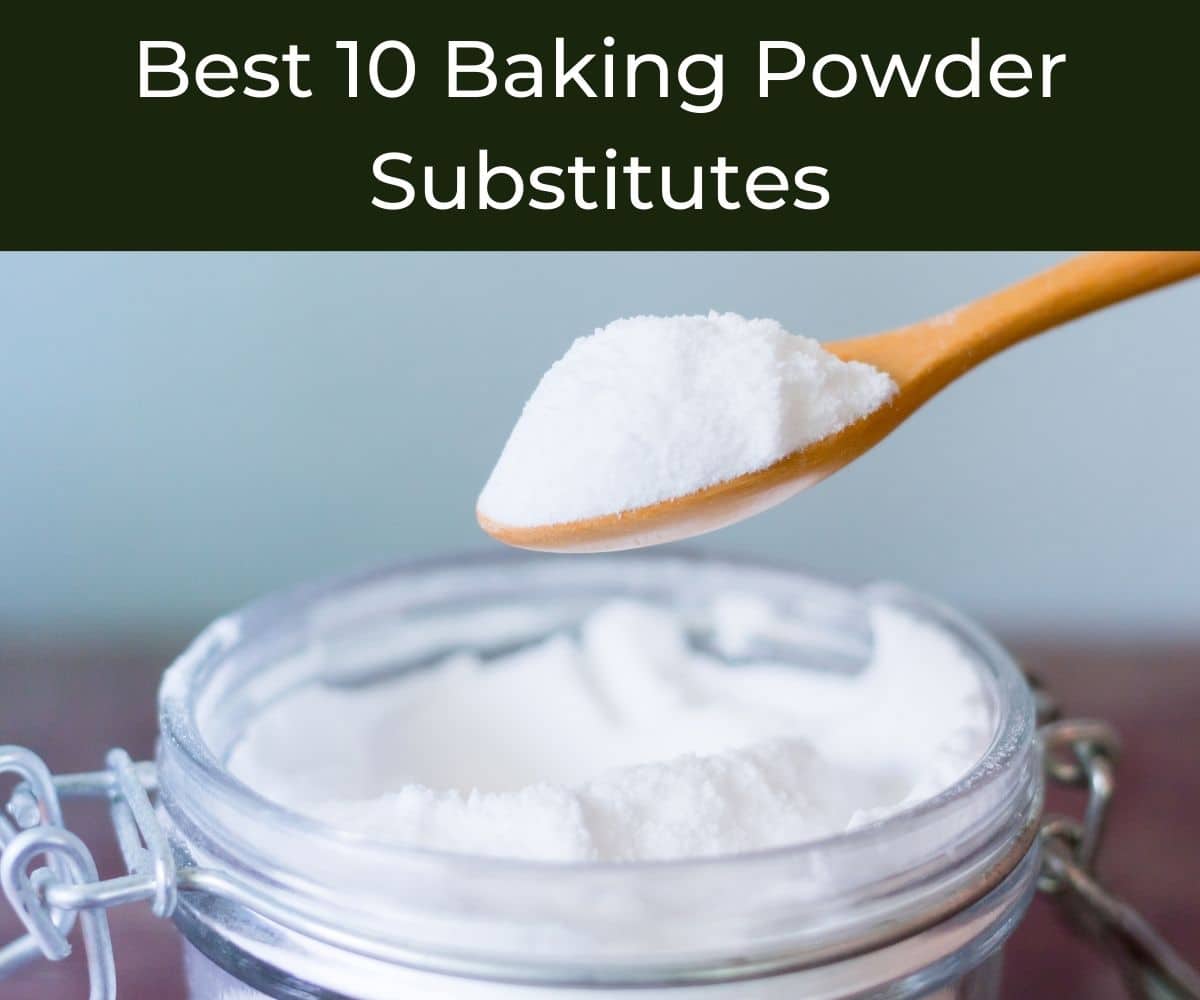 This is a hot topic for amateur and professional bakers alike.
How often have you found yourself ready to go only to realize you don't have the key ingredient you thought you did? Sometimes, you're too tight on a schedule and just don't have the time to go back to the grocery store.
No worries, we've got you covered: today's article is all about how you can replace baking powder if you run out or if you simply forgot to buy some.
We look at the best baking powder replacements, giving you enough choice that you're bound to find something in the house to make your baking work.
So, what is the best baking powder alternative? Depending on what you need it for, there are plenty of alternatives. But keep in mind, even though you can substitute with cream of tartar, baking soda, buttermilk, sour milk, lemon juice, or vinegar, when baking it's always best to follow the recipe as loyally as you can.
It's said that baking powder can last up to 12 months, but if stored poorly, it can become useless in half that time. Here's how you can check whether you can still make use of that baking powder: mix ½ teaspoon of baking powder with ½ cup of hot water. It should make bubbles instantly. If it doesn't, your powder needs throwing in the trash.
So, before we go into what makes a good baking powder replacement, let's see what baking powder is. Put simply, it's a combination of baking soda and acid. The leavening agent is what gives the lift and makes bread, pastry, and all bakery products fluffy. This mix combined with a liquid is what causes dough to rise.
On that note, in answer to that frequent question about whether you can use baking soda instead of baking powder, the answer is yes. But since baking powder contains baking soda, you'll need a replacement for the acidic compound in it, for which we'll provide you with the right substitutes on our list below.
One more thing, baking soda has about 4 times the power of baking powder, so you'll need to reduce the amount you use to a quarter.
Now that you understand the basic principles of how baking powder works, here are some of the best substitutes you may have at hand.
1. Cream of Tartar + Baking Soda
First things first – what is cream of tartar? Commonly used in winemaking, this powdery acid is potassium bitartrate or hydrogen tartrate. In cooking, it is known as cream of tartar.
A mix of baking soda and cream of tartar is probably the best alternative to baking powder. The cream of tartar adds acidity to the baking soda. You can make just a little, for one recipe, or you can make more and stash it for later. If you do, make sure to store the mix in an airtight container.
How to make it: For 1 tablespoon of baking powder, you'll need to mix 2 teaspoons cream of tartar with 1 teaspoon baking soda. It's advisable to add 1 teaspoon of cornstarch if you make a bigger batch, as this will prevent the mixture from hardening – but don't worry if you haven't got any, you can make do just fine without.
And while we're talking about cornstarch, let's eliminate yet another common confusion. While baking soda can replace baking powder when combined with certain ingredients (see below), it also goes the other way round. However, the lack of thickening properties doesn't make it a good substitute for cornstarch. So, if that's what you're googling, the answer is no.
2. Buttermilk + Baking Soda
Buttermilk is a fermented dairy drink left behind after churning butter. But modern butter is made differently to the traditional methods. Buttermilk is cultured and it's quite common in areas with warm climates, where milk sours quickly if left unrefrigerated. It is therefore very acidic, so it's just the thing you need to activate baking soda.
How to make it: If a recipe calls for 1 teaspoon baking powder, add ¼ teaspoon baking soda to ½ cup buttermilk. Mix the baking soda with the dry ingredients and the buttermilk with the wet ones. Keep in mind that you will need to reduce some of the other liquids to replace the half cup of buttermilk. So, if your recipe doesn't include much liquid, then buttermilk may not be the best substitute.
3. Yogurt + Baking Soda
Another substitute for baking powder is yogurt. Thanks to its acidity, plain yogurt is great when mixed with baking soda. But bear in mind that we recommend plain yogurt for a reason; you don't want to add unsuitable flavors to your mix.
How to make it: The formula is the same as that for buttermilk: if the recipe calls for 1 teaspoon baking powder, mixing ¼ baking soda with the dry ingredients and ½ cup plain, unflavored yogurt with the wet ingredients will do the trick.
So, to answer another frequently asked question: is yogurt a good substitute for baking powder? The answer is, yes. Make sure you keep a store of baking soda around the house and it will do just nicely.
But don't forget: as is the case with buttermilk which needs to be mixed with the wet ingredients, if the recipe doesn't contain much wet ingredients, you might need to opt for one of the others methods.
4. Sour Milk + Baking Soda
Just before curdling, milk ferments, and at that point it contains just enough lactic acid to activate baking soda. Make sure the milk isn't spoiled – probably the best way of figuring that out is by checking its texture; the difference will be obvious if the milk has spoiled.
Use it the same way you'd use buttermilk or yogurt. If the recipe calls for 1 teaspoon baking powder, mix ¼ teaspoon baking soda with the dry ingredients and ½ cup sour milk with the wet ingredients. If the recipe calls for more, just multiply the ingredients according to the ratios above and you're good to go.
5. Lemon Juice + Baking Soda
By now you've probably worked out the principle, but you need a little more lemon juice. For 1 teaspoon baking powder, add ¼ teaspoon baking soda to the dry ingredients and ½ teaspoon freshly squeezed lemon juice to the wet ingredients.
However, lemon juice will flavor your food. Therefore, only go for this substitute if you think your recipe is suitable. But just to be safe, we advise only using it as a baking powder replacement if the recipe calls for a small amount of lemon.
6. Vinegar + Baking Soda
This one's probably the most common product used as a baking powder alternative since it's most likely to be found in your kitchen. Go for a vinegar that is very neutral in taste – top choice is white vinegar, but rice vinegar or apple cider vinegar will also work at a pinch.
How to make it: For 1 teaspoon of baking powder, you'll need ¼ tsp baking soda and ½ tsp vinegar. Don't forget to mix the dry and wet ingredients separately.
7. Molasses + Baking Soda
Despite not being very acidic, when mixed with baking soda, molasses gains the properties of baking powder, leaving your mixture fluffy, airy, and soft.
Molasses is basically sugar, which is why if you choose molasses to replace baking powder, you should then reduce the amount of sugar that the recipe calls for. And don't forget to adjust the other liquids in the combo to accommodate the liquid of the molasses.
How to make it: For 1 teaspoon baking powder, mix in ¼ cup molasses and ¼ teaspoon baking soda.
One-ingredient substitutes for baking powder
8. Whipped Egg Whites
Here's one you probably wouldn't have thought of: egg whites. Fluffy and weightless, whipped egg whites will add volume to some recipes. Make sure to gently fold it into your mix and don't rush, since the whipped whites will deflate making your mix less fluffy.
However, this substitute is not suitable for every recipe out there. But it works well in pancakes and waffles.
9. Self-Rising Flour
Self-rising flour speaks for itself: it rises because it's already mixed with a rising agent, which is baking powder. The other ingredient is salt. So if you're thinking of replacing baking powder entirely, why not swap the plain flour for the same amount of self-rising flour and simply add less salt to your mix to keep the tastes balanced?
10. Club Soda
What is club soda? A mix of water and baking soda. This mix won't do miracles, though, so it'll only work if you're looking for a little fluffiness. But it comes in handy if you have it around the house. Replace the water or milk in the recipe with club soda, and hopefully you'll get the result you're looking for.
Now that we've got a few things settled, let's move on to some other frequent challenges and questions about raising agents.
Can I make bread with baking powder instead of using yeast?
One common question in bakery is how to make bread with baking powder instead of yeast.
When it comes to bread, some recipes are as simple as the 4 ingredients they contain. When using baking powder for bread, the whole process is so much easier for the average, inexperienced cook. Because baking powder is a quick-acting leavening agent, you don't need to leave the dough to rise before baking, and if you find a recipe which doesn't use strong bread flour, you won't even need to knead the dough.
So, you can make magic out of some simple, everyday basic ingredients found in your home, such as flour, milk, baking powder, and salt. It's all you need to make a fresh loaf of bread any time you feel like it. And if you don't have milk, use a mix of water and oil as a substitute.
Before you start, make sure the baking powder hasn't passed its expiry date. Then mix the ingredients in a large bowl, while preheating the oven with a baking sheet inside. Gradually add the milk until all of the ingredients mix together, and if you don't mind getting your hands dirty, we advise using your hands rather than a wooden spoon. Or a kneading machine, if you have one handy. Form it into a loaf, making sure it's not too thick or else it won't rise.
Score a cross on the top with a knife, put it in the oven for about 35 minutes at 190°C (210°C regular/ 375°F). Its color will stay pale – don't expect it to turn out golden brown.
What baking powder substitutes are there for chicken wings?
Moving on, who doesn't love chicken wings? It's probably one of the most commonly enjoyed and popular dishes in the entire world. And there are alternatives to oily, smelly, and all-in-all unhealthy deep-frying. Many baked wing recipes use baking powder, but sometimes less is more and you can get the same crispy result without going to much effort.
Simply simmer the wings in salty water before roasting, as this will melt down the fat. And this is basically… the whole secret. then put them in the oven and you'll get the crispiest wings, which are also gluten free, paleo, keto, low carb, and, well, delicious, just to top it off. Thank us later!
And just to ensure we cover almost all the things you can replace baking powder in, let's end this useful how-to with everyone's favorite: cakes.
Replacing baking powder with baking soda works in any of the combinations we've given you above, and cakes are no different. Just make sure to consider the amount of liquid ingredients when using buttermilk, yogurt, sour milk, lemon juice, or vinegar.
We've taken you through the most common uses for baking powder substitutes, the simplest of recipes and the handiest ones. We hope you find this advice easy to follow, and that you can use it to improvise, adapt, and overcome just about any challenge you come across in the kitchen. Hacks really do work!