Pork Tenderloin with Noodles, Red Curry & Mint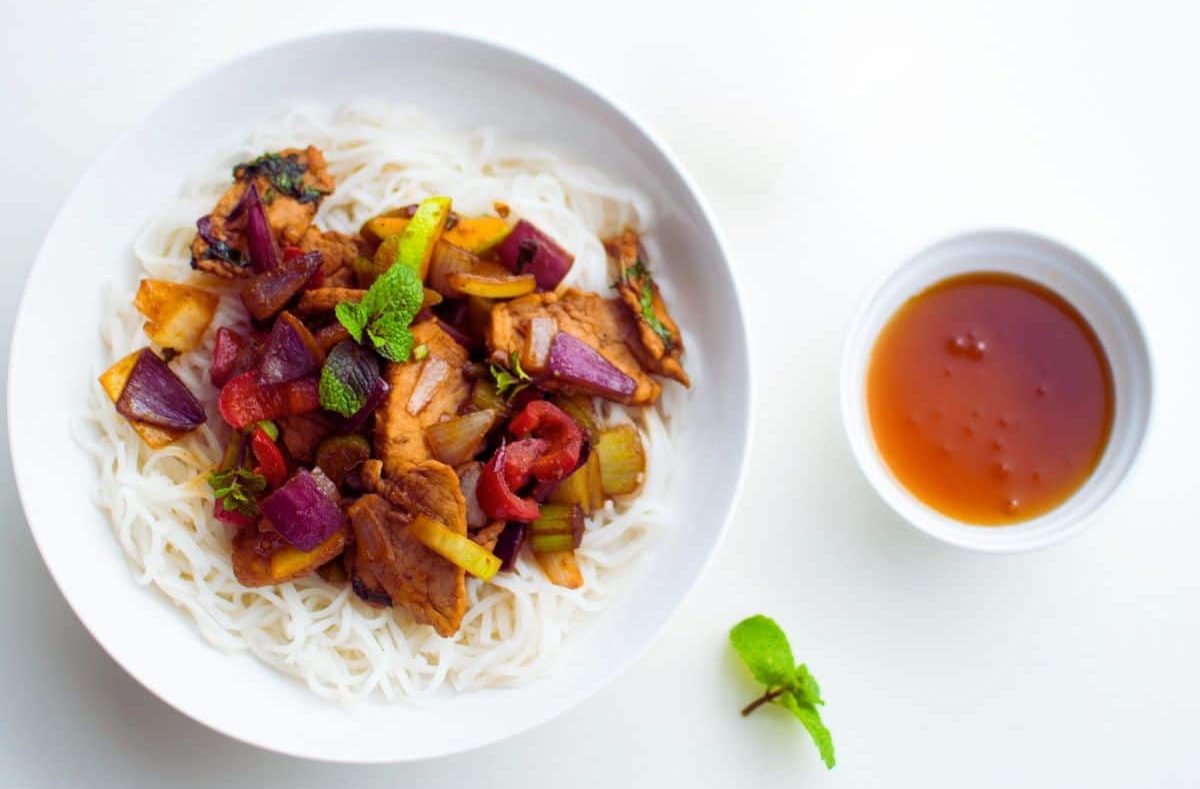 Pork tenderloin with red curry and mint is a flavorful and aromatic Thai-inspired dish that combines tender pork with a deliciously spicy and tangy red curry sauce.
The texture of the dish perfectly balances tender, juicy pork, crisp-tender vegetables, and soft, chewy noodles. The sauce is coating each ingredient with its bold, spicy flavor.
The flavors are complex and satisfying, with a rich, savory umami from the soy sauce, a sweet, floral note from the honey, and a fiery kick from the red curry paste. The fresh mint leaves provide a cooling contrast to the heat of the curry, making it a perfectly balanced and satisfying meal.
Enjoy!
Pork Loin with Red Curry and Mint
Perfect for a spring day.
Ingredients
200

g

pork tenderloin

½

red onion

50

g

celery

50

g

red pepper

50

g

zucchini

120

g

rice noodles

30

ml

soy sauce

1

tsp.

red curry paste

1

tbsp.

honey

20

ml

sunflower oil
Instructions
Cut the pork into strips then fry in a hot pan with a little oil.

When it starts to brown, add the diced vegetables together with the curry paste and soy sauce.

When the vegetables are cooked but still crunchy, add the honey and finely chopped mint, then remove the pan from the heat.

Cook the rice noodles for 3-4 minutes in salted boiling water, then drain and rinse quickly.

Mix the rice noodles with the meat and vegetables or serve as in the picture.
Notes
If you prefer beef rather than pork, check out this equally delicious Thai red curry beef with bamboo recipe.
Related: Pork Tenderloin Cured in Beer Brine w/ Cauliflower Puree and Pork Jus
Related: Pork Tenderloin with Mashed Sweet Potatoes & Corn
Related: Pepper-Crusted Pork Tenderloin with Roasted Vegetables
Related: Sous Vide Pork Tenderloin with Chocolate Au Jus
Related: Sofrito: Greek Beef Tenderloin in Garlic Sauce