26 Best Noodle Recipes
When you're looking for a healthy, flavorful dish that can be put together quickly, a bowl of noodles with delicious broth, some fresh veggies, and your favorite protein is a natural choice!
The best thing about noodle-based recipes is how versatile they are. While there are some 'staples' such as soy sauce, garlic, and ginger, it couldn't be easier to experiment and devise your own perfect noodle bowl.
To help you get started, we've compiled this list of economical Asian-inspired recipes that typically use ingredients you'll have in your store cupboard or can find in any food store.
1. Easy Chow Mein
The secret of this particular chow mein variation lies in the use of black vinegar for the sauce, as it's milder than regular vinegar. Find it in Asian food stores.
While this recipe is vegetarian (it uses egg noodles), vegans can substitute other varieties, such as udon or rice noodles.
2. 10-Minute Garlic Chili Oil Noodles
This yummy recipe uses wide Taiwanese noodles, which you may find in your local Asian food store, but you can also experiment with different types until you find your favorite. While the basic sauce is scented with chili, garlic, and green onion, there's plenty of room to experiment, and add your favorite greens.
The basic recipe is vegan, but omnivores can add chicken, pork, beef, or fish to create a more substantial meal.
3. Chinese Chicken Noodle Soup
When it's chilly outside, there's nothing more comforting than a steaming hot bowl of chicken soup. While this flavorful chicken noodle soup makes no great claims on authenticity – it's a modern US take on the original – it's ready in 20 minutes or so.
The mix of brown sugar, soy sauce, fish sauce, and vinegar gives it that lip-smacking umami kick. In addition to the chicken breast, typical Asian ingredients such as warming ginger, garlic and plenty of healthy greens make this a perfect way to use those store cupboard noodles.
4. Low Syn Sweet Chilli Prawns and Noodles
Sweet chili prawns are an Asian classic. This easy stir fry takes only 30 minutes to prepare and is perfect for a midweek supper when you crave something tasty and filling but don't have the time or energy to cook something complicated. If you can't face chopping veg, use pre-cut bags of slaw, throw in some frozen broccoli florets, or sliced onions and red peppers.
This recipe is only mildly spicy, which has the advantage of being acceptable for kids. For an added kick – add a sliced red chili.
5. Better Than Takeout Thai Drunken Noodles
No alcohol in this recipe! But you'll feel drunk with pleasure because every mouthful is a delectable mix of noodles dripping with a tasty sauce, crunchy summer vegetables, and even a hint of basil. It's easy to make and far healthier than your favorite Thai takeout.
Pro tip: make enough, so you have leftovers to enjoy the next day – they'll taste even better!
6. Easy 15-Minute Yaki Udon (Stir Fried Udon Noodles)
When you're looking for a substantial midweek dinner that has to be ready in around 15 minutes, this is a brilliant recipe that you'll always enjoy!
Yaki Udon is a one pan meal, and it's packed with fresh vegetables, mushrooms, and your favorite protein, all coated in a delectable sauce that will have you cleaning every drop off your plate!
7. Easy Beef Pho Soup Recipe
Pho soup is wildly popular in Vietnam – often called the national dish, and it's traditionally considered a breakfast food. This is a simplified version of the classic recipe that takes only 10 minutes to prep and 20 minutes on the stovetop, with ingredients that are easy to find in the US.
While gluten-free narrow rice noodles work best with Pho, other varieties such as udon, somen, and soba, which hold their form when cooked, work fine.
8. Easy Thai Noodles with Peanut Sauce
This simple Thai sauce, made from familiar store cupboard ingredients such as soy sauce, chili sauce, and peanut butter (yes!), offers just the right amount of spiciness.
Add chicken, ground beef, pork, garbanzos, or tofu, according to your preference. Top with some chopped peanuts, sesame seeds, and chopped scallions, and serve with rice noodles or meltingly soft linguine for a delectable midweek supper!
9. Classic Ramen Soup
Sometimes, the simplest things are the best. But a tasty and nourishing noodle soup in 15 minutes? Ramen is a staple Japanese dish and while Japanese chefs take sometimes days to make the perfect ramen broth, you can opt for some clever shortcuts.
It starts with a base of chicken stock (use a cube), with the addition of fresh ginger, garlic, mushrooms, soy sauce, and sesame oil. And, of course, some cooked chicken. Instant ramen noodles work well in this delicious soup.
10. Easy Vegan Pho
Here's another take on traditional Pho that can be whipped up in next to no time. This version incorporates baked tofu for the protein, bean sprouts, fresh cilantro, a few drops of fresh lime, and sriracha to heat it.
Depending on how fast you chop (or the chopping equipment you have in your kitchen), it's easy to make an enticing vegan pho at home in around just 30 minutes.
11. Hoisin Chicken with Noodles
Conscious of the calorie content in noodle dishes? Well, the good news is that this scrumptious recipe is not only dairy free, but it's also Slimming World and WW-friendly.
In addition, there are endless variations as you can change the protein, add in your favorite vegetables, and choose the hoisin and soy sauce you prefer.
12. Easy Homemade Ramen Bowls
This recipe offers plenty of alternatives and a whole array of possible toppings. It features one of the most popular – a hard-boiled egg with a still-runny yolk that sits on top of the plump, curly noodles!
To make a vegan version, choose vegetable stock instead of chicken – and lose the egg, of course – tofu makes a great alternative!
13. Bihon Pancit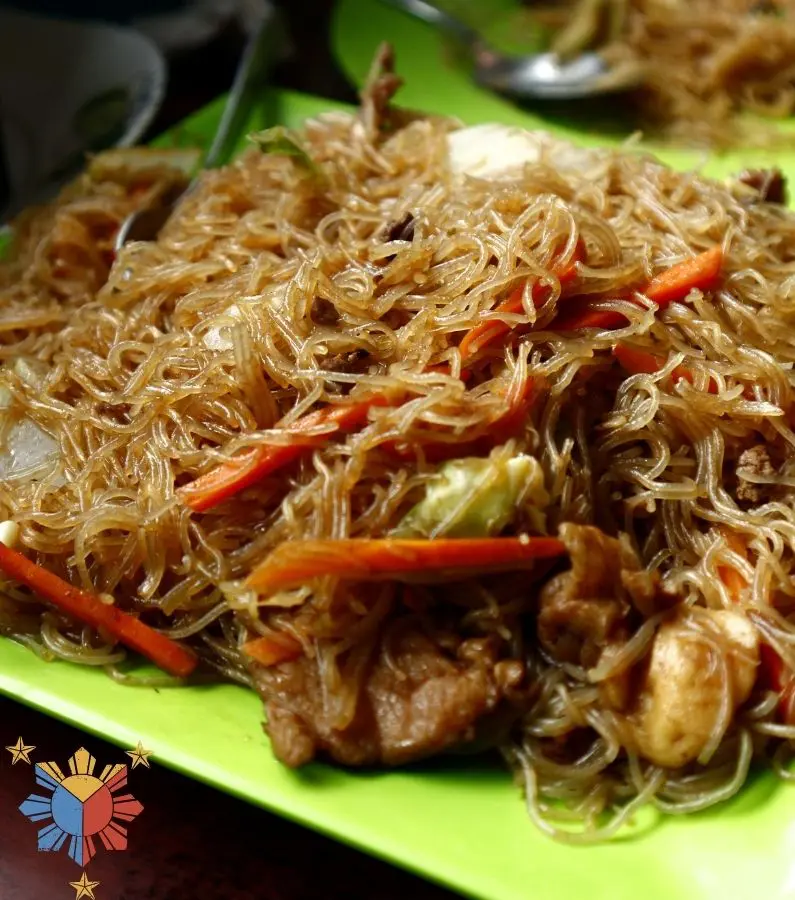 This traditional Filipino noodle recipe can be assembled with simple ingredients found in most stores. The essential ingredients for this dish are vegetables, seasonings, a protein such as chicken, shrimp, or tofu, and rice vermicelli noodles.
The result is an economical yet delectable dish you'll want to adapt and make again and again!
14. Easy Tuna Noodle Casserole
This is a fast and economical dish that the whole family will love! It combines canned tuna and grated cheddar into a simple béchamel sauce. Then stir some drained noodles and cooked frozen peas into the tuna mix. 
The recipe finishes by sprinkling crumbed butter crackers and parmesan over the top – although breadcrumbs are equally good if you place the dish under the grill to brown before serving.
15. Hoisin Pork with Rice Noodles
Another flavorful Slimming World recipe that adds only four 'syns' to your daily total and will definitely leave you satisfied – whether or not weight loss is your goal. There's plenty of room to be creative by adding your favorite veg to the pan, and if you're in a hurry, use the bagged, pre-sliced options available in any food store.
Of course, if you're not a pork lover, tender sliced chicken breast makes a fabulous alternative.
16. Mei Fun – Singapore Noodles
Every Chinese restaurant and takeout menu features its version of Singapore Noodles. However, it's easy and economical to make at home, using ingredients you'll find anywhere.
Most professional kitchens feature roast pork as the protein, but you can change this and use chicken, prawns, or tofu.
Pro tip: soak the fine vermicelli noodles in cold water for a few hours or even overnight, and they'll have a softer and more melting texture.
17. Spicy Garlic Noodles with Crispy Shiitakes
Spicy, garlicky noodles paired with meaty shitake mushrooms – what could work better for a quick midweek supper? Although the recipe has 19 ingredients, most are typical store cupboard staples.
The exception is mirin, a fragrant Japanese wine sauce that adds a deep umami flavor. If this isn't readily available near you, no problem! A splash of sake, rice vinegar, dry sherry, white wine, or dry vermouth sweet sherry, all make great mirin substitutes as they add complexity and depth to the end product.
18. Spicy Shrimp Ramen Bowls
These Spicy Shrimp Ramen Bowls feature tender shrimp, crisp fresh vegetables, and the meltingly soft texture of the curly ramen noodles.
The fiery sriracha paste of chili peppers, distilled vinegar, garlic, sugar, and salt elevate this recipe to the next level of umami-heaven. But, of course, if you can't find sriracha near you, any garlicky chili sauce will do.
19. Chrissy Teigen Chicken Noodle Soup
Is there anything Chrissy Teigen can't turn her hand to? This ultra-simple yet appetizing recipe makes a great go-to whenever you want something comforting and nourishing.
Using rotisserie chicken means you'll create a flavorful soup that can be ready after simmering for only 20-30 minutes. Then, either chop up the chicken breasts or throw in the whole chicken and pull the tender meat off the bones when you're ready to serve to get every last drop of juicy goodness.
20. Thai Spicy Noodle Soup
Looking for an exciting mid-week soup that can be ready in minutes, and that is ideal for vegetarians and vegans, and even features gluten-free rice noodles to appeal to most palates and dietary needs?
Thai cuisine is renowned for its fresh flavors, and this recipe is loaded with all the tastes you need – coconut, lime, garlic, and ginger. If you feel like spicing things up, add some sliced Thai red bird chili to taste – and feel the warming glow!
21. Vegan No-Chicken Noodle Soup
Imagine you feel a cold coming on. You want something hot and comforting but are starting to shiver and don't feel like standing over a sizzling stir fry. Here's a solution. This vegan chicken-free noodle soup can be left for hours in a slow cooker – so you can throw in the ingredients and get on with life, or back to bed.
It's loaded with healthy fresh veggies and includes garbanzos in place of chicken, so there's no shortage of protein. Add the instant ramen noodles just before serving (ditching the flavor sachet) and enjoy a steaming bowl of tasty, nourishing goodness.
22. Chicken Broccoli Stir Fry Noodles
This delish mie noodle recipe couldn't be easier to make with everyday ingredients. Although the chicken needs to be marinated for 30 minutes, you'll only need around 15 minutes to prepare the stir fry.
Pro tip: make enough for leftovers for breakfast the next day, as it'll be even tastier by then!
23. Mongolian Chicken Noodles
This classic stir fry combines a deliciously rich and spicy sauce with plump, gluten-free rice noodles or tagliatelle to create a healthy and comforting Asian-themed dinner. As with other stir fries, you're free to choose the vegetables you love (or have to hand).
24. Cabbage Glass Noodle Stir Fry
This simple recipe uses glass noodles (made from mung beans) – but if you can't obtain them, regular mie or any other fine noodles also work well. In addition to the veggies and soy sauce that you'd expect in any stir fry, this recipe includes three scrambled eggs – which you can substitute with firm tofu for a vegan version.
25. Instant Pot Chicken Thukpa
Thupka is a hot noodle soup that originated in Tibet. The word "thuk" translates as "heart", which is appropriate because this tasty vegetable and (optional) meat broth will earn a special place in the heart of everyone who tries it. There are so many thupka variations you'll want to experiment and discover your favorite.
The best news is that you can use any noodles – going for thicker ones when you're making a richer sauce and more delicate kinds when you're aiming for a lighter dish.
26. Easy Chicken Stir Fry Noodles
Colorful and packed with nutrients, this quick and easy recipe makes for a healthy dinner – just right for those nights when cooking is the last thing you want to do.
The crunchy vegetables and delicious chicken complement the nourishing soba noodles, creating a dish you shouldn't miss out on.