Best Bottled Soy Sauce (Our Top 13 Picks!)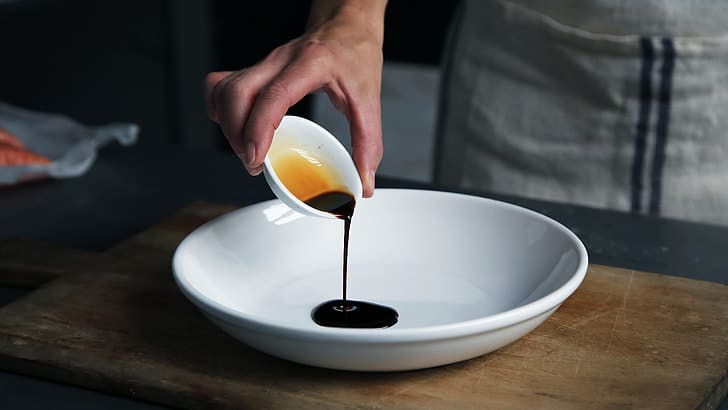 It has antiallergenic properties and it acts like an antioxidant but that's not why we use soy sauce! We use it in our dishes because it tastes amazing and it adds depth and flavor.
We just can't get enough and it's no wonder soy sauce is, at this point, the third best-selling sauce, after ketchup and mayo in the United States. And if you're as passionate as us about it you might want to know the best bottled soy sauce to choose.
What is soy sauce and how does it get made?
Soy sauce is a staple in Asian cuisine. It's traditionally made from soybeans sometimes mixed with wheat, barley or rice. One of the oldest condiments in the world, soy sauce is the result of fermenting soybeans and cereal.
The ingredients are brought up to a boil (the mixture resulting in this step is traditionally called koji). After boiling them they are covered with a salted water brine and left to ferment for weeks (this mixture is called moromi). And while the chemical process used nowadays involves hydrolysis and has replaced the kojy and brine procedure in most factories, there are plenty of traditional products to choose from.
Talk about umami: not all soy sauces are the same!
We love them all but they are not the same! Soy sauce has a three-millennia history and we're still using it in our kitchens. In fact, you probably have at least one soy sauce bottle in your fridge right now.
But did you know there are many types of soy sauces? Well, depending on the region, there's Japanese and Chinese soy sauce.
But it wouldn't be fair to categorize them in such a simple manner. When choosing the best bottled soy sauce one takes much more into the consideration: the texture, the thickness, the flavor.
Japanese Soy Sauce (Shoyu)
While the Chinese soy sauce was traditionally made out of 100% soy beans, cereal such as wheat, rice and barley were added in Japan. The resulting flavor is not so pungent, actually quite mild in flavor and it has a sweet accent. Shoyu is also clearer and thinner when it comes to its texture.
Another thing worth mentioning when choosing your Japanese soy sauce is the fact that dark sauces (called koiutchi) are stronger in taste as opposed to light sauces (called usukuchi). Usukuchi, while not as rich as the dark sauce, has an intense flavor and is a little sweeter, due to mirin (sweet rice wine) composition. And if you're looking for a bold, pure taste of soybeans, tamari is a Japanese soy sauce made with no wheat and it resembles Chinese sauces.
Another Japanese soy sauce is white soy sauce, aka shiro, and it contains more wheat than soybeans. In other words, dark japanese soy sauces are better for your meat marinades and basting sauces, while light sauces are perfect for dips and stir-fry recipes. Use tamari for bold, rich dips and if you're in love with sushi and sashimi, go for shiro
Chinese Soy Sauce
Called jiangyou, zhiyou and douyou, Chinese sauces include a small amount of wheat, if none. In North China people are known to cook with an all-purpose soy sauce, which is thinner and milder, while in South China people cook with a darker soy sauce.
Light sauce, aka thin soy sauce has a light color, a low viscosity (it's rather runny) and a salty flavor. So, if you're cooking a Chinese recipe and it specifies soy sauce, this is the one! Another tip: if you see "touchou" on a bottle of soy sauce, be sure that's a premium product and it's ideal for dips and light meals.
Double fermented soy sauces are to be used in stir-fry dishes and dippings. Lights soy sauces, also known as fresh soy sauces can be found labeled as pure beans or thin sauces. Make sure to use them to enhance the flavor of your dishes and in dips.
Dark soy sauce, also called black soy sauce, has a thicker texture and is sweeter, less salty than the light ones. It's usually made by placing the thin sauce under the sun for a couple of months, so the water evaporates and the salt crystalizes. Dark soy sauces, aka thick soy sauces are great in rich dishes creating a bold, earthy flavor in stews or stir-fry for instance.
Choose your best bottled soy sauce!
Before you buy your soy sauce think about the recipes you'll be cooking with it. A food writer and recipe developer ar Garlic Delight told us that light soy sauce, with a saltier, cleaner taste is best used in fresh, light, dishes, such as cucumber salad, tofu dishes and green and veggie dishes.
Dark soy sauce with a sweeter taste and a thicker texture is ideal for fried rice, braising, stir-fry and meats, adding color and flavor to the dishes.
We also advise you to read the label and compare the ingredients with the tips we provided above. Or, you can choose the easy way and keep on reading to discover the best bottled soy sauce that suits your cooking!
1. Kikkoman Soy Sauce (0.4 gallon) – Japanese Soy Sauce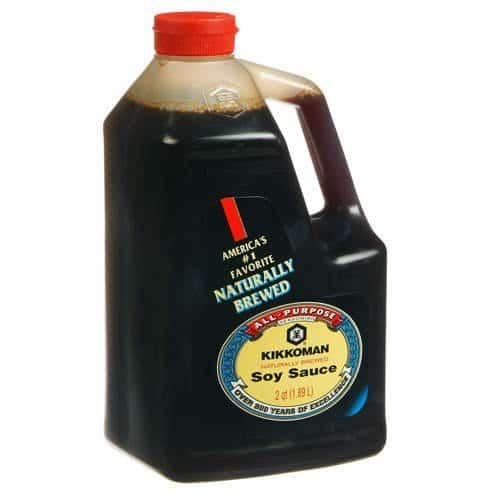 This is an US-brewed soy sauce and we consider it to be at the top of our choices due to its all-purpose use. It's made from a traditional recipe, out of soybeans, wheat, water and salt and it's a kosher soy sauce. It can be used for both Asian inspired dishes and western recipes. Works great in marinades, basting, stir-fry and dipping.
Medium salty taste
Light color
It has sodium benzoate as a preservative
Extra info: if you want a lower sodium version, Kikkoman also offers the same umami flavor with a mild salty taste.
My go-to soy sauce is Kikkomon. It's a well-known, longstanding and trusted brand when it comes to soy sauce. I use tamari specifically because it's gluten-free, and also a little darker and more aromatic. We get so many gluten-free requests these days, I think it's best to accommodate as best we can when it comes to products like this.

Corporate Chef Daniel England of San Diego's OMG Hospitality Group:
2. Kishibori Shoyu Imported Soy Sauce (12.2 fl.oz) – Japanese Soy Sauce
The great thing about this sauce is that it doesn't contain additives and preservatives whatsoever. Just whole soybeans, wheat and sundried sea salt. Quite interesting, right? And here's some more: the ingredients are fermented for one year in aged cider barrels. While it can be used in cooking, we'd say this sauce is at its best when consumed raw.
Rather salty taste
Japanese premium sauce, imported
Rich in flavor but not pungent, quite mild
3. Best of Thailand Lite Soy Sauce (pack of two 23.6 fl.oz) – Asian Brewed
Free from MSG, this soy sauce is quite low on sodium and is certified as kosher and vegan. Works great for marinating fish and meats.
Found in packs of two squeeze bottles (soy sauce in squeeze bottles oxides in a longer period of time and keeps its flavor robust)
Salty taste
Described as reduced in flavor for Asian recipes, but works great for western cuisine
4. Kimlan Soy Sauce – Chinese Soy Sauce
In terms of flavor, this sauce is quite balanced and neutral. It's not too sweet to make a stir-fry taste weird, nor too salty. It's naturally made out of soybeans and wheat, and it's fermented for about one year. It can be used as an all-purpose sauce.
Balanced taste and aroma
Different types of sauces, from standard, lighter, transparent colored sauces to thick, aged versions for a strong taste
My favorite brand of light soy sauce is Kimlam because it has a crisp, flavor. It is not too salty, and adds a lot of umami to any food. The dark soy sauce is thicker, sweeter, and adds color to a dish. It's great for fried rice and braising.

Food writer and recipe developer for Garlic Delight:
5. Yamaroku Kiku Bisiho Soy Sauce (18 ounce bottle)
This is a complex, rich in flavor and yet mild sauce. It is one of the best bottled soy sauces and it's no wonder since it's aged in 100-year old barrels for four years. It doesn't overpower dishes and it's not too expensive.
Potent taste but not too intense
Smooth, mellow notes
6. Koon Chun Light Soy Sauce – Hong Kong
Koon Chun is a premium light sauce made from soybeans, wheat flour and sea salt. It has a balanced, basic yet flavorsome taste.
7. Pearl River Bridge Golden Label Superior Light Soy Sauce (16,9 fl.oz) – Chinese Soy Sauce
With a natural, savory taste, this is the ideal sauce to add some taste but no color to your foods. It's fermented in the open-air. Great for dips and cooking as well. Pearl River Bridge is one of the most appreciated sauces in China.
Amber, light color
It can be too salty for some people but it has a sweet finish
Enhanced flavor
No additives
8. Pearl River Bridge Superior Dark Soy Sauce (60 fl. oz)
Suitable for all cooking, in marinades and in dips, this sauce has a deep, earthy flavor. It is produced in open air-fermentation technique which offers it a deep color, flavor and consistency. Use it for stews, stir-fry, marinades and dips as well.
Mushroom, specific taste
Thick texture
9. Lee Kum Kee Dark Soy Sauce (16,9 fl.oz) – Chinese Soy Sauce
This soy sauce is reliable, not too sweet but it offers plenty of flavor with rich, caramel accents. Lee Kum Kee is a premium dark sauce and yet it's one of the best choices if you're on a budget. It has a thick texture so it clings to food. Use it in stir-fry, as a drizzle-dressing or as a dip.
It has a beautiful color which adds a golden hue to food.
Easy to find in most grocery stores, including Asian supermarkets and conventional grocery stores
No GMO
No additives
10. Higashimaru Usukuchi Shoyu – Japanese light sauce
When it comes to umami flavor, Higashimaru Usukuchi soy sauce is light and while it seasons the dishes it doesn't overpower them.
11.Black Bean Soy Sauce – Taiwanese Soy Sauce
This sauce is a specialty of Taiwan and is made from local black beans and sea salt. The beans ferment under the sun for six months and this makes the sauce dark in color.
Slightly salty with a sweet aftertaste
Delicate and yet potent flavor
3% more protein than soy sauce
12. San-J Tamari Gluten Free Soy Sauce (64 fl. Oz)
San-J can be deemed as the best bottled soy sauce since it's certified gluten-free (100% fermented soybeans), vegan and kosher. It has a mild taste but quite different from traditional soy sauces.
Versatile flavor and thicker texture
Non-GMO
Alcohol content as a preservative
Brewed in the US
13. Yamasa Soy Sauce (34 fl. oz) – Japanese Soy Sauce
Yamasa is a rich flavor and red color soy sauce. It's quite dark and it has a potent taste. Use it to make your food stand out and make even the simplest dishes more powerful.
No additives, but it does contain alcohol
---
Chef's Pencil is reader-supported. If you buy something through our links, we may earn an affiliate commission, though this not impact the product selection, which is done independently by our editors and contributors.
---
Related: Best Soy Sauce Substitutes