Medovik (Medovyk) Recipe
Medovik is a Russian cake that was incredibly popular during the Soviet era, but it's still loved today in many Eastern and Central European countries. It is also a popular cake in Ukraine (know locally as medovyk) or in Georgia (know locally as Medok cake).
Medovik recipes can vary from country to country
The smell of the honey in Medovyk cake will fill the entire house as you bake. You'll love the fantastic balance of sweet honey dough and tender sour cream frosting. Your taste buds will be dancing with joy as the first tiny piece of this cake finds its way to your tongue. I just cannot describe the wonderful sensation of this dessert in any other way.
It is neither too sweet nor sour, neither too complex to make nor to simple and unimpressive. Ukrainian Medovyk just checks all the boxes for a perfect cake on any occasion. What is also great about layered honey cake is that it's one of those make-ahead cakes. The longer it sits in the fridge, the better the taste develops. So you won't get stressed finishing the dessert as your guests arrive.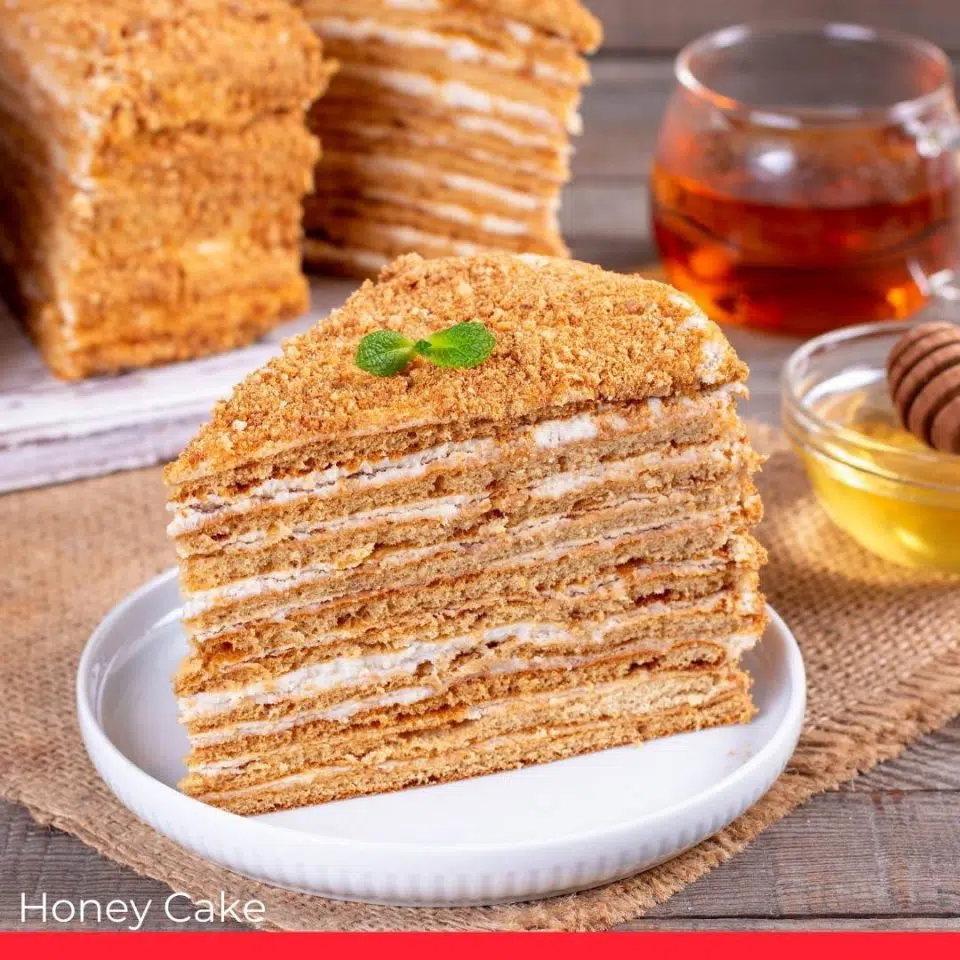 Medovyk (Layered Honey Cake)
Ingredients
Ingredients:
3

tbsp

honey

3

eggs

3.5

oz

butter

8

oz

sugar

14

oz

flour

1

tsp

soda

2.5

cups

milk

0.4

oz

vanillin
Instructions
Melt thehoney, 0.2 oz butter, and 1 cup of sugar in a water bath. Stir continuously. Leaveit to sit melted for 5 minutes until fully combined. Add the soda. Stir foranother minute.

Set thehoney batter aside. Let it cool for 2-3 minutes.

Add 2eggs. Stir quickly with a whisk. Add 12 oz flour. Stir the pastry well. Placeit in the freezer.

Take thepastry out of the freezer. Divide it into 8 equal parts. Shape every piece intoa ball and put them into the freezer again.

Take oneball out of the freezer. Roll it into a thin circle on a flat work surfacedusted with flour.

Use thebottom of a spring form pan to trace a pastry circle. Put the trimmings aside.

Line thebaking tray with baking parchment. Place the pastry on top. Place the pastrytrimmings round it. Bake for 3-5 mins.

While onelayer is in the oven, make the second layer. Repeat for 8 layers. Put themaside and allow to cool.

Combinehalf a cup of milk, 1 egg, a cup of sugar, and 1 oz of flour. Bring theremaining milk to a boil. Pour the milk into the egg batter and stir well. Cookthe cream until dense.

Add the vanillasugar to the cream. Stir and set aside. Add 1.8 oz of softened butter and whiskthe cream well. Cool the cream.

Poke thepastry layers with a fork so the cream soaks in. Spread the cream (2-3 tbsp forevery layer) over the pastry layers. Put them on top of each other. Generouslycoat the top and sides with cream.

Crumble upthe pastry trimmings. Sprinkle the top and sides of the honey cake with thetrimmings.

Cool thehoney cake for at least 8 hours. Serve.
Notes