Most Popular Culinary Destinations for Taking Cooking Classes this Summer
Europe is once again America's favorite international summer destination, and delicious food has always been one of the continent's biggest lures. Food tourism is big business in Europe. According to some estimates, between 3-5% of all European tourists are purely culinary tourists.
For many culinary tourists, the best way to immerse themselves in the local culture and discover the best local cuisine is by taking cooking classes. In Italy alone, nearly 1 million culinary travelers attend a local cooking class every year.
Our team has turned to Google to crunch the data on the most popular culinary destinations for taking a cooking class this summer. We've ranked the places with the highest number of Google searches for "cooking classes in [place]" made in the United States.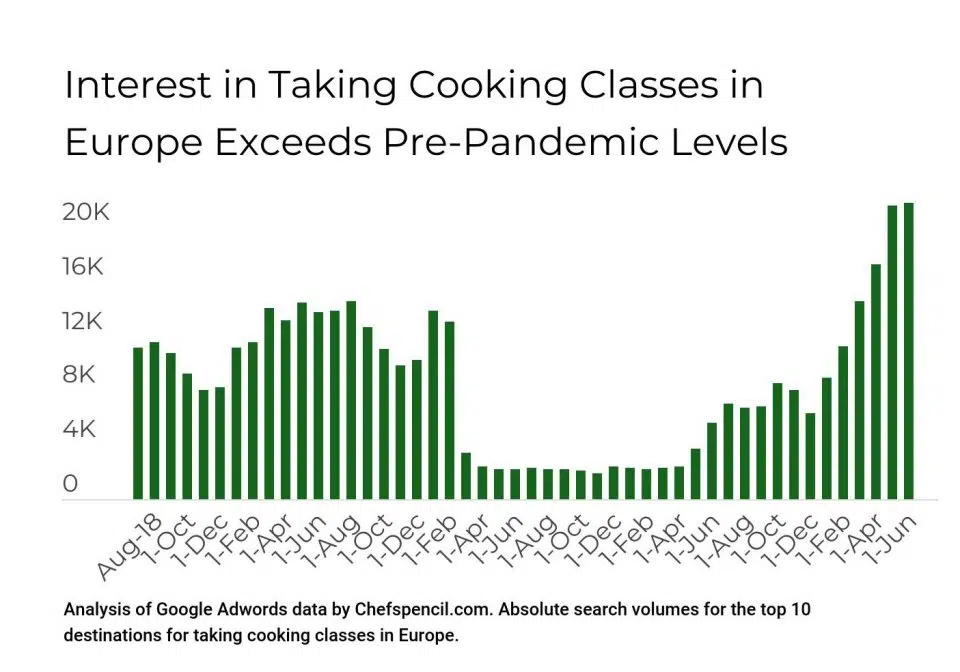 Interest in taking cooking classes in Europe this summer is well over pre-pandemic levels. Search volumes for June 2022 for the top 10 culinary destinations in Europe have increased by 288% Y-o-Y and are up 58% compared to June 2019. Looking at historical trends, interest in cooking classes will only pick up in July and August 2022.
Italy is America's favorite culinary destination, with no less than seven destinations among the continent's top 15. This is hardly a surprise given the huge popularity of Italian cuisine in the United States. Rome, followed by Florence, Venice, and the Amalfi Coast, are the top culinary destinations preferred by Americans in Italy.
However, it is Paris that is the absolute favorite destination for taking cooking classes in Europe.
Spain, one of Europe's top culinary powerhouses, is well represented in the top 15, with Barcelona ranking 4th and Madrid in 10th place, while Greece has three of its top tourist destinations among the top 15. Last, but not least, Lisbon, Portugal and London, United Kingdom, also sneak into the top 10.
With the exception of Paris and London, all top culinary destinations are concentrated in Europe's south. While other European countries have plenty to offer in terms of local cuisine, they are no match for those at the top.
Let's take a look at Europe's most popular culinary destinations for taking a cooking class.
1. Paris, France
The French capital is synonymous with fine dining. However, while visitors may not have time to master the intricacies of French haute cuisine, there are plenty of short course options to choose from if you're looking to give your baking an authentic French flair.
Suppose you have 2-3 hours to spare. Why not take a quick masterclass and learn how to make delicious croissants or upgrade your macaroon-making skills in the cozy and welcoming atmosphere of Parisian Ataliers Maison Fleuret.
Perhaps you'd like to add an iconic French dish like bouillabaisse to your repertoire. What about an evening learning to cook a traditional 3-course French meal with a small group of like-minded food lovers. If you include an optional visit to a local market, allow 6 hours for the entire experience, which includes enjoying the food you've prepared with perhaps a glass or two of wine.
2. Rome, Italy
If you've ever wondered whether it's possible to make fresh pasta at home without years of experience, why not take a short class that will turn you into a pasta master in no time. You'll learn the secrets of preparing perfect pasta dough and learn about classic Italian cuts such as tagliolini to tagliatelle.
Then sit down to a delicious meal of mouthwatering specialties and learn more about Italy's incredible food culture.
Rome is also famous for its incredible artisanal ice cream. To learn the secrets, why not take a 2-hour class at Giolitti, where they've been making the finest since 1900! You'll work with a gelataio and even be offered the opportunity to go behind the counter and serve your gelato to customers. Of course, the highlight will be the tasting!
And if you don't make it to Rome, check out our round-up of the best and healthiest ice cream brands you can buy from your local grocery store.
3. Florence, Italy
Each region in Italy has its own distinct food culture, and the stunning city of Florence, in the heart of Tuscany, is famous for the incredible quality of the local ingredients used in its iconic Tuscan dishes. That's why CAF Tour's 5-hour class begins with a trip to the San Lorenzo market, where you'll choose the day's best produce for your dishes.
Next, guided by a local chef, you'll learn how to prepare a traditional 4-course Tuscan meal, before sitting down to enjoy your creations with a glass of wine. Each class has a maximum of 15 students, so there are plenty of opportunities to ask all the questions you want and make new friends.
If you want to take home the secrets of a single iconic dish, why not enjoy a 2-hour tiramisu demonstration in the authentic surroundings of a typical Tuscan home? In addition, you'll get to try out different coffee and flavor combinations to take your creations to a new level of sophistication.
4. Barcelona, Spain
If you're visiting the fabulous city of Barcelona, Spain, take a few hours away from sightseeing to learn more about the art of authentic paella-making with the friendly and charismatic folks at The Paella Club.
What's great about this experience is that two people work with each chef, and you'll get to make three different paellas and gazpacho – a refreshing chilled soup. If you're looking for a cooking class with great tips, and endless cava refills, that's lots of fun – this is for you!
Looking forward to hosting a tapas evening when you get home? Then you can't go wrong if you invest 3 hours in a class to learn how to make them in authentic Catalan style. There are plenty of options to choose from to help you take a deep dive into the city's original food culture.
5. Santorini, Greece
An American favorite, the scenic Cycladic island of Santorini is the fifth most popular destination for foodies looking for holiday cooking classes. Besides its amazing views and picture-perfect towns, this volcanic island also has plenty to offer in terms of culinary delights.
The local cuisine of Santorini is incredibly diverse and flavorful, a true paradise for foodies and lovers of Greek food.
Enjoy a private farm-to-table cooking class with a local chef, using produce grown in his restaurant's garden. You'll have the opportunity to learn, hands-on, how authentic Greek specialties are prepared before enjoying a relaxing meal and marveling at the incredible views of the island from the terrace.
Sounds terrific, right? But even if you can't make it to Santorini this year, you can still soak up the local atmosphere and learn to cook like a local. In about an hour, using a device of your choice, Kathrin will take you through the steps you need to make authentic tomato fritters and give you an enjoyable glimpse into this incredible island's unique food and wine culture.
Besides Santorini, Mykonos and Athens are also favorite destinations for taking Greek food classes.
6. Venice, Italy
Among the many attractions of this uniquely beautiful city is its local cuisine. Cicheti are small plates you'll find in Venetian bacari (wine bars) and restaurants. So why not take a 4-hour class (including lunch) and learn how to make 6 or 7 different types, from the most traditional to modern creations, using the best seasonal ingredients: vegetables, meats, fish, and more.
Given that vegetables play such an important role in Italian cuisine, it's no surprise that some amazing classes will teach you how to prepare vegetarian specialties. Take a short trip to the elegant small city of Padua for a 3.5-hour masterclass.
First, in a traditional home with a garden, you'll make Bigoli al Torchio, a typical Venetian pasta made with a hand press! Then, you'll make authentic gnocchetti alla padovana, using seasonal vegetables from the chef's garden. Last but not least, you'll prepare a soft and creamy tiramisu! This is a menu your vegetarian and non-vegetarian friends back home will love!
7. London, United Kingdom
London has such a cosmopolitan food culture, it's hard to know what to choose when it comes to a holiday class.
Let's go for something traditional. Pastry and pie making is currently enjoying a revival across the UK; trendy pie shops are everywhere. Cooking school Greenwich Pantry has put together a unique course to help you learn a variety of pastry and pie-making techniques you can use at home. Beginners and seasoned pastry cooks will find the course a great place to learn new skills or refresh well-known techniques.
Indian cuisine is also a firm favorite in the UK. So if you love the flavors and textures of authentic Indian cooking but are daunted by the skills needed to get it right, why not break through your block with an Indian cookery class?
At cooking school Spice Monkey, you can choose from a range of classes and learn to prepare everything from basic curries and street snacks to unique dishes for celebrations.
8. Amalfi Coast, Italy
The breathtaking Amalfi coast, just south of Naples, is particularly famous for its endless lemon groves. Lemons feature prominently in the local cuisine, so learn more about how to cook with them. Combine a Lemon Tour + Cooking Class, which focuses on typical dishes of Campania. It takes place in spectacular gardens, under the shade of lemon trees.
Naples, just a few miles up the coast, is the undisputed birthplace of pizza. So nowhere better to learn authentic pizza-making skills than with a genuine "pizzaiolo". High in the hills above Sorrento, you'll be guided through the pizza-making process from start to wood-firing finish. Then, you'll also enjoy your creation and perhaps sample a glass or two of local wine.
For more information about the local cuisine, check out our story on the most popular Italian foods.
9. Lisbon, Portugal
These days the buzzing and historic city of Lisbon is a magnet for travelers wanting to get off the beaten tourist track. Want to try your hand at some authentic Portuguese cuisine? Then one of the best schools for serious cooks is the Lisbon Cooking Academy.
They offer an excellent pastel de nata class, where you'll learn how to make those iconic Portuguese custard tarts. The Academy also offers a wide range of vegetarian and vegan classes that ditch the meat and animal products but still provide the freshness and flavor that makes Portuguese dishes special.
10. Madrid, Spain
Are you ready to take a break from the city's heat and delve deep into the history and culture of that most iconic of Mediterranean ingredients – olive oil?
With Projecto Los Aires, you'll explore a 300-year-old olive grove accompanied by one of the farmers who take care of the trees. You'll find yourself immersed in the world of traditional agriculture, olive groves, and oil, learning first-hand about everything related to organic farming and understanding what goes into making the most incredible olive oils.
Back in the city, if hands-on cooking isn't your thing, enjoy a unique dinner at a premium casual and fine-dining restaurant featuring an authentic local Spanish cuisine of your choice (Basque, Navarre, Castilian, Andalusian, Catalan, Galician, Valencian, etc.), with a food & wine pairing masterclass provided by a wine educator. Nothing to do but savor the unforgettable combinations!
Methodology
Chef's Pencil has ranked the top European culinary destinations with the highest number of Google searches for "cooking classes in [place]" (i.e., cooking class in Paris) made in the United States.
The period analyzed was June 2022. In the case of ties, we ranked locations based on their average monthly search volume for the first six months of the year.