11 Most Famous Foods in London, England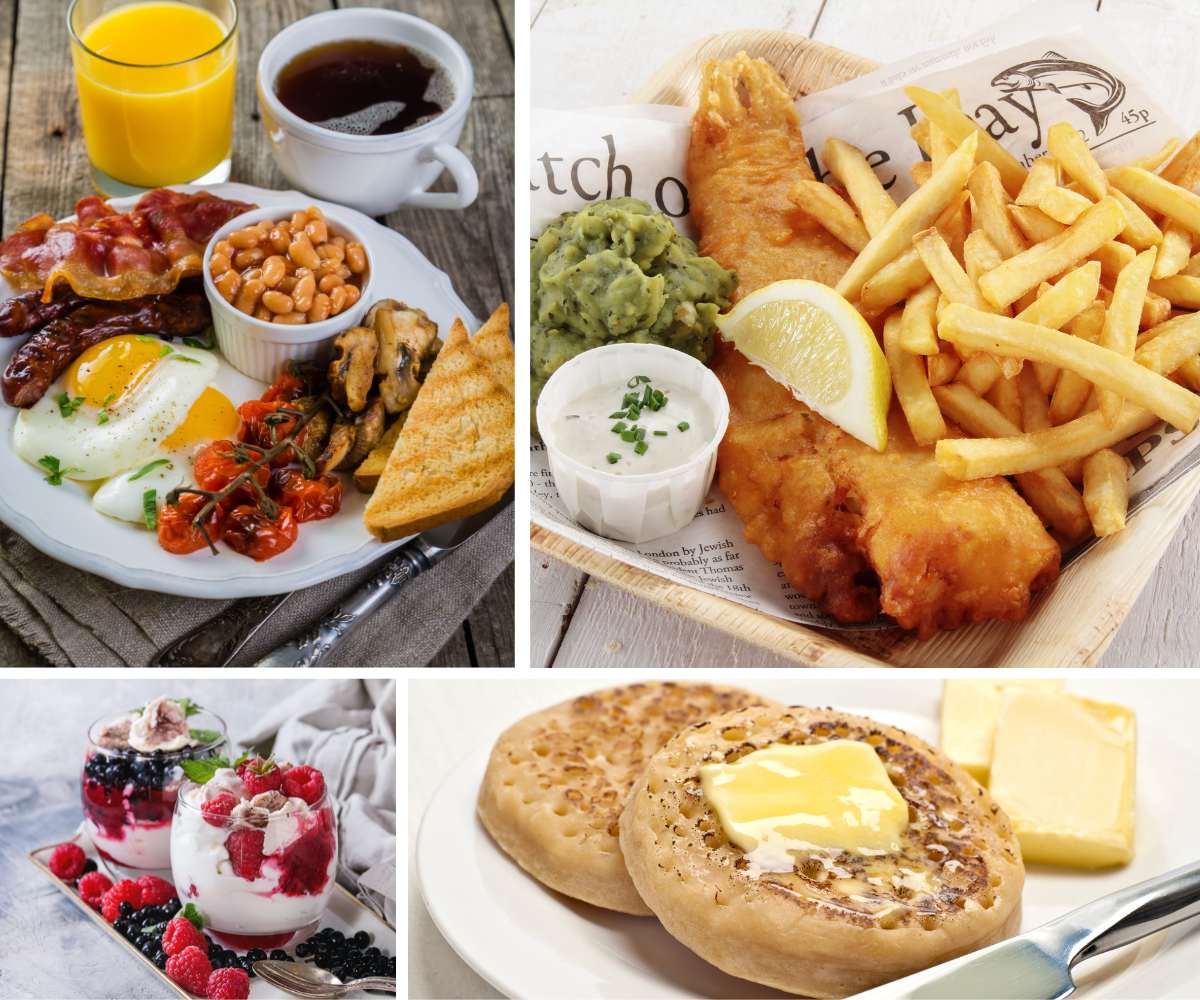 London is a melting pot of people and cuisines from all over the world, and that means that the food here is diverse, exciting, and even a little surprising!
There are countless new and exciting dishes popping up around the city, but if you ask any Londoner what their favourite food is, chances are it's something warm and hearty.
With long, cold winters and lots of rain year-round, it makes sense that we Londoners prefer something that warms us up and makes us feel cosy!
If you're planning a trip to London and want to know what to eat, or just want to know what the most iconic foods in London are, you've come to the right place.
Here are the 11 most famous foods to try in London, England.
1. Pie, Mash and Liquor
This dish is an East London classic, but many people who aren't from London don't even know about it! Pie, mash and liquor is a delicious dish consisting of minced beef pie and mashed potatoes drenched in "liquor", a green parsley sauce.
Pie shops have been in London since the early 19th century, and they were the original affordable fast food option for the mostly working-class neighbourhoods of East London.
Although many of London's pie shops have closed down over the years, a few classics are still standing. Favourites include F. Cooke in Hoxton and M. Manze by Tower Bridge.
2. Jellied Eels
Jellied eels were the original filling for the pies in pie, mash and liquor, thanks to the plentiful supply of them offered by the River Thames. Nowadays, though, pie shop owners (thankfully!) decided that beef would be a far more appealing filling.
That said, there are still plenty of old-school East Londoners who head to the pie shop specifically to order a serving of jellied eels.
Jellied eels are made by boiling chopped eels in a spiced stock before letting it cool and set into a jelly.
Jellied eels are served cold and are, for many modern Londoners, absolutely disgusting! If you're curious, though, they're definitely worth a try. Old-school East Londoners still adore them, and jellied eels are one of London's most well-known dishes for a reason!
3. Fish and Chips
Ask any Londoner what their favourite British food is and chances are it's fish and chips! This staple dish consists of battered and fried fish (usually cod, but sometimes haddock) and fried potato chips. In London, chips are a chunky and thicker version of French fries.
Fish and chips became popular in London in the early 19th century as an affordable meal for the city's working classes. Chips were so affordable that people started referring to things as "cheap as chips", which is where the saying comes from!
Although it's not strictly traditional, Londoners love to enjoy their fish and chips with sauce, mushy peas, a fruity curry sauce, or gravy.
4. Afternoon Tea
Afternoon tea is a famous small meal that was traditionally enjoyed by the upper classes between lunch and dinner. Nowadays, anybody can enjoy afternoon tea! Many Londoners go for afternoon tea on special occasions, or to treat themselves.
Afternoon tea is typically served on a three-tiered stand. The top layer of the stand is filled with tiny, bite-sized cakes, and the middle layer is filled with a variety of small sandwiches (usually including cucumber, smoked salmon, and egg mayonnaise). The bottom layer holds scones with jam and clotted cream.
Afternoon tea is served with, of course, English breakfast tea, although many venues now offer Prosecco as a fun alternative.
5. Sunday Roast
After a winter stroll around Hampstead Heath or Hyde Park on a Sunday, there's no better way for Londoners to warm up than by digging into a Sunday roast.
The traditional Sunday roast, also called a roast dinner, consists of roast beef, chicken, pork or lamb, served with roast potatoes, vegetables such as carrots and peas, and meat gravy.
In recent years, though, there has been a growing trend in London of serving nut roast and vegetarian gravy for the Sunday roast to make the dish suitable for vegetarians.
The Sunday roast is usually served as a late lunch at around 3pm, but many people eat a Sunday roast for evening dinner instead. Having a roast dinner is the perfect way to wind down at the end of the week and spend time with family.
You can find some of the best Sunday roasts in London at the Holly Bush in Hampstead and The Cow in Notting Hill.
6. Chicken Tikka Masala
Chicken Tikka Masala? Isn't that an Indian dish?
Well, yes… But also no. Let me explain.
The UK has a long history of close ties with India, and many Indians have decided to make the UK their home over the years. This combination of cultures has given rise to "British Indian food" – Indian-style dishes that originated in the UK.
Chicken tikka masala is probably the most popular of these dishes. Although it was invented in Glasgow, Scotland, chicken tikka masala is one of the most iconic foods in London. 
This is all thanks to the popularity of the dish on Brick Lane, a street in East London. You'll find over 20 Indian restaurants just on this one street!
Brick Lane is one of the top locations in the UK for Indian food, and this awesome street has influenced cuisine across the whole city. Now, eating a chicken tikka masala on Brick Lane is one of the best things to do in London for foodies!
7. Eton Mess
As soon as summer arrives in London you'll find Eton mess popping up on restaurant menus all over the city.
This classic English dessert originated at Eton College in the town of Windsor, which is just a short drive from London. The dessert consists of broken meringue, fresh strawberries and whipped cream, sometimes with strawberry syrup too.
The ingredients are mixed together to make a crunchy, airy and creamy texture that complements the sweet flavours.
One of the best places to try Eton mess in London is Cutter & Squidge, one of London's most beloved dessert cafés.
8. Beans on Toast
Eaten as a breakfast dish, an easy lunch, or a quick midweek dinner, beans on toast is the ultimate all-rounder and London comfort food.
Baked beans in London are very different to those in the US. In the UK, baked beans are navy beans cooked in a spiced tomato sauce and sold in tins. To eat them at home, you simply heat them up in the microwave or on the hob.
Beans on toast is probably one of the most simple yet iconic foods in London. It's also the easiest London food to make at home. Simply heat up a tin of English-style baked beans, and pour them over two pieces of buttered toast. That's all there is to it!
9. Salt Beef Bagel
A fairly new addition (by London's standards!) to the most famous foods in London is the salt beef bagel. This food rose to popularity in London thanks to two rival bakeries situated on Brick Lane: Beigel Bake and Beigel Shop.
It's unclear which one started selling salt beef bagels first, but before long both were attracting Londoners from across the city to sample this beloved sandwich.
Both bagel shops on Brick Lane are open 24 hours a day, and you'll often have to queue down the street to get your hands on a London Salt Beef Bagel.
Picture a round, chewy bagel stuffed with thick slices of slow-cooked, salty beef, topped with chunky pickled gherkins and drenched in English mustard. Are you drooling yet?
10. English Breakfast
The English Breakfast, also called a "fry-up", is the ultimate soul food and hangover cure for Londoners. If you visit London and only try one famous dish, make it this.
This huge breakfast has multiple variations, but the traditional version includes eggs (scrambled or fried), bacon, sausages, baked beans, grilled tomatoes, fried mushrooms, and toast. It's a lot of food, that's for sure, but it's the perfect weekend pick-me-up for hungry Londoners.
The best, and most traditional, places to try an English Breakfast in London are referred to as "greasy spoons", which are traditional, no-frills cafés. Top picks include E Pellicci in Bethnal Green and The Giggling Sausage in Borough.
11. Crumpets
Another popular breakfast food and snack in London is the crumpet. This round and fluffy bread has a spongy texture and is recognizable for the many small holes on the surface.
Crumpets are typically served smothered with butter or jam, and the holes act as receptacles for the butter to melt into. This turns your crumpet into an oozing buttery snack!
Although you can find crumpets in some of the more traditional cafés in London, it's far cheaper to purchase crumpets from the grocery store. These are far cheaper and taste just as good.
Conclusion
As you may have realised by now, Londoners love simple, hearty foods that are comforting and warm. Popular foods in London were designed to be consumed by everybody, which means they're super straightforward to recreate at home.
If you're looking to make some delicious meals that don't require special skills or complicated recipes, these London dishes are the perfect place to start!
---
Related: Most Popular English Foods
Related: Most Expensive Restaurants in London