Food & Wine Pairing Tips from a Chef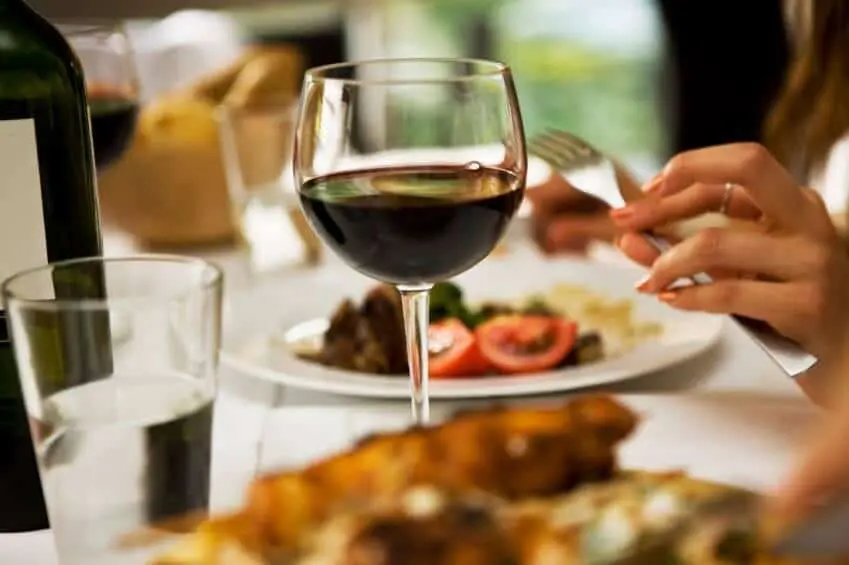 Food and wine matching can be very intimidating. But it is essentially a matter of individual taste, so rule number one is: if it tastes good and balanced to you, it is a good choice.
Before you choose the wine to go with a dish, ask yourself what the character of the dish is: full flavored, creamy, mild, lean, spicy fatty, or acidic?
The stronger tasting the cheese, the more full bodied and flavored the wine should be to balance the two flavors.
A few ground rules on pairing food & wine
Match flavorful dishes with full bodied wines and creamy mild dishes with mild, mellow wines. Fatty and fried dishes are best with crisp, lightly acidic wines or wines with a good amount of tannins. Acidic dishes can only be matched with acidity.
Spicy dishes are best matched with mildly sweet wine, and when in doubt remember that regional dishes are always best served with the wines from the same region.
For example, Italian food pairs well with Italian wines. "You can dig a little deeper on this though", says Michele Gargiulo, certified Sommelier and Wine and Beverage Director of the Fearless Restaurant Group. "A nice fresh Italian seafood dish will pair well with a wine grown close to the beach. The salinity in the air will make its way into the wine, layering it with some minerality that will pair well with the food."
On the other hand, Spanish or Portuguese seafood dishes pair well with local wines such as Albariño or Alvarinho, according to Ami Gangemella, a wine marketing consultant. "With a maritime climate and influence from the Atlantic Ocean, these vibrant acidic white wines pair well with local seafood cuisine."
With the above in mind, here are some more guidelines on pairing food & wine.
Rich, Creamy Dishes
Rich dishes include those with creamy sauces, fish, seafood, pasta in cream sauce, veal pork and poultry dishes and chilled or warm cream soups. Generally speaking cream sauces do not match well with acidic wines.
For these dishes choose a rich, full bodied and heavily-oaken Chardonnay, young Merlot, Beaujolais, Gamay or Pinot Noir.
Acidic, Vinegar-based Dishes
Vinegar marinated or vinaigrette-based appetizers and salads or dishes containing tomato sauce or lemon juice need an equally acidic wine to stand up to it.
The acidity in these dishes can not be balanced by mild or full bodied wines. Sauvignon Blanc, Pinot Gris or Grigio and other dry white wines suit best.
Light Flavored Dishes with Light-bodied Wines
Balancing the flavors is key here. The wine should not overpower the strongest flavored element of the dish.
John from Vino Clarity explains: "take a baked snapper, which is a light dish, and pair it with a Pinot Grigio or Soave, two lighter bodied wines. However, if you take that same snapper and pour yourself a glass of Chianti Classico, a medium-bodied red wine from Tuscany, the wine will overpower the fish and any flavor it might have.
"But if you cover your snapper in a hearty tomato sauce, a glass of Chianti Classico would be a great choice because the sauce has a stronger flavor than the snapper and would pair better with a fuller bodied wine. You are not pairing the wine with the fish anymore, you are rather pairing it with a hearty sauce, which needs a bolder full-bodied wine."
Strong, Bold Flavors
These include dishes such as roasted lamb, grilled spice-rubbed or marinated steaks, braised beef, various lamb dishes, game specialties, heavily herbed and mushroom dishes as well as dried and cured beef charcuterie.
These dishes are best paired with full bodied red wines such as Syrah, Barolo, Tempranillo, Cabernet Sauvignon and Zinfandel.
However, all these well-trusted food & wine pairings can go out the window if there is a sauce involved, according to John, the founder of Vino Clarity. Cabernet Sauvignon and steak is a good pairing with most
sauces, except a hot and spicy one. Cabernet is high in alcohol, which makes it a little hot in the mouth, but the heat of the spice would make the wine extremely hot (and rather unpleasant) and conversely, the higher alcohol of the wine would make the spicy sauce feel even hotter in the mouth.
Exotic and Ethnic Cuisines
Chinese, Thai, Indian, Malay and Mexican cuisines often use fragrant and hot spices, which makes the choice of wine fairly difficult.
Often these dishes are well balanced in spiciness and sweetness. They are best matched with slightly sweet wine such as Gewürztraminer, Riesling and/or dry fruity new world white wines.
"Spicy foods pair best with wines that have low to no tannins and a touch of residual sugar", says Allie Albanese, a certified sommelier and founder of Parched Around the World. "Tannic wines (i.e. Cabernet Sauvignon or Nebbiolo) can actually amplify the heat in a dish and make the alcohol in the wine feel more pronounced, while a wine with a touch of sugar can both reduce the effect of the dish's spiciness and balance the flavors of the food and wine.
"One of my favorite sweet-with-heat pairings is an off-dry Riesling with spicy Thai food."
Pairing Cheese & Wine
Matching wine and cheese is a science all by itself, and a lot of cheeses are too high in fat content and too strong to be paired with fine, matured red wines.
The stronger tasting the cheese, the more full bodied and flavored the wine should be to balance the two flavors. Soft and semi-soft cheese is best paired with dry white wine such as Pinot Grigio, Sauvignon Blanc, Riesling, Chablis, unoaked Chardonnay or light red wines such as Gamay, Pinot Noir and or Beaujolais.
Strong, ripe, pungent cheeses can be matched with full bodied white Bordeaux wines, and Spanish and Italian white wines. And as stated earlier, try to pair foods and wines from the same region: Italian cheeses with Italian wines and French cheeses with French wine.
Hard and extra hard cheese such as aged cheddars, Parmesan, Manchego, Gruyere, Comte and similar can be matched with full bodied red wines such as Shiraz, Cabernet Sauvignon or Zinfandel. The wine, however, should not be too refined and mature.
Blue cheeses are best paired with either mildly sweet Gewürztraminer or botrytized wines such as Spätlese wines, Sauternes, and Tokay, for example, or fortified wines such as Port, Madeira, Sherry, and Marsala.
Wine Pairing with Sweets and Desserts
When it comes to dessert choices, the wine served can be anything from Gewürztraminer, sparkling wine or Champagne to late harvest Rieslings, Sauternes and fortified wines such as Port, Sherry, Madeira or Marsala.
You can often find these pairings in alcohol gift boxes such as a bottle of sparkling Moscato matched with chocolate and truffles, or a light and refreshing sparkling rosé matched with a fine box of strawberry cream chocolate.
However, as in the case of savory dishes, the proper dessert and wine pairing boils down to the type of dessert you're enjoying. A long-aged sweet wine such as Vinsanto from Tuscany will pair well with chocolate and nut-based desserts, while fruit-based desserts pair better with a Riesling.
---

Related: Wine Serving Temperature
Related: How to Decant Wine
Related: Best gifts for wine lovers