Food and Wine Pairing Tips from a Chef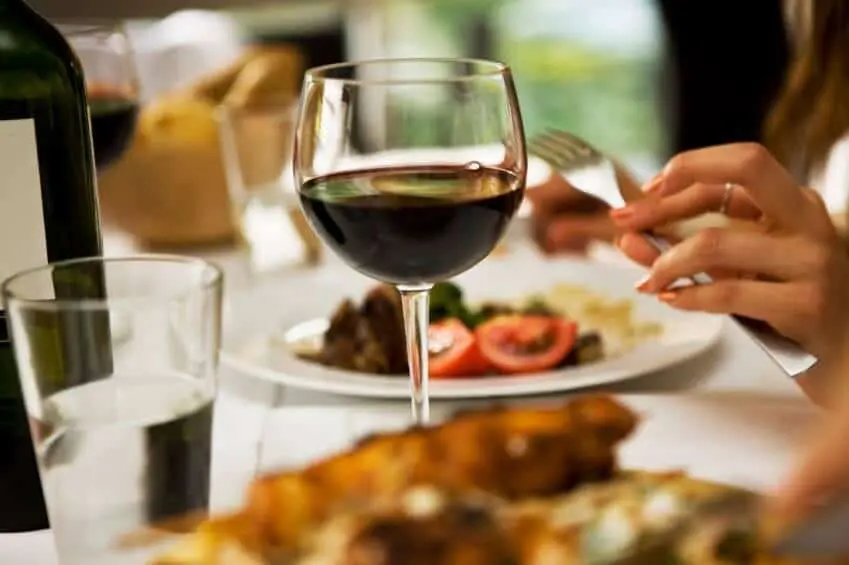 Food and wine matching can be very intimidating as it is very dependent on individual tastes. Rule number one when matching food and wine therefore must be: if it tastes well and balanced to the individual it is always a good choice.
Before you choose the wine to go with a meal or dish, you have to ask yourself or imagine how your dish can be characterized; full flavored, creamy, mild, lean, spicy fatty, or acidic?
The stronger tasting the cheese is, the more full bodied and flavored the wine should be in order to be able to balance the flavor of the cheese.
A few ground rules on pairing food & wine
Match flavorful dishes with full bodied wines and creamy mild dishes with mild, mellow wines. Fatty and fried dishes are best with crisp, lightly acidic wines or wines with a good amount of tannins and acidic dishes can only be matched with acidity.
Spicy dishes are best matched with mildly sweet wine and when in doubt remember that the dishes are from a particular region are always best served with the wines from the same region.
With the above in mind, below are some more specific guidelines:
Rich, creamy dishes
Rich dishes include those with creamy sauces, fish, seafood, pasta in cream sauce, veal pork and poultry dishes and chilled or warm cream soups. Generally speaking cream sauces do not match well with acidic wines.
For these dishes choose rich full bodied and heavily-oaken Chardonnay, young Merlot, Beaujolais, Gamay or Pinot Noir.
Acidic, vinegar based dishes
Vinegar marinated or vinaigrette based appetizers and salads or dishes containing tomato sauce or lemon juice need an equally acidic wine to stand up to it.
The acidity in these dishes can not be balanced by mild or full bodied wines. Sauvignon Blanc, Pinot Gris or Grigio and other dry white wines suit the best.
Strong, bold flavors
These include dishes such as roasted lamb, grilled spice-rubbed or marinated steaks, braised beef, various lamb dishes, game specialties, heavily herbed and mushroom dishes as well as dried and cured beef charcuterie.
These dishes are best paired with full bodied red wines such as Syrah, Barolo, Tempranillo, Cabernet Sauvignon and Zinfandel.
Exotic and ethnic cuisines
Chinese, Thai, Indian, Malay and Mexican cuisines often use fragrant and hot spices which makes the choice of wine fairly difficult.
Often these dishes are well balanced between spiciness and sweetness. They are best matched with lightly sweet wine such as Gewürztraminer, Riesling and/or dry fruity new world white wines.
Pairing Cheese & Wine
Matching wine and cheeses is a science by itself, and a lot of cheeses are too high in fat content and too strong to be paired with fine matured red wines.
The stronger tasting the cheese is, the more full bodied and flavored the wine should be in order to be able to balance the flavor of the cheese. Soft and semi soft cheese is best paired with dry white wine such as Pinot Grigio, Sauvignon Blanc, Riesling, Chablis, unoaked chardonnay or light red wines such as Gamay, Pinot noir and or Beaujolais.
Strong, ripe, pungent cheeses can be matched with full bodied white Bordeaux wines, Spanish and Italian white wines.
Hard and extra hard cheese such as aged cheddars, Parmesan, Manchego, Gruyere, Comte and similar can be matched with full bodied red wines such as Shiraz, Cabernet Sauvignon or Zinfandel. The wines however should not be too refined and mature.
Blue cheeses are best paired with either mildly sweet Gewurztraminer or botrytized wines such as Spätlese wines, Sauternes, Tokay and more or fortified wines like Port, Madeira, Sherry and Marsala.
Desserts and Sweets
When it comes to dessert choices the wine served can be anything from Gewürztraminer, sparkling wine or Champagne to late harvest Rieslings, Sauternes and fortified wines such as Port, Sherry, Madeira or Marsala.