30 Delicious Balkan Desserts You Should Try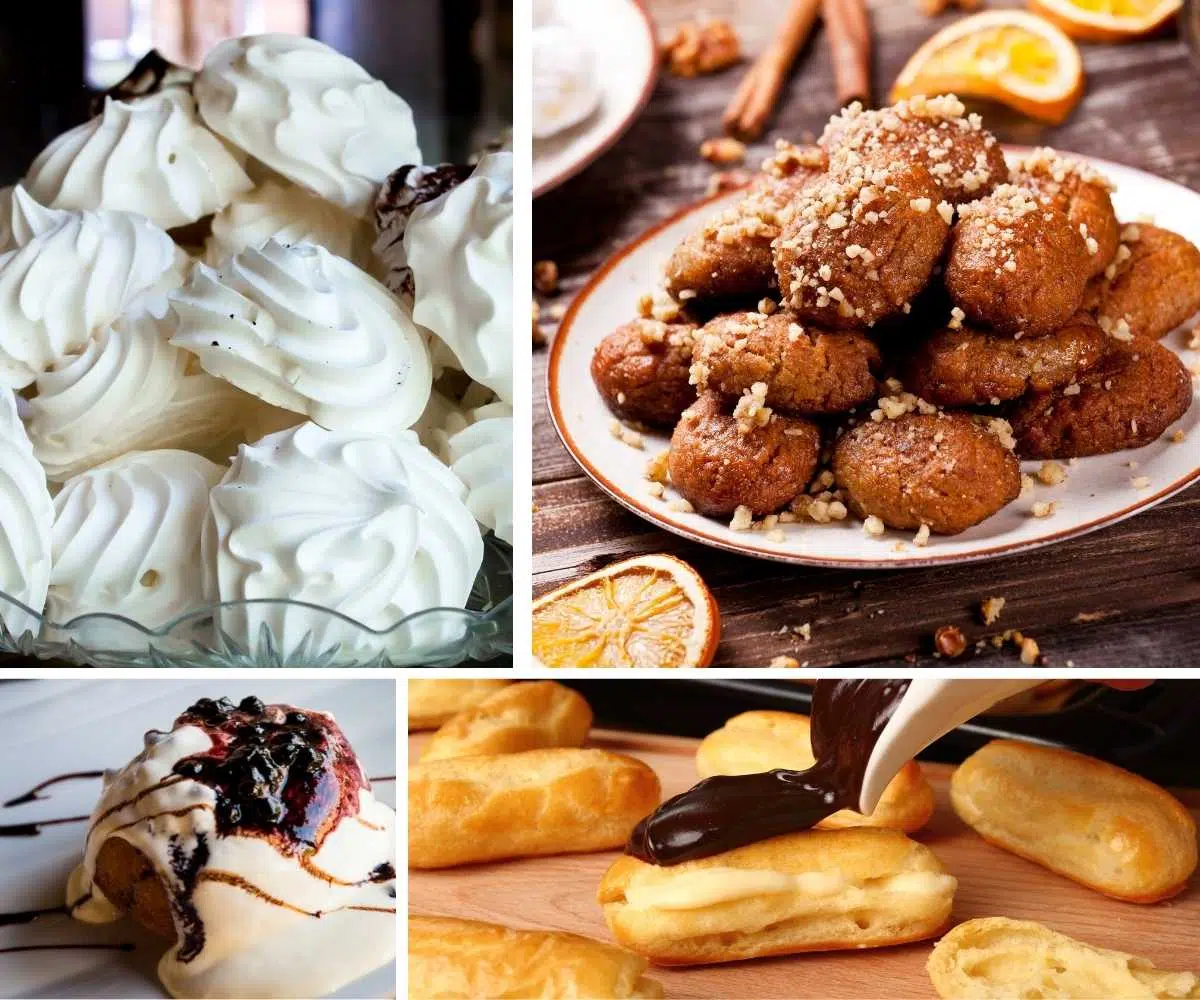 No sample of Balkan cuisine is complete without desserts. Balkan desserts are highly influenced by Ottoman Turkish sweets, which means many of them are made of dough, honey, walnuts, etc. Balkan desserts aren't for those who are worried about putting on a few pounds, but trust me, each pound you take on will be worth it!
This article brings you the amazing world of Balkan desserts. Even if you have no plans to visit the Balkans, you will soon change your mind after reading about our most delicious sweets!
1. Blejska grmada
Starting with a bombastic dessert, let's find out about blejska grmada. The base is made with sugar, flour, eggs, baking powder, and cocoa and it is coated with a sweet topping of milk, eggs, vanilla sugar, heavy cream, walnuts, chocolate, and berries.
The base is usually soaked in rum or fruity liquors and milk, ensuring it is not too dry. The whole thing is topped with chopped walnuts and fruits, followed by another layer of the topping, and it is served with whipped cream or melted chocolate.
2. Baklava
A queen among Balkan desserts, baklava is a layered pastry dessert filled with chopped walnuts and honey and soaked in sweet syrup water. It was brought to the Balkans by the Ottoman Turks, but nowadays it is considered a 100% Balkan delicacy.
Although traditional baklava is filled with chopped walnuts, you can find a wide array of other varieties, filled with hazelnuts, pistachios, coconut, chocolate, and even Nutella.
3. Fritule
What's better than doughnuts? Bite-sized doughnuts! This dessert is particularly made for Christmas, but you can find them outside the Christmas season. Although they resemble small doughnuts, fritule are much more, flavored with rum and lemon zest, and they contain raisins.
Some other variants are flavored with liquor, rakija, or lemon peel. These delicious desserts most probably originated in Venice a few centuries ago, where they are called fritole, and they are an important part of the famous Venetian carnival.
4. Potica
A type of rolled sponge dessert, potica may contain various fillings and it is usually prepared for holidays such as Christmas and Easter. The first written mention of this dessert dates back to 1575. During that time, potica was reserved only for the upper classes, but it later became widely available and popular among the peasants.
There are over 60 varieties of potica, depending on the filling. The most popular varieties are filled with walnuts, hazelnuts, tarragon, honey, poppy seeds, or cottage cheese.
5. Rahat Lokum
Coffee is extremely important for Bosnians, and Bosnian coffee isn't complete without rahat lokum. Also known as Turkish delight, rahat lokum is a cube-shaped dessert of gelatinous consistency, flavored with rosewater, walnuts, coconut, coffee, pomegranate, lemon, orange, and basically any other flavor you can think of.
There are even more elaborate rahat lokum varieties, with added chopped dates, pistachio, walnuts, hazelnuts, etc.
6. Papanasi (Romanian Cheese Donuts)
A combination of sweet and savory can be fantastic, of course, when executed properly. Papanasi is a great example of a dish where sweet and savory flavors compliment each other and make a harmonious combination.
Papanasi are basically small donuts, with cottage or Romanian cow's milk cheese added to the batter, along with a few drops of rum. They are served while still warm, with crème fraîche and blueberry jam or sauce. Papanasi are one of the most popular desserts in Romania.
7. Loukoumades (Greek Donuts)
If you want to try a real Greek delicacy, try loukoumades, a type of small donut. Soft and airy dough is deep fried and then soaked in a sweet syrup and topped with finely chopped nuts.
Loukoumades are usually topped with chopped walnuts and pistachios, but some recipes use chopped hazelnuts and even almonds. Sometimes, loukoumades are sprinkled with cinnamon, which gives them even better flavor.
8. Pohorska Omleta (Pohorje Omelet)
Don't let the its name fool you: this dessert is not really an omelet, although it is made with beaten eggs. But also sugar, vanilla sugar, rum, and flour go into this delicious concoction, and once baked, cranberry jam is spread over the top and it is decorated with whipped cream and a sprinkle of mint liquor.
Pohorska omleta was created by Chef Račić in Poštarski Dom mountain hut in the 1950s. It quickly became popular and now is one of the most famous Slovenian desserts.
9. Štrudla sa Višnjama (Cherry Strudel)
Made with a thin, layered pastry, Croatian cherry strudel takes us back to our childhood, when grandma made delicious cakes for the family. Štrudla sa višnjama has a sweet, yet tart flavor, and apart from some sugar, no other ingredient is needed to make this dessert perfect.
Croatians also love strudels filled with apples, poppy seeds, nuts, and various other fruits. In Serbia, strudel filled with poppy seeds is particularly popular.
10. Mađarica
The name of this dessert literally means "the Hungarian girl", but no one knows exactly why because this layered cake is 100% Croatian. Mađarica is a layered cake made of thin pastry filled with delicious chocolate cream.
The neatness of the layers is just as important as flavor, and each layer must be an even thickness. This cake is often eaten at events and anniversaries such as birthdays, weddings, and other parties.
11. Urmašice
Also known as hurmašice, this dessert looks so simple, yet it has a rich and complex flavor. It is made with a sweet dough soaked in sweet syrup water after baking. Usually, you can find a piece of walnut or date in the middle, and that's how this dessert got its name, as hurma is the Bosnian word for dates.
What makes hurmašice even more interesting is that before baking, the dough is rolled into cylindrical shapes, and each one is imprinted with a pattern, usually by pressing them against a cheese grater.
12. Gomboce (Plum Dumplings)
Also known as knedle sa šljivama and Zwetschkenknödel, gomboce are plum dumplings made with potato flour and filled with plums. The dumplings are coated in sugar, breadcrumbs, coconut flour, or any other similar topping.
This traditional dessert experienced a revival in recent years, and today you can find it in many flavors and with different fillings. You can even find this dessert in a gluten-free version. My favorite is raspberry-coconut dumpling, but recently I discovered ice cream dumplings, and I suggest you try them!
13. Salčići
This dessert is made in a similar way to croissants. But instead of the butter or margarine that goes into croissants, salčići are made with minced pork lard. This might sound weird, but it is really delicious. The dough is cut into small pieces and each piece is stuffed with apricot marmalade then baked until they become golden brown.
This dessert is served while still warm, although you can eat it when cooled down. However, it is so delicious that it rarely has time to cool down. Another name for salčići is salnjaci, and this dessert is mostly popular in Serbia, Croatia, and Bosnia and Herzegovina.
14. Lenja Pita (Lazy Pie)
This pie is more similar to American pies than Balkan. In the Balkans, pies are usually made with thin layers of pastry, also known as filo pastry or yufka, jufka, etc, which requires a lot of skill to make. But lenja pita is made with a different pastry that's not as difficult to make as yufka, which is how it got its name.
Lenja pita pastry is crumbly and airy. Between two layers of pastry there is a delicious filling made with apples. Sometimes, the filling is made of cherries or cream cheese, and you can even find a savory version filled with sauerkraut.
15. Bajadera
This dessert originated in Croatia but has become popular across several ex-Yu countries. It is a layered nougat dessert with hazelnuts, almonds, or walnuts. You can find this dessert in any grocery store, but there are many homemade versions too.
Bajadera got its name from the word for Oriental dancers that danced for the kings, and, since 1997, it is officially recognized as an indigenous Croatian dessert.
16. Palačinke (Pancakes)
Balkan pancakes are a bit different to those found in the States. They are more similar to European crepes, but the main difference between crepes and palačinke is that the batter for crepes is left to rest for several hours before cooking, while the batter for Balkan palačinke can be fried immediately.
In the past, palačinke were either filled with sugar and marmalade or kaymak (a kind of extra thick clotted cream). These days they are usually filled with Nutella or eurokrem (a popular Balkan sweet spreading similar to Nutella) and topped with whipped cream.
17. Krempita
Also called Kremschnitte, this dessert is made of a thick layer of custard cream placed between two pieces of puff pastry. It is believed that this dessert was brought to the Balkans by the Austro-Hungarian Empire, but it has become exceptionally popular here.
If you visit a small town called Bled in Slovenia, make sure to try Bled kremna rezina, a Slovenian version of krempita.
18. Shendetlie
A traditional Albanian cake made of walnuts and honey, shendetlie was served in the past mostly for holidays such as Christmas. However, since walnuts and honey are much cheaper nowadays, this cake is made more often, and you can try it everywhere in Albania, at any time of the year.
You can enjoy this cake with white or sparkling wine, or if you don't drink alcohol, lemonade goes exceptionally well with it.
19. Sheqerpare
Another Turkish dessert that spread into the Balkans, sheqerpare is made with almond-based pastry rolled into soft balls. In the center of each ball a piece of almond is inserted, but not all the way through, so you can still see it on the surface. Sheqerpare are baked and soaked in a sweet lemon water.
Although it originated in Turkey, this dessert is one of Albania's most popular. Interestingly enough, this dessert is also popular in the Khorasan region of Iran.
20. Tespixhe
This Albanian dessert might look simple but it is really delicious and it comes with interesting patterns imprinted on top. Tespixhe is basically a pastry cake made with flour, milk, olive oil, sugar, and baking soda.
The dough is rolled and placed into the baking dish. Then comes the fun part: patterns such as triangles, lines, and other shapes are pressed into the dough, but not too deeply. The dough is baked until golden brown, and then soaked in a sweet syrup water.
21. Funiki s Krem
A rough translation of the name of this dessert would be funnels with cream or chimneys with cream. Thin pastry made in the shape of funnels or chimneys is filled with whipped cream or pastry cream, but other fillings can be used too.
This dessert has several variations in different Balkan, Eastern, and Central European countries. It is quite popular in Poland, where it is called rurki z kremem.
22. Marudnik
A dessert similar to American pancakes, Bulgarian marudnik batter is made with flour, eggs, butter, salt, baking powder, and Bulgarian yogurt. It is traditionally baked on a tikla, a hot, flat stone, but it can be baked in a pan too, which is great if you ever wish to make it at home.
Also called rhodopian pancake, marudnik is garnished with fresh berries or berry preserve, chocolate, and sometimes even feta cheese.
23. Oshav
If you prefer more fruit-based desserts without too much dough, you should try oshav. Oshav is a dessert traditionally prepared on Christmas Eve in Bulgaria. It is basically stewed dried fruit, such as prunes, apples, and pears.
Once the fruits are cooked and soft, they are seasoned with sugar, honey, cinnamon, and cloves. Today, most grocery stores in Bulgaria sell oshav-mixture, prepackaged mix of dried apples, pears, and prunes, ready to be cooked and served any time.
24. Cozonac
Usually served for Christmas and Easter, cozonac is a sweetened, flaky, yeast bread flavored with orange and lemon zest. It is filled with a nutty filing made with walnuts, almonds, cocoa, and orange extract.
Because of the yeast, this bread puffs beautifully and has a soft, but chewy texture. With its slightly citrusy flavor, it is a perfect snack, especially when just taken out of the oven!
25. Alba ca Zapada (Snow White Cake)
Also known as Romanian lemon cake, alba ca zapada got its name because of its white color, but also because of its tender and gentle texture. In the past, alba ca zapada was usually made for holidays and family gatherings. It was beloved among folks living in the countryside because it was made out of ingredients that were easily available.
Both the dough and filling of this dessert contain lemon zest, which gives this dessert a specific, delicate, and refreshing flavor.
26. Ravanija
If you enjoy typical Balkan dough desserts soaked in sweet syrup and originating from the Orient, you should try ravanija. It is a dough made with semolina flour and soaked in orange flavored sweet syrup water, rose water, or regular rose water.
Some ravanija varieties have a piece of almond or walnut inserted in the top, similar to sheqerpare. It is a simple-looking dessert, but it has a rich and complex flavor that will leave you craving for more.
27. Ekleri (Eclairs)
This is a pastry made of choux dough filled with cream and topped with chocolate icing. It is a popular dessert in North Macedonia, where it can be bought anywhere. There are several varieties of this dessert, the most common being ekleri, filled with vanilla custard and topped with chocolate.
However, you can find eclairs filled with whipped cream, pistachios, and rum-flavored custard, fruit fillings, and even chestnut purée. Additionally, eclairs can also be iced with fondant or caramel.
28. Celufki
A trademark of Kruševo city in North Macedonia, this dessert, called celucki, means kisses. It is a type of meringue dessert made with whipped egg whites and sugar. The light texture and sweet flavor make them a popular dessert, especially in summer months when everyone wants to eat lighter food.
Celufki can be flavored with lemon juice, coffee, coconut, etc. Usually, they are white, but can be made in various beautiful colors and even sprinkled with various decorative toppings.
29. Ergolavi (Greek Almond Cookies)
These crunchy chewy cookies are made with almond flour, sugar, salt, and lemon zest. This almond dough is coated in almond slices and baked until golden brown.
Apart from their delicious flavor, ergolavi are gluten-free, which makes them a great dessert for everyone. They are also great for when you are on the go but crave something sweet.
30. Melomakarono (Greek Honey Cookies)
When in Greece, make sure to try melomakarono, honey cookies flavored with spices and citrus fruits. Similar to many Balkan desserts, melomakarono are made of baked dough that has been soaked in a sweet syrup, and then topped with chopped walnuts.
Apart from the usual ingredients for dough-based desserts, melomakarono contains brandy, lemon juice, and lemon zest, which gives them a tangy and spicy flavor. Instead of lemon juice and zest, orange juice and zest can be used.
---
There you have it, a complete guide to sweet-toothed adventurers to encourage you to plan a visit to one or more Balkan countries. Here in the Balkans, you can't find a dessert that is "meh", or "so-so". Each one of our desserts will blow your mind, and leave you craving for more!
Related: Most Popular Balkan Foods