25 Naturally Purple Foods (With Pictures!)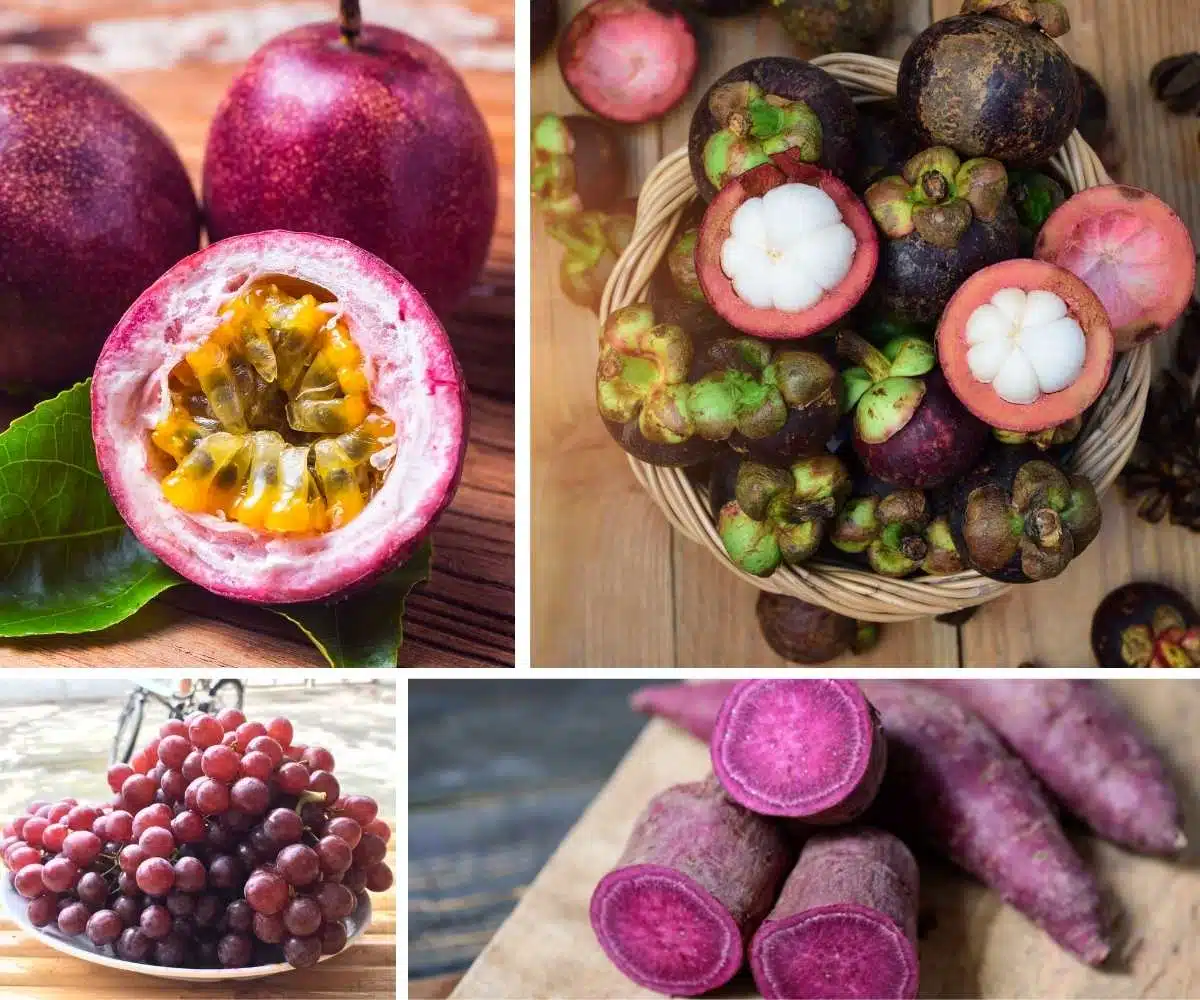 When you're looking to liven up a bland plate of food with a splash of vibrant color, nothing adds instant drama like purple foods. You may be surprised at how many of these you have to choose from.
In this article, we take a quick look at 25 of the best and most unusual purple foods. So read on and dive into the amazing world of purple foods!
1. Highland Burgundy Potato
Highland Burgundy is a heritage potato. Legend has it that it was first noticed when it was used to liven up a bland pate of food served to the Duke of Burgundy at London's Savoy Hotel in 1936.
While the skin can range from brown to pink in color, the flesh is deep reddish purple. Highland Burgundys can be prepared in the same way as regular potatoes.
2. Japanese Pink Mizuna
Introduced into the USA by Japanese immigrants in the 19th century, this attractive deep purple leafy vegetable can be used in salads or cooked.
It's a member of the cruciferous family, which includes kale, broccoli, and cabbage, so it's packed with nutrients. You'll find it in specialist stores worldwide, but it's also surprisingly easy to grow and tolerates a range of growing conditions.
3. Purple Sweet Potatoes
Purple sweet potatoes are even sweeter than the orange-fleshed varieties. Not to be confused with red sweet potatoes, which have red skin but white flesh, purples have purple flesh and brilliant purple skin.
All sweet potatoes are packed with health-giving nutrients and are high in fiber, but these are exceptionally high in antioxidants. For example, a single serving of purple sweet potatoes provides 100% of the adult daily requirement of vitamins A and C.
4. Eggplant
Eggplants or aubergines are used worldwide but are chiefly associated with healthy Mediterranean cuisine. Although the creamy flesh turns brown when cooked, the gleaming skin retains its glorious purple-black hue.
As it can sometimes taste somewhat bitter, it can be helpful to 'sweat' the sliced vegetable with salt to draw out the juice. Although this is optional, it will tenderize the flesh.
5. Purple Cauliflower
Adding purple cauliflower to a green salad will really transform the visual appeal. The intense color also contrasts beautifully with pale or brown foods, for example, served lightly steamed with chicken, fish, or pork.
The color doesn't come from the addition of dye. Instead, it's naturally rich in anthocyanin, the powerful antioxidant found in red cabbage and red wine.
6. Purple Carrots
Carrots have been cultivated worldwide since at least the 10th century. Red and purple carrots are typically identified as Eastern varieties, unlike yellow and orange carrots, which are more often seen in Western cuisine.
Purple carrots, in common with other purple fruits and vegetables, are especially rich in anthocyanins, a powerful antioxidant.
One way to make your carrot dishes pop is to combine your purples with orange, red, and yellow varieties, and create an authentic rainbow dish of vibrant color!
7. Redbor Kale
Frilly redbor kale looks gorgeous and can be used in all the same ways as cabbage – steamed, fried, or made into slaw.
As the center rib is tough and stringy, you may want to remove this and use the leaves. If the leafy part is still tough, tenderize it in red wine vinegar before adding it to salads.
8. Passion Fruit
This purple-skinned exotic fruit is native of South America and it is technically a berry. It can be sliced, and the yellowish-green flesh scooped out to eat with a spoon. Or used in smoothies, yogurts, mousses, cakes and ice creams.
In Mexico, it's mixed with chili and lime juice as a refreshing savory snack.
9. Purple Mangosteen
Hailing from Southeast Asia, the mangosteen is an exotic fruit with an intriguing sweet and sour flavor. The ripened rind is deep purple, contrasting with the brilliant white flesh. Like most tropical fruits, mangosteen makes a fantastic addition to fruit salads, smoothies, and ice cream.
As they're still not widely available, you'll most likely find them in specialty stores. Mangosteens are also available frozen or canned – though beware of added sugar.
10. Purple Asparagus
Purple asparagus is slightly sweeter and nuttier than regular green asparagus, as the spears contain around 20 percent more sugar. While it's purple on the outside, the inside is virtually the same as that of a green spear.
Purple asparagus can be prepared and served in the same ways as green asparagus – roasted, sautéed, or baked. Or lightly steamed and drizzled in butter so the subtle yet delicious flavor can be fully savored.
11. Acai Berries
Acai fruits have a minimal shelf life due to their high fat content. That's why you'll usually only find these berries dried, powdered, or frozen. The texture is quite gritty, but becomes smoother when blended. And the flavor, often described as earthy, is an acquired taste.
An incredible number of health claims have been made for acai berries. Although, like most purple and red fruits, they are high in antioxidants, there's no proof of their 'magical' health-giving properties to date.
12. Purple Star Apple
The deep purple skin of the star apple looks attractive but isn't usually eaten due to its rubbery texture. However, the delicate light-purple flesh has a sweet and somewhat earthy taste.
It can be used in all the ways you'd use a regular apple – cooked or raw, blended, and added to teas or even cocktails.
13. Purple Cabbage
Purple cabbage not only looks fantastic, it is also more nutrient-dense than its green cousin. It's also just as versatile, as there are endless ways to prepare it. It can also be fermented to make kimchi.
14. Purple Grapes
The ideal addition to any cheese board or fruit platter, the glistening purple skins of plump, ripe grapes can be enjoyed in multiple ways.
These naturally purple fruits add a startling visual contrast to fruit salads, or why not freeze some whole and add them to summer drinks in place of boring ice cubes?
15. Purple Figs
The velvety dull purple skin of a ripe fig splits open under the slightest pressure to reveal the beautiful strawberry-pink sweetness of the flesh and seeds inside.
Pair them with cheese, or offer them as part of a bowl of ripe, rainbow-colored summer fruits, such as peaches, apricots, and damsons.
16. Plums
Gorgeous purple peel, often covered with a powdery white bloom, conceals the meltingly soft and sweet flesh within. These versatile late-summer treats can be eaten raw, added to smoothies and juices, or baked into crumbles and pies.
17. Purple Corn
Purple corn is gaining popularity as a new superfood as it contains twice the levels of antioxidants as nutritional superstars such as blueberries and pomegranates.
The kernels can be prepared in all the same ways as yellow corn, and you may even come across purple corn flour for baking and sauces.
18. Royal Burgundy Green Beans
With their dramatic purple skins, it's tempting to just cook Royal Burgundys with their familiar green cousins, as the color contrast will grab attention.
However, in addition to steaming, roasting, and baking, you can enjoy purple beans raw, perhaps dipping them into hummus or aioli.
19. Purple Garlic
Purple garlic cloves grow around a central stalk and are usually all the same size, slightly larger than white garlic cloves. Although the papery skin is purple, the cloves themselves are creamy white.
They're often juicier with a milder flavor than fresh white garlic, which can be helpful as they're less likely to overwhelm a dish.
One downside of purple garlic is that it has a shorter health life. So you'll either have to use it regularly or be prepared to replenish your supplies.
20. Butterfly Pea Flower Tea
If you're bored with your regular herbal teas, here's an alternative that combines an exciting flavor with a startlingly different color. If you can't get hold of fresh butterfly pea flowers, dried petals are available online.
21. Purple Sea Urchins
These days, we're increasingly concerned about the environmental impact of our food choices. If you love seafood, the great news is that by eating the purple sea urchin, you'll be helping to limit the devastation they cause to the California kelp forests due to overpopulation.
Like most shellfish, they're easy to prepare – needing perhaps just a few drops of lime juice to bring out their flavor.
22. Saskatoon Berries
When ripe, Saskatoon berries are a dark bluish-purple color. They're smaller than blueberries and are said to have a sweet yet earthy flavor that resembles almonds. You can eat them raw or cooked in the same ways as blackberries or blueberries.
23. Radicchio
Bitter radicchio, with deep reddish-purple leaves, is also known as Italian chicory.
In Italian cooking, it's usually grilled with olive oil or included in risottos. You may also find it in pasta dishes or as a poultry stuffing. When cooked, it loses some bitterness but retains a striking color. Check out here our favorite radicchio recipes.
24. Okinawan Sweet Potato
Another nutritional powerhouse, this staple of Hawaiian cuisine is not related to the potato. Instead, botanically, it's part of the morning glory family.
With their deep purple flesh, Okinawan sweet potatoes are not only a delight for the eyes. They have a great flavor and contain an incredible range of nutrients. They're most often found in stores in the fall, so they make a delicious side for any Thanksgiving dinner.
25. Blackberries
Shiny blackberries are the archetypal late-summer fruit. With their sharp sweetness and juice of the richest deep purple, there are endless ways you can use them – raw, baked, made into jellies, smoothies, in hot or cold drinks. You can even freeze them whole and add them to cocktails instead of ice cubes.
---
Related: 25 Naturally Green Foods
Related: 25 Naturally Blue Foods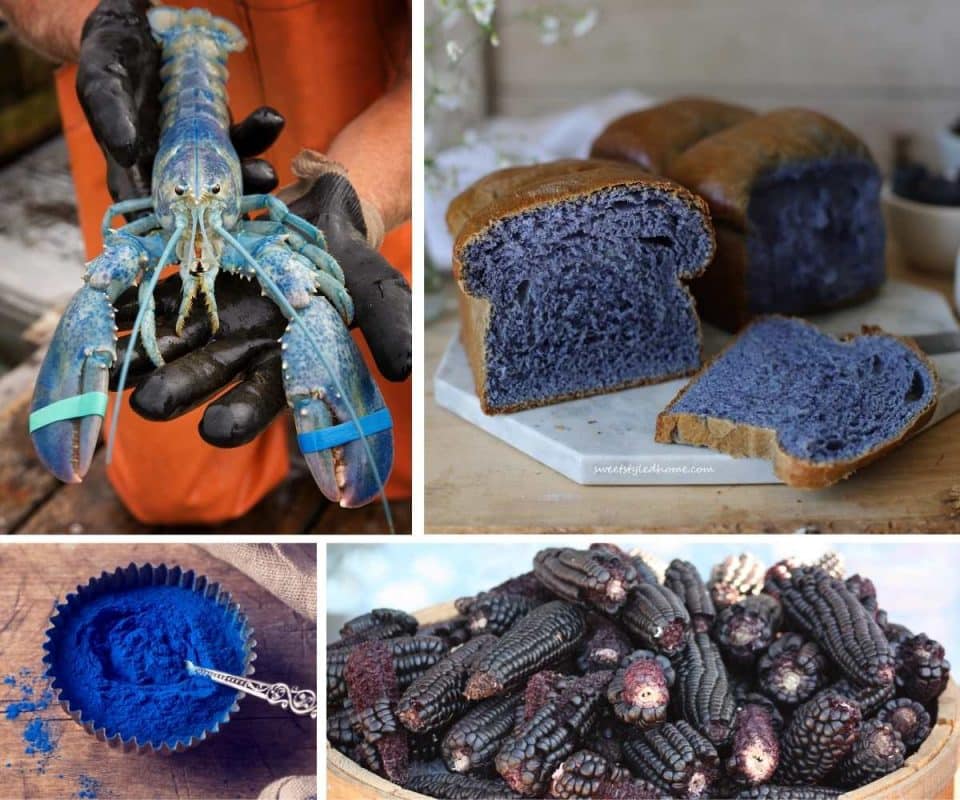 Related: 25 Naturally Black Foods