25 Naturally Black Foods (With Pictures!)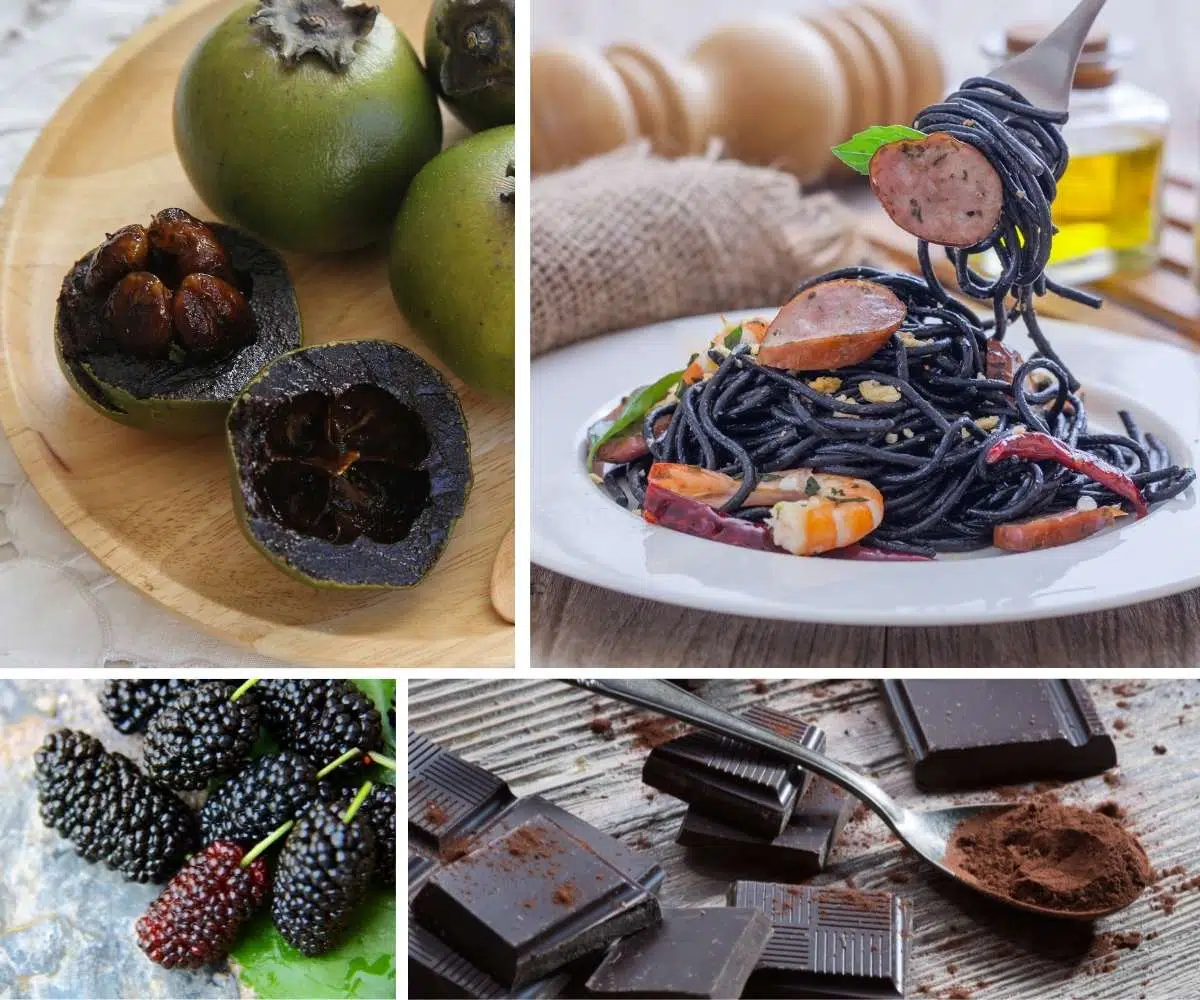 A splash of black can add drama and interest to even the most bland-looking recipe. Use black ingredients to contrast with cream or white dishes, or partner them with bright, jewel colored hues, providing a feast for the eyes as well as for the taste buds!
We're often asked to recommend black-colored foods, so to inspire you, here are 25 of our favorites from around the world.
1. Black Sesame Seeds
Black sesame seeds are a staple of Middle Eastern and Asian cuisine. Although in the US their use is often limited to decorating bread rolls, they are becoming increasingly fashionable, with top chefs incorporating them into dishes (think: sesame-crusted tuna).
These black seeds have a slightly nuttier taste and chewier texture than their golden equivalent, making them ideal for adding to savory and sweet dishes.
2. Black Beans
With their glossy black skin and pale interior, black beans can add drama to any recipe.
They're a variety of kidney bean enjoyed worldwide and particularly popular in South and Central America. In the southern UDA, they're a staple of Cajun and Creole dishes.
You'll also find them called turtle beans, caviar criollo, and frijoles negros.
3. Black Garlic
Black garlic starts life as regular garlic. However, it takes up to 60 days to age and develop the striking black color, sweet flavor, and slightly sticky texture.
Although it's often used in Thai and other Asian cuisines, it has many uses and can be added to stir-fries, soups, mashed into pasta dishes, and much more.
4. Black Rice
The term black rice describes several medium-grain rice varieties from Indonesia, the Philippines, and Thailand. Its origins go back 10,000 years or more, and today, it's available worldwide.
Although the nutty grains are black when raw, they are more of a deep purple after cooking.
5. Black Mission Figs
The soft purple-black skin of black mission figs conceals the luscious dark pink flesh inside. When eaten at their peak ripeness, figs can be sweeter than honey. They're also loaded with healthy antioxidants and minerals.
Figs are versatile fruit that make a great addition to savory and sweet dishes. They're perfect for jellies, jams, and chutneys, but, of course, will lose their blackness. So if it's the color you're after, use them fresh for decoration.
6. Blackberries
The perfect late summer fruit, blackberries can often be gathered, growing wild in hedgerows. Sweet yet sharp, they make a great addition to cakes, puddings, cocktails, and jellies, and even add a touch of the unexpected to salads.
Packed with vitamins, they're also a great pick-me-up after colds or flu.
7. Edible Black Fungus Mushrooms
These little crumpled-up mushrooms are most often used in Asian-inspired stews and stir-fries. But they're also hailed for their nutritional benefits, being rich in fiber, B vitamins, minerals, and protein. You'll sometimes find them labeled wood ear mushrooms.
8. Black Velvet Tamarind
Each tamarind fruit contains one or two large, flat, black-brown seeds with a shiny, brown-black shell. The pulp can be eaten raw or soaked in water to make a beverage.
The bitter leaves of the tamarind are used in a traditional Ghanaian dish called domoda.
9. Black Olives
A staple of Mediterranean cuisine, shiny black olives with their crinkly black skins are used in endless ways. Although they make a delicious and healthy snack on their own, they're also key ingredients in the classics we all know and love: pizza, tapenades, risottos, and more.
Fun fact: there's no difference between green and black olives. They're the same fruit – the curing method creates their distinctive dark color.
10. Black Seaweed Pearls
Black seaweed is most commonly found in the form of glistening black salty pearls. Although these resemble fish egg caviar, they are 100% plant-based, which makes them ideal for vegetarians and vegans. These shimmering beauties have a lower carbon footprint than traditional caviar and are far less expensive.
Black seaweed eggs are served cold as a topping for canapés or luxury sandwiches. They can also make exciting dips and hot sauces.
11. Black Corn
If you adore corn on the cob but are bored with the same old yellow variety, here's something different! These glossy black kernels have an attractive purplish tinge, deepening as the corn matures. Take care though, as it will stain your fingers. The texture is chewy and less sweet than regular corn.
Although not common outside South America, you may find it in farmer's markets as a heritage variety.
12. Black Tomatoes
There are many varieties of black tomatoes, with skins ranging from deep reddish brown to midnight black. One of the best is 'Black Beauty'.
These medium-sized tomatoes are valued for their flavor and appearance. Use them to add a surprising and delicious twist to salads, sandwiches, pizza toppings, and just about anything else you use tomatoes for!
13. Black Carrots
Black carrots are surprisingly sweet, with a slightly spicy aftertaste. They're most commonly used in Asian cuisine but look for them in specialty shops and even farmers' markets. Although their skins are black, they are often paler inside, which makes them an attractive addition to salads.
14. Black Pansies
Black pansies make a beautiful garnish and are a staple of Michelin-starred kitchens worldwide. They also make delicious jelly.
Although they're easy to grow at home and will typically sprout in a couple of weeks, don't be disappointed if the petals appear more dark purple than pure black. Learn more about edible flowers here.
15. Black Grapes
Well, we know that black grapes aren't pure black – more of a deep purple. And the pulp will be greenish. But still, they make a great color contrast in a mixed fruit salad or on a cheeseboard.
Low in calories and packed with nutrients, black grapes earn their place in any list of black foods.
16. Blackcurrants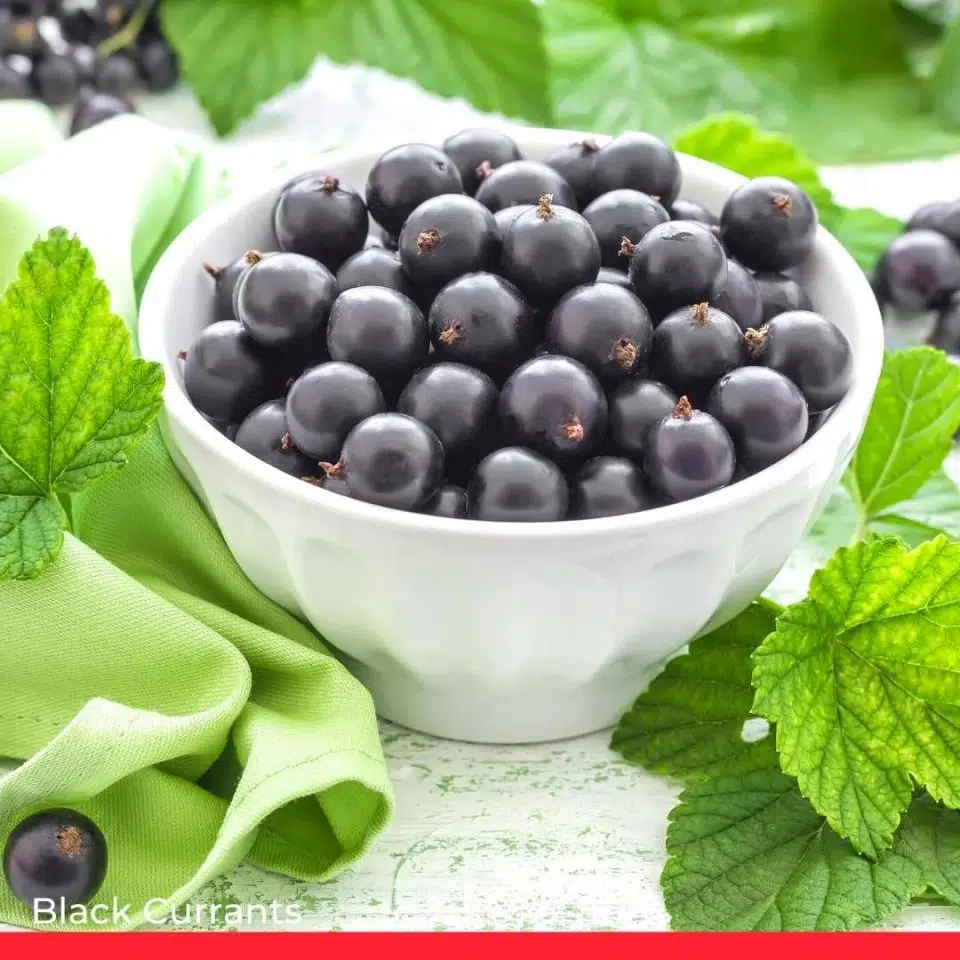 With their sharp taste, juicy blackcurrants are often combined with sweeter ingredients to create delicious jams, compotes, and syrups.
They also combine well with apples and other sweet fruits to make crumbles and pies. These naturally black fruits have a subtle acidity complements rich meats such as pork, venison, and duck.
17. Black Sapote
Black sapote is a variety of persimmon. It's sometimes called chocolate pudding fruit, black soapapple, or zapote prieto. Although sweet, it tastes nothing like chocolate – rather, you'll detect notes of honey, caramel, and dates.
It reaches peak flavor when ripe and looking somewhat bruised, which may explain why it's not more commonly found on supermarket shelves.
18. Eggplant
What is more gorgeous than a huge, glossy eggplant? You can use this versatile vegetable in any number of soups and stews, as the purple-black skin creates a stark contrast with the bright colors of the other ingredients.
And, of course, the pulp is the basis for the delicious Middle Eastern dip: baba ganoush.
19. Black Lentils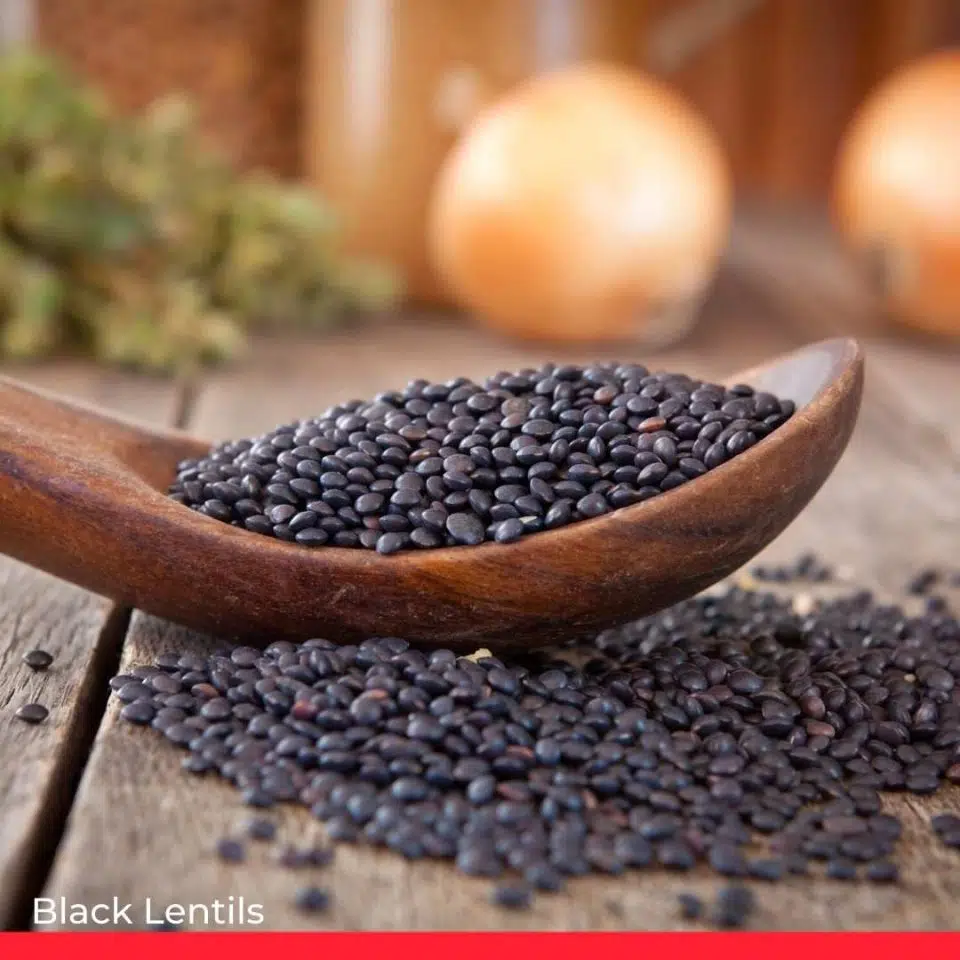 These tiny jet-black pearls really hold their color when cooked. Unlike red or green varieties, black lentils don't turn mushy. Perhaps this is why they're known as beluga lentils; they resemble shiny black caviar.
They can be used the same way as other lentils and pack the same powerful nutritional punch.
20. Black Quinoa
Sweeter and nuttier than the lighter varieties, black quinoa doesn't lose its dramatic color when cooked. Use it in stews, casseroles, and any vegetarian recipes for a nourishing and filling meal.
21. Black Spaghetti
It's the squid ink mixed into the fresh pasta dough that gives black spaghetti its distinctive color.
The ink doesn't just turn the pasta black (or sometimes midnight blue), it also adds a subtle hint of saltiness, making it the perfect base for seafood or fish-based recipes.
22. Chocolate
Ok, not all chocolate is black. But if you're looking for something that looks amazing grated on your homemade vanilla ice cream, opt for a brand that contains 100% cocoa solids.
The sugar-free bitterness will make a thrilling contrast to the sweetness of any dessert.
23. Vanilla
The tiny black seeds of a fresh vanilla pod elevate homemade ice cream to a gourmet level. Cut the pod open, scrape the flesh and seeds into your dish.
Don't discard the used pod, though. Place it in a jar of sugar to infuse the contents with the delicious fragrance of vanilla – it will make a fantastic gift!
24. Mulberries
As well as making great jellies and jams, sweet-sour mulberries make fantastic additions to granola, smoothies, and trail mix.
They also provide a welcome balance of flavor when included in sugary puddings.
25. Elderberries
Tiny dark elderberries have been used for thousands of years in traditional medicine. They are reputed to cure a wide variety of ailments. They're too tart to eat raw but can be added to puddings and smoothies. They're also used to make delicious, light wine.
---
Related: 19 Stunning Blue Foods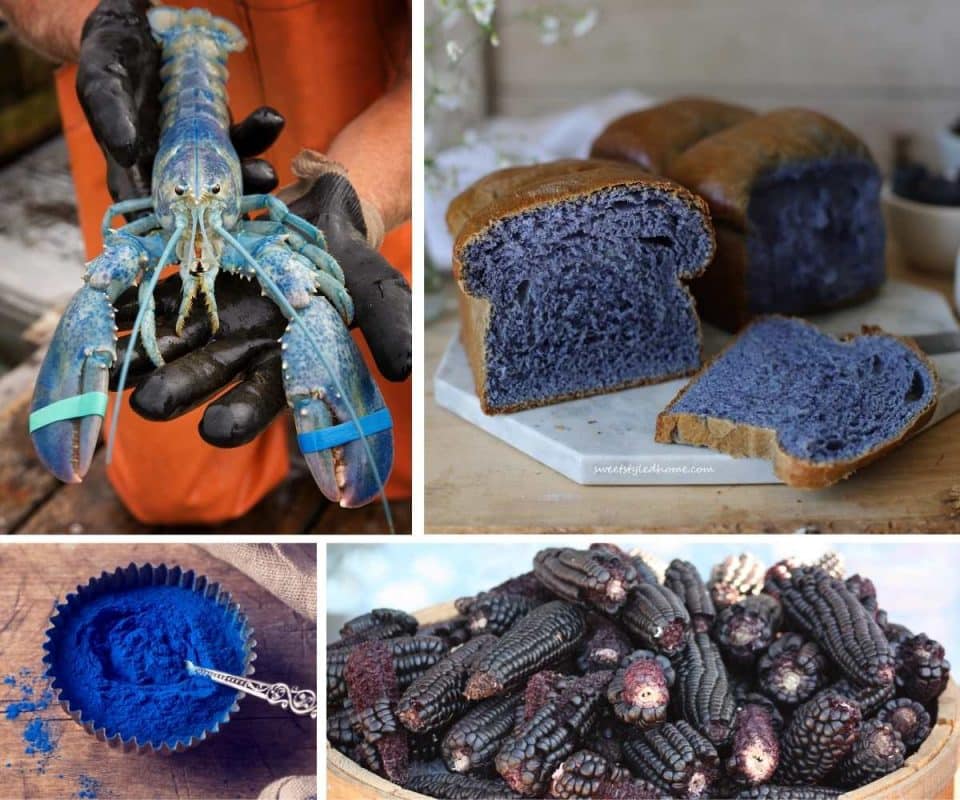 Related: Add These 21 Green Foods to Your Diet
Related: Naturally Yellow Foods