25 Amazing Asparagus Recipes to Make You Drool
With its buttery texture, its sweet, earthy flavor and slightly bitter undertones, asparagus is a versatile and delicious vegetable commonly used in salads, soups, pasta dishes, and as a side dish.
Asparagus pairs well with a range of other ingredients, from citrus and herbs to cheese and meats. Asparagus is a healthy choice as well, as it is low in calories and high in fibers and nutrients such as vitamins A, C, and K, and folate.
Asparagus can be a bit of an acquired taste for some, and the reason is one of its chemical compounds, asparagusic acid. When this compound is metabolized by the body, it produces a sulfur-containing compound called methanethiol, which can impart a pungent and slightly bitter flavor to the vegetable.
Apparently, some people are more sensitive to these chemicals than others, which makes the vegetable not so enjoyable at first. It's also true that the way that asparagus is prepared can affect its taste. For example, overcooked asparagus can become mushy and lose its flavor, while asparagus that is lightly steamed or grilled has a more pleasant texture and taste.
Given the variations in taste and texture, it is worth trying it a few times in different ways before making a final decision on this vegetable.
When shopping for asparagus, make sure you select asparagus with vibrant green or violet-tinged tips. The color should be consistent along the entire spear. Look for spears that are uniform in thickness and avoid those that are over thin or over thick.
The tips of the asparagus should be firm and tight, with no signs of wilting or shriveling. The stems should be firm and snap easily when bent. Smell is another important indicator of quality when it comes to asparagus. Fresh asparagus should have a mild, grassy scent. If it has a strong, unpleasant odor, it may be past its prime.
Note that there are two types of asparagus: green and white. White asparagus is grown underground and since it's never exposed to sunlight, it doesn't develop chlorophyll (i.e. the greenish substance). It's prized as a spring-time delicacy in Europe and its taste is milder and a bit sweeter than green asparagus.
Here's a great resource on how to cook white asparagus.
That being said, we have selected some delicious asparagus-based recipes that you should definitely try, whether you're a hardcore asparagus fan or you're yet to fall in love with it.
1. Caprese Roasted Asparagus
Oven-roasted asparagus makes a delicious base for grape tomatoes, mozzarella cheese, and a balsamic glaze. The grape tomatoes are roasted as well, to enhance their sweetness, and the mozzarella is added halfway through roasting, which, of course, turns it melty and delicious.
2. Lemon and Feta Grilled Asparagus
The smoky flavor of grilled asparagus is enhanced by a bright, mouthwatering lemon and feta dressing that combines feta with olive oil, lemon juice and zest, garlic, Dijon mustard, and oregano. The acidity is balanced with some honey.
The recipe takes less than half an hour from start to finish (dressing included), so you have no reason not to try it.
3. Asparagus and Prosecco Risotto by Chef Danilo Cortellini
This Italian recipe combines creamy risotto with asparagus, and the twist is that you get three different textures out of the vegetable: the crunchy tips as garnish, chopped stems folded in the risotto, plus an asparagus purée that enhances the flavor.
The Prosecco adds a note of bright acidity, while the Parmesan cheese ties it all together.
4. Asparagus with Crispy Egg
This has to be one of the most interesting takes on asparagus and eggs out there, as it combines a flavorful asparagus sauce with a jammy egg that was first boiled, than deep fried in a coating of breadcrumbs and herbs.
The main difficulty with this recipe is to not overcook the egg, but, with a timer on hand, you'll certainly get the perfect consistency.
5. Prosciutto Wrapped Asparagus with Reduced Balsamic
Salty, sweet, and the crispy earthiness of asparagus – this recipe has an amazing flavor profile. The pairing of prosciutto and asparagus is hard to beat, but the balsamic vinegar reduction truly takes it over the top.
Try this entrée next time you have a party and your guests will be very impressed.
6. Grilled Vegetables with Chimichurri Sauce
The Argentinian chimichurri sauce, made with a variety of herbs, spices, and garlic, can elevate any type of meat or veggie.
Although the sauce has quite a few ingredients (parsley, garlic, onion, olive oil, red wine vinegar, red pepper flakes, and lemon juice, plus some optional herbs), it's actually easy to make as you can simply pulse all the ingredients in a food processor.
The traditional method involves a mortar and a pestle, but you can skip that part and go modern, with very little negative effect on the sauce. Once it's made, put it on top of grilled asparagus and other grilled vegetables such as mushrooms, onions, eggplants, or zucchinis for a healthy and delicious meal.
7. Cream of Asparagus Soup
Fragrant and light, this soup can be eaten warm or cold – and it's even better with some croutons on top. The recipe doesn't use heavy cream, which makes it healthier, while the pinch of ginger gives it a surprising, creative twist.
8. Pea, Mint, and Asparagus Tart
This gluten free recipe starts with a tart base made of flaxseed, walnuts, oat and buckwheat flour, which yields a crunchy, nutty, delicious result. The filling consists of cashews, while the topping, containing charred asparagus and sweet peas, is brightened by mint leaves.
The entire combo spells spring, and it's amazing with a side of new potatoes and a salad.
9. Spring Minestrone Soup
This one-pot dish is a lighter take on the classic Italian Minestrone soup, containing asparagus, carrots, potatoes, peas and snap peas. The pesto, lemon juice, and the Parmesan cheese added at the end are the cherry on top.
10. Keto Ham and Asparagus Quiche
This recipe includes a low carb crust made of almond flour and oat fiber. However, you can skip it altogether and make the quiche crustless, which lowers the total carbs even further and makes the entire recipe a lot easier and faster.
It's hard to resist to this combination of tender asparagus, sharp Gruyere, and ham, swimming in a creamy custard of eggs and heavy cream. You can have it both hot or cold, and it's easy to pack for a healthy lunch at school or the office.
11. Asparagus Bacon Egg Casserole
This breakfast casserole requires minimal prep (literally minutes) and you can bake it in the oven or in an air fryer. The best part is that it tastes and looks like something that took a load of time and effort.
Beat the eggs, pour them in a coated baking dish, and add the asparagus, bacon, and cheddar cheese on top. Once baked, you'll end up with a scrumptious dish that goes well with a simple mixed green salad.
12. One Pan Salmon Asparagus
One pan dishes are a godsend for when you're busy as they take little prep and little cleaning up. This particular salmon asparagus recipe is not only easy to make but also very health and bursting with flavor.
The salmon and asparagus stalks are roasted to perfection with a lemon, garlic, and herb butter concoction on top, that keeps them juicy, tender, and flavorful.
13. Savory Dutch Baby with Asparagus and Canadian Bacon
Light and puffy Dutch baby batter filled with a savory mix of smoky Canadian bacon, asparagus, and sharp Gruyere cheese – definitely a match made in heaven, and a very impressive breakfast (or even dinner).
The most crucial step is to ensure that both the pan and oven are very hot before starting to cook as this ensures maximum batter puffiness.
14. Raw Asparagus Salad with Walnuts and Parmesan
Minimal preparation goes into this dish – you just have to shave the asparagus stems finely. The secret is the very interesting dressing, although dressing might not be the right word for it.
It's rather a coating made with toasted bread crumbs mixed with walnuts, Parmesan, olive oil, lemon juice, and red pepper flakes. The coating clings to the tender asparagus shavings, making this salad truly irresistible.
15. Crispy Baked Asparagus Fries
A simple yet very satisfying way of eating asparagus is to coat it thoroughly in flour, egg wash, and a mix of breadcrumbs and Parmesan, then bake it on a wire rack in the hot oven for up to 15 minutes.
Timing will depend on the thickness of the asparagus, but it should come out crunchy, crispy, and golden on the outside.
16. Sautéed Asparagus with Garlic
Few ingredients, one skillet, and 10 minutes is all it takes to enjoy this asparagus side dish that goes amazingly well next to chicken or fish. The garlic and ginger makes it extra flavorful, and you can play around with other ingredients, such as soy or Worcestershire sauce.
17. Asparagus Goat Cheese Galette
The galette crust in this recipe is easier to make than the classic pie crust, and, while equally flaky, it's healthier as well as Greek yogurt replaces some of the butter.
The filling consists of three different types of cheese (goat, mozzarella, and Parmesan) that complement each other in terms of creaminess, meltiness, and flavor, topped with tender asparagus stems.
18.  Creamy Italian Baked Asparagus
Cheesy and fragrant, this dish can be easily put together, and it's perfect for a chillier spring evening, next to a glass of dry white wine.
All you need do is heat the oven, place the trimmed and washed asparagus in a baking dish, top it off with a mixture of heavy cream, herbs, mozzarella and Asiago cheeses, and bake it for around 20 minutes.
19. Balsamic Penne Pasta with Asparagus and Tomatoes
This pasta dish is packed with asparagus and tomatoes that are slightly cooked in olive oil for extra flavor, while the balsamic vinegar reduction is a nice touch. As with most pasta dishes, you can put it together in half an hour tops, so it's a great dinner option for a busy midweek evening.
20. Asparagus Stuffed Chicken Breast
Juicy chicken breasts stuffed with tender asparagus and plenty of cheese – what's not to like? Even better, is the one pan recipe, which means you don't have to deal with a lot of dishes post dinner. It requires very little on the side, maybe a simple green salad and a piece of crusty bread.
21. Sautéed Asparagus with Lemon Cream Sauce
The heavy cream and lemon sauce pairs perfectly with pan-seared asparagus to create a very decadent, French-inspired side dish (and, surprisingly, is a one pan dish as well). It works well with chicken or fish, and even grilled steak.
22. Garlic Sautéed Asparagus and Mushrooms (Vegan)
Try out this satisfying vegan dish that puts asparagus together with mushrooms, a combination that works wonders, as both veggies have an earthy, umami taste.
The dish is brightened by garlic and herbs, and gets an extra kick from the red pepper flakes. It takes 20 minutes from start to finish, and you can have it next to your favorite protein.
23. Grilled Chicken and Asparagus Pesto Pasta
The dish can be enjoyed both warm and cold, and it's a complete meal in itself, packed with healthy lean protein, asparagus, and herbs. You need to grill the chicken and asparagus, and, in the meantime, boil the pasta.
All that's left is to assemble it and coat it in pesto, Pecorino cheese, and lemon juice. The pine nuts and fresh basil bring crunch and extra flavor.
24. One-pan Crispy Bacon and Roasted Asparagus with Baked Eggs
Few things beat the classic egg and bacon breakfast combination – but this one pan dish definitely lifts it a notch. Not only don't you have to fry the bacon and the eggs on the stove top (which, we all know, can be quite messy), but you also add tender asparagus to the mix.
Basically, you work in stages, baking the bacon, asparagus, and eggs in an oven dish, then serve them together.
25. Asparagus, Pesto, and Feta Omelet
This vegan omelet is made with chickpea flour flavored with nutritional yeast, turmeric, paprika, garlic, and onion. The batter is then filled with a mixture of sautéed asparagus, onions, and crumbled feta cheese, with a little bit of pesto thrown in there as well.
Served with a green salad or a side of potatoes, it makes for a lovely, quick lunch or dinner.
27. Flemish Asparagus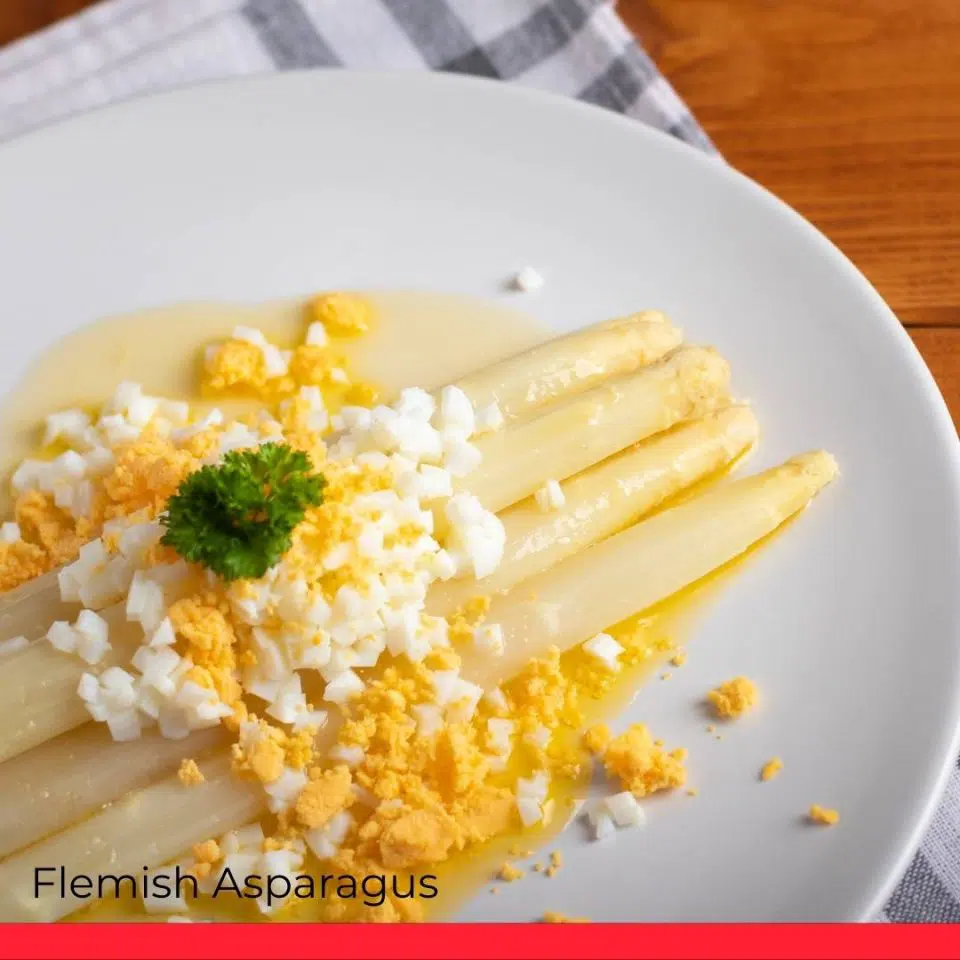 Spring-time n Belgium can only mean one thing: Flemish-style asparagus. Fresh white asparagus is served with diced boiled eggs and often eaten as a starter. It's a delicious white asparagus recipe and super easy to prepare.
28. Asparagus Salad with Meyer Lemon Dressing & Egg Salad Crostini
This is a fantastic spring salad by celebrity Chef Marcus Samuelsson. It works great as an appetizer, but can also work very well as a light main dish.
This recipe calls for Meyer lemons, which are a hybrid between regular lemons and mandarins or pomelos. Thus Meyer lemons are less acidic and sweeter than regular lemons.
29. Serrano Cannelloni with Asparagus Mousse
If you want a Michelin-starred asparagus dish, this one is for you. This recipe by Chef Sascha Behrendt is simply amazing, but it definitely requires more effort and skill.
30. Grilled Asparagus With Roasted Almonds & Parmesan
This is a perfectly light asparagus side dish which goes well with roasted lamb, grilled chicken or grilled fish. The roasted almonds provide a great flavor, while the grated parmesan adds a bit o salty, delicious aroma.
31. Truffle Marinated Asparagus
This is a Sunday afternoon indulgence. Wonderful fresh asparagus blanched and then marinated in white truffle oil and Balsamic. Very simple but amazing flavour.
Great with some sour dough and some aged parmesan cheese.
---
For more spring-time recipes, check out our round-up of the best spring salads.