25 Naturally Blue Foods (With Pictures!)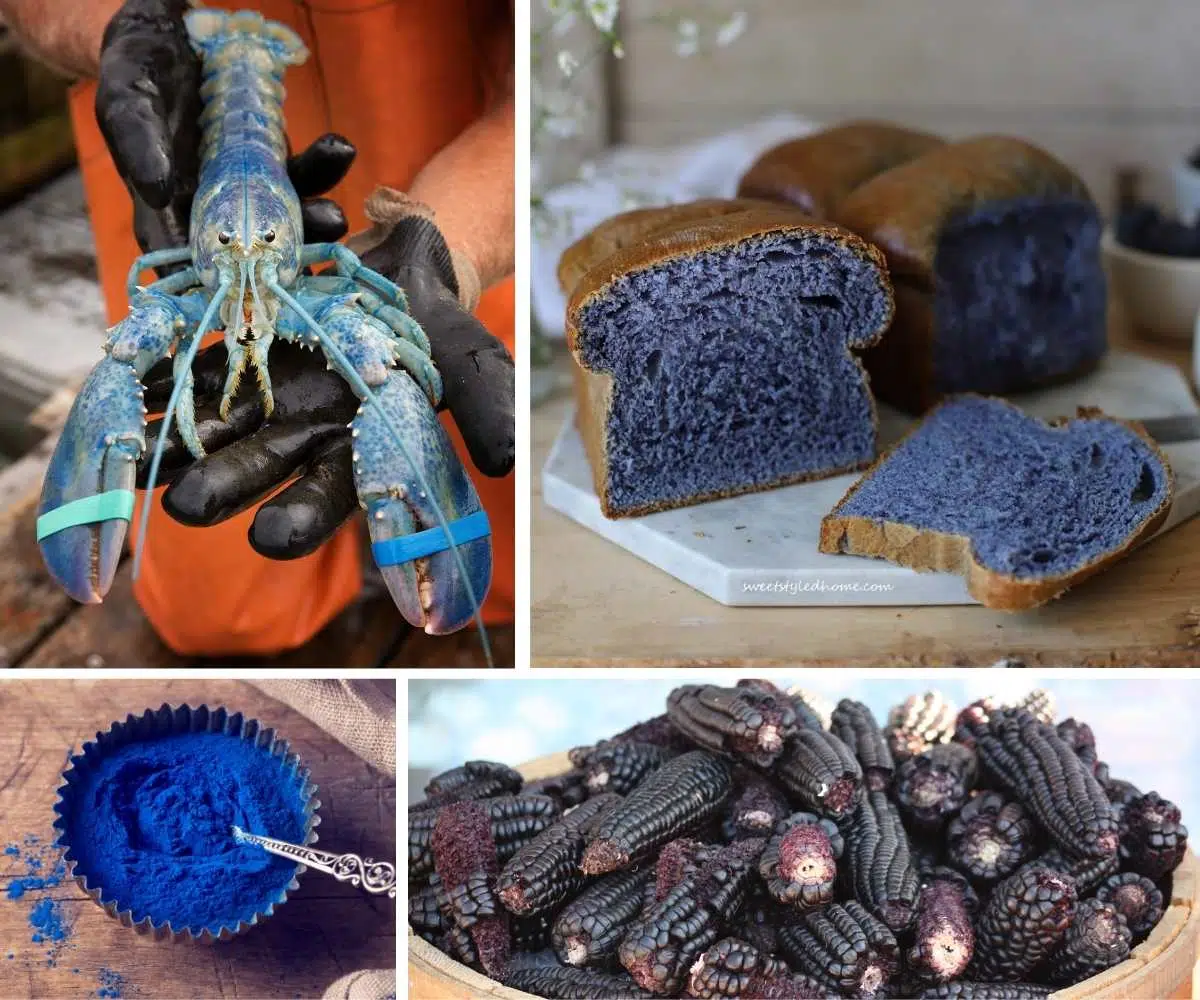 Is it time to introduce something new and attention-grabbing to your menus? One of the easiest ways is adding a vibrant, unexpected color dash to a familiar dish.
Blue may not be the first choice that springs to mind, but there's a surprisingly wide variety of blue-hued ingredients to choose from.
Delicious, healthy, and versatile, blue foods are an easy way to transform your regular menu into something unforgettable. In this article, we list 25 of the most interesting and useful blue foods to inspire you to experiment!
1. Blueberries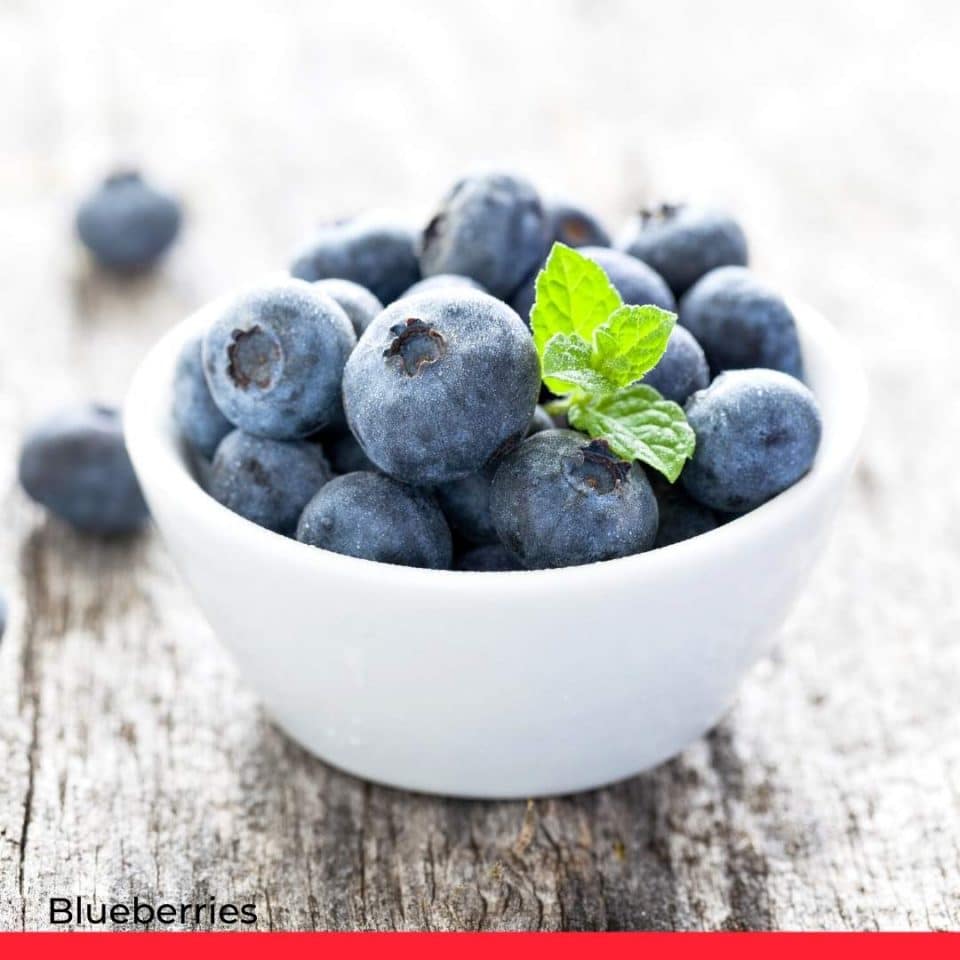 Blueberries are small round berries that range from midnight blue to dark purple. Sweet, with a pleasant sharpness, they make a tasty snack or can be added to baked goods, smoothies, and granolas.
They're packed with antioxidants and are low in calories, so they're a great addition to any health-conscious diet. Although they're summer fruit, they freeze well.
2. Concord Grapes
Concord grapes, with their deep blue-purple skins, are used for eating, juicing, and wine-making. Add them to mixed salads, fruit salads, and smoothies.
Very few grape varieties look better on a cheeseboard, complementing the creamy and perhaps blue-veined hues of a cheese selection.
3. Damson Plums
The taste of damson plums varies dramatically depending on their ripeness when picked from the tree. Too soon, and they are hard and sour. But just right, and you'll uncover the deliciously soft texture and the sharp sweetness of the golden flesh below the blue skin.
Damsons make fantastic jellies and are often combined with naturally sweeter fruits such as apples.
4. Blue Tomatoes
Here's something surprising to add visual zing to your pizza topping! Certain so-called blue tomatoes are yellow, with blue splodges. However, varieties such as Indigo Chocolate Blue tomatoes have actual glossy blue-black skins that will get your guests talking.
And it's not only the color that's surprising. Blue tomatoes have a more complex, smoky flavor and are higher in antioxidants than their regular supermarket relatives.
5. Blue Spirulina
Spirulina is a blue-green algae that's been harvested for thousands of years. It grows and blooms naturally in the alkaline water of lakes worldwide.
However, it's also being artificially produced to keep up with the global demand for this nutritional superfood.
You'll most likely find it in powdered form in health food stores and supermarkets. If you like a salty, seaweedy taste, you can add it (in moderation) to soups and stews or sprinkle it into salads.
6. Blue Sausage Fruit
Yes, it's blue and looks a bit like a sausage, but that's where the resemblance ends. The blue skin splits easily to reveal soft flesh and hard black seeds, like pawpaw. It can be added to sweet or savory dishes, as it has a taste and texture somewhere between a cucumber and a melon.
As this fruit also goes by the somewhat disconcerting name of 'dead man's fingers', perhaps the best use for it is as a spooky Halloween decoration.
7. Blue Corn
Aside from its striking color, blue corn is similar to regular yellow corn. It's just that it has higher levels of the antioxidant anthocyanins, which give it that distinctive midnight-blue hue.
In fact, it contains more of these health-giving micro-nutrients than blueberries! Use it to provide a fascinating twist to tortillas, soups, and salads. Or douse with butter and enjoy the kernels straight off the cob.
8. Blue American Lobster
Most lobsters have muddy blue, green, or brown shells, as these colors provide the best camouflage on the ocean floor. However, an estimated one in two million American lobsters carries a genetic variation that makes their shells appear a vivid electric blue.
If, against the odds, you do see one, be prepared to pay upwards of $500 for the privilege of taking it home. Before you cook it and eat the regular white flesh inside, don't forget to take photos and upload them to Instagram for posterity!
9. Haskap Berries
Haskap berries resemble elongated blueberries and have a unique and delicious taste that have been cultivated for centuries in many countries.
Haskap bushes are also known as honeyberries, blue honeysuckles, or sweet berry honeysuckles. They can be added to yogurts, mueslis, and porridge and are also great for baking and putting in desserts. Like most blue fruits, they're loaded with health-enhancing antioxidants.
10. Blue Caviar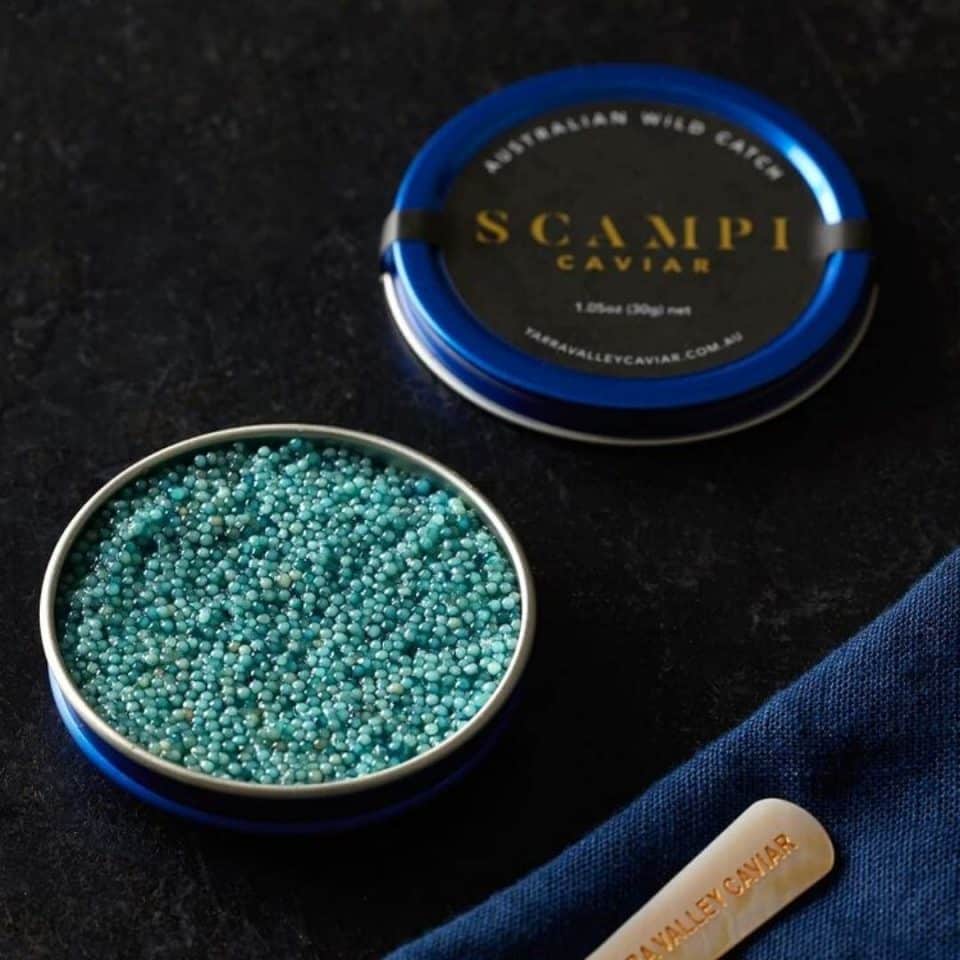 Looking for a luxurious topping for your canapes but find regular black caviar too much of a cliché? Why not astound your VIP guests with these glistening sapphire-blue bubbles?
Harvested in the deep waters off the western Australian coast, blue caviar is becoming fashionable in some of the world's top restaurants, where it's served on oysters with scrambled eggs.
It adds a twist to a host of gourmet dishes.
11. Blue Lincod Fish
While plenty of fish species have blue skin, only one has azure blue flesh: the blue lincod (or ling cod).
Only one in five of these rare fish, which can grow up to five feet in length and weigh 130 lbs, is blue inside. However, when cooked, the flesh loses its distinctive color. Also, it tastes like the far more common cod or halibut, which is somewhat disappointing given its exotic appearance.
12. Chesapeake Blue Crab
These distinctive crabs typically have dull olive-green shells that beautifully set off their bright blue claws.
However, in recent years the population has suffered a dramatic collapse due to overfishing. It's probably wise to make other choices until numbers have been allowed to recover.
13. Blue Cheese
Blue cheese, veined with blue or blue-green penicillium mold, is a love-it-or-hate-it food. It can be creamy (gorgonzola dolcelatte) or crumbly (Stilton), and the mold gives it a unique flavor and smell.
An acquired taste, blue cheese makes a sophisticated addition to any cheese board. It can also be added to salads and eaten with certain fruits and is incredibly delicious with ripe pears. Stilton and broccoli soup is a favorite worldwide.
14. Japanese Blue Milk Bread
Fluffy white milk bread originated in Japan. The addition of blue pea powder (aka blue tea) turns the inside of a loaf a vibrant mid-blue, which is only revealed when you slice through the traditional-looking brown crust.
The pea powder doesn't affect the taste of the bread, so it's a great way to surprise your kids by putting something unexpected in their lunchbox!
15. Blue Pansies
Bright blue pansy petals make a beautiful garnish, but you don't need to leave them on the side of the plate!
Eating them raw, stem, leaves, and all is OK – they taste a little like lettuce. They work well in sweet dishes, candied or pressed into cake icing. Learn more about edible flowers here.
16. Utrecht Blue Wheat
This stunning Dutch heirloom variety produces lovely blue seed heads with contrasting black bases. Said to be too pretty to eat, it's tough to grind into flour, so you'll rarely find it for sale.
Better to purchase some seeds and grow your own – the ornamental heads are a stunning and graceful addition to any outdoor space and make beautiful table decorations.
17. Bachelor's Buttons
Also known as cornflowers, blue poppies, bluebonnets, and blue caps, these brilliant blue flowers can be used in salads and as decorations on cakes and ice creams. The petals can even be added to tea blends to brighten up a dull mixture of dried leaves.
18. Tuscan Blue Rosemary
Although it's only the leaves used in cooking to add a pungent taste of the Mediterranean, it's a shame to let the delicately-colored blue flowers go to waste.
Rosemary grows easily in many climates and is a colorful and aromatic addition to flower beds, herb gardens, and mixed containers. Harvesting the flowers as soon as they appear helps the plant become bushy rather than straggly. So use them freely to garnish sweet or savory dishes
19. Butterfly Pea Flowers
The brilliant blue of the butterfly pea makes it a stunning ingredient in herbal teas. However, when mixed with acidic ingredients such as lemon, the color transforms into a gorgeous rich purple.
Butterfly pea flowers are reputed to provide a range of powerful health-enhancing properties. Like most blue foods, they're high in antioxidants.
20. Indigo Milk Cap Mushrooms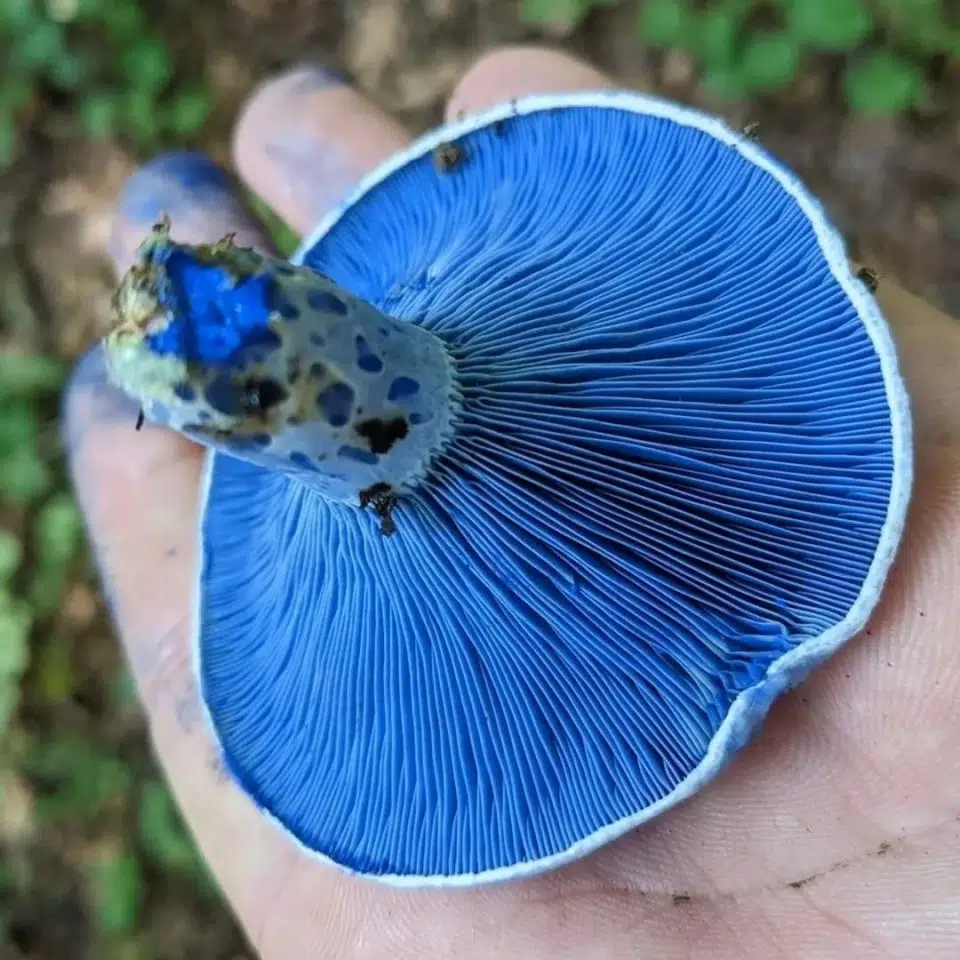 Intense deep blue Milk Caps (Lactarius indigo) are the only blue species of mushroom that you can eat. Growing deep in pine forests, they look like something out of a fairy tale. When sliced, or even when you touch their gills, they reveal an even more intensely dark blue color.
They can be eaten raw or cooked. If you're cooking them, retaining the startling color can be challenging. One of the best ways is to coat in breadcrumbs and fry them so the juice doesn't leak out.
21. Blue Marble Tree Fruit
Found in the tropics from India to Hawaii, the azure fruit of the blue marble tree is edible, though perhaps it's not as delicious as many alternative fruits. One interesting fact about blue marbles is that rust-colored dried seeds are commonly used to make mala beads in India and leis in Hawaii.
22. Adirondack Blue Potato
Although their skin and flesh are more purple than true blue, these unusual potatoes can be prepared exactly like regular potatoes. They'll add interest and variety to the most mundane of menus.
23. Persian Blue Sea Salt
This incredible salt from northern Iran looks like something out of a fairy tale. The spectacular blue color is an optical illusion caused by the refraction of light through the salt crystals.
It's too beautiful to waste in everyday food preparation, so use it to finish dishes – and astound your guests with the beauty of these precious sapphire grains.
24. Blue Oyster Mushrooms
This unusual mushroom gets its name from its subtle blue-brown shade. With a chewy texture and a taste that resembles oysters, blue oysters can be eaten raw or prepared in the same ways as regular mushrooms.
They're an excellent way to add interest to sauces and pasta dishes.
25. Blue Honey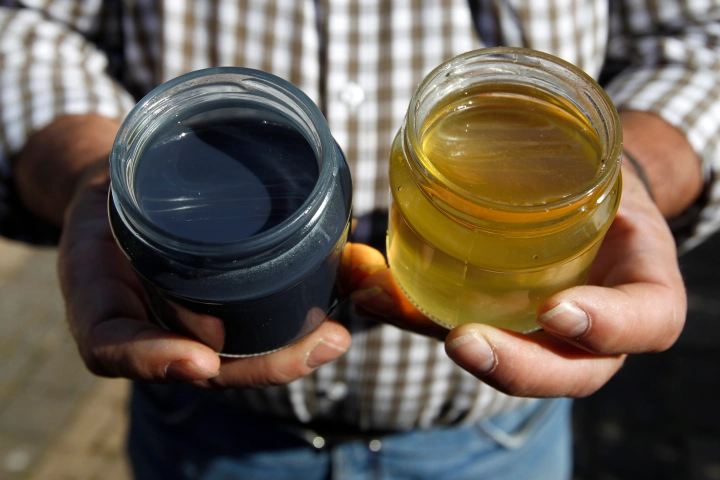 Beekeepers as far afield as France and North Carolina have reported that their bees are producing weird-looking blue honey. There's some debate about how and why this happens. Theories include the bees feasting exclusively on blue flowers or something happening to the regular-colored honey inside the hive. Some have even claimed that the bees have been feasting on ground-up M&M shells.
Despite the mystery, blue honey tastes just as good as the golden stuff. It looks amazing when drizzled over ice cream or thick yogurt.
---
Related: 25 Naturally Red Foods
Related: 20 Naturally Green Foods
Related: 25 Naturally Purple Foods