20 Purple Fruits to Add to Your Diet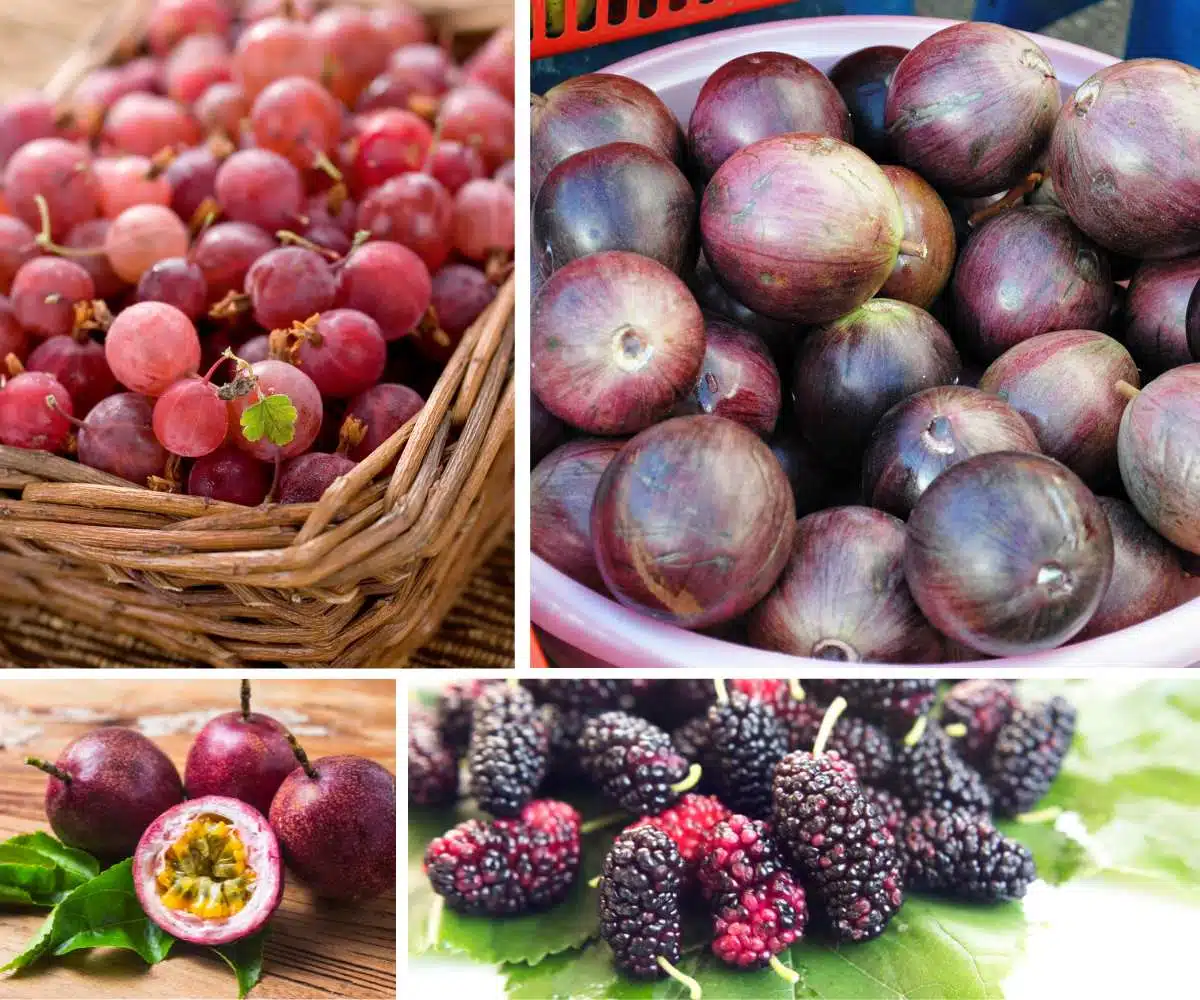 The brilliant hues of purple fruits add visual appeal to any number of recipes. What's more, they're packed with powerful health-giving vitamins, minerals, and antioxidant compounds (anthocyanins). So purple fruits definitely qualify as 'superfoods'.
To inspire you to add more purple power to your diet, here are 20 versatile purple fruits that are healthy, delicious, and gorgeous to look at.
1. Passion fruit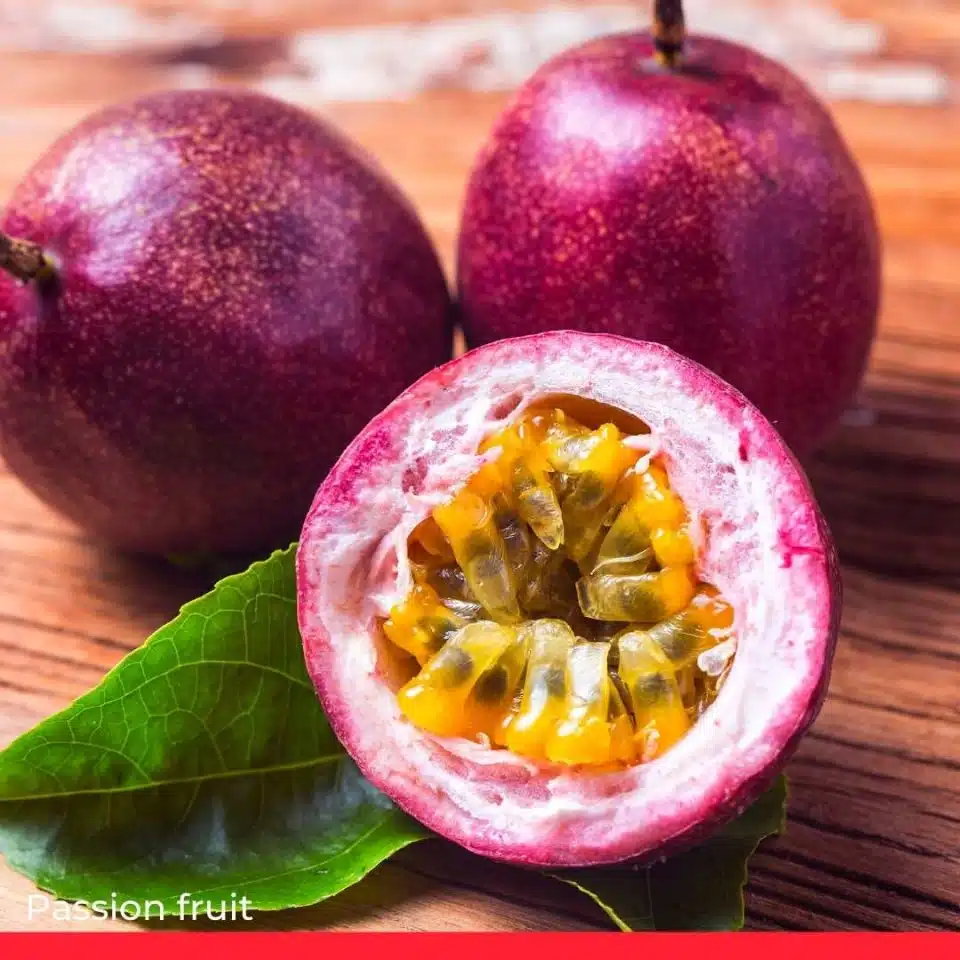 Technically a berry, purple-skinned passion fruit is typically enjoyed raw. Slice open the purple skin and scoop out the greenish-yellow flesh to eat with a spoon, or mix it in smoothies, yogurts, and ice creams.
In Mexico, passion fruits are combined with chili and lime juice, to make a refreshing savory snack. They also work extremely well in desserts from cheesecakes, cakes, and mousses.
2. Purple mangosteen
Mangosteen is a popular exotic fruit with a delectable sweet-sour flavor. The deep-purple shell contrasts beautifully with juicy, brilliant white pulp. It's a fantastic addition to fresh fruit salads, smoothies, and ice creams.
Suppose you can't find fresh mangosteens locally. In that case, they're also available frozen or canned, so you may be able to locate some in a specialty store (though perhaps loaded with added sugar.
3. Acai berries
Acai berries have a high-fat content, which means they only have a shelf life when fresh. For this reason, you're more likely to find them dried, powdered, or frozen. They have a gritty texture, and their flavor, sometimes described as 'earthy', is an acquired taste.
Lots of wild health claims are made for acai berries. Like most purple and red fruits, they're rich in antioxidants. However, until now, their 'magical' health-giving properties remain unproven.
4. Miyazaki mangoes
These purple beauties were originally only cultivated in Miyazaki city in Japan. However, India has also started producing them.
Miyazakis are the most expensive mangoes in the world and they can cost up to $4000 a pair. Not surprising, really. As they mature, they turn from scarlet to deep purple and could easily pass for dragon's eggs. Unfortunately, they're also incredibly sweet, containing 15% or more sugar content.
Trivia: not only are these the most expensive mangoes in the world, but Miyazaki mangoes rank as the 4th most expensive fruits in the world.
5. Purple star apples
The rich purple skin of the star apple looks fabulous. However, the texture is rubbery, so people don't usually eat it. The delicate lavender-colored flesh is sweet, though a little earthy.
Purple stars have a firm texture, so use them in the same ways as regular apples – raw or cooked, baked, made into sauces, or added to teas and cocktails.
6. Purple grapes
They make the perfect addition to any cheese board or fruit display, but the jeweled deep-purple skins of plump grapes bursting with juicy goodness can be enjoyed in many ways.
They add a startling visual contrast to fruit salads and sweet open pies. Or why not freeze them whole to add a splash of color to summer drinks instead of boring ice cubes?
7. Purple Figs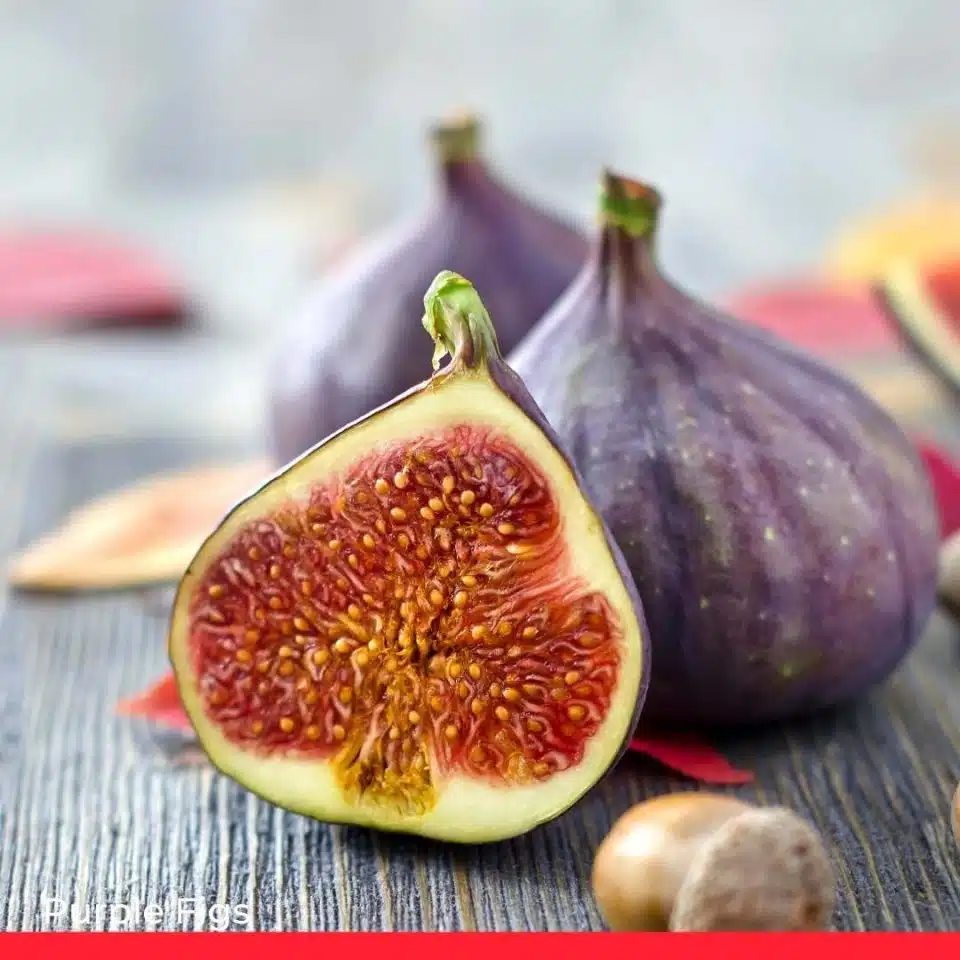 The soft velvety skin of a ripe fig splits open under the slightest pressure, revealing the lovely cherry-pink sweetness of the flesh and seeds inside.
Partner them with fresh white cheeses, or include them in baked goods and fruit bars. Perhaps best of all, make succulent purple figs the centerpiece of a bowl of rainbow-colored summer fruits overflowing with peaches, apricots, and damsons.
Related: Dalmatian Fresh Fig Tart Recipe
8. Plums
The thin purple peel conceals the soft, sweet flesh bursting with juicy goodness. As a result, plums are incredibly versatile late-summer treats that can be eaten raw, added to smoothies and juices, or baked into crumbles and pies. And, of course, they make spectacular preserves.
9. Saskatoon Berries
Saskatoon berries turn a dark bluish-purple as they ripen. Smaller than blueberries, they carry a faint note of sweet almonds. Enjoy them raw or cooked in all the same ways as blackberries or blueberries.  
10. Blackberries
Of course, glossy blackberries picked straight from the vines are the perfect late-summer fruit.
With their sweet yet tart flavor, and juice of the richest purple, you can use them in endless ways. They bake well, and partner perfectly with apples in crumbles, puddings, pies, cakes and preserves. 
Packed with vitamins, they're ideal for healthy smoothies and juices. Or freeze them whole to use in place of ice cubes.
11. Elderberries
With their intense purple color, people have been using elderberries to ward off colds and flu for centuries. They look tasty, but you should never eat unripe or uncooked elderberries as they are toxic.
However, boiled, they're completely safe and can be used to make healthy, immune-boosting syrups, preserves, cordials, and even a light, refreshing wine.
12. Purple dragon fruit
Purple dragon fruit has bright, reddish-purple flesh speckled with tiny edible black seeds. It is typically much sweeter than the white-fleshed varieties.
Despite the dramatic appearance, dragon fruits don't have a flavor to match. Compared to other tropical fruits, they're a little disappointing.
Still, it makes a great addition to fruit salads and can be used in sorbets and smoothies to add an antioxidant boost. And if you're looking for a surprising way to use it, the delicate flavor even makes it an intriguing partner for fish dishes.
13. Blueberries
Are blueberries blue, or are they purple? Well, that's a matter of controversy, but what's clear is that they get their hue from the health-boosting anthocyanin antioxidants they're packed with.
You'll notice that fresh blueberries are covered with naturally occurring silvery dust. As this protects them, only wash it off just before eating.
Blueberries can be enjoyed raw, as a snack, or cooked into pies, cakes, and preserves. They also make tasty and colorful toppings for ice creams and desserts.
14. Purple gooseberries
While gooseberries are usually green, there are also purple, red, white, and yellow varieties. Purple gooseberries don't only have the most vivid color, but they're also slightly less sharp than their cousins.
Some people enjoy eating raw gooseberries. However, as they're so sour, it's more common to eat them stewed and sweetened, with cream or custard, or to cook them in pies, puddings, and sauces.
16. Huckleberries
Huckleberries are small, round berries often mistaken for blackberries. However, they can be used in all the same ways, in pancakes, pies, juices, syrups, and smoothies.
As they typically grow wild, you're more likely to come across them in hedgerows than in stores.
17. Jamun Berries
Technically, jamun berries are stone fruits and go by many names, including black plum, jambul, or java plum. They resemble olives but are juicier, with a sweet-tart taste.
They make great additions to salads or can be partnered with mint to create alcoholic or non-alcoholic cocktails. They're also used in pies and sweet sauces.
18. Mulberries
Mulberries resemble elongated blackberries. Although they can be white, red, black, or purple, the purple ones are the sweetest and juiciest – although they retain a refreshing sharpness.
Mulberries are very versatile. Use them to make preserves, desserts, and baked goods. They also make delicious fruity tea full of nourishing antioxidants.
19. Purple papaya
Do purple papayas really exist in nature? Pictures have been creating a buzz on the socials recently, but the jury is still out. One Indian grower, Sushanta Nanda, insists that the fruit is real and that it's a cross between papaya and grape varieties only found in Southern Australia and Brazil. Hmm.
But, if you ever get your hands on one – let us know, and we'll be happy to be proved wrong and to apologize to Mr Nanda for our skepticism!
20. Purple Watermelon
You may have seen the incredible images of watermelons with neon-purple flesh and wondered where you can buy one and what they'll taste like. Well, for this one, the jury has already returned its verdict, which is why we left it till last.
Sorry to say, these neon beauties are a hoax, and they simply don't exist. 
However, give it a few years, and perhaps some enterprising fruit grower will cross a watermelon with a blueberry and – voila! 
---
If you love anything purple, check out our story on some of the most interesting purple foods out there.
Related: 20 Healthy Red Fruits You Should Try
Related: Discover 19 Stunning Blue Fruits
Related: 20 Naturally Pink Fruits