Swedish Pan-fried Pork Belly with Onion Sauce/ Fläsk med löksås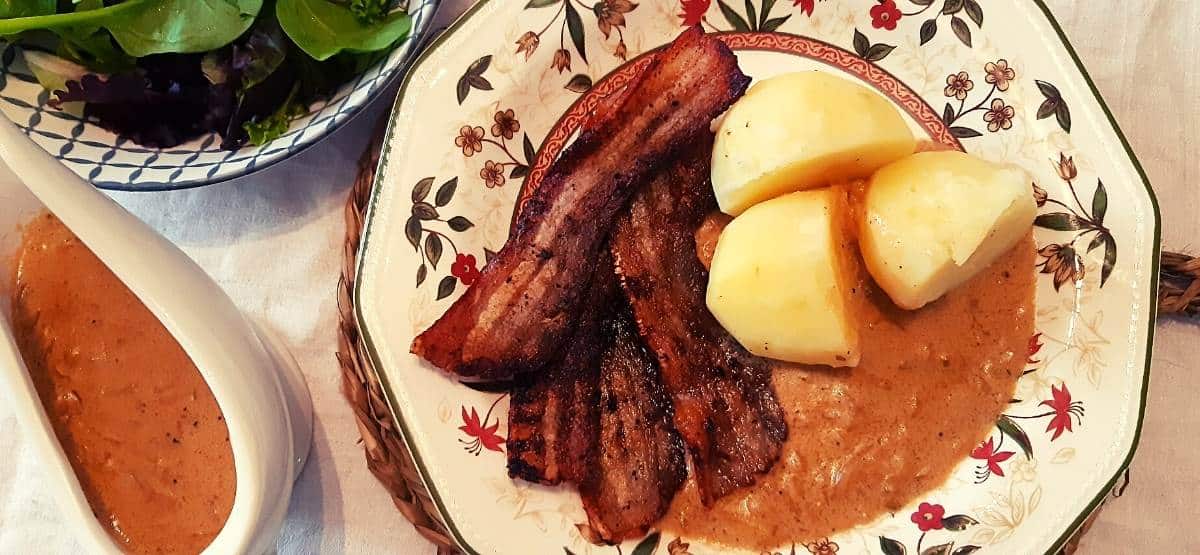 Pan-fried pork belly with onion sauce is a Swedish classic dish and a true autumn and winter favorite. This is a very old dish, passed down through generations and is warming and loved by most.
The salty, cured, and slightly smoked pork belly is cut into strips and pan-fried on low heat in butter until dark and crispy.
Onions are sliced and sweated down in butter until translucent. Milk, cream, pepper, and soy sauce are added to give the sauce a rich and creamy flavor.
The pan-fried pork is eaten with boiled or strained potatoes and sometimes with lingonberry jam. This is real Swedish soul food that is hard to resist and can be found in every household in Sweden.
Pan-fried Pork Belly with Onion Sauce
Ingredients
Ingredients
600

g

smoked or salted pork belly with rind

3

dl

milk

1

dl

cooking cream

1.5

tbsp

flour

3

small yellow onions

1

tsp

soy sauce

½

tsp

freshly ground black pepper

2

tasp

salt 

8

Potatoes for serving
Instructions
How to make Pan fried pork belly with onion sauce:
Peal and boil the potatoes. 

Cut the pork in to 4mm thick pieces and place in a frying pan (preferably a cast iron) on medium heat. Do not over crowd the pan. Fry the pieces until dark and crunchy.

Slice the onions in half rings and add to a saucepan on low to medium eat to sweat down until translucid. Add the flour and stir for a minute before adding the cream, salt and pepper and stir until the sauce thickened. Add a tbs of soy sauce at the end to give the sauce a nice color and depth. 

When the pork is done, remove the pork and place it on kitchen paper and add the frying juices to the saucepan.

Serv the pork and potatoes with the creamy onion sauce.
Notes
Related: Roast Pork Belly with Apple Sauce
Related: Pork Belly With Baked Radish, Carrot Puree and Caramelized Apples
Related: Braised Pork Belly with Chilies
Related: Swedish Pork Pancake
Related: Tigania: Greek Pork with Lemon & Mustard Sauce