Top 20 Southern Italian Foods (With Pictures!)
There is no doubt that if you were to name the most internationally renowned Italian foods, many of them would probably come from the South: pizza, carbonara, and ice cream are just a few.
Indeed, the South of Italy accounts for a large number of Italian cultural stereotypes: just think of the typical Neapolitan man singing passionately in the streets and gobbling down his pizza Margherita while waving his hands as he tries to continue talking. This is of course only a cliché, though it goes to exemplify just how rich in cultural images and traditions the South of Italy is.
Consisting of six regions, Molise, Campania, Puglia, Basilicata, Calabria, and Sicilia, Southern Italy has historically been a very poor and rudimental land marked by sharp contrasts, with the poorest parts of society subsisting on a diet largely made of wheat and vegetables while the nobility of the Regno delle Due Sicilie feeding on luxurious and sophisticated foods.
The warm Mediterranean climate, however, lasting for a large part of the year mean the lands were constantly fertile with a steady and permanent cultivation of grains and vegetables, providing a constant and varied supply of food.
However, one thing has solidly unified social classes and eradicated cultural differences among the various southern Italian regions, and this is the common use of major landmark ingredients which colorfully sum up the Italian culinary essence: tomatoes, a wide variety of soft cheeses, and the magic touch of Mediterranean herbs such as oregano and basil.
Let's round up some of the most popular Southern Italian dishes.
Molise
The first of the southern Italian regions we come across is Molise, Italy's second-smallest region, almost entirely covered in mountains except for a thin strip of coastline bathed by the Adriatic Sea. The geographical morphology of the region is reflected in the cuisine, stemming from old inland farming traditions and largely based on seasonal crops with a large production of cheeses.
1. Caciocavallo
Dating as far back as the VII Century B.C, Caciocavallo is one of the oldest cheeses ever produced. It is a real source of local pride for the towns of Agnone, Capracotta, and Vastogirardi. Caciocavallo is made with raw cow's milk and has a hard rind and a straw-yellow color which tends to brown when it's very mature.
Related: Top 20 Most Popular Italian Cheeses
It is aged in natural caves for a minimum of three months: initially, it has a soft and delicate taste, but it becomes increasingly strong and spicy as it matures. Locals from Molise often eat it grilled and accompany it with fresh Italian bread. It must be tried at least once in your life!
2. Soppressata
Soppressata is an incredibly popular dry-cured pork salami renowned throughout the country, though it is not generally known it is originally from Molise.
The pork loin and neck are finely minced with a small amount of lard. The minced meat is then spiced with peppercorns and salt and placed to dry in a specific device under which it is pressed and shaped, hence the term soppressata, meaning, in this context, squashed.
The salami is considered to be ready after a maturation period of about 5 months and is then typically savored on a charcuterie board together with a selection of cheeses.
3. La Pezzata
The ancient pastoral traditions from Molise are deliciously revived in this hearty recipe, evoking the authentic flavors of the small mountain town of Capracotta. Pezzata is a chunky meat stew made with lamb which is slow-cooked in large pots of water to which potatoes, a few tomatoes, and sometimes other vegetables and herbs are then added to enrich the flavor and aroma of this dish.
A true symbol of peasant cuisine, pezzata was invented in fact during the period of transhumance, when animals who didn't survive high altitude journeys would serve the purpose of feeding the shepherds.
Campania
Campania boasts a large number of Italy's most renowned produce known worldwide, thanks to the fertile volcanic soils of Mount Vesuvius, where the quintessential Italian tomato, San Marzano, is produced, representing the foundation of many of the local recipes.
4. Pizza Margherita
The Queen of Italian cuisine is undoubtedly and unquestionably its most celebrated symbol, pizza Margherita. Representing the quintessential colors of the country, pizza is certainly a lot older than Italy itself!
Dating back to the Greeks and Romans, who would eat round discs made of fried dough with squashed tomatoes and cheese on top, to the 1700s when the modern concept of Pizza came about, this wonderful invention is commonly attributed to Don Raffaele Esposito, a Neapolitan cook who in 1899 was summoned to prepare a delicacy to honor King Umberto I and Queen Margherita.
5. Mozzarella di Bufala
What would pizza Margherita be without its most essential ingredients?
Made from the milk of Mediterranean buffalos, this type of Mozzarella is appreciated for its uniquely soft texture, delicate taste, and nourishing properties. In fact the milk from the buffalo was once used by farmers as an energizing and sustaining drink.
However, due to its rapid acidification and natural coagulation processes, it was soon transformed into a new produce that could be stored for longer periods and transported more easily. This is how the delicious mozzarella di bufala originated.
6. Limoncello
"Bright like the sun, sweet like love", this is how limoncello is poetically described by the locals of the Amalfi Coast and Sorrento, the beautiful coastline crowded by bright yellow lemon trees. It is here that the symbolic drink has been prepared in homes for centuries.
Some people think that limoncello was drunk by fishermen and farmers in the 1600s, especially in the morning, to fight the cold, while others claim that the first recipe was created in a monastery to delight the monks between prayers.
Whatever the truth, limoncello represents a traditional source of Italian pride all over the world, proudly boasting the designation of Protected Geographical Indication (PGI). Its alcohol percentage is usually around 30 to 35 percent, which is why it is typically savored slowly in a small liqueur glass after meals.
7. Pastiera Napoletana
Pastiera Napoletana is a traditional Italian dessert made of custard that originates from the city of Naples. The classic recipe calls for a short crust pastry filled with a delicious ricotta cream and dusted with icing sugar on top. Probably due to the myths about origins, pastiera is thought to represent today a symbol of life and rebirth.
Related: 15 Most Popular Italian Pies & Cakes
According to legend, in fact, a couple of shipwrecked fishermen managed to return to land and were saved by the leftover food from the day before, what they called "la pasta di Ieri", which over time became one word, pastiera.
Puglia
The cuisine of Puglia boasts a wide variety of excellent products and simple dishes due in large part to the fact that for millennia Puglia had predominantly been an agricultural land.
The main culinary protagonists in fact are a great variety of fresh vegetables and olives, as well as the abundant production of durum wheat, giving the locals the reputation of authentic pasta makers.
Taralli Pugliesi are a gastronomic symbol of the local cuisine of Puglia. These ring-shaped hard crackers are simply made with flour, water, white wine, and a sprinkle of fennel seeds to add a fresh aftertaste.
These versatile snacks are an excellent addition to an aperitivo and can be savored on their own or accompanied by a board of cheese and olives and a glass of local red wine; though watch out, or you may find yourself finishing the whole packet all at once!
9. Focaccia Barese
For many people focaccia is associated with the northern region of Liguria, but don't you dare say that to a person from Puglia! In fact, despite the use of the same terminology, the two foods are made in very different ways and hold very different culinary origins and purposes.
In Puglia, tradition dictates that breakfast or mid-morning snacks are typically enjoyed with a slice of richly-seasoned focaccia barese topped with succulent cherry tomatoes, tangy olives, and a generous sprinkle of oregano, which will undoubtedly set you up for the day!
10. Orecchiette con Cime di Rapa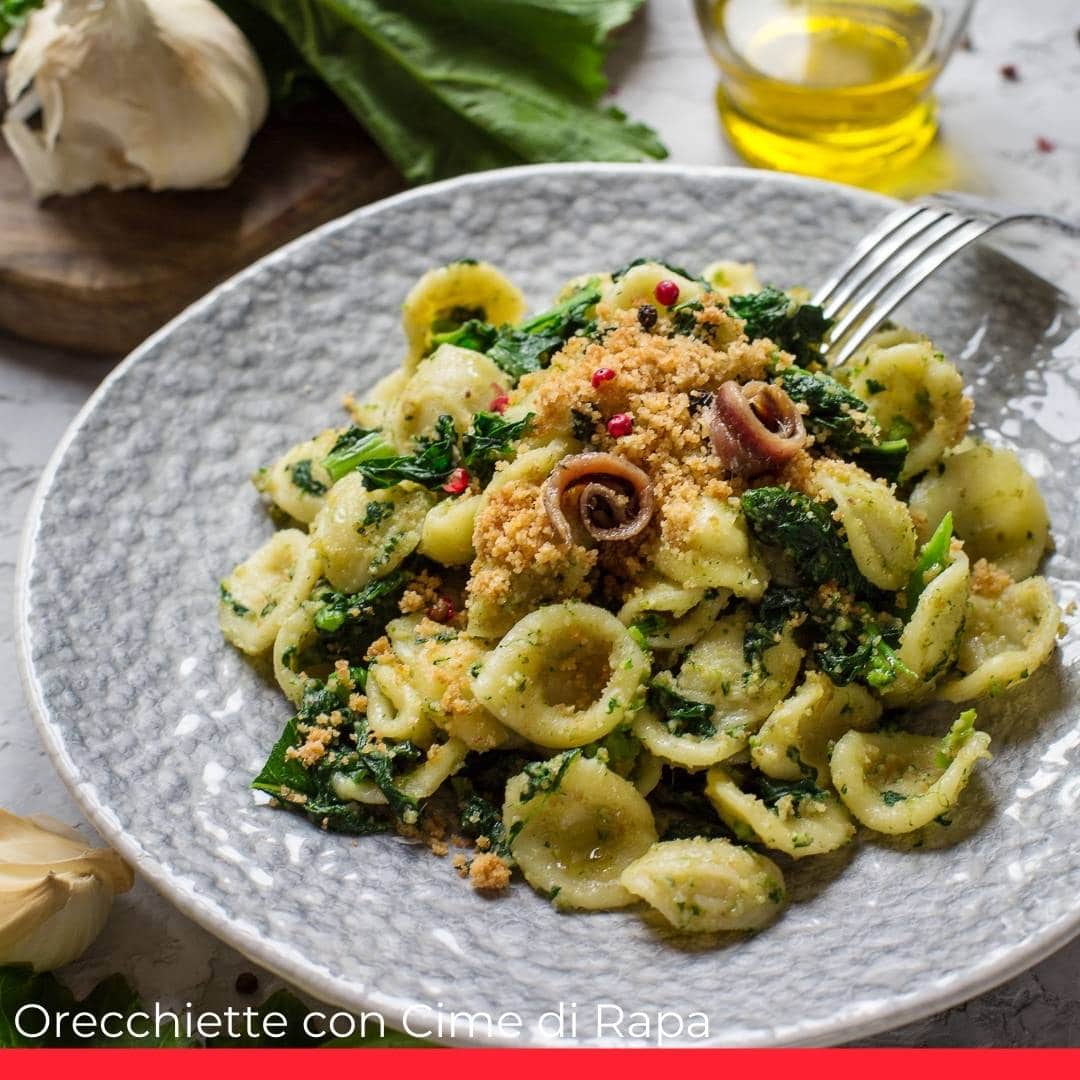 A traditional culinary symbol from Bari, Orecchiette con Cime di Rapa is a delicious first course dish made with a small dome-shaped type of pasta cooked in a delicious garlicky sauce made with turnip greens.
Orecchiette, literally meaning small ears for their distinctive shape, is a typical type of pasta from the Puglia region. You will often see a row of elderly women sitting on chairs just outside their homes making orecchiette by hand, placing them neatly on large wooden trays for the pasta to dry. A true ethnographic and culinary experience!
11. Pasticciotto Leccese
If you have ever been to Lecce, you will probably have noticed that, unlike the rest of Italy, the typical breakfast is a delicious and fragrant pastry cake filled with irresistible hot custard cream, the so-called pasticciotto Leccese.
These delicious short-crust pastry shells are a true symbol of Salento Bakery. They date back to 1745 when the owner of the Ascalone pastry shop in Galatina had to improvise with the only raw materials he had available to create a cake to offer to the devotees of the Basilica of San Paolo who had come to celebrate the patron saint.
Basilicata
To the west of Puglia lies Basilicata, once called Lucania before being conquered by the Romans. Later on, Emperor Augustus denominated it Basilicata, which derives from the Greek basilikos, meaning governor and prince, thus conferring it values of pride and nobility.
Despite it being bathed on its south border by the Mediterranean Sea, the traditional cuisine of Basilicata is largely meat-based due to the wide consumption of meat by the Lucani, the ancient population who lived in the region.
12. Agnello alla Lucana
Agnello alla Lucana is a simple and humble traditional dish from Basilicata, that's hard not to appreciate! The secret of its simplicity lies in the slow oven-cooking of the lamb, placed in a big casserole with peppers, garlic, and rosemary.
The final touch is given by the generous dash of vinegar which makes the top of the lamb sweet and sour and deliciously crispy! Agnello alla Lucana is not missed on any local's table during family Sunday lunches.
13. Pecora alla Pignata
Pecora alla pignata, also known as cutturidd, is another traditional lamb stew specialty from the Alta Murgia area on the east of Basilicata. The name of the recipe comes from pignata, a special terracotta pot which is typically used to prepare the dish.
According to tradition, lampascioni, a local type of onion, and wild chicory are usually added to mitigate the strong flavor of the sheep, after which the pot is not closed by a lid but by a disc of pasta obtained by blending semolina with water.
14. Lagane e Ceci
Lagane e ceci is a traditional dish simply made with lagane pasta, a wider version of tagliatelle, cooked in a creamy chickpea broth with garlic, leeks, and laurel. This warming dish is truly soul-satisfying on a cold winter's day and it is also known as the piatto del brigante, literally the dish of the brigands as it was believed to be the most popular dish among the ancient Lucanian brigands of the 19th century.
Calabria
On the most southern tip of the Italian peninsula is the region of Calabria, known for its strong and intense culinary flavors and closely tied to history, tradition, and religious festivities.
Due to the heat and dryness of the climate, people from Calabria have always placed great importance on preserving their foods, which is why vegetables and animal produce are often laden with salt and oil, which undoubtedly helped to confer it the reputation of having a rich yet flavor-filled cuisine.
15. 'Nduja
The first emblem of the cuisine from Calabria is certainly 'nduja, a super soft and spicy sausage made with lard, bacon, jowl, and less noble parts of the pig, to which abundant chili pepper is added, conferring it its typical bright red color.
'Nduja is traditionally from the town of Spilinga, in the province of Vibo Valentia, but it is widely produced in many other municipalities throughout the region. It can be spread on bread croutons or used to cook pasta and risotto dishes, though it is on pizza that locals really appreciate it!
16. La Sardella
Typically referred to as "the fish 'nduja", or "caviar of the south", Sardella is nothing more than a mixture of 'nduja and small local fish flavored with chili pepper and fennel. This southern specialty has a decidedly strong and distinctive spicy flavor, which makes it perfect to spread on bread and to accompany with a warming glass of red or white wine.
The recipe is thought to belong to Crucoli, a town in the province of Crotone, but it is also produced in Cirò Marina and Trebisacce.
17. Peperoncini Piccanti Ripieni
Peperoncini ripieni is a traditional appetizer from Calabria made with tasty round chilies stuffed with a filling of tuna, anchovies, and capers. Peperoncini are typically prepared in the summer, when the round chilies are just ripe and succulent enough, but they are then preserved in big jars filled with olive oil, which will make them last for long periods of time.
This simple yet delicious specialty is typically combined with soft, mild cheeses such as goat cheese or Robiola, as well as grilled meats.
Sicilia
Finally we come to Sicily, the largest island in the Mediterranean, famous for its culinary fusion of multicultural flavors that developed over the centuries as a result of the multiple invasions by Arabs, Greeks, Normans, and Spanish.
Sicilian cuisine today is largely based on the wide use of fresh vegetables, such as eggplant and tomatoes, as well as on the widespread use of spices and aromatic herbs.
18. Arancino
Arancino undoubtedly deserves first place in the countless list of culinary symbols of the region. Arancini are breaded and deep-fried balls made of rice and with a delicious ragù sauce filling.
These small and delicious delicacies are indeed responsible for having divided the population over the decades over those who refer to it as Arancino, as in Catania, and those who call it Arancina, around Palermo.
But on one thing they definitely agree, the origins of this dish are rooted in Arab culture as they would typically create a mixture of saffron rice, season it with lamb, and then roll it in the palm of their hands. Moreover, there is evidence that Arabs would usually tend to name their dishes with fruit names, which goes to prove that the people in Palermo were probably getting it right.
19. Pasta alla Norma
Pasta alla Norma is by all accounts the most exquisite expression of simple yet healthy and nourishing cuisine. Eggplants are the main protagonists of this dish, originally made with rigatoni pasta, cooked in a rich and garlicky tomato sauce with the previously sautéed eggplant.
The dish is finally garnished with fresh flakes of Ricotta cheese and a few leaves of basil. Despite its humble and unpretentious essence, this wonderful specialty was in fact named after a renowned lyrical composition, Norma, by Vincenzo Bellini, a famous Sicilian composer of the 19th Century.
20. Cassata Siciliana
Last but not least, the ultimate Sicilian specialty that you have to try at least once in your life. Cassata Siciliana is a liqueur-drenched sponge cake made with almond and pistachio paste and filled with a creamy mixture of ricotta and chocolate chips.
Cassata is the Sicilian dessert par excellence, you will find it in almost every bakery in Sicily, elegantly decorated with icing sugar and candied fruits arranged in perfect geometric shapes. This pure masterpiece will tingle your taste buds even by looking at it!
---
Related: 20 Popular Northern Italian Foods
Related: 15 Most Popular Sicilian Foods
Related: Most Popular Tuscan Foods
Related: Most Popular Italian Soups