Top 10 Traditional Italian Pastries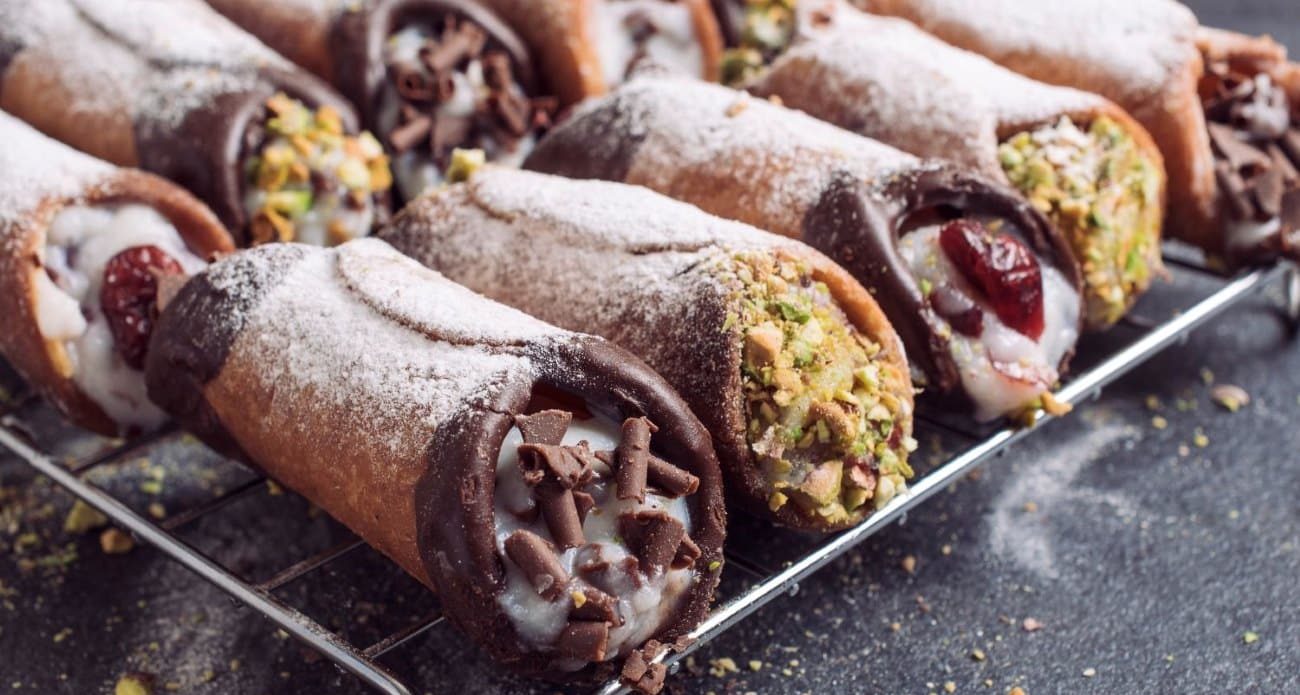 Italy, a country celebrated for its art, culture and cuisine, is also a treasure trove of delectable pastries. From the northern regions of Piedmont to the southern coast of Sicily, Italy boasts a diverse and delicious selection of pastries, which are testament to the country's culinary artistry and rich history.
Whether you're exploring the bustling streets of Rome or the tranquil countryside of Tuscany, indulging in these top 10 Italian pastries is an essential part of experiencing the country's culinary heritage. Let's embark on a delightful journey through Italy's top 10 pastries!
1. Cannoli Siciliani
Starting our pastry journey in the South, Sicily offers us the beloved Cannoli Siciliani. These iconic Sicilian pastries, possibly Italy's most famous ones, consist of crispy fried tubes of dough filled with sweet ricotta cheese and adorned with candied fruit, chocolate chips or pistachios.
The Sicilian cannolo is a traditional dessert that dates back to Sicily's Arab domination which ended in the year 1090, but its origins go even further and can be traced back to Roman times. In fact, the first to mention this delicacy was Cicero, in 70 B.C., who, during a trip to Sicily, was enchanted by a "Tubus farinarius dulcissimo edulio ex lacte fartus" (a tube of flour filled with soft milk cream).
The combination of texture and flavor makes cannoli a must-try pastry when visiting Italy.
2. Sfogliatella
Sfogliatella, a delectable Italian pastry, hails from Naples and is a true masterpiece of culinary artistry. Its name, meaning small, thin leaves, perfectly describes its distinctive texture. This pastry boasts a flaky, multi-layered shell created from paper-thin dough sheets, offering a delightful contrast to the sweet, creamy ricotta cheese filling.
The filling is often infused with sugar and citrus zest, resulting in a harmonious blend of flavors and textures.
Sfogliatella is not just a treat for the palate but also a visual marvel, with its intricate, shell-like shape. It remains a beloved symbol of Naples' culinary heritage and a must-try for pastry enthusiasts.
3. Bignè di San Giuseppe
Bignè di San Giuseppe is a delightful Italian pastry originating from the Lombardy region. These delicate rounded pastry puffs are a traditional treat, particularly cherished on St. Joseph's Day, celebrated on March 19th. The puffs are generously filled with velvety vanilla custard, creating a harmonious blend of crisp pastry and creamy sweetness.
To enhance their appeal, they are often garnished with amarena cherries (sour black cherries) that add a burst of fruity flavor. The Bignè di San Giuseppe additionally holds valuable cultural significance, symbolizing devotion and tradition during this special Italian celebration.
4. Zeppole
Zeppole truly embodies the essence of Southern Italy's rich culinary heritage. Deriving from the Italian word zeppo, meaning filled or stuffed, these golden-fried dough balls are typically filled pastries which originate from the southern regions, particularly Campania and Calabria.
These sweet delicacies come in two main varieties: the ricotta filled and custard filled zeppole.
Each version presents a divine contrast between the crisp, golden exterior and the sumptuously creamy interior, a testament to Southern Italy's expertise for harmonizing textures and flavors.
Zeppole, often generously dusted with powdered sugar and sometimes drizzled with honey, are more than just a treat; they are a symbol of tradition and unity.
5. Pasticciotto
Pasticciotto originates from the sun-kissed region of Puglia. Pasticciotto is characterized by its golden, flaky crust that cradles a velvety, custardy cream filling. Variations abound, with some pastries featuring exquisite fruit jam or fresh fruit nestled within.
As you savor each bite, you taste the sun-ripened fruits and the warm Mediterranean breeze that have shaped this delightful pastry. Pasticciotto is a local treat and a testament to the region's commitment to preserving its culinary heritage, making it a must-try for anyone exploring the flavors of Southern Italy.
6. Mostaccioli
These spiced, nut-studded cookies are a delightful balance of simplicity and richness. Hailing from various regions of Italy, mostaccioli are typically prepared by mixing ground almonds or hazelnuts with honey, cocoa, and spices like cinnamon and cloves.
This dough is shaped into small, diamond or oval cookies, which are then baked until firm and aromatic.
Once baked, mostaccioli are often glazed with a luscious chocolate icing, providing a perfect balance to their mildly spiced interior. These pastries are a beloved addition to festive occasions and holidays, offering a taste of Italy's sweet culinary traditions.
7. Amaretti
Amaretti have a rich history dating back to the Renaissance era. Originating in the Lombardy region of Northern Italy, amaretti are renowned for their crisp exterior and chewy, marzipan-like interior. The name amaretti is derived from the Italian word amaro, meaning bitter, owing to their original use of bitter almonds.
Over time, recipes evolved, incorporating sweet almonds instead of bitter ones, giving rise to the sweet, almond-flavored amaretti we know today. These cookies gained popularity throughout Italy and have become a staple in Italian cuisine.
With their delightful blend of sweet and nutty flavours, amaretti have not only stood the test of time but have also earned a special place in the hearts of dessert lovers worldwide.
8. Occhi di Bue
Occhi di bue, Italian for bull's eyes, are delightful sandwich cookies similar to Linzer cookies and celebrated for their simplicity and irresistible taste. These iconic treats have roots in mediaeval Italy, where they were originally crafted as simple, rustic biscuits. These classic pastries consist of two tender, buttery shortbread-like cookies that crumble delicately in your mouth.
The defining feature of occhi di bue is the sweet filling, often fruit preserves such as raspberry or apricot jam, which nestles between the two cookies, creating a delightful contrast of textures and flavors. These delicacies are frequently enjoyed with a cup of espresso or as an accompaniment to afternoon tea.
9. Babà al Rum
Babà al Rum are small, golden, dome-shaped cakes soaked in a rich and fragrant rum syrup, which infuses them with a delightfully alcoholic kick and a moist, tender texture. The magic of babà al rum lies in the balance between the sweet, slightly citrusy cake and the intense rum flavor.
Topped with whipped cream or candied fruit, these desserts are a true indulgence and a favourite after-dinner treat in Italy. Their unique blend of moistness and spirited essence makes babà al rum an irresistible choice for those seeking a decadent and spirited dessert experience.
10. Frittelle di Riso
Frittelle di Riso, or rice fritters, offer a delightful taste of Italian comfort food. Originating in Venice, these delectable pastries are a cherished part of Italian cuisine. The star ingredient, rice, is cooked to creamy perfection, then mixed with eggs, sugar, and often a touch of lemon zest. This mixture is then shaped into small balls or patties and deep-fried to a golden crispness.
The result is a dessert that is simultaneously crispy and tender, sweet and fragrant. Frittelle di riso are often dusted with powdered sugar, enhancing their appeal. Whether enjoyed as a dessert, snack, or during special occasions such as the Venice Carnival, these rice fritters offer a delightful taste of Italy's culinary tradition.
---
From the iconic cannoli Siciliani to the delightful frittele di riso, each pastry offers a unique glimpse into Italy's diverse regional flavors and traditions. Whichever part of Italy you are exploring, make sure to indulge in these top 10 Italian pastries to properly experiencing the country's culinary heritage. Buon viaggio!
Related: Most Popular Italian Desserts
Related: Most Popular Italian Christmas Cookies
Related: Famous Italian Easter Cookies and Desserts