15 Most Popular Italian Pies & Cakes
Every nation has its own classics in the kitchen, especially when it comes to pies & cakes. Tasty and appetizing, sweet or savory, they brighten up tables all over the world and work equally well for lunch, snacks, or dinner.
In Italy, for many, they are synonymous with comfort food, pure taste, or convivial occasions to make some moments very special. To prepare excellent homemade pies and cakes you don't need to be a professional, but there are three basic tricks to guarantee success: a little love, patience, and the right ingredients.
Let's discover the 15 most popular Italian pies and cakes to make other countries envious.
1. Torta Caprese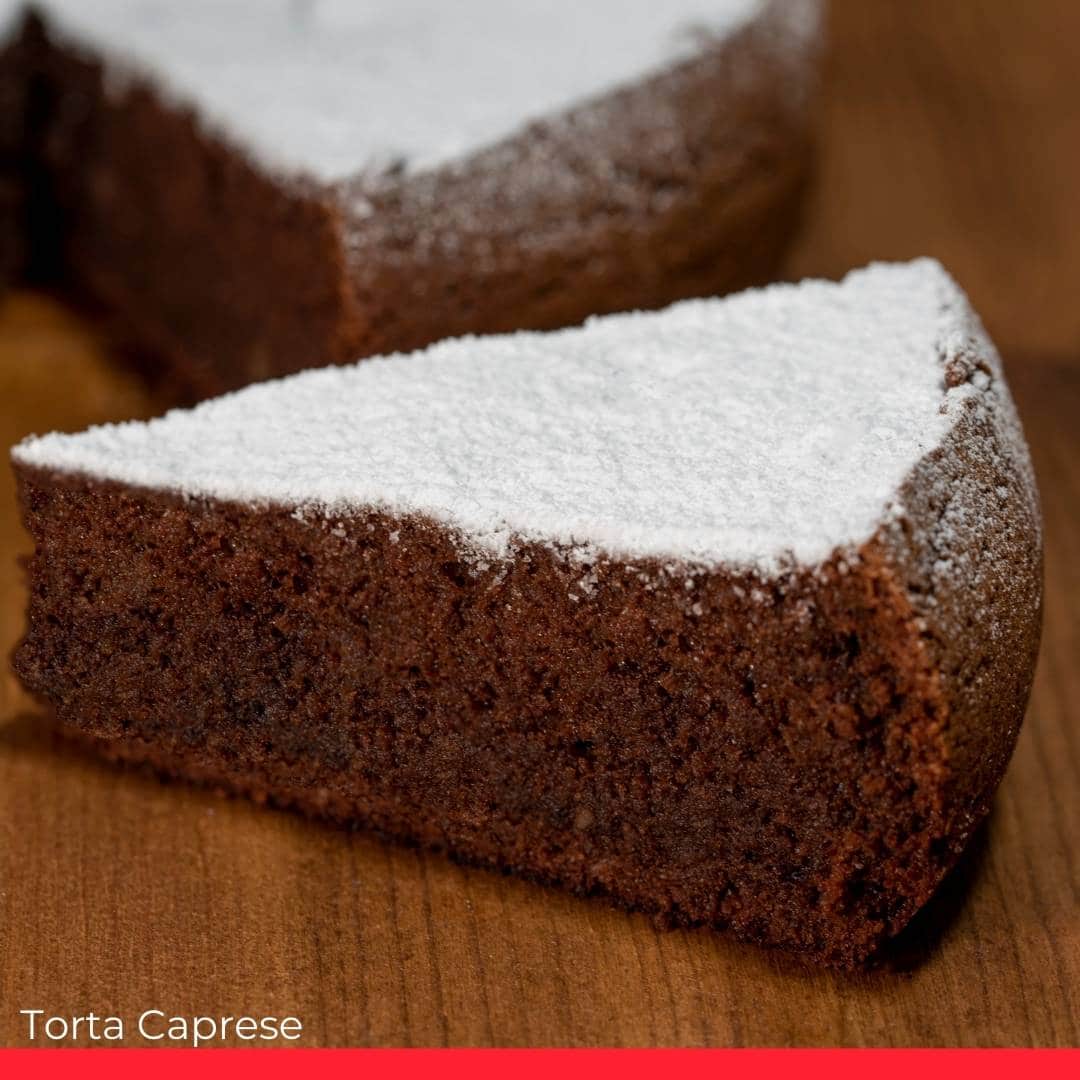 Capri, Sorrento, and Amalfi are the three cities of Campania that boast the birthplace of the Caprese cake, one of the most famous desserts in Italy. It was born in 1920 from a mistake by the Capri chef Carmine di Fiore who, during the preparation, forgot some of the ingredients!
There is no yeast or flour in this dessert, only dark chocolate, butter, eggs, and almonds. It is soft inside and crunchy outside. Loved by Neapolitan and national pastry.
2. Torta Della Nonna (Grandma's Cake)
Torta della nonna (grandma's cake) is another pillar of Italian confectionery, loved by all for its goodness. It reminds Italians of their childhood, but despite the name, it was not actually invented by a grandmother…
It was born in Tuscany, from the hands of a Florentine chef, Guido Samorino, as a result of a bet made with his customers. The chef was challenged to prepare a dessert that could surprise them. And so he did, not with some elaborate creation, rather with a cake made from simple ingredients. It was a huge success, gaining Samorino fame around the entire nation.
It is a pie with two layers of short pastry filled with delicious custard, covered with pine nuts and powdered sugar. Over the years numerous variations have appeared, but they all have one thing in common: the flavor of home.
3. Torta Pasqualina (Easter Pie)
As the name implies, the Pasqualina cake is a traditional Italian Easter recipe. It has ancient origins, first mentioned in a catalog from the 16th century. It is a specialty of Liguria, though it has now crossed regional borders and is found elsewhere.
The original recipe specifies 33 thin layers of pastry, symbolizing the age of Jesus Christ. The filling includes prescinseua, which is a soft cheese typical of the area (a mixture of yogurt and ricotta), chard, marjoram, and boiled eggs.
Pasqualina cake is a rich and appetizing dish, which is also a sign of rebirth.
4. Torta Baciocca
This rustic pie made from potatoes and onions, known as baciocca, is an ancient recipe typical of the Ligurian Apennines. According to tradition it is baked on a layer of chestnut leaves and is made from a few humble ingredients.
Its origins are controversial; it seems to be a border dish, the recipe for which was handed down orally over generations. Today this savory pie is widespread in the hinterland of Genova Levante, in the upper Val di Vara and in the Val di Taro. Here in particular it has become a cult dish.
It consists mainly of boiled potatoes, onions, butter, and Parmesan Reggiano cheese. The name derives from the dough in which it is wrapped, which is a thin and light layer of pastry made of flour, water, and extra virgin olive oil, which is called crazy, baciocco.
5. Torta al Testo
Torta al testo is an Umbria dish which fully represents the gastronomic tradition of the region. Its origins date back to ancient times, when it was consumed by Roman soldiers.
It is a savory pie, like focaccia, round and flat. In order to make it, water, oil, and flour, and a pinch of salt and baking soda, are kneaded together to make a dough, which is then cooked on a cast iron plate, called a testo. This special way of cooking makes it crispy on the outside and soft on the inside. Torta al testo is usually stuffed with cold cuts, the classic being ham, or with porchetta, roast sausage, or vegetables.
Simple but very tasty, it is loved by adults and children alike.
6. Erbazzone
Erbazzone is a rustic savory pie from Emilia Romagna, made with chard and/or spinach, garlic, and Parmigiano Reggiano cheese, enclosed between two layers of puff pastry and covered with pieces of lard or bacon.
Of humble origins, it seems that erbazzone dates back to the times of ancient Romans who prepared it using leftovers.
It is a classic traditional dish, which is also served at breakfast. It is well known not only throughout Italy but internationally as well.
7. Torta di San Pietro
Torta di San Pietro (Saint Peter's Cake) is a savory cake typically from Val di Susa in Piedmont, where it is now known throughout the region. It originated from an ancient custom: on June 29, the devout inhabitants of the hamlet of Bardonecchia would fire up the village oven and bake the dish to celebrate the Holy Apostle.
It consists of a purée of potatoes, dried chestnuts, and broad beans, enclosed in a shell of rye bread dough, buttered and scented with rosemary.
8. Torta di Mandorle (Almond Cake)
Another typical Italian delicacy is the torta di mandorle. A symbol of Varzi, a municipality of Pavia, Lombardy, this delicious cake has even achieved notoriety outside the country. As far back as the 1600s, the lords of the city, the Conti Malaspina, served it on their tables.
The cake features one key local ingredient: almonds. Add butter, sugar, potato starch, eggs, and a lemon peel, and here you have this exquisite pie.
9. Scacciata
The typical savory pie of Catania in Sicily is the scacciata, a sort of stuffed pizza.
Of peasant origins, it was born at the end of the 17th Century, and it was common to fill it with whatever humble foods were available.
It features a thin and slightly crunchy dough, made of water, semolina flour, oil, brewer's yeast, and tomato, which can be stuffed in many ways.
The most common recipe uses tuma (a typical Sicilian cheese), anchovies, and olives, but scacciata are also frequently filled with aubergines, spinach, sausage, and potatoes.
10. Torta Mimosa
Soft sponge cake, custard, and a splash of liqueur: these are the basic ingredients to make the mimosa cake.
This Italian classic was invented in the 1950s by Adelmo Renzi, a pastry chef from Rieti in the Lazio region. The creative cook decided to pay homage to the coat of arms of the Ligurian city Sanremo, with a flower-themed dessert during a culinary contest.
He then created mimosas with sponge cake balls. A success of taste and aesthetics that decreed him the winner of the competition, and the dessert subsequently travelled around the world.
11. Torta Rustica
Torta Rustica is a delicious savory pie from Puglia with ancient origins. It consists of a base of pasta and is filled with cooked ham, fresh Apulian cheese, caciocavallo, ricotta, mozzarella, and eggs.
It can be enjoyed as leftovers the following day, either warm or cold. Always tasty and appetizing, it is ideal as an appetizer, snack, or main course.
12. Smacafam
A rustic and hearty savory pie that belongs to the culinary tradition of Trentino Alto Adige. The name means "hunger pusher" and it is the perfect dish to satiate any stomach.
Smacafam began as a typical homemade recipe. Its origins are probably linked to the same discovery of Trentino sausage, which took place in the Middle Ages and became established between the 14th and 15th centuries.
It is soft focaccia, made with oil, milk, flour, butter, and salt, and filled with pieces of sausage, slices of onion, and bacon. It can be eaten alone or as an accompaniment to vegetables, cold cuts, or cheese. Reheated the following day, it tastes even better.
13. Tortano Napoletano
Tortano Napoletano is a rich and hearty savory pie that comes directly from Campania. It is a rustic dish, typical of the Neapolitan tradition, originally prepared from leftovers. The taste is truly exceptional.
Featuring a rustic and leavened bread dough prepared with lard, it is shaped like a braided crown and is enriched with bacon cubes and pepper. It is also ideal to accompany cold cuts and cheese.
14. Torta Tenerina
Torta Tenerina is a romantic chocolate cake that delights lovers and satisfies all tastes. An appetizing sweet that originated in Ferrara, Emilia Romagna, it is one of the classic Italian cakes that tastes great and is easy to prepare.
It features a mixture of dark chocolate, eggs, sugar, and flour. Once baked, torta Tenerina comes with a crispy outer crust and, inside, a soft and creamy irresistible heart. For these qualities, it was nicknamed torta taclenta which, in Ferrarese dialect, means "sticky cake", in reference to the consistency of the interior.
It was created when the second queen of Italy Elena, Petrovich del Mentenegro, ascended to the throne with her husband, Vittorio Emanuele III of Savoy. According to the chronicles of the time, the two were very much in love and theirs was a very happy marriage. What better way to celebrate than with a cake?
15. Torta Margherita
Here we have a classic typical festive dessert present throughout Italy, from north to south, much loved by children. Its name derives from the shape of daisy that it assumes when it is cut into slices, with each sugar-dusted slice respresenting a petal.
Torta Margherita is a cake of the peasants, made from a few ingredients: flour, sugar, eggs, and starch. It is a type of sponge cake, perfect for dunking or simply stuffing at will!
In ancient times, Italian families used to exchange a daisy cake at parties or other social engagements. The meaning of the gesture was mutual praise of feelings and virtues.
Today the recipe requires the addition of yeast and butter. The secret of its goodness is its softness, a precious treasure to be consumed by the family at breakfast or as a snack.
---
Check out more articles the amazing Italian cuisine: