Taralli Recipe (Italian Pretzels)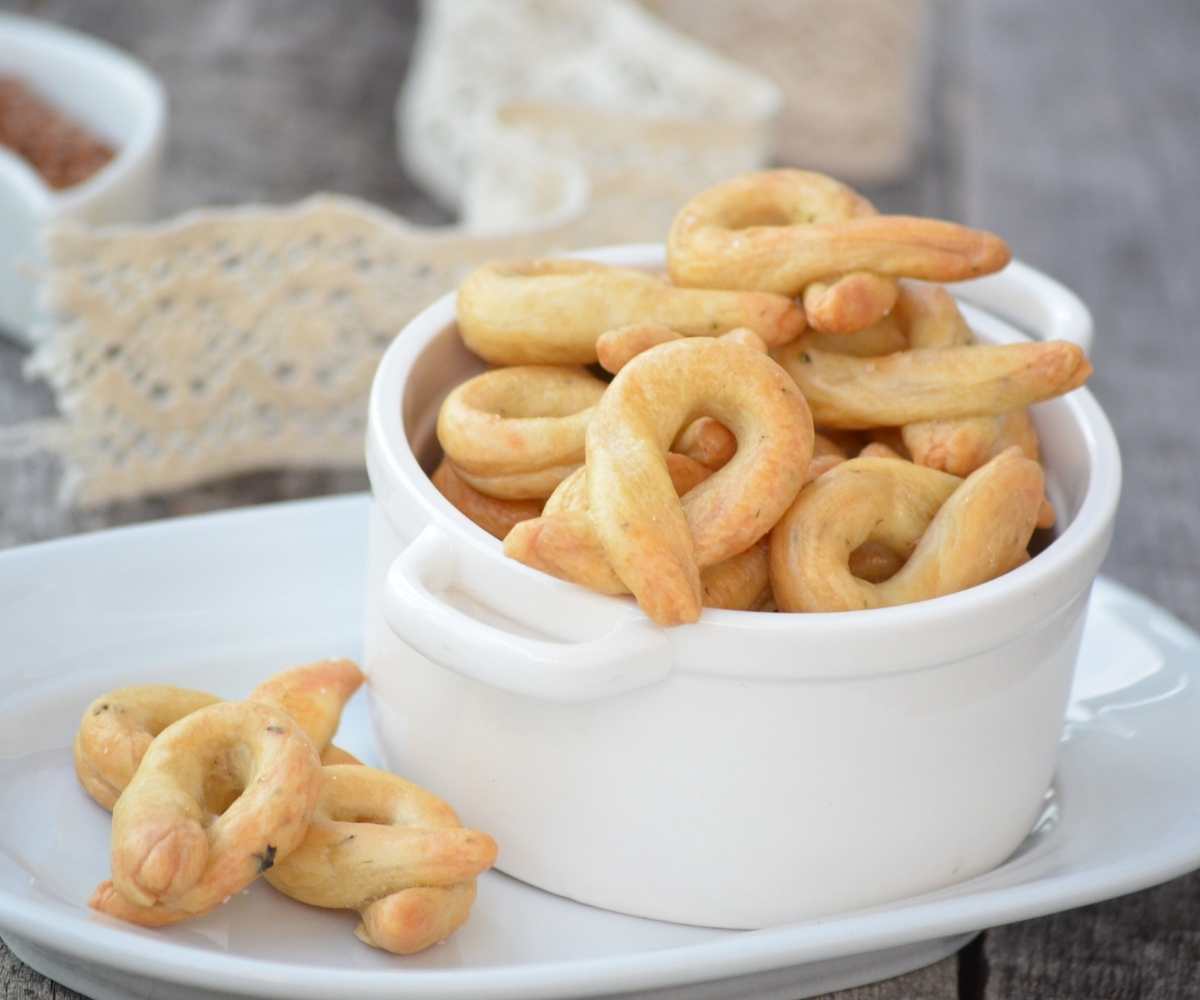 Taralli is an old Italian recipe, originally from the southern region of Puglia. I saw this recipe on TV and knew I had to try it.
Taralli are quite easy to make. It's all about a simple, no knead, unleavened dough, with few ingredients: flour, extra-virgin olive oil, white wine, and salt.
The dough can be flavored with fennel, thyme, caraway or any other seeds you like. I have chosen my favorite: caraway.
These versatile Italian snacks are an excellent addition to an aperitivo and can be savored on their own or accompanied by a board of cheese and olives and a glass of local red wine
Taralli – Italian Pretzels
Ingredients
Ingredients:
500

g

plain white flour

1

pinch

salt

200

ml

dry white wine

100

ml

extra virgin olive oil

fennel/caraway/thyme seeds
Instructions
How to make: TARALLI: ITALIAN PRETZELS
Place the flour into a large bowl.

Make a well in the center of the flour and add the olive oil, wine, and salt.

Combine the ingredients and knead until the mixture becomes an even dough.

If necessary, add a little water and continue kneading until the dough is smooth.

Cover the dough with plastic wrap and leave at room temperature for half an hour.

Place the dough on a lightly floured worktable.

Meanwhile, bring a 2-3l (0.5-0.75 gallon) pot of water to boil.

Place 10-15 of the taralli into the water and leave until they start to float on the surface.

Remove from the water with a slotted spoon and transfer to a clean, dry towel.

Preheat the oven to 200 degrees Celsius (390 Fahrenheit) and prepare a large tray with baking paper.

Place the taralli on the baking paper and bake in the preheated oven for about 20-25 minutes, until light golden.

When ready, transfer to a cooling rack.

Taralli are easy to make and can feed the whole family.

They are excellent with a glass of white wine or a cold beer. Enjoy!
Notes