Pastry Chef of the Week: Chef Anton Pochtar, Ritz-Carlton, Moscow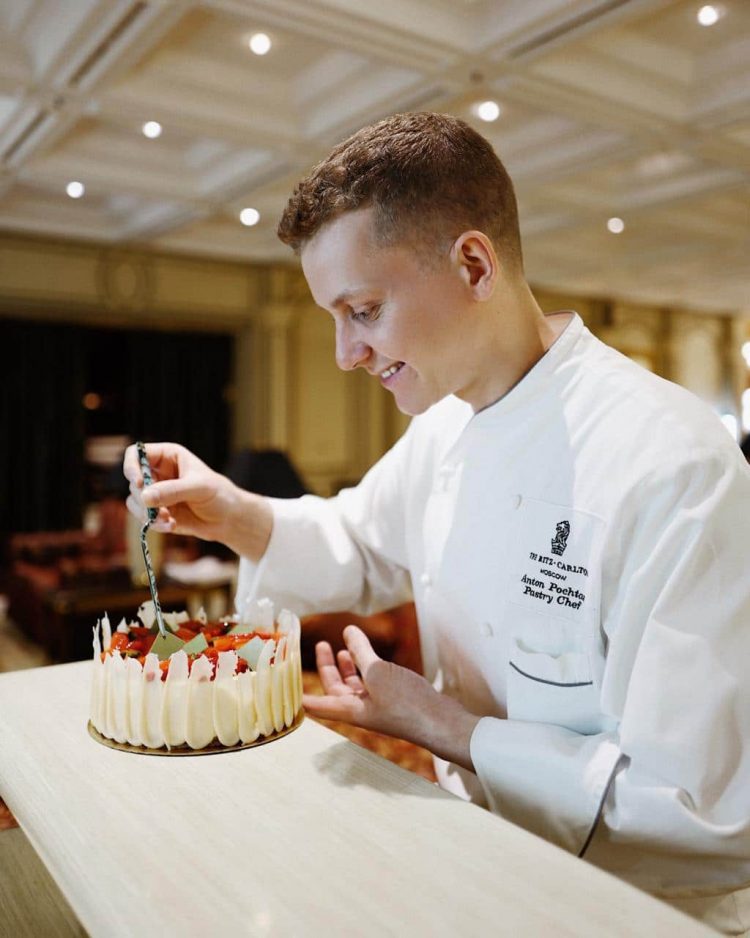 When you head the pastry shop at the famed Ritz-Carlton in Moscow you know you've made it in the culinary world.
Meet Chef Anton Pochtar, a young and super-talented pastry chef from Nur-Sultan (formerly Astana), Kazakhstan, who, at the age of just 30, has a long list of top restaurant names under his belt.
Anton started his career at the Intercontinental Hotel in Astana before embarking on a fantastic international career than included stints at the Grand Hyatt in Dubai, Kempinski Hotel in Bahrain, Ritz-Carlton in Abu Dhabi, Ritz-Carlton in Dubai, and is now the pastry chef at one of the most luxurious, and expensive, hotels in the world.
We talked to Anton about his career, his work at the Ritz-Carlton, his international experience, and his advice for young chefs.
We're also thrilled to share some of Anton's absolutely incredible creations, which we're sure you'll enjoy as much as we do.
1.What inspired you to become a chef?
This is a funny question which I am frequently asked. It brings many great memories from my childhood when I was always running behind my mother and granny in our home kitchen back in Kazakhstan, watching them preparing the most delicious pies, cakes, and jams for the winter.
From as early an age as 4 or 5, I was trying to assist them especially in preparations for family gatherings. So, I guess, from that time on I was inspired to become a cook.
2. Where did you train to cook?
As I was born in Astana, Kazakhstan, at the age of 15, I started to look for the best school in my country. After a bit of research I found out that the best culinary school in the country was right next to my house. From that moment I believed even more that it is my destiny.
It was Presidential Chefs High School for Chefs and Bartenders. After my first year of study, I got my first job as a pastry cook at The Intercontinental Hotel, Astana and worked with a great Indian Pastry Chef Vishvanath Velayan.
After working with him for two years, I moved to Dubai where I worked under numerous great international pastry chefs like Reinolf Mossl, Gordon Galea, and especially Laurent Allereau, who was an amazing mentor for me and from whom I learned the most!
3. Tell us about your work at The Ritz-Carlton, Moscow.
I moved to Moscow in 2018, as a pastry chef from the Middle East. After a long time out of the region, it was a bit complicated to come back. The first few months I had to adjust to the taste and preferences of local customers.
After adjusting, I got lots of plans and ideas in my mind and, luckily enough, I was able to gather a great team of cooks around me. Since then we have succeeded in numerous projects and events.
The best thing that has happened to me in Moscow is being able to see how much my team has grown professionally! It is no secret that no Chef can be successful without a great team.

Chef Anton Pochtar
Also in Moscow, we commit a lot of time and investment in young chefs who come to our hotel for training. As part of this project I train students in basic techniques and ways of doing traditional and modern pastry, explaining to future chefs the importance of treating ingredients with respect and how important it is to treat nature the best way possible.
4. What's the most popular dessert on the menu?
We change and update the menu every season, this way we always have something new for our guests to explore. We use the best ingredients that are available in the particular season.
We had many great and popular dishes, but the classics always sell the best! Obviously it is our dessert most famous in Moscow "Fresh Berry New York Cheese Cake"!
Another very popular dessert is traditional Russian "Honey Cake" that we do from locally farmed honey. In addition, of course, Macaroons; we sale more than a thousand of them in busy months.
5. Where do you find inspiration?
For me personally inspiration comes from all over. Ideas may come at any time: when I walk in the park and see nature, when I taste something new in my travels and think about flavor combinations.
However, mostly it (i.e. inspiration) comes from my beautiful wife; she supports me in every idea and inspires me for new challenges.
6. Do you have a signature dish or a favorite dish that you enjoy cooking?
There are many dishes that I enjoy cooking. It is quite difficult to pick a favorite one.
If I have to choose, it would be homemade apple tart with vanilla ice cream and berries. I always prepare it at my parents' house whenever I visit them in the summer, especially because most of the ingredients come from their beautiful garden.
7. What's your favorite ingredient to work with?
I would definitely have to say chocolate!
It's an amazing ingredient that I love so much working with; in addition, to eating, of course.
In my opinion, chocolate is incredible. It has hundreds of flavor profiles and can be used in countless ways. Myself, I use chocolate all the time; we always have at least one or two chocolate desserts on all our menus. So many different chocolates are used in my kitchen. Also we do chocolate praline, truffles, tablets, showpieces, etc.
8. Tell us a bit about Russian desserts. What are the top traditional Russian desserts we need to try out.
Russia is a huge country, and every part of it has their own cuisine or at least special way of preparing the same dish.
If you were in the European part of Russia, I would recommend you try traditional "Honey Cake" and "Bird's Milk" soufflé.
9. What is the most underrated foodie destination?
Central Asian countries like Kazakhstan and Uzbekistan in my opinion. That region is not popular for travelers yet. However, the region offers an amazing mix of European and Asian flavors and amazing ingredients, some of the best fruits and vegetables, and very hospitable people.
10. What is the best dessert you've ever had?
The best dessert I had was when I was in Paris and had the chance to try Passion Fruit petit gateaux by Chef Cedric Grolet. Amazing flavors and superb presentation.
11. You've previously worked at the Ritz Carlton in Dubai and the Kempinski in Bahrain. How does the food culture differ in the Middle East compared to Moscow?
In the Middle East, customers are more interested in traditional Asian, Indian, and Middle Eastern flavors. Talking about sweets in particular, its ingredients such as saffron, rose, dates, pistachios, pomegranate etc. Also, desserts in the Middle East are much sweeter than we are used to in Europe.
On the other hand, in Moscow, people prefer fruits, berries, and desserts made with dough. However, with the high number of people traveling and trying new things, the pastry fashion is changing as people are looking into more healthy desserts.
12. What advice would you give someone who wants to become a successful pastry chef?
Do not go after the money! I understand that money is an essential resource in our lives. However, if you want to become a good pastry chef, you need to learn from a good one! Money will come; it is just a matter of time and patience.

Chef Anton Pochtar
13. Please provide a tip for home cooks that could help them improve their cooking.
The best way to improve is to try new things; you could buy a new culinary book or participate in a cooking class. I believe that most important is desire.
---
Chef Anton Pochtar
The Ritz Carlton Moscow
Follow Anton on Instagram to be delighted by his wonderful creations.