25 Most Popular Foods in New Zealand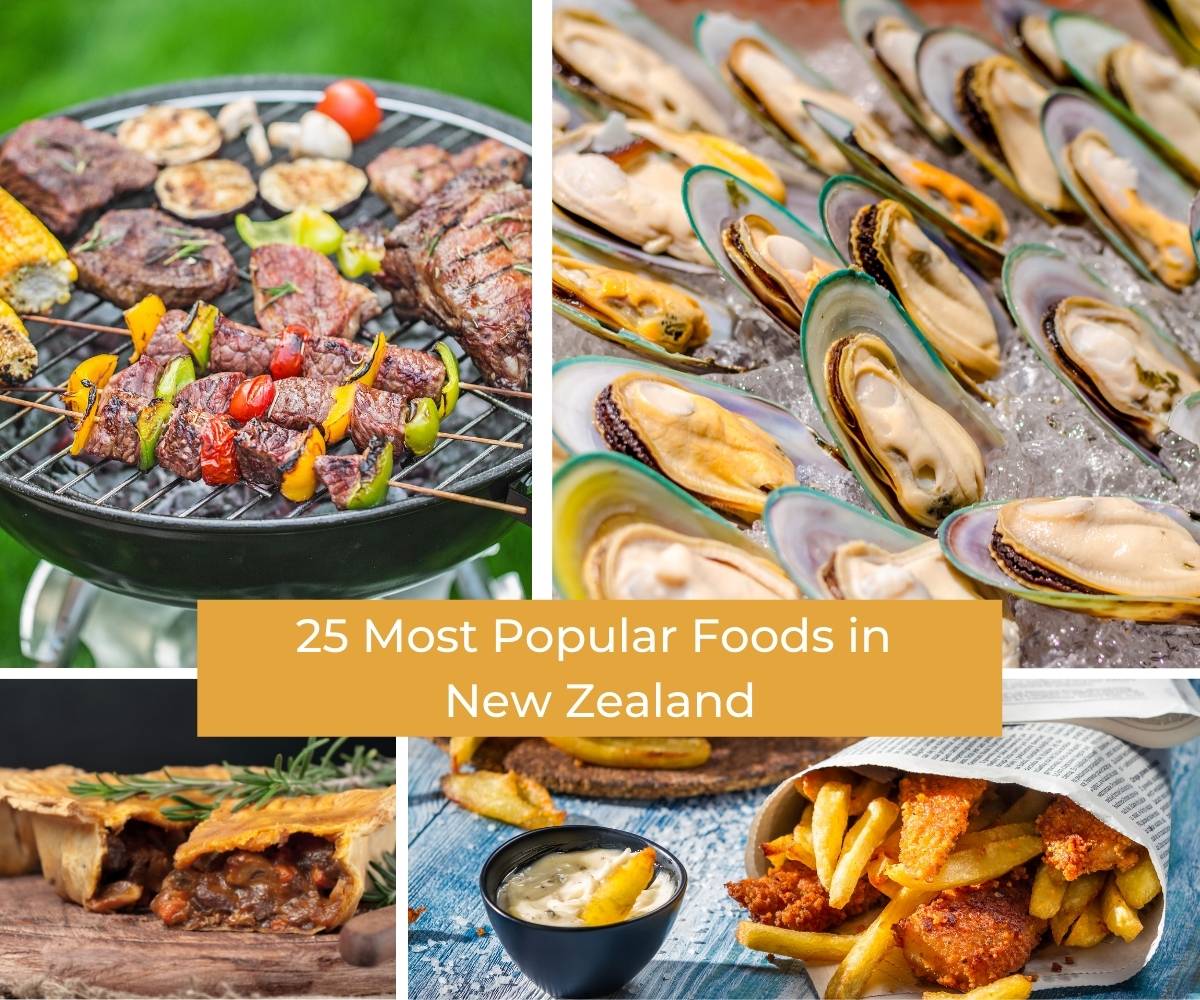 New Zealand is an awesome destination for mountains, wild beaches, and great culture. But oftentimes, people forget to mention that in New Zealand the cuisine is something to look forward to as well.
It might not be as famous as Italian food or as fancy as French, but Kiwi food has some ingenuity that should be commended. The food in this little country is incredibly diverse as it is influenced by European, American, and Asian cuisine. Of course, Māori cuisine has also played a huge factor in shaping what New Zealanders eat today.
Most arrive in NZ without the faintest idea of what constitutes Kiwi cuisine. But no worries! We've got you covered with an extensive list of the 25 most popular foods in New Zealand – ranging from fruits to seafood and even chocolate! Discover what makes Kiwi food great!
1. Hāngi
You can't leave New Zealand without trying the truly unique experience that is hāngi. Hāngi is a traditional Māori way of cooking where food is cooked in a covered pit lined with hot stones and fire. Usually, you will find an assortment of meat and vegetables wrapped in flax leaves. By the time it is ready, the food is amazingly tender and delicious.
This is a great cultural experience as well as an amazing meal. Hāngi used to be a very common way to prepare meals, but it is less common today as it takes all day to prepare.
2. Fish and chips
This quintessential English food is not traditionally a Kiwi meal but New Zealanders have adopted it and taken it to another level. No trip to the beach is complete without a couple of scoops of chips and nicely fried NZ fish. The best part is that you have a wide selection of fresh fish to choose from to enjoy with your chips!
You can find fish and chips in every corner of New Zealand no matter how small the town. The traditional NZ fish and chips will come wrapped in paper and a side of tomato sauce.
3. Mince Pies
Pies are another food that you can find throughout New Zealand. In fact, you can find a good mince and cheese pie just around the corner from every home at the local dairy (Kiwi-ism for corner store) or petrol station. Mince pies are the most traditional flavor, but now you can find flavors of all sorts including vegetarian and vegan options!
Although they may sound simple, the flaky crust and the juicy flavor inside will hit the spot! Pies are just what you need for every road trip in New Zealand.
4. Roast Lamb
It may not come as a surprise that roast lamb ranks quite high on this list of New Zealand foods. New Zealand lamb is famous worldwide as it is one of its main exports. In fact, there are more than five sheep per person in New Zealand! So it's no wonder that roast lamb is a must-try when you visit.
Best cooked with rosemary and served with seasonal roasted vegetables, roast lamb is a filling meal enjoyed by families throughout New Zealand. You can easily find roast lamb in many local restaurants as well.
5. Sausage Sizzle
A sausage sizzle is a popular snack in New Zealand that you can often find at fundraising events and outside Bunnings Warehouse on the weekends. If you have a couple of dollars in your pocket, make your way to these heavenly-smelling collapsible gazebos and grab your sausage sizzle to go.
This quintessential NZ snack consists of a sausage on white bread with squirts of tomato sauce and mustard and a nice helping of fried onions on top. This simple snack has people lining up in front of gazebos all over the country.
6. Green-Lipped Mussels
New Zealand has some of the best seafood in the world. One of the best things to eat is the green-lipped mussel. These mussels are often presented as a delicacy overseas, but in New Zealand, they're abundant and cheap!
The hint of green on their shell gives these green-lipped mussels their name. They are generally eaten steamed or grilled. And if you order them at a restaurant, they will often come served in a bucket!
7. Kiwi Summer BBQ
Not technically a food, no list of New Zealand foods is complete without the famous NZ BBQ or barbie. Outdoor cooking on the grill in the heat of the summer is as Kiwi as it gets.
Meat of all sorts like lamb, beef, sausages, and burgers are heaped onto the barbie and cooked to perfection in almost every Kiwi backyard. A short stroll around any street on a beautifully sunny day on the weekend will have you drooling due to the amazing smells wafting through the neighborhood.
8. Mānuka Honey
Mānuka honey is endemic to New Zealand and is sold all over the world. It is a special honey that is often used for medicinal purposes. Mānuka honey is produced by the nectar of the mānuka tree. Due to its popularity around the world, it makes for a great souvenir to bring back to your loved ones when visiting New Zealand.
Mānuka honey tastes different from your average honey, having a stronger taste with a quite earthy and complex flavor. It can be slightly more bitter than normal honey, but it's that much more aromatic.
9. L&P
Lemon & Paeroa, known as L&P, is one of the most popular drinks produced in New Zealand. It's a non-alcoholic beverage that was produced in 1907 in Paeroa (hence the name). L&P is as common in New Zealand as Coca-Cola and Sprite.
L&P tastes similar to Sprite but with a stronger lemon flavor and less bitterness. It's a sweet soft drink that both Kiwis and non-Kiwis thoroughly enjoy on a warm day.
10. Pavlova
There is a bit of controversy surrounding this lovely dessert as the Australians have claimed it to be their own invention. But wherever it came from originally, one thing is for sure: this dessert makes everyone smile!
Pavlova is a meringue dessert that is both crispy on the outside and soft on the inside. It is normally topped with fruits and whipped cream to make the dessert that much sweeter. Pavlova is especially popular in the summer months.
11. Pāua
Pāua is another New Zealand seafood that deserves a spot on this list. Pāua is a type of abalone that has a beautifully colored outer shell that is often used for jewelry and souvenirs.
It can be prepared in many different ways: raw, fried, and even in soups. A popular way to serve pāua is to cook it on a barbeque for that nice, smoky flavor. Leave it in a marinade to extract the most flavor out of this delicacy.
12. New Zealand Wine
New Zealand is one of the top producers of wine around the world. In particular, the Pinot Noirs and Sauvignon Blancs have won awards in international competitions.
You might have had a taste of New Zealand wine already, but nothing beats trying wine at the actual winery. There are hundreds of wineries in the 10 main wine regions of New Zealand, and each of them is in a gorgeous setting where you can sit and explore the different varieties.
13. Feijoa
Feijoa is a very popular fruit that grows in abundance in New Zealand. The feijoa season lasts from March to June every year when you'll see stacks of it everywhere. Kiwis will share their pick of feijoas from their garden with friends and family. But not to worry if you don't know anyone that has a feijoa tree, as you can easily buy them at the supermarket as well!
Although feijoas can be eaten raw by cutting it in half and scooping it with a spoon like a kiwifruit, this fruit is also used in baking, juices, and alcohol.
14. Whitebait Fritter
Whitebait in New Zealand are smaller than those that you'll find in other countries. They are tiny freshwater fish, measuring only 4cm, and they are almost transparent. Their tender meat makes them ideal as a fritter.
The fritter itself is made of whitebait (of course!), flour, and eggs. This mixture is then fried like a pancake and seasoned with some lemon. Just top the whitebait fritter on some bread and take a bite!
15. Gold Kiwifruit
Probably the most famous fruit exported by New Zealand is the kiwifruit. Their tangy and sweet green interior is loved all around the world. But did you know that New Zealand also produces gold kiwifruits?
Gold kiwifruits are milder, sweeter, and, you guessed it, golden. These gold or yellow kiwis are also less fuzzy on the exterior and have fewer seeds in the interior.
16. Hokey Pokey Ice Cream
Nothing beats ice cream on a warm, sunny day. For many New Zealanders, the ice cream flavor of choice is hokey pokey. It's an iconic New Zealand flavor that you won't find anywhere else.
Hokey pokey is a vanilla ice cream with small pieces of honey mixed into it. Apparently, the founder, Brain Simon, was inspired by America's candy ice cream flavor.
17. Fried Bread
Fried bread is another traditional Māori dish that will have you craving for more. It is sold in bakeries and markets in New Zealand, but you can also easily make your own. All you need is flour, yeast, sugar, and salt!
Fried bread goes well as a side to dip into some warm soup or stew. Alternatively, you can eat it as a snack with butter or jam.
18. Craft Beer
Craft beer has gained much popularity in recent times. In particular, Wellington, the capital city and southernmost tip of the North Island, is renowned for its craft breweries.
Some of the New Zealand favorites are Garage Project, Parrotdog, and Heyday. They have everything from hoppy pale ales to fruity sours and even chocolate-flavored stouts!
19. Pineapple Lumps
Pineapple lumps are a pineapple-flavored sweet covered in milk chocolate. You might think pineapples and chocolate are a strange combination, but they oddly work well together!
This is a well-known Kiwi sweet that has been around since the 1950s. You can easily find them in every supermarket or corner store for a taste of this Kiwi classic!
20. Bluff Oysters
One of the first things to eat when you're on the South Island is a Bluff oyster. They can be found throughout the country, but nothing beats going to the region itself to try this delicacy.
Bluff oysters are intense, and they are said to be the tastiest oysters in the world. The Bluff oyster season is from March to August and it is always keenly awaited. Once purchased, you can try them in different ways: both raw or fried.
21. Whittakers Chocolate
You haven't really tried chocolate until you've tried New Zealand's Whittaker's chocolate. Their golden blocks are absolutely heavenly and they come in many different flavors!
Some of the flavors of Whittaker's are: Ghana peppermint, berry and biscuit, dark salted caramel, and hazelnut. They also have an assortment of specialty flavors if you are looking for something more unique.
22. Spaghetti on Toast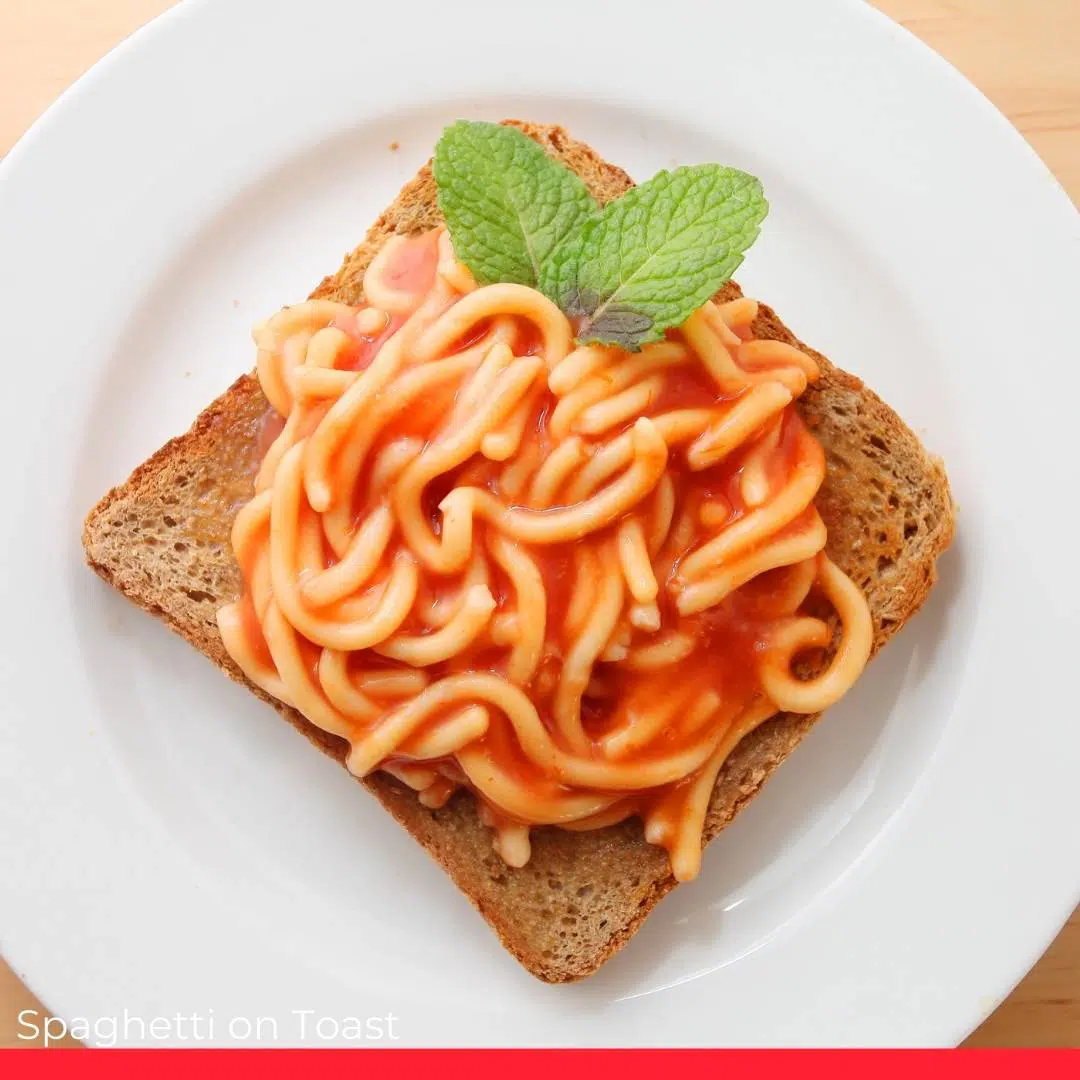 Spaghetti itself might have originated in Italy, but Kiwis have decided to put their own twist on this dish by putting it on a piece of toast. It's as simple as that!
You can elevate this dish by making your own spaghetti, but in reality, the spaghetti used is plain old canned spaghetti. Specifically, Wattie's. Spaghetti on toast is an easy breakfast or lunch when you're out of ideas. Top it off with some grated cheese as well if you feel like it!
23. Kiwiburger
New Zealanders have created their own twist on the humble burger and have brought us the Kiwiburger. It looks like a typical beef patty burger smashed between two buns, but upon closer inspection, you'll notice that the burger has some beetroot and a fried egg stuck in there!
Many pubs and restaurants serve the Kiwiburger, but they might not call it what it is. If you find a burger on the menu with beetroot and a fried egg, that's what you're looking for.
24. Marmite
The New Zealand Marmite slightly differs from its British counterpart. The Kiwi recipe is milder with a sticker consistency than its runny UK sibling. So even if you don't like the UK Marmite or Australia's Vegemite, try the NZ Marmite!
Marmite in New Zealand is generally eaten on toast or crackers. A little goes a long way when it comes to Marmite, so go easy on it over a good spread of butter.
25. Kumara Fries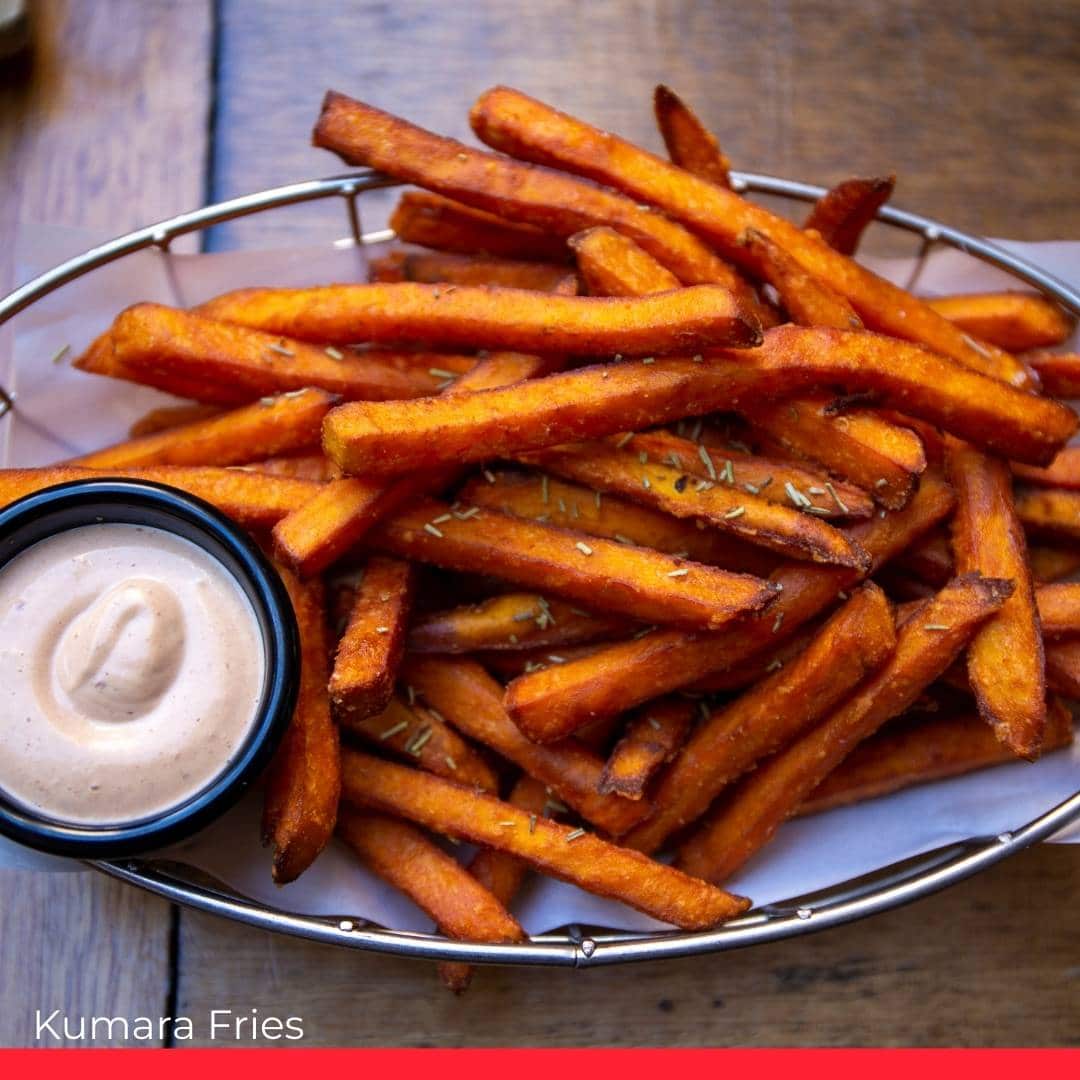 Kumara, also known as sweet potato, was brought to New Zealand by early Māori settlers from Polynesia. It is used widely in New Zealand cooking, and one of the best ways to eat it is kumara fries.
They are a staple in any restaurant in New Zealand. Wherever they sell normal potato fries, they will sell kumara fries as well. The best way to eat these fries is with a side of aioli. Yum!
As you can see, there is a whole range of things to eat in New Zealand, catering to every palate. New Zealand has a history of immigrants settling and bringing their wonderful food with them, which has resulted in an incredibly diverse cuisine using fresh New Zealand ingredients. Who could want more? From the famous New Zealand wines to the lesser-known kiwiburger, there are plenty of options to keep your stomach happy!
Besides the 25 most popular foods listed above, you can discover different food in New Zealand. Particularly in recent years, there has been a big boom in popularity in Asian-inspired foods. New Zealand is a young country that is always evolving, so it'll be interesting to see how the tastes will also change in the coming years!
---
Related: Most popular Australian foods
Related: Most popular Scottish foods
Related: Most popular Irish foods