32 Most Popular French Cheeses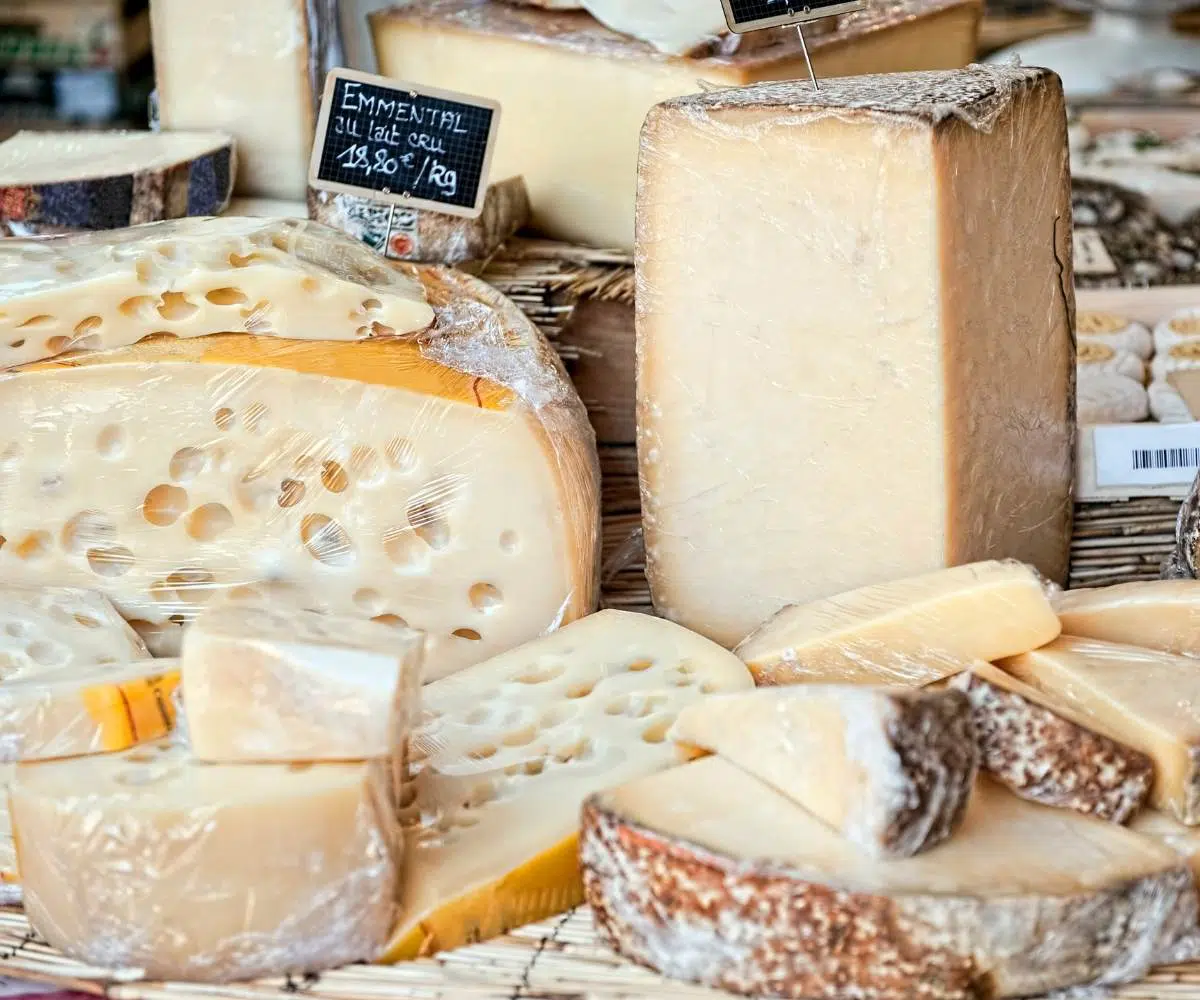 Nobody knows for sure how many different cheeses you can find in France. The latest estimations point to 1,600 different types, although you may also find numbers varying between 350 and 450; that's because there are many different ways to classify cheeses in France, either by categories, varieties, or types:
The kind of milk used to produce the cheese (cow's, goat's, or sheep's).
How it is made (cooked, uncooked, pressed, hard, semi-hard, white-mold, blue-veined, fresh, processed…).
Whether it is fermier (made at the farm where the milk was produced), artisanal (small production using milk from the same farm and from other small local producers), made at a coopérative (a dairy with local milk producers who come together to make cheese), or industrially produce in a medium to large factory. The best cheese is fermier and artisanal.
Whether it has an AOC (Appellation d'Origine Contrôlée), an AOG (Appellation d'Origine Garantie), an IGP (Indication Géographique Protégée), all of which are quality labels awarded by the government, or whether it has no certification at all. To give you an idea, only 56 types of French cheeses have such labels.
But let's get real here: what matters most to you is what these cheese tastes like and how to consume it. So let's cut to the cheese (pun intended!) and get to the meat of the thing. And for that purpose, we have divided them into seven main categories:
Fresh cheese
Soft cheese
Hard cheese
Blue cheese
Goat's cheese
Sheep's (ewe) cheese
Cheeses that are great for cooking—ummm, melted cheese!
1. Fresh Cheese
These are not cooked, not aged, and have no rind… It's cheese as its most simple expression. This gives them great versatility, as they can be eaten with sugar, salt, savory dishes, spices, honey, berries. The pairing combinations are endless, really!
Every single region of France produces fresh cheese, so there is not one in particular that stands out. The two varieties mentioned below are, by default, industrially produced.
However, if you have the opportunity to buy fresh cheese from the local farmers' market, chances are it will be much tastier than the two we mention here!
Boursin
One of the most known commonly consumed fresh cheeses in France, this one is fresh and creamy, and flavored with aromatic herbs and spices.
Because of its commercial success, this industrial cheese is now produced with many flavors such as tomato, pepper, garlic, etc. Wine pairing: A rosé de Provence is a good choice to go with the freshness of the cheese.
Le Roulé
Another industrial cheese, not to the level of Boursin though. A fresh, creamy goat's cheese flavored with garlic, herbs, peppers or even cranberry, it goes very well on bread for breakfast, or as an appetizer. Wine pairing: Try it with a dry Champagne.
2. Soft Cheese
These are cheeses that are unpressed and have a soft rind. This is probably the largest category in the list and famous varieties are Camembert and Brie.
Brie
Produced near Paris, this is probably the ideal introduction to the world of French cheeses if you have had no previous experience whatsoever. It is creamy, soft, and very mild—in short: easy for everybody to eat.
By the way, there are two different types: the Brie de Meaux and the Brie de Melun. The main differences between the two? The aging period, the draining, the way they are molded, and the Brie de Meaux cheese is a bit larger. Wine pairing: A light Pinot noir from Burgundy.
Camembert
This is perhaps the most iconic of French cheeses, the one that features in the cliché of the Frenchman with the béret, baguette, and bottle of wine. Soft and creamy, Camembert comes from Normandy, the land of many cows.
If you let it age too long, it litterally falls apart and has a rather strong smell. Camembert can also be baked in the oven in its round wooden box, to eat melted with crust bread, a little bit of rosemary, and walnuts. Wine pairing: A robust Anjou-Gamay or Chinon.
Époisses
The most famous cheese in Burgundy, it is created by monks from the village of the same name. The color ranges from yellow to orange on the outside and it is white inside.
It is extremely soft and has a very distinctive flavor. Wine pairing: Actually, this one is probably better with a good beer made by other monks, the trappists from Belgium.
Livarot
This is another cheese from Normandy and is probably the finest of them all. Smooth and creamy, it has flavors that range from nutty to spicy and even citrusy!
Livarot melts in the mouth, so much so that it will drip if you aren't careful. Wine pairing: Let's get off the beaten track here and suggest Calvados, a local brandy.
Mont-d'Or
This cheese from the east of France, not too far from Switzerland, has a distinctive woody taste—that's because it matures in a round wooden frame.
Featuring a beige crust, the Mont-d'Or is surprisingly soft inside, to the point where it runs (hence the wooden belt used during maturation to retain its shape).
While it has a strong taste, it appeals to everyone, making it a popular cheese. Wine pairing: Perfect with a dry white wine from Jura.
Munster
Although it sounds German, this is actually a French cheese from the Lorraine region, a region which was once German.
Monks invented it initially to preserve milk and feed people. I must warn you with this one is a strong cheese, with a slight cumin flavor.
Even if you pick an unripe one, the flavor will really hit you. But if you want to try it, perhaps put it in a quiche. Wine pairing: A wine from Alsace, such as a Gewürtztraminer.
Pont-L'Évêque
This soft, rind-washed cheese, similar to Camembert and also from Normandy, comes in smaller, square-shaped portions.
It is also stronger in taste and can get very smelly if you leave it open too long! Wine pairing: A red from Madiran or Pécharmant.
Saint-Nectaire
Some argue this is the best cheese made in France. Maybe. Though there is a but: the quality and taste vary widely. Despite this. you can always find a good one.
First, make sure to pick a Saint-Nectaire fermier—that means not from the supermarket, rather buy from a specialist cheese store. And make sure that it is mature: the Saint-Nectaire is one of those cheeses that are not so good when young.
How can you tell? The texture should be soft and elastic. The best ones are creamy and supple inside, with aromas that go from nutty to mushroom-y. Wine pairing: A mature Saint-Nectaire, a red Bordeaux, is great.
3. Hard Cheese
These are usually very big, round-shaped cheeses that are produced in the mountains from cow's milk.
This is important, because the variety of the green herbs and flowers they eat play a big role in the final taste of the cheeses. Some of them feature those famous large holes that result from the fermentation process.
The variety of the green herbs and flowers eaten by cows play a big role in the final taste of the cheeses.
Cantal
A large, very large cheese, the Cantal can weigh up to 100 pounds! Produced in a low mountain range, it is similar to an English farmhouse cheddar. Now, if you want to try the really tasty Cantal, choose a matured one, such as Vieux Cantal.
It is quite a tasty variety, stronger and more flavorful than the other hard cheeses on this list. A very similar one and equally flavorful is Salers, produced with the milk from a breed of cow called… Salers. Wine pairing: A fresh Beaujolais.
Comté
One of the most widely produced types of cheese (in volume) in France, it is renowned internationally for its quality. Made in the Alps, it is very yellow, smooth, and tasty.
You can find it at any supermarket in the country. It is often served in small cubes as an appetizer, but is absolutely delicious melted over potatoes, leeks, or toasted bread. Wine pairing: A fine red Burgundy.
Emmental
You could say that Emmental is somewhat similar to Comté, but it is not as fine or tasty—though it is cheaper!
This is one of the famous "cheeses with big holes" that you can easily find at any supermarket. Emmental is often used grated to go with pasta or in sandwiches. Wine pairing: Anything red, really!
Mimolette
This is one of the few hard cheeses that is not produced in the mountains. This one comes from the (very flat) North of France. This particular variety was inspired by the Dutch cheese Edam.
The two are very similar in aspect and flavor. Wine pairing: Because it is Dutch-style, let's go with a beer, for a change, such as a Hoegaarden.
4. Blue Cheese (aka veined cheese)
These are cheeses that are either loved or hated. After all, the blue-colored viens that give these cheeses their name and strong taste are actually mold—which is why you should only eat them in small amounts.
Bleu d'Auvergne
The popularity of this cheese rivals Roquefort. Creamy, with a blue-green mold, its texture is more moist and sticky, though—probably because it is made from cow's milk not sheep's.
The taste is more peppery, and goes really well with the local saucisson (dry sausage) or cooked pears. Wine pairing: A dessert wine such as a Sancerre from Burgundy.
Fourme d'Ambert
Made with a mix of pasteurized and unpasteurızed cow's milk, this blue cheese is more dense and supple than the others on this list.
A small amount of sweet wine is added during the aging process, adding to its natural taste.
That makes it a great fit to go with apples, pears, or just a regular piece of bread, of course. Wine pairing: A robust red from Côtes-du-Rhône.
Roquefort
The king of blue cheeses, Roquefort, made from unpasteurized sheep's milk, is aged in natural caves in the hills of Larzac, a beautiful plateaux in the South of France. Rich, creamy, salty, and with a very strong taste, you only need to eat tiny bits to get the real feel of it.
It can be eaten in small quantities on slices of bread, but expresses itself better in salads, with red meat, or mixed with fruit such as pears, figs, raisins, dates, or a marmalade of red fruits. Wine pairing: a heavy dessert wine, such as a Sauternes.
Saint-Agur
Technically, this is a Bleu D'Auvergne. However, it is not as strong as the others on this list, is softer and creamier, and even buttery (it is actually spreadable, unlike Roquefort).
Even though it is mass-produced, this is my favorite variety in the blue cheese family. Wine pairing: A dessert wine such as Jurançon or even a Port.
By the way, if you want to try a blue cheese but are hesitant, I would recommend Bresse Bleu, which is not as strong as the others—in fact, it was created as a blue cheese Brie.
It is not the best in this category, but it is an easy way to venture into the world of the Bleus.
5. Goat's Cheese
Goat's cheese can be fresh, soft, semi-firm, or even brittle. In other words, it can be divided into several categories. But let's not overcomplicate things, but instead introduce you directly to some of the best and most famous.
Banon
This is an old, traditional cheese from the South of France. There are different ways to produce it (firm, mild, soft, creamy, nutty…), but one thing is always done the same: once the cheese is made, it is wrapped in chestnut leaves and tied-up with strands of raffia. Its color depends on the type of Banon you purchase.
Tangy and mildly strong, the Banon is probably the best cheese you will find in the Provence area of France. Wine pairing: A Côtes-de-Provence, of course!
Bouton de culotte
Possibly the smallest cheese in France, the diameter does not exceed 1.5 inches. It can be eaten fresh or aged, which makes it drier, and is perfect as a small snack.
The name "bouton de culotte" means "pants button", because of the round shape and tiny size of the cheese. Wine pairing: A Pinot noir from Burgundy, or even Champagne.
Brocciu
If you are familiar with the Italian Ricotta, this is the equivalent from the island of Corsica. A lactose-free cottage cheese, it can be made either from unpasteurızed goat's or ewe's milk.
If you ever travel to "Ile de Beauté", as the French call it, make sure to give it a try. But remember that many of the other cheeses produced on the island are notoriously strong, so make sure to ask first! Wine pairing: A white Burgundy, or a Crozes-Hermitage.
Cabécou
This tiny round goat's cheese from Périgord in the Southwest of France is an explosion of aromas.
After a few days of aging, it is dipped in plum brandy, then aromatized with black pepper, and finally wrapped in chestnut leaves (like the Banon above).
The mix of flavors coupled with the creaminess of this cheese make it one of the best goat's cheese in the country.
Very similar to the Cabécou, the Rocamadour has an added layer of cream between the crust and the heart. Wine pairing: A red wine from Cahors, the region of Malbec grapes.
Pélardon
From the Languedoc region in the South of France, this tiny round cheese can be either soft or dry, but it is always spicy and nutty. Some say it was appreciated by the Romans over 2000 years ago! Wine pairing: Terrasses du Larzac blanc, Côtes-du-Rhône blanc.
Sainte-Maure-de-Touraine
Named after a village near the Loire Valley, it is known for it's cylindric shape. Firm inside and perfectly white, it tends to get creamier and stronger after a few days.
It is excellent on toast to go with a green salad. It is only one of the numerous goat's cheeses you can find in western central France, especially Touraine and the Loire Valley.
Similar cheeses include the Chabichou, the Soignon, and Selles-sur-Cher. All of them can be found with a rind covered with ashes or burnt grapevines, which gives them a sweet taste.
Wine pairing: A wine from Touraine, either a white Vouvray, a rosé d'Anjou, or a light red from Chinon.
6. Sheep's (ewe) Cheese
Sheep's cheese is much rarer than cow's or goat's cheese. However, it is very flavorful, which is much to do with the fact that the animals run free in the mountains and feed from green pasture and flowers.
Ossau-Iraty
Ossau-Iraty, made in the Western part of the Pyrénées range, is the most famous sheep's cheese in France. The name refers to the two valleys where the cheese is produced. Wine pairing: Jurançon, a sweet white wine from the same region.
7. Cheese great for cooking
First and foremost, it should be said that most of these cheeses are quite tasty and can be eaten perfectly well by themselves.
A good Beaufort or Maroilles, for instance, is delicious cold with a piece of bread. But once melted and prepared with typical food, they come into their own.
Beaufort
This Alpine cheese is almost white, firm yet smooth, and creamy all at the same time. You can almost feel the taste of green pastures and flowers in your mouth!
However, the best way to eat Beaufort is melted, as in the Fondue savoyarde, with a dash of white wine. Wine pairing: An aged white Burgundy.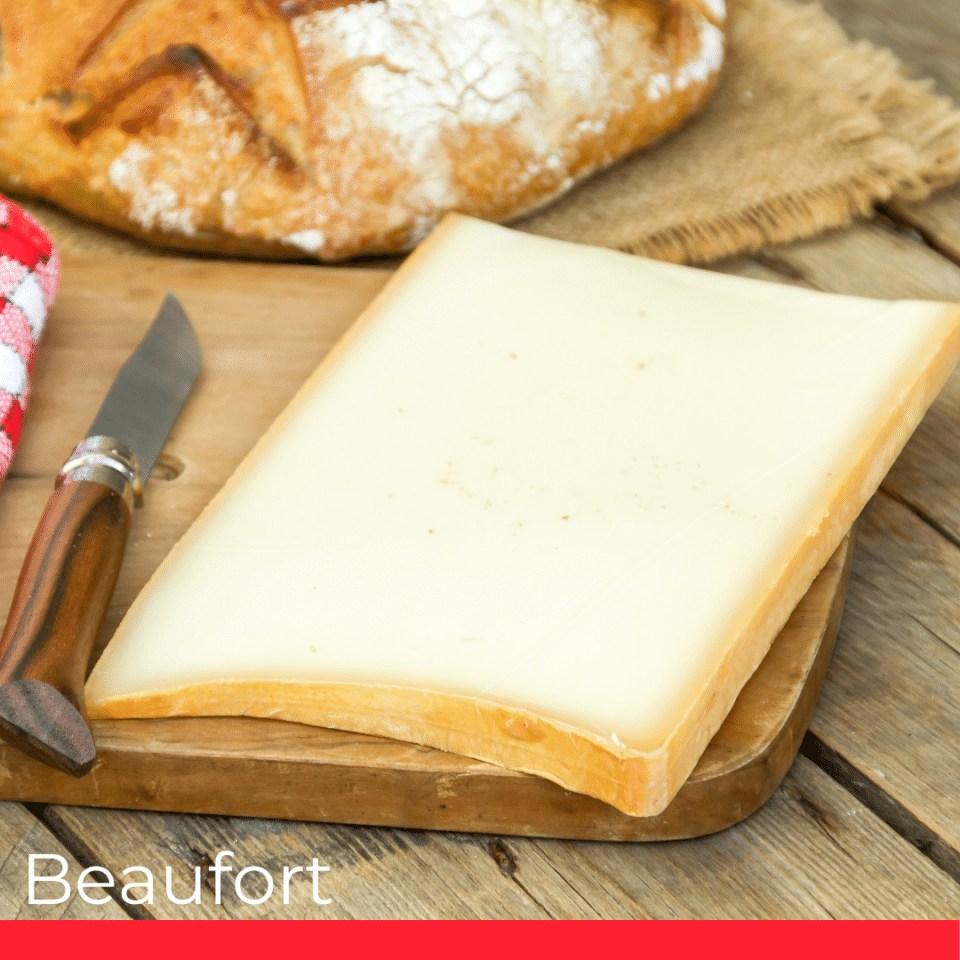 Cancoillotte or Cancoyotte
Coming from the eastern part of France and Luxembourg, this cheese is really meant for cooking (the name actually comes from Kachkéis, which in local dialect means "cook-cheese").
A typical recipe would be Endive, Lardons & Cancoillotte Gratin with a piece of bread.
Cancoillotte is a low-fat cheese, and even though it's better melted, you can still eat it cold along with vegetables or meat. Wine pairing: It depends on the dish, really!
Maroilles
Some say of this smooth, sticky variety that it tastes a bit like bacon. And that's the reason why it is a perfect cheese for cooking.
The Tarte au Maroilles, for instance, is a simple hot pie from the North of France made mostly with this cheese, sometimes with leeks as well. Wine pairing: Since this comes from a region that does not produce any wine, let's go with a Belgian beer such as an Affligem.
Raclette
There is a French-Swiss specialty called raclette that is actually more famous than the cheese that gave it its name! The cheese is cut in small slices and melted on the spot to cover baked potatoes.
However, this is a mass-produced industrial cheese, so it's better used for cooking rather than eating on its own (or to use a Comté instead of raclette cheese!). Wine pairing: A robust red from Côtes-du-Rhône.
Reblochon
A semi-soft, pressed, uncooked variety from the Alps, this is a very creamy cheese that is at its best when prepared in Tartiflette, a local specialty. Wine pairing: A hearty red from Côtes-du-Rhône.
Tomme
This is, in itself, a sub-category of cheese. Tommes usually comes in a large, round format. Similar to the Comté, it is delicious by itself.
But it features in a number of typical dishes from the countryside, such as quiche, dishes with veal or lamb, or potatoes. Wine pairing: This really depends what you eat it with!
---
If you love French cuisine check out our story on the 50 most popular French foods and the most popular desserts in France.