These Are Florida's Most Famous Foods
Florida, also known as the Sunshine State, is a culinary and cultural melting pot. Subtropical temperatures, sandy soil, plentiful sunshine, and ample rainfall give Florida the perfect conditions to produce high quality crops.
With the Gulf of Mexico to the West coast and the Atlantic Ocean to the East, the waters and its climate give way to unique characteristics that are perfect for harvesting fresh seafood. Citrus fruits and seafood are synonymous with Florida culture and are the hallmark of its cuisine and many of its iconic dishes.
Beyond these two ingredients, Florida's cultural diversity runs deep due to waves of immigration from many different countries.
Jaun Ponce de Leon is credited as being the first European to reach Florida when he accidentally stumbled upon the mainland of North America in a private expedition from Puerto Rico in 1513. He colonized the land, which was already inhabited by Native Americans, for Spain. He named the area, which he thought was an island, Florida because of its lush and florid vegetation.
Native American heritage is still visible in Florida to this day, mainly through descendants of the Miccosukee and Seminole tribes. The Miccosukee have a small village near the Everglades, where they can be found serving up traditional fry bread, a sweet and chewy bread that is reminiscent of a heavy donut, that gives locals and tourists alike an authentic glimpse into life before immigration changed the landscape.
1. Oranges & Freshly Squeezed Orange Juice
The official fruit of Florida, the orange, is by far the most notable fruit that the state has to offer. The orange became the official fruit in 2005, with orange juice becoming the official beverage much earlier in 1965.
Ninety percent of oranges harvested become juice and while a glass of freshly squeezed OJ is a must if you're visiting, a popular and frostier treat one must try is a citrus swirl. Orange juice and farm fresh cream are frozen together and served in a wafer cone, producing flavors similar to a creamsicle. Notable fruit crops do not stop at oranges.
2. Strawberries
Hillsborough county, outside of Tampa, is known as the strawberry capital of the world and is second in production of strawberry crops right behind California. Plant City hosts a notorious annual strawberry festival, where strawberry shortcake is a must eat treat.
3. Watermelon and Kumquats
Pasco County is ranked first in watermelon production in the nation and St Joseph, Florida claims the title of kumquat capital of the world. Kumquats are the only citrus fruit that can be eaten skin and all and resemble an orange but are much smaller in size. Typically a kumquat is the size of an olive and pairs well with Florida's abundant fresh seafood.
4. Florida Fish Sandwich
Some of the highest quality seafood is harvested in Florida's waters. Grouper, snapper, mahi-mahi, and flounder are some of the fish coveted around the United States.
A Florida fish sandwich is a humble yet special dish that celebrates the freshness of fish found in the area and is served either grilled or fried.
5. Stone Crabs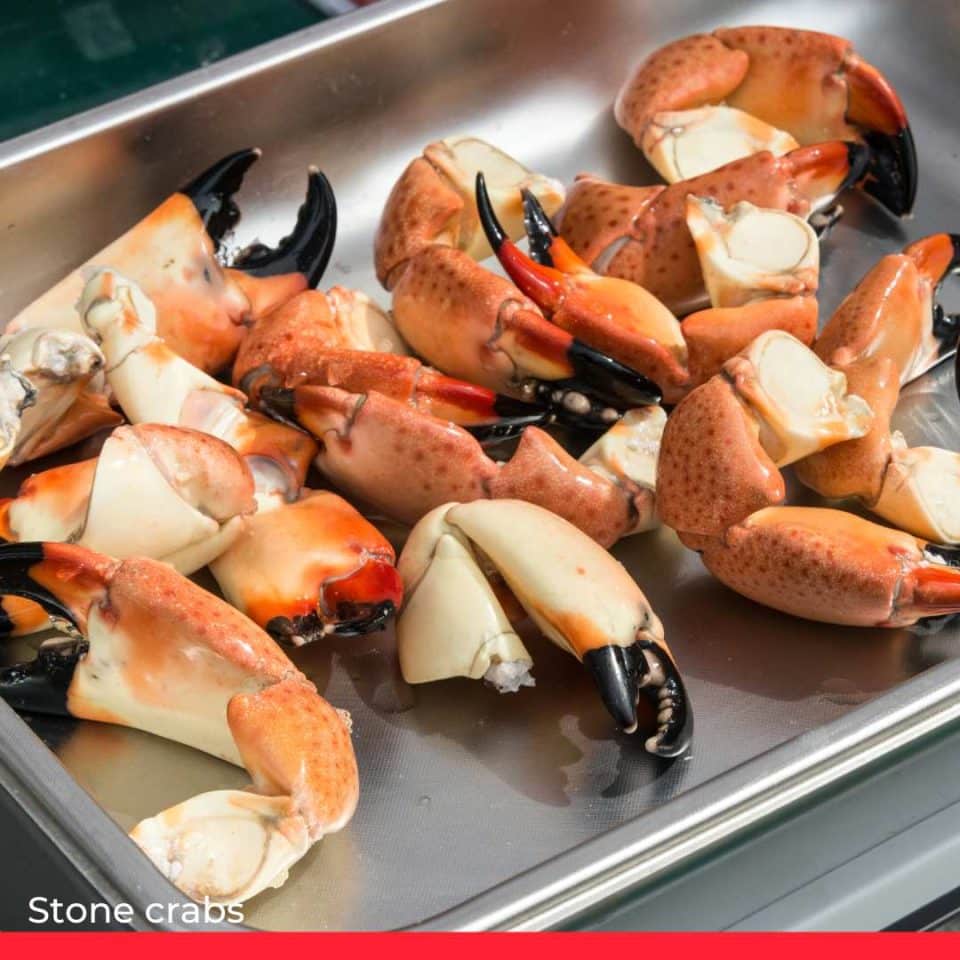 Stone crabs, which are unique to the state, are a true iconic delicacy. They differ from regular crabs in that only the claws are harvested, with the crabs themselves being thrown back into the water where they regenerate. The meat is tender and sweet and, more often than not, served chilled with a sauce made with mustard.
6. Conch Fritters or Salad
Conch, akin to an oversized sea snail, is another delicious ingredient and seafood found around the Florida keys. Key West natives, known as conchs, have many preparations for this ingredient, from ceviche to chowder to fried fritters.
Conch is a favorite seafood that can be harvested in the tropical waters of the Caribbean Sea and Gulf of Mexico. It counts as one of the most popular foods in the Caribbean. It's hugely popular in neighboring Bahamas, as well as Bermuda, Cayman Island, Grenada and Belize.
Conch season opens in November and lasts until the end of April and everyone vies for the best fresh conch.
7. Key Lime Pie
Key West is also home to one of Florida's most notable exports after oranges: Key limes. Key Limes are smaller, rounder, and have a signature tartness to them as well as a yellow juice. Key lime pie is usually made of a filling consisting of condensed milk, lime juice, and egg yolks, which is poured over a graham cracker crust and topped with a meringue made with egg whites.
8. Cuban Food
As well as Key West, there are many notable culinary cities in Florida that are uniquely different, distinct and memorable. Miami is a must and boasts a large Cuban influence due to its proximity to Cuba.
If you want to eat like a local, you can start with chicharon, which is a snack made with pork skin, fried until it is crunchy and puffy, or try a Cuban sandwich (or cubano), which is aptly named.
Chicarons are also a popular snack in Spain and many of Spain's former colonies such as the Philippines.
Cubano (Cuban Sandwich)
Another humble sandwich, the care and love given to each ingredient is what makes this one special. Roast pork, baked ham, Swiss cheese, pickles, and mustard are assembled on Cuban bread. It is deliciously memorable.
Caffeine is celebrated throughout the area where many enjoy cafecitos or Cuban coffee. This coffee is an extremely powerful and sweet dose of coffee that is served in an espresso cup.
For an additionally tasty treat, guava and cheese pastelitos, a Cuban influence, are popular in Little Havana. Pastelitos are a pastry with a sweet filling.
9. Mofongo
Miami's Puerto Rican influence is reflected in Mofongo, which features fried plantains mashed together with salt, garlic, and olive oil. Mofongo is a popular dish in Puerto Rico and it's usually enjoyed with a side of rice.
10. Ceviche
The Central and South American culinary influence is also reflected in the iconic dish ceviche, where raw fish is cured, or "cooked", in citrus juices. It usually consists of onion, chili pepper, coriander, salt, and can include octopus, shrimp, tuna, mackerel, and squid and is usually served with tostadas.
Ceviche is a popular food in Mexico, as well as Peru (probably home to the most famous ceviche recipe), Ecuador and Chile.
11. BBQ
Across the state is Tampa, which is a great place to experience barbecue. Locals love their grilling and smoking and it's easy to see why in the warm weather.
The barbecue techniques employed in Florida are uniquely different to any other in the nation. Meat is usually smoked over oak in pits and slathered with hot mustard sauce that is signature to the area.
12. Deviled Crab
Deviled crab is also an iconic staple served for lunch or as a snack that makes good use of Tampa Bay and it's access to fresh seafood. Fresh crab is mixed with green peppers, onions, garlic, red pepper flakes, and other spices, and then fried to make a croquette. It is typically served with a mayo-based sauce.
13. Dole Whip
Further inland, Orlando is another well known city that pulls culinary influence from all over the state due its heavy tourist traffic. Universal Studios and Walt Disney World make this a popular destination where you can get all types of iconic Floridian cuisine. But something special to the area is Dole Whip, created by Dole Pineapple Company.
It is a soft serve and dairy free frozen dessert typically of pineapple flavor that has accrued a cult following.
14. Alligator Meat
Alligator meat, while not commonly used by locals, is another tourist favorite. Florida is one of only four states that allow hunting alligator. The tail meat is typically fried and many have described alligator meat as a bit like chicken.
You don't have to travel to specific cities to see that immigration has played a large role in the creation of Florida's Floribbean cuisine, showcasing Florida's diverse population. This distinct cuisine originated with the exploration of the New World by the Spanish and is heavily influenced by a melting pot of Latin American, African, European, Caribbean, and Asian cuisines.
Immigrants brought their culture and tradition to the state in several waves resulting in a cuisine that is heavily influenced by seafood and exotic spices.
It is generally a healthier cuisine than other fat laden and meat heavy diets found throughout the US. Healthier cooking methods as well as lighter ingredients such as seafood, fruit, and fragrant spices are mainly used.
While local Floridian dishes aren't as spicy as their Caribbean counterparts, hot peppers are widely used and the heat is moderated by tamer ingredients such as lemongrass, ginger, honey, rum, almonds, key limes, coconuts, mangos, and papaya.
15. Red Conch Chowder
Red conch chowder is a must try. This chowder is light, fragrant, and brothy with a rich history. You can usually find it paired with old sour sauce, which is worth the trip alone. Besides pairing the sauce with chowder, locals also use it as a salad dressing or as a sauce for raw seafood. It is made mainly with key lime juice and salt.
Florida is a culinary paradise of cultural influence and fresh ingredients that make it easy to see why it is the number one visited state in the United States. 
16. Scachatta Pizza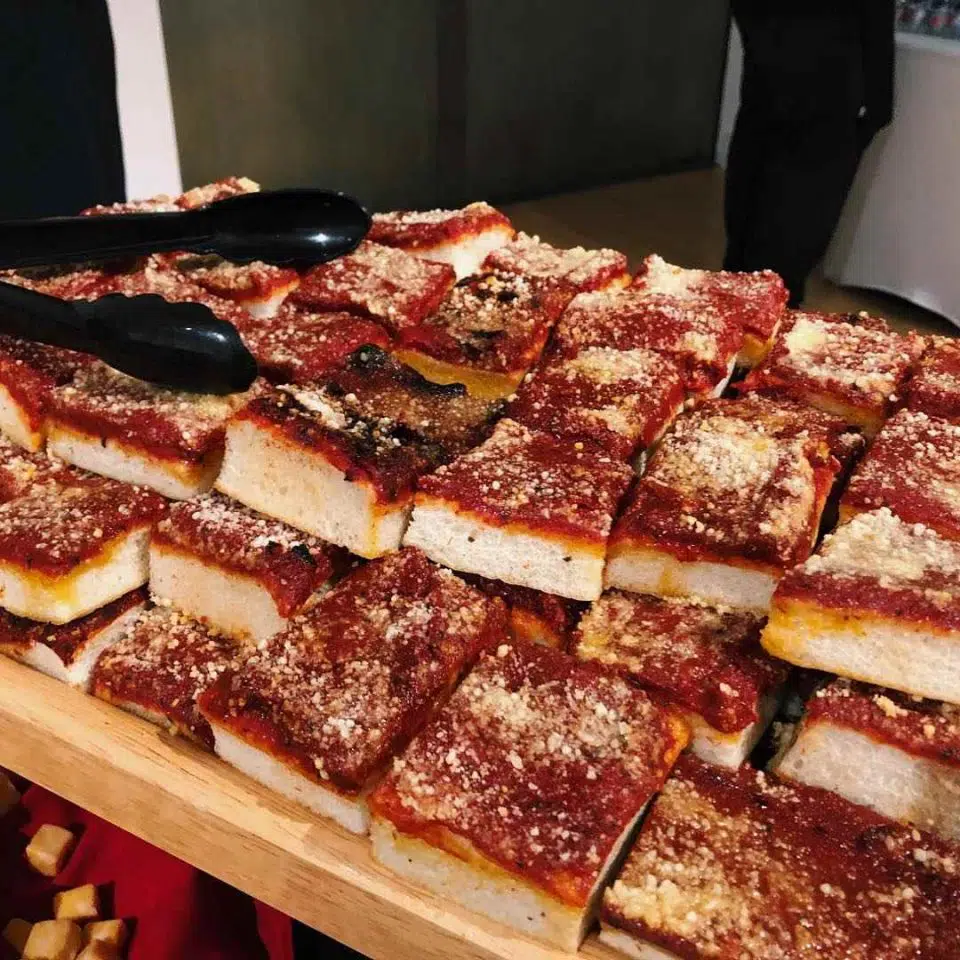 Scachatta pizza is a Cuban-Sicilian pizza that can be found only in Florida. Tampa is particularly famous for having the best Scachatta pizza in Florida.
This pizza is famous for the corn cassava flour added to the dough. Sometimes the dough is made with eggs, as well, making it even richer. This pizza has a thick crust and the tomato sauce includes extra spices and ground beef. Delish!
---
Related: Most Iconic Food & Drinks in New Orleans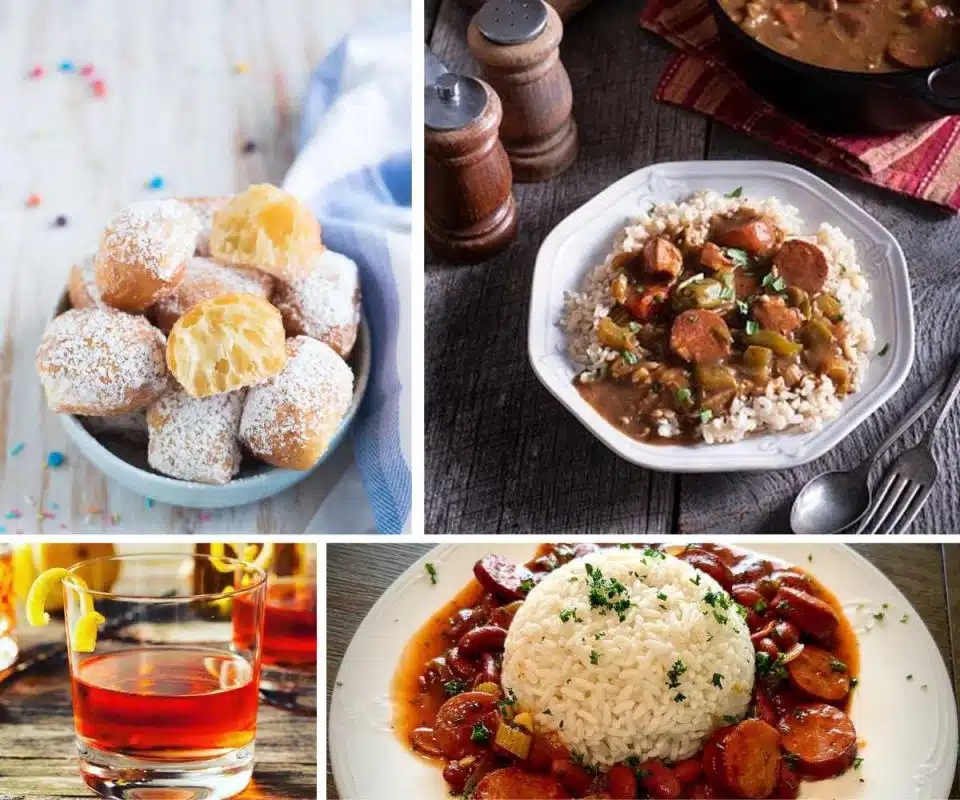 Related: Best Culinary Schools in Florida