Top 25 Foods of Puerto Rico – Best Puerto Rican Dishes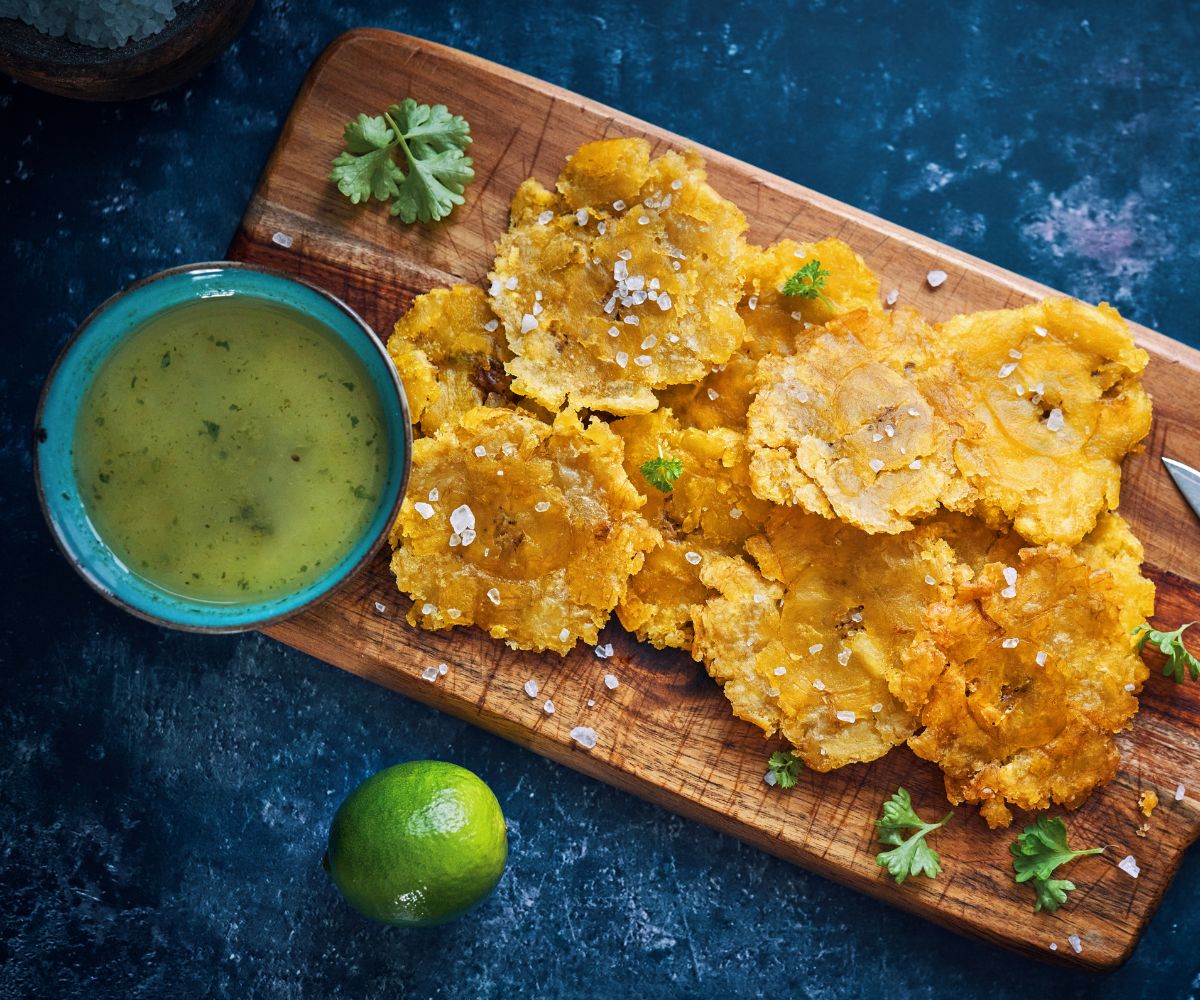 Puerto Rico is known as La Isla del Encanto (the Island of Enchantment), which might explain why it is such a popular travel destination. Its pristine beaches, lush mountain tops, and exceptional food make it uniquely attractive.
Puerto Rico is a territory of the United States and, as such, is highly influenced by American culture. But despite this, it has retained many of its cultural and historical values. This can be seen in the numerous and varied dishes that the island has to offer.
Puerto Rico: A brief history of its food
This island in the middle of the Caribbean is renowned for its rhythms and flavors. And that certainly doesn't just describe the people who live there; it also applies to many Puerto Rican dishes.
Puerto Rican cuisine is characterized by colorful and seasoned dishes that bring a savory (not to be confused with spicy!) touch every meal. Even though the island is full of McDonald's, Burger King, and the like, the typical local food is a powerful connection to the island's culture and history.
Through the typical food Puerto Rico offers, you can taste the juxtaposition of three different cultures: the Taíno, the African, and the Spanish. The Taíno were the first people Christopher Columbus met when he arrived in 1492. At that time, when there were no large animals on the island, the diet was restricted to vegetables, fruit, and small mammals. Without large mammals to hunt, the people became skilled fishers.
The Spanish brought wheat, chickpeas, onions, garlic, herbs, and olive oil, now all essential ingredients in Puerto Rican cooking.
From Africa came coconut, rice, plantain, cassava, tamarind, and more, and with enslaved Africans came deep-frying: cuchifritos.
This melting pot of civilizations can be experienced in Puerto Rican cuisine today, and many of
these imported foods are the staples of its gastronomy.
Ready to try some of the most popular Puerto Rican dishes on your next Island adventure? Here are 25 of the best to tempt you!
Puerto Rican Deep-Fried Dishes
If you ever find yourself in Puerto Rico, the chances are that you will make a stop at the beach. In beachside places like Piñones or Luquillo, the first thing that hits you is not the smell of the ocean, but of the frituras. Kiosks filled with fried food line the two-way street that borders the beach.
What makes these kiosks authentic is that most of the food is made over a wood fire, bringing out the authentic flavor of these fried dishes.
1. Alcapurrias
Made from green plantains and yautía (taro root), this 'dough' is often filled with stewed crab meat, ground beef, chicken, and even seafood. Once stuffed, it is fried in a large pan filled with hot oil over an open wood fire until golden brown.
2. Bacalaitos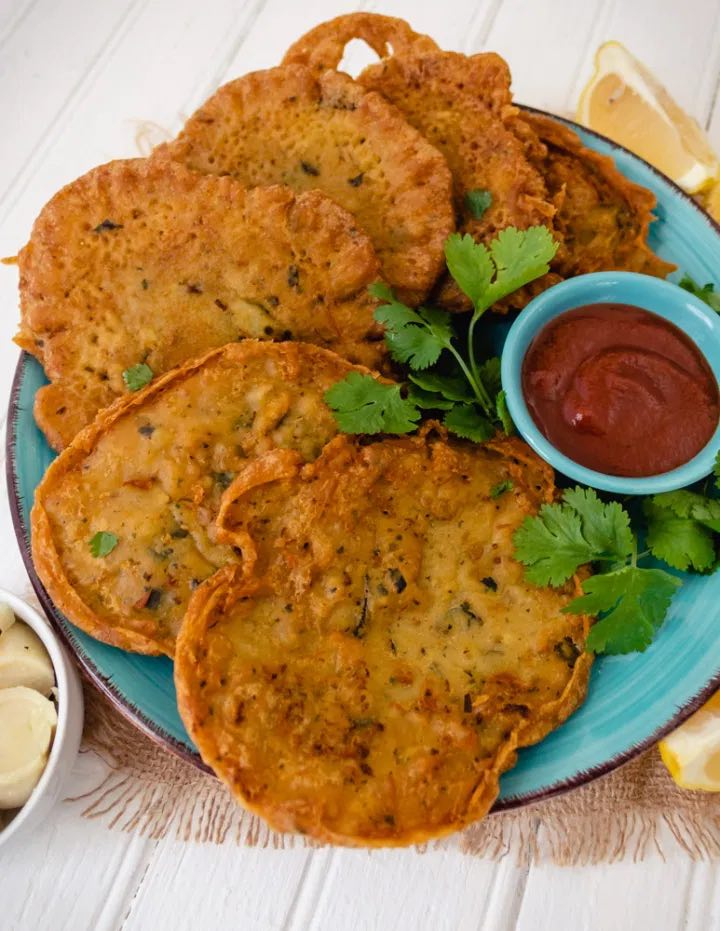 These cod fritters are usually served at beach kiosks but can also be found at roadside establishments and cultural festivals. Like the alcapurria, they are fried in hot oil, resulting in a crispy coating and a chewy, juicy center.
Puerto Rican Plantain Dishes
Plantain is a crucial ingredient in many Puerto Rican dishes. This versatile root vegetable s the star of many dishes ranging from savory to sweet.
3. Tostones
The easiest of all the plantain-based dishes, all you need is a green plantain, and you're good to go! This popular side dish is made by placing peeled, sliced plantain into a saltwater bath for a few minutes before frying for added flavor.
Once fried in hot oil, they are squashed with a tostonera (masher) and fried once more until crispy and golden. Tostones are best eaten with a mayo-ketchup dipping sauce. They can be enjoyed alone or topped with chicken, meat, or seafood.
4. Amarillos
If you're not a fan of salty and savory, then the sweet version of the tostón may be to your taste. The difference is that it is made from a ripe plantain (one that has yellowed) that is peeled, sliced, and fried only once. Even though it is a sweet alternative, amarillos are often served as a side dish to the main course.
5. Pionono
This dish is made with ripe plantain. Once sliced and fried, it is rolled into an envelope for the meat filling. Finished with an egg wash and grated cheese sprinkled on top, it is oven baked. The result is a Puerto Rican version of a meat pie.
6. Pastelón
Classified as the 'Puerto Rican plantain lasagna', this recipe is a delectable mixture of sweet and savory. This filling dish combines fried ripe plantain with layers of ground beef for a unique flavor.
7. Guineítos en Escabeche
This is often served as a side for a rice dish, roasted pork, or other meat. The guineítos consists of boiled green bananas marinated in a delicious mixture of olive oil, vinegar, garlic, olives, and sauteed onions.
8. Mofongo
The king of all plantain-based dishes, this is a centerpiece of many Puerto Rican celebration feasts. It's made of fried green plantains mashed and seasoned with garlic and olive oil. Mofongo is usually topped off with chicken, meat, and even shrimp.
An authentic explosion of flavors, it's often accompanied by the side of white rice. It's a favorite across the island, so if you can try it – enjoy it!
9. Guanimes con Bacalao
From a recipe with a Taíno ancestry, these are a popular part of a typical Puerto Rican meal. The guanime is made by mixing cornflour and coconut milk until it forms a masa dough. This is then molded over a plantain leaf and tied off before boiling. It is typically served alongside stewed cod.
Puerto Rican Rice Dishes
Rice is another staple ingredient in Puerto Rican households and can be adapted for use in many main dishes and even desserts.
10. Arroz Mamposteao'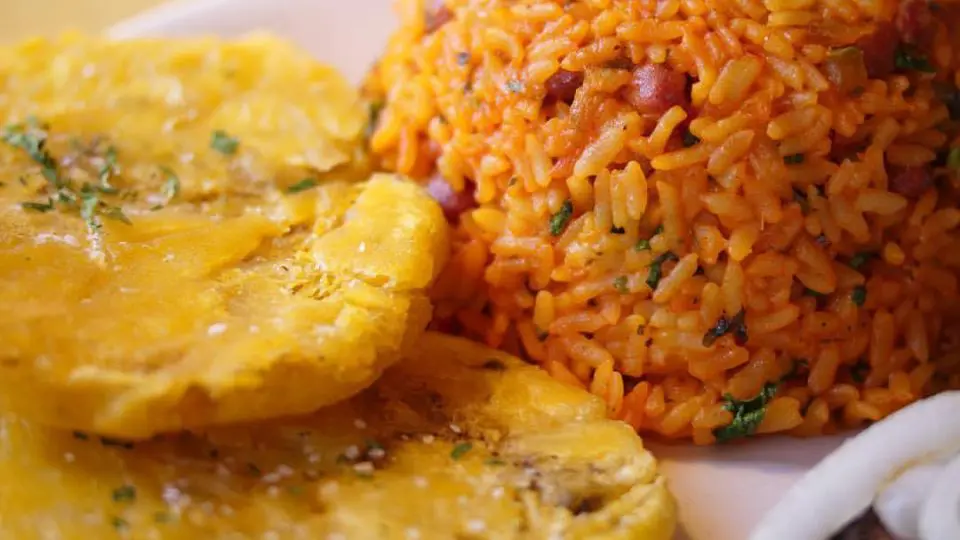 This white rice and red kidney bean recipe includes the essential elements of sofrito. Anyone who grew up in a Puerto Rican home knows there'll always be a butter tub filled with a green paste. This sofrito is mainly made from peppers, onions, garlic, peppers, cilantro, and cilantro. This tasty mix gives this rice dish a savory kick and makes it an ideal accompaniment for sauteed diced ham.
11. Arroz Blanco con Habichuelas y Carne Frita
Rice and beans are a staple meal in any Puerto Rican household and are often served with meat, such as fried pork chops. Simple, filling, and packed with nourishment, this meal fills every Diasporican (Puerto Ricans living abroad) with memories of faraway days at home.
12. Arroz con Gandules
Rice with pigeon peas (also known as gandules in the USA), seasoned with sofrito, is a staple dish for special family gatherings such as weddings and Christmas celebrations.
13. Arroz con Dulce
Arroz con dulce means sweet rice, a luscious Puerto Rican rice pudding with a creamy coconut base. It is typically served as a dessert during the holidays and on special occasions.
Puerto Rican Soups
What is more comforting than a tasty soup on a rainy day or when you're feeling under the weather? Many Puerto Ricans recall their grandmother serving them her special homemade soup when they were sick. And as luck would have it, these are often referred to as 'sopa revive muertos', which is to say, soups that can raise the dead!
14. Asopao de Camarones
This soup is characterized by its main ingredient: shrimp. It is made in a stew with sofrito, onion, peppers, garlic, tomato sauce, and rice. Although it's a hearty meal in its own right, it's often accompanied by a slice of avocado.
15. Sopón de Gandules
A bowl of hot pigeon pea soup will lift any spirit and quickly get you back on your feet. Like shrimp soup, it can have a side of avocado. Small balls of plantain can also be added to the stew.
Puerto Rican Pastries
Many of these pastries can be found in the local panadería, a cross between a coffee shop and a bakery, where you can grab a ham and cheese sandwich and a cup of café con leche.
16. Pastelillos de Guayaba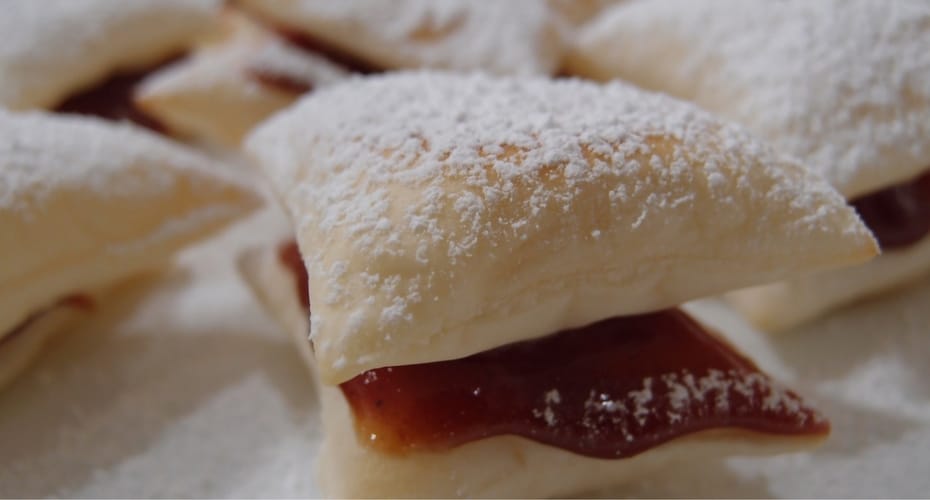 Also known as guava turnovers, these are made with a meltingly flaky filo pastry filled with guava paste and served sprinkled with sugar. Irresistible!
17. Brazo Gitano
Brazo gitano literally means 'gypsy's arm'. It's a rolled sponge cake with a guava jelly filling, topped with a sprinkling of confectioner's sugar. Even though, strictly speaking, it's not a uniquely Puerto Rican creation, its roots on the island can be traced to Mayagüez on the west coast.
18. Quesitos
This puff pastry is a throwback to Puerto Rico's European history. This light and flaky dessert has a sweet honey outer coating filled with cream cheese. It's usually served as a coffee break treat and is best when accompanied by a creamy café con leche (coffee with milk).
19. Mallorcas
Mallorcas are a sort of Puerto Rican sweet roll sprinkled with powdered sugar that you'll find in many panaderías. As a sandwich, it ranges from the most basic with butter to the popular breakfast staple – Mallorca with ham, cheese, and scrambled eggs.
Puerto Rican Christmas Dishes
Christmas is one of the most popular and highly celebrated holidays across Puerto Rico. Festivities start after Thanksgiving and continue until the eighth day after Three Kings Day, better known as las Octavitas – making it the world's most extended Christmas.
As elsewhere, it's a time not only of celebration but also of togetherness. This is also the time of year when many Diasporicans (Puerto Ricans that live outside the island) return home for the holidays to celebrate with loved ones. 'Tsupehis' is a term that means a variety of food to be provided to fuel all that jolgorio (merriness).
Christmas dishes mainly contain four ingredients: coconut milk, vanilla extract, sugar, and cinnamon. Believe it or not, this combination has infinite versions, the epitome being Coquito.
20. Coquito
Coquito has a coconut cream and rum base, while some variations are even made with Nutella and pistachio for added flavor. Best served cold, this Puerto Rican Christmas beverage will have you singing aguinaldos (Puerto Rican Christmas songs) with friends, family, or even strangers in no time.
21. Pernil Asado
A traditional dish that is served all over the Island around Christmas time, but can mainly be found on the mountainside of Cayey in the lechoneras of Guavate. This seasoned pork joint is slow-cooked and left in the oven for a few hours until the cuerito or rind is crispy and the meat is meltingly tender and succulent.
22. Morcilla
Puerto Rican blood sausage is a Christmas tradition but is also served throughout the year, especially in Guavate. It consists of a pork casing filled with pig's blood, cooked rice, garlic, and other spices. Rich and filling, it's an acquired taste that's well worth trying.
23. Pasteles
Made with green plantain and yuca (cassava), this can be likened to the Mexican tamale. If you are ever lucky enough to be in Puerto Rico at Christmas time, you'll likely be served this seasonal delicacy. It is usually filled with chicken, salted cod, or other meats. In addition, pasteles can be accompanied by the arroz con gandules, see above, and roast pork.
24. Tres Leche
This Puerto Rican sponge cake is made with, you guessed it, three different types of milk: evaporated milk, sweetened condensed milk, and full-fat milk. The result is an irresistibly airy and moist cake, complete with a whipped cream topping.
25. Tembleque
The name of this traditional Puerto Rican coconut milk-based pudding means 'jiggly'. It's a traditional Christmas dessert that is often sprinkled with cinnamon.
If your next holiday or escapade takes you to Puerto Rico, remember that it is an island paradise and a melting pot of cultures.
Despite being an American territory, its culture continues to be rooted in its Caribbean and Latino-American identity. Traditional foods are not only delicious but also a great starting point to help you connect with the island's unique culture and fascinating history.
---
Related: 15 Popular Puerto Rican Desserts