Countries with the Highest Density of Michelin-starred Restaurants
France continues to hold on to its title as the country with the highest number of Michelin-starred restaurants in the world. According to the latest Michelin Guide, France has 632 Michelin-starred restaurants, of which 74 establishments hold two coveted Michelin stars, while 29 restaurants earned three stars.
---
Related article: most & least expensive cities to dine out at a top-rated Michelin restaurant
---
Japan ranked 2nd, with 413 restaurants, followed by Italy, Germany, and Spain. The U.S., China (incl. Hong Kong and Macao) earned a respectable 6th and 7th place, considering the Michelin Guide only covers a few regions in both countries. In the U.S., the Michelin Guide covers the states of California, New York, and Illinois, plus Washington D.C., while in Mainland China, the Michelin Guide covers Shanghai, Beijing, and the Guangdong Province.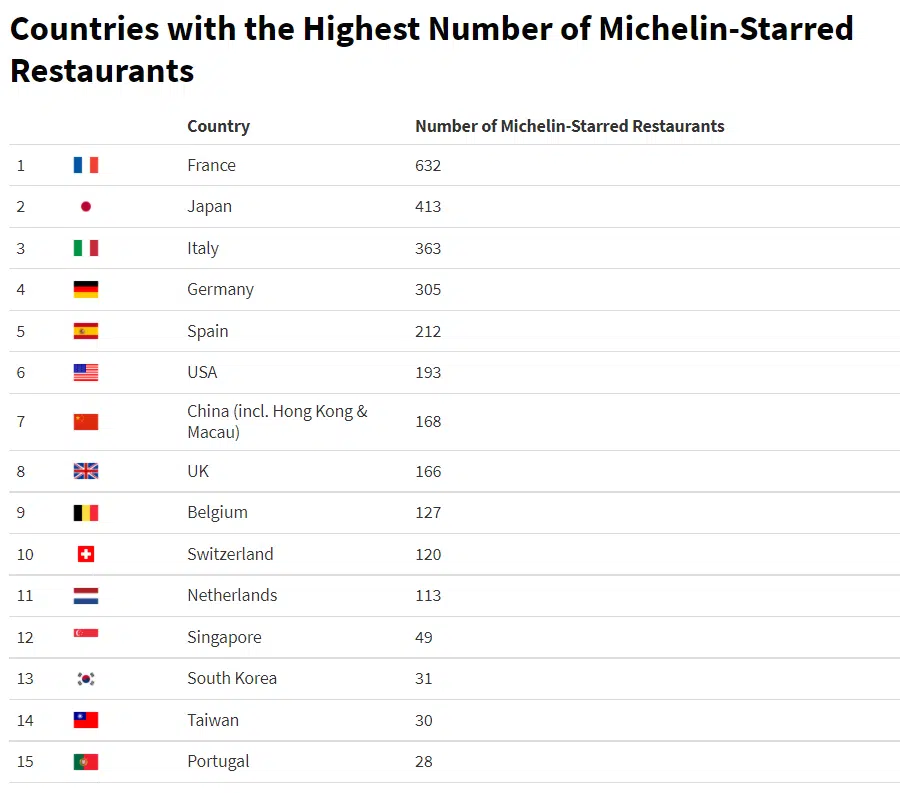 Countries with the highest number of Michelin-starred restaurants per capita
France may have the highest number of Michelin stars in the world, but when it comes to the highest concentration of Michelin-starred establishments, it only ranks 6th.
Japan claims the top spot as the nation with the highest number of restaurants per resident with one restaurant for every 61,000 residents. Japan's per capita rate is computed solely for the regions covered by the Michelin Guide—Tokyo, Osaka, Kyoto prefectures—which are home to roughly 25 million people and 413 Michelin-starred restaurants.
So what makes Japanese cuisine and restaurants so special that it earned such an incredible number of Michelin stars? Anthony Bourdain once famously said of Japan, "The first time I came here, it was a transformative experience. It was like taking acid for the first time, meaning 'What do I do now that I see the whole world [of food] in a different way?'.
Japanese top chefs are renowned for their strive for perfection and use of exceptional quality ingredients, though there are some concerns that the Michelin Guide criteria might have been less strict locally compared to Europe and the US.
The Grand Duchy of Luxembourg, the small but very wealthy Benelux country, is home to the second-highest concentration of Michelin-starred restaurants in the world and the first in Europe. Luxembourg counts nine Michelin-starred restaurants, including a two-star Michelin restaurant for a population of just 625,000.
Switzerland comes in 3rd worldwide and 2nd in Europe with one Michelin-starred restaurant for 72,000 people. Switzerland has seen a tremendous growth in Michelin-starred restaurants over the years. Five years ago, it was home to 95 such restaurants, while today it counts 119, including three three-star restaurants.
With 127 Michelin-starred restaurants, Belgium ranks 4th worldwide and 3rd in Europe. This may come as a surprise to some, as Belgium is better known for its beer and chocolate rather than high-end cuisine, but it's definitely not surprising to connoisseurs. Belgium was the first country, outside of France, to have a three-star Michelin restaurant, and this was back in 1972. Belgium has currently two three-star restaurants and 23 two-star restaurants.
The small island nation of Malta comes in at a very respectable 5th place with one Michelin-starred restaurant for every 103,000 inhabitants. It thus outranks culinary powerhouses such as France, Italy, and Spain. Malta currently has five one-star Michelin restaurants—not bad at all for a country of 500,000 people.
Singapore ranks 7th worldwide and 2nd in Asia and outside Europe. Singapore has come a long way since it was first represented in the Michelin Guide in 2016. Back then, only 29 restaurants earned a coveted star, while today it counts almost 50 restaurant, 49 to be more precise.
While Dutch food doesn't have the cachet of Italian and Spanish cuisines, the Netherlands has a very reputable fine dining restaurant industry, ranking 8th worldwide and 6th in Europe for the highest number of Michelin-starred restaurants per capita.
Top Cities with the Highest Number of Michelin-starred Restaurants
With over 200 Michelin-starred restaurants, Tokyo is the undisputed leader. Paris ranks 2nd, while two other Japanese cities—Osaka and Kyoto—rank 3rd and 4th.
New York, London, and Hong Long—the world's largest financial hubs—come in 5th and 6th (London tying Hong Kong), while Singapore, Shanghai, and San Francisco end the top 10.
Methodology
Chef's Pencil analyzed the number of Michelin-starred restaurants reported on the official Michelin Guide website. For per capita rankings, we included countries that are either fully covered or have multiple regions covered by the Guide. Where the coverage was limited to a few regions, states, or prefectures, our calculations only took into account the population for the covered areas.
---
Featured image by Jametlene Reskp via Unsplash.
---
Related: Most & least expensive cities to dine out at a top-rated Michelin restaurant
Related: Most expensive restaurants in the world
Related: 40 Legendary Restaurants Around the World