Ranked: Top 24 Culinary Schools in Asia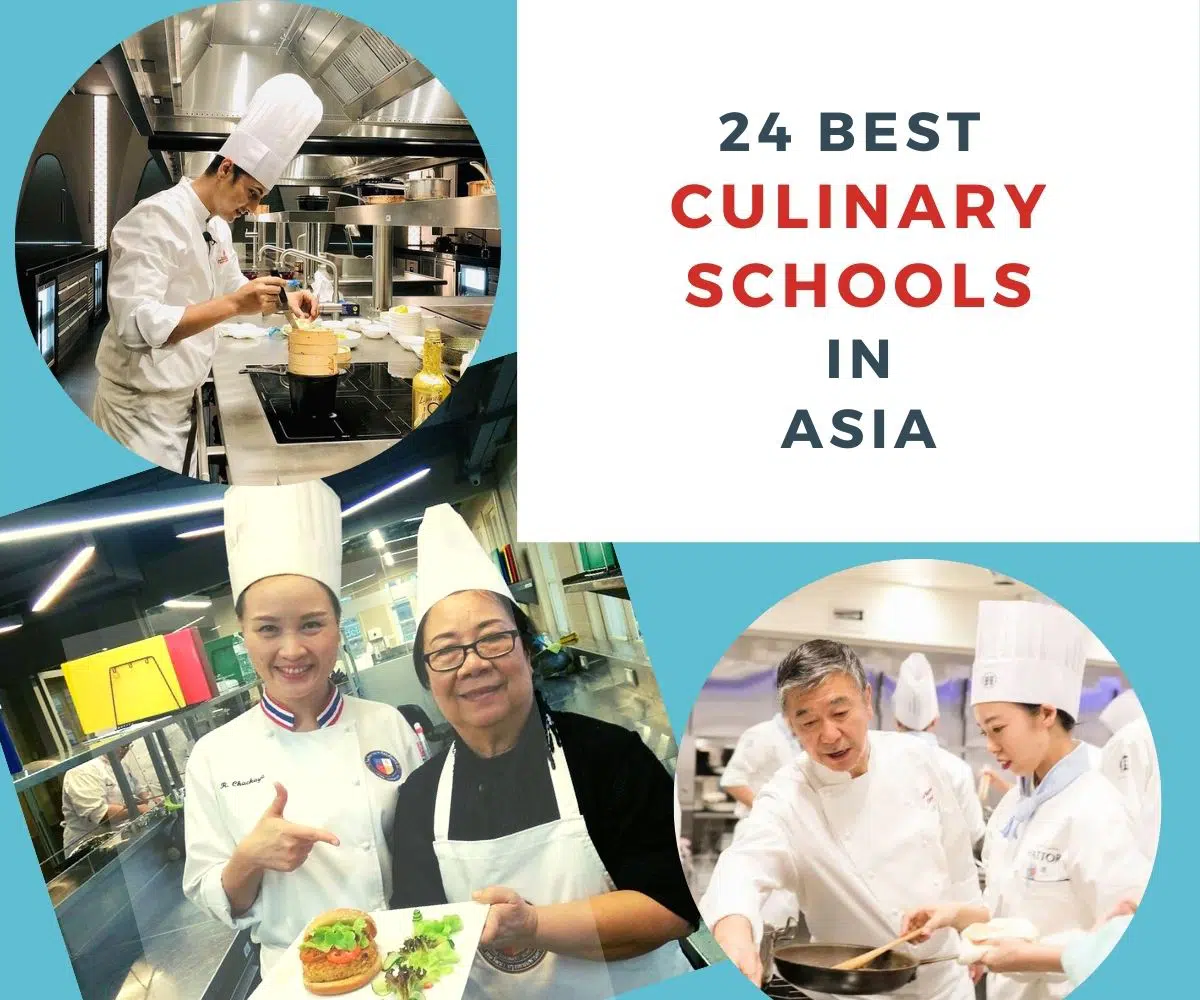 The formal training offered by culinary schools can give you the technical tools you need to become the best in this industry. You'll learn the techniques and develop your creativity, and you'll boost your mental discipline for a job that requires you to remain calm and centered amidst chaos, stress and pressure.
You'll master the skills needed to run a restaurant, plan menus, balance costs and become not just a chef, but also a good kitchen manager.
Employment in food systems is expanding at the global level, and the world of gastronomy needs more trained chefs. So, if you're planning a culinary adventure abroad, there are many places to explore. And if the ethnic food of your choice is Asian, well, then the below list will give you the information you need in order to decide where to start your culinary journey.
Top of the Top: the 24 Best Culinary Schools in Asia
Asian Fusion is becoming more and more popular, and if your culinary preferences include this food then you might want to consider studying in an Asian country. After all, there's no better training than immersion in an international culinary school.
Be it you want to move to Asia and still follow your dream of studying to become a chef or be it you already live there and plan to specialize in a culinary area—either way, you can get a diploma or take courses in culinary arts all over the continent.
Think of all the dynamic cities on this vast and diverse continent! Think of all the culinary cross-pollination and multicultural vibes you'll be experiencing! Think of all the amazing cultural exchanges that you will experience if you choose to study, work and travel!
There are two main options: you can enroll in a US program that partners with an Asian entity, or you can immerse yourself in an international culinary school. We've gathered some of the best schools and programs in Asia so you can make an informed choice.
1. The International Centre for Culinary Arts in Dubai (ICCA)
Recognized by chefs all over the world, ICCA is one of the top culinary schools in Dubai and the entire Asian continent.
You will find various programs here, from creating the best desserts and confectionery to becoming a master in pastries, pizza, bread and various baking techniques as well as cooking. Be it you want to dig deep in sugar crafting, fine dining or baking specialties, the International Centre for Culinary Arts in Dubai is the place to start your schooling.
Diploma in Cookery: professional chef courses
Diploma in Patisserie
Certificate in Cookery
Certificate in Baking and Patisserie
Fast-track short course in culinary and patisserie techniques
Artisanal courses: bread making, chocolate making, gelato barista training, pizza making, sugar crafting for decorating cakes and dry mixology and bartending
Corporate events
School culinary programs for kids
Tuition: about 14,000 dollars, inclusive of visa and accommodation
Website: The International Centre for Culinary Arts in Dubai (ICCA)
2. The Sichuan Higher Institute of Cuisine (SHIC)
Culinary students can take short- or long-term classes here. The institute has been around since 1985, and it's always gathered renowned chefs, restaurant owners, journalists, and bloggers passionate about Szechuan cuisine. What you'll learn here:
Cutting skills
Creating small plates
Cold starters
Plating work
The art of cooking and the science and philosophy of Chinese dishes.
You can choose a degree in nutrition and cooking but also one in tourism, catering and restaurant and hotel administration
Tuition: from $400 to $900 a month
Website: Sichuan Higher Institute of Cuisine
3. Sol International School- Culinary Arts (SICA)-The Asian Center of Excellence in Global Culinary Education in South Korea
One of the best culinary schools in Asia, SICA aims to provide the best curriculum on the continent for a higher education in culinary arts. The school teaches various cuisines and techniques from European to Asian cooking.
Food preparation
Culinary arts courses: Korean cuisine and desserts, healthy and dietary cuisine, meat and seafood preparation, classic European cuisine, modern culinary techniques, Chinese cuisine, American regional cuisine, global breakfast, baking and pastry.
Business operation and restaurant management: Beverage appreciation, the nutrition and science of cooking, global wine and spirits, menu planning, cost control, entrepreneurship and marketing, banquets and special functions, human resource management, hospitality math and recipe writing and development.
Wine and spirits
Communication
Customer service
Website: Sol Culinary School
4. Bishulim Culinary School in Tel Aviv
Learning culinary skills and hospitality comes with a fresh approach here: food is a language that connects people. If you study here you can learn various cuisines, from traditional Israeli food to various cuisines from all over the world.
Focus on mastering cooking skills and techniques using hands-on learning
Focus on creativity and respect for food, as well as quality and freshness
Workshops and private events dedicated to relaxing while cooking and savoring food
Website: Bishulim Culinary School
5. Hong Kong Culinary Academy (HKCA)
Since 2005, HKCA has been dedicated to teaching and reinterpreting Western dishes as well as traditional local food. It's one of Hong Kong's premier culinary schools. You can also master not only cooking techniques but also discipline and diligence. You can choose to complete full-time or evening courses.
Bachelor Degree in Culinary Arts for becoming a professional in the food and beverage industry
Baking and pastry courses
Gastronomy and delicacies
Food and beverage pairing
Human resource planning
Industrial training
Kitchen management
Hotel culinary management courses
Fast food operations
Menu planning
Food cost control
Website: Hong Kong Culinary Academy (HKCA)
6. Hattori Nutrition College in Japan
Hattori is Japan's most famous culinary college. Named after a reputable chef and nutritionist, the host of a popular Japanese cooking show, Iron Chef, Yukio Hattori, the cooking courses here are designed after the practice of shokuiku.
This means the connection between body and mind when it comes to nutrition. It's about cooking that inspires well-being and a healthy and balanced mind.
Program in nutrition
Culinary arts courses
Culinary patisserie, boulangerie and confectionery courses
Culinary hi-tech business management and administration classes
Tuition: about 18,000 dollars for two years
Website: Hattori Nutrition College
7. International Institute of Culinary Arts in New Delhi (IICA)
This is India's premier culinary arts institute, accredited by the World Association of Chefs' Societies.
Advanced Diploma in Culinary Arts (with a duration of two years)
Diploma in Professional Patisserie and Confectionery
Full-time culinary courses
Online courses
Website: International Institute of Culinary Arts
8. MSC Thai Culinary School
MSC is one of the best cooking schools in Asia, as it has the highest standards of culinary education. Its core mission: to guide students through theoretical and practical cooking skills.
Short-term programs
Brief courses for entrepreneurs and restaurant owners
Weekend courses
Family cooking programs
Tuition: about 2,700 dollars a year
Website: MSC Thai Culinary School
9. Nakamura Culinary School in Japan
Opened in 1949, the Nakamura School has well-established traditions and a long history of preparing students for the professional world. Here, you can master Japanese cooking skills as well as international cooking techniques.
Courses to become a professional chef (two-year or one-year courses)
Learning the necessary theories to use the skills as a professional cook: nutrition, hygiene, beverage, food culture and food business, such as the management of a restaurant
Courses for pastry and bread making
Confectionery courses
Japanese, Chinese and Western dishes
State-of-the-art kitchens equipped with the latest professional tools
Training for working in restaurants, cafes and kitchens with a focus on mass feeding and corporate catering
Website: Nakamura Culinary School
10. Asian Culinary Institute in Singapore
The Asian Culinary Institute in one of Singapore's top culinary schools and focuses on creating a center of excellence in the food and beverage service industry. The curriculum covers:
Culinary Arts Certificate, full-time or part-time
Pastry and Bakery Certificate, full-time or part-time
Culinary Arts, Bakery and Pastry Diplomas
Courses on food services, hospitality, food hygiene and food safety
Dry and moist cooking
Courses dedicated to crafting Chinese noodles, tarts and short-crust pastry
Website: Asian Culinary Institute in Singapore
11. School of Hospitality at Nilai University in Malaysia
If you want to shift from a passion for cooking as a hobby to cooking as a professional career, and you live in Malaysia, this is the place to be. Check out the best hands-on experiences when it comes to mastering cooking skills! After all, this school was ranked no. 51 when it comes to hospitality and hotel schools in the world in 2019.
Hospitality training
Food safety and sanitation
Food preparation
Pastry and bakery
Food and beverage cost control
Design and layout of a food service facility
Website: School of Hospitality at Nilai University
12. At-Sunrice GlobalChef Academy in Singapore
This school's 18-month diplomas cover Oriental and Western cuisines, with culinary, pastry & bakery and food & beverage courses.
Diploma in Culinary Arts
Diploma in Pastry and Bakery
Website: At-Sunrice GlobalChef Academy
13. Culinary Academy of India
If you aim to learn culinary arts in India, this is the place to be. It has some of the best tools, facilities, equipment and technology, and the teachers are dedicated to creating future chefs.
Bachelor of Catering Technology and Culinary Arts, three years, which covers food production, food and beverage services, hygiene and sanitation, training in the kitchen, cooking classes (Indian, Asian and European dishes) and kitchen management.
Postgraduate Diploma in Culinary Arts, which covers gastronomy and culture, safety and food sanitation, desserts and plating, bread making, food sculptures, pastry and confectionery and futuristic foods. The courses last one year.
Website: Culinary Academy of India
14. HTMi Switzerland Dubai in the United Arab Emirates
To get your diploma here you must attend about 20 months' worth of classes and courses. For culinary arts you'll have about 40% theoretical studies and 60% practical training. HTMi is known especially as a hospitality school aiming to produce the best leaders in hospitality and tourism management. The school provides undergraduate and postgraduate programs, as well as short courses and workshops.
Cooking technique courses, international culinary arts
Advanced cuisines
Kitchen management for restaurants
Bakery and pastry
Vegan, gluten free and Swiss chocolate workshops
Website: HTMi Switzerland Dubai
15. Sunway University in Malaysia
If you're looking for a high-quality education and state-of-the-art kitchens for your courses, look no further! Sunway is led by award-winning experts whose core belief is to produce chefs who are independent workers with solid soft-skills expertise.
Diploma is certified by the Le Cordon Bleu program
Students get two certificates: one from Sunway and one from Le Cordon Bleu
Website: Sunway University in Malaysia
16. Antalya Bilim University in Turkey
This is one of the best culinary schools in Asia since it's dedicated to adapting to changes in culinary arts as cultural structures change. The courses are dynamic and focus on mixing art and culture with science, eating and drinking. Welcome to the future of cuisine: a holistic experience!
Website: Antalya Bilim University in Turkey
17. Manipal The Welcomgroup Graduate School of Hotel Administration in India
The BA in Culinary Arts at Manipal Academy consists of three years of study and practical experience. You'll learn the skills to become a chef, a stylist, an expert in catering, a personal chef, a manager of hotels or restaurants, a food journalist and photographer.
Website: Welcomgroup Graduate School of Hotel Administration
18. Le Cordon Bleu Shanghai
Le Cordon Bleu was established in 1895 in Paris, France. Since then, it's spread all over the world, and it has evolved from Parisian cooking techniques to an international network of culinary arts and hospitality institutes.
You can master the basics of cooking as well as advanced culinary techniques of any style of cuisine. You can choose from patisserie and confectionery classes, baking and artisan bread courses, wine and spirits programs and innovative courses in culinary arts business and management.
Grand Diplôme
Diplôme de Cuisine
Diplôme de Pâtisserie
Diplôme de Boulangerie
Diploma in Culinary Management
Gourmet and short courses
Website: Le Cordon Bleu Shanghai
19. Le Cordon Bleu-Sookmyung Academy in South Korea
Diplôme de Cuisine
Diplôme de Pâtisserie
Diplôme de Boulangerie
Website: Le Cordon Bleu-Sookmyung Academy
20. Tsuji Culinary Institute in Japan
Find guidance among the many food cultures of the world with Tsuji's courses! Including Chinese, Japanese and Western cuisines and cultures, you can start your professional growth here.
1-year Japanese cooking course
2-year program in Japanese culinary arts and business
1-year regular course
2-year culinary arts and management course
3-year advanced culinary arts and management course
Website: Tsuji Culinary Institute
21. IHM Pusa in India
The Institute of Hotel Management, Catering and Nutrition in Pusa, India, is very popular when it comes to chef training programs. It was established in 1962 and focuses on boosting academic rigor, creating an entrepreneurial mindset and practice over theory.
Master of Science in Hospitality Administration (two-year courses in management, marketing, human resources, economics, sales and operational management)
Program in Hospitality and Hotel Administration (front office, food production, housekeeping and food and beverage services)
Diploma in Bakery and Confectionery
Diploma in Food and Beverage Services
Craftsmanship courses in food and patisserie
Website: IHM Pusa
22. Palate Sensations Culinary School in Singapore
Cooking classes
Baking classes
Intensive courses
Courses for children
Tourist classes
Training for chefs
Website: Palate Sensations Culinary School
23. Japan Culinary Institute
While Japanese cuisine has become a worldwide trend, at the Japan Culinary Institute, it's a mission. One of the most appreciated places when it comes to top cooking schools in Asia, it teaches the structure of a healthy, nutritious and balanced diet, aka washoku (food as a whole).
Traditional Japanese cuisine (kaiseki), with sushi, ramen and yakitori, as well as vegetarian and halal foods
Wagashi (Japanese confectionery)
Gyoza (dumplings) and green tea ceremony
Fast food
Culture courses
Summer courses
Website: Japan Culinary Institute
24. International Culinary Institute in Hong Kong
Established in 1982, ICI aims to train and develop future experts in culinary arts and wine and beverage business management. This institute in Hong Kong teaches international cuisines and focuses on offering various professional qualifications.
Higher Diploma in Wine and Beverage Business Management
Higher Diploma in Baking and Pastry Arts
Higher Diploma in Culinary Arts
Higher Diploma in Classic Western Cuisine
Part-time programs in hygiene, hotel and culinary management
Website: International Culinary Institute
---
Related: Best Culinary Schools in the World
Related: Best Culinary Schools in Europe
Related: Best Culinary Schools in Africa
Related: Best Culinary Schools in America
Related: Best Culinary Schools in Canada