Top 25 Korean Desserts & Sweets: from Traditional to Modern
Husik means dessert in Korean and refers to the food you have after a main meal. Traditionally, seasonal fruits are favorite desserts for Koreans: strawberries in spring, watermelon and yellow melon in summer, and apples and pears in autumn and winter. Tea and coffee are popular drinks to have after a meal as well.
However, these days western desserts such as cakes, macarons, chocolates, cookies, and so on are now readily available in Korea due to globalization. So today, there is a wider range of desserts too choose from than there was decades ago.

From traditional Korean desserts to modern desserts reinterpreted in a Korean style, let me introduce you to 25 famous Korean desserts.
Traditional Korean Desserts
Since rice is a staple Korean food and never absent from a Korean's table, many desserts are based on it and various other grains.
Drinks are also regarded as a typical dessert in Korea
Seasonal fruits are good ingredients for desserts too. With the evolution of the tea drinking culture, drinks are also regarded as a typical dessert in Korea. The representative traditional desserts can be categorized into three different types: Rice & Other Grains, Seasonal Fruits, and Drinks.
Rice & Other Grains
1. 떡 (Tteok: Korean Rice Cakes)
It is unclear when rice cakes began being made and eaten in Korea, but it is presumed to have begun with primitive farming. Koreans have been making rice cakes for centuries and they are a feature of celebrations, big events, traditional festivals, or simply when guests arrive.
Rice cakes are made by steaming or grinding rice, glutinous rice, or other grains. Potato starch or other grains are used as well, and various kinds of ingredients are added to add flavor and shape.
According to the latest survey of the Korean Cultural Association, the following rice cakes are the most popular in Korea:
Ggul Tteok (꿀떡), Garaetteok (가래떡), Baek-seolgi (백설기), Injeolmi (인절미), Chapssaltteok (찹쌀떡), Yeongyang-chaltteok (영양찰떡), Sultteok (술떡), Siru-tteok (시루떡).
2. 화전 (Hwajeon: Pan-fried Sweet Rice Cakes with Flower Petals)
Hwajeon is a pan-fried rice cake made from glutinous rice flour dough in a round and flat shape and garnished with various flowers depending on the season, for example, azaleas are used in spring, roses in summer, and chrysanthemums in autumn.

Hwajeon is not only pretty but also rich in nutrients such as vitamins and minerals! Some flowers contain about 100 times more of the antioxidants polyphenols or flavonoids than vegetables and fruits.
3. 약과 (Yakgwa: Korean Honey Cookies)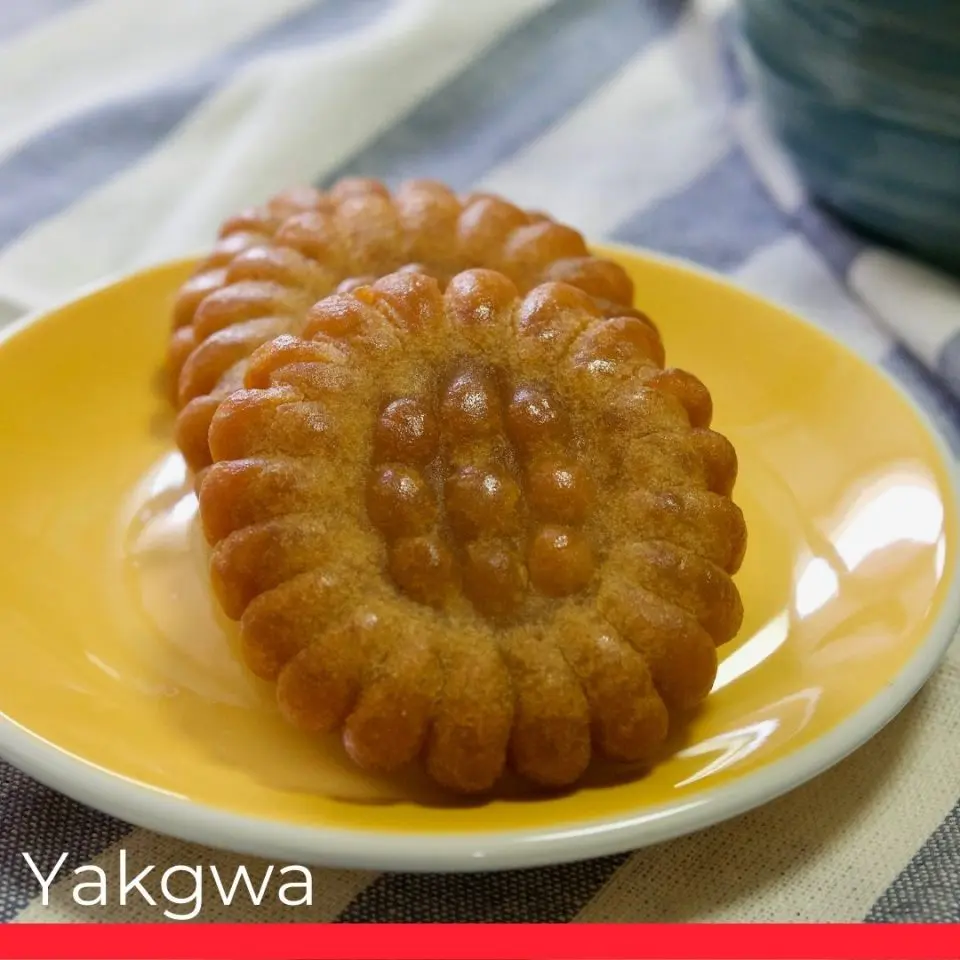 Yak (약) means medicine and Gwa (과) represents snacks. In other words, Yakgwa refers to snack food that is also medicinal. It got such a name because honey and oil were used as medicines in the past. Carefully made with healthy ingredients, it is considered a must-have food during ceremonies, holidays, feasts, and rituals.
It is formed by mixing honey and oil with a fine flour powder. Then, the outside is coated with fried rice and sesame seeds.
4. 호떡 (Hotteok: Korean Sweet Pancakes)
Hotteok is a dessert snack made from cinnamon, brown sugar, and peanuts and filled with sweet syrup. When the weather gets cold, it's not difficult to find street vendors selling hotteok in Korea.
Nowadays, you can enjoy more varieties of hotteok, for example with fillings of ice cream or cheese. For those who like to cook this famous Korean snack at home, you can purchase a hotteok mix for very easy Korean sweet pancakes.
5. 경단 (Gyeongdan: Sweet Rice Balls)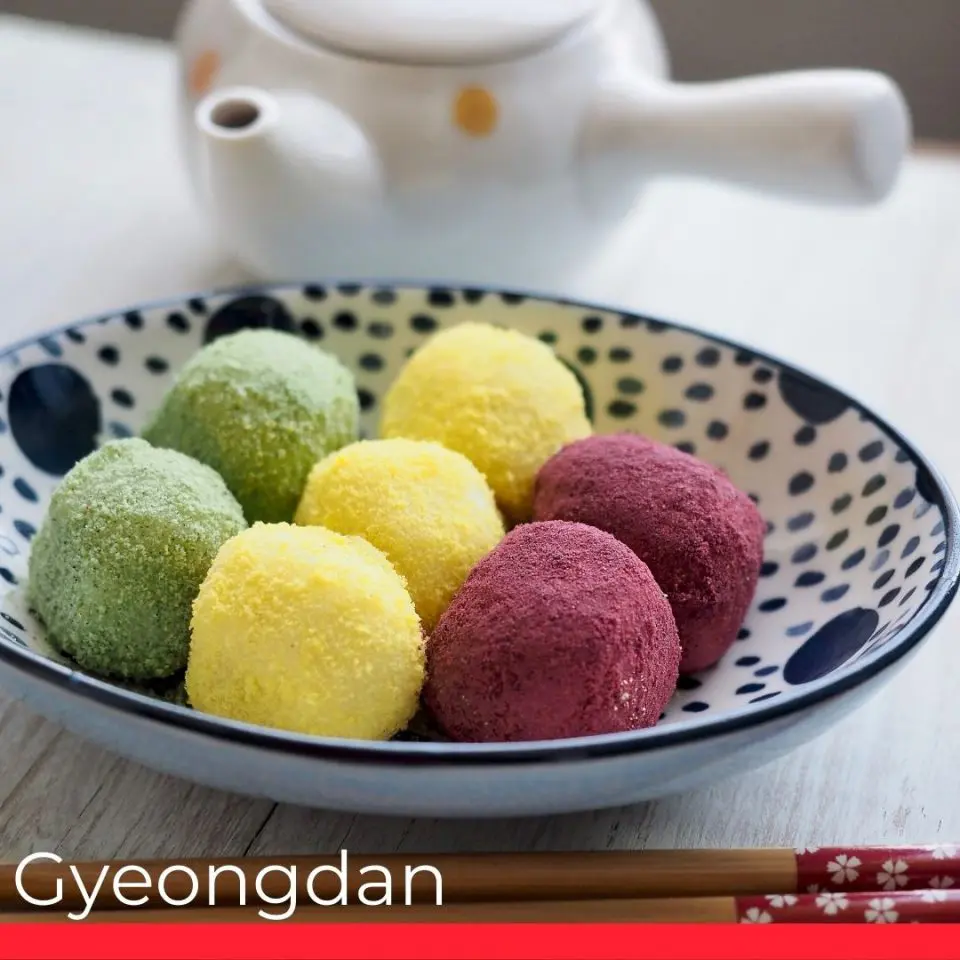 This is a famous Korean dessert made of grains. It is also a kind of rice cake made by kneading glutinous rice. The rice is shaped into small-sized balls and then boiled. After that, the small balls of rice are covered with black sesame seed, mugwort powder, or roasted soy bean powder.
Gyeongdan is made using locally found ingredients, so varieties have developed depending on the region. For example, people living in Gangwon Province in the mountain area use mashed potatoes instead of glutinous rice as the main ingredient.
6. 다식 (Dasik: Pressed Sweets)
Dasik is a Korean traditional dessert made by kneading chestnut powder, pine flower powder, bean powder, starch powder, and sesame powder in honey and then molding it into beautiful shapes.
These sweets are made in five colors: red, blue, yellow, white, and black. The 'da' in dasik refers to tea, which these sweets are commonly served with.
7. 엿 (Yeot: Sweet Taffy)
Yeot is mostly made with steamed rice, but can be made with any other grain such as glutinous rice, sorghum, corn, pumpkin, and sweet potatoes. The steamed ingredients are put in a pot filled with water and boiled for a long time. Yeot is named depending on the base ingredient: Ssallyeot (쌀엿) made from rice, Hobakyeot (호박엿) made with pumpkin, and Kkaeyeot (깨엿) covered with Kkae.
Many Koreans use this traditional sweet taffy not just as a dessert but also as a way to predict fortunes. They cut the yeot in half and count the number of holes to decide who will live longest. Young Korean students also have a custom of having a yeot as a 'lucky charm' before taking an important exam such as the annual College Scholastic Ability Test. Because the texture is sticky, it helps students 'stick to the exam', which means to actually pass the test.
8. 강정 (Gangjeong: Crispy Snack)
This was served on special occasions such as feasts or memorial services along with yakgwa and dasik. It is made by mixing glutinous rice flour with alcohol, cutting it into various shapes, and then drying it in the shade. Afterwards, it is deep fried in oil and coated with honey.
Korean Fruit Based Desserts
9. 아이스홍시 (Ice Hongsi: Iced Ripe Persimmon)
There are more than 400 kinds of persimmons around the world. However, only four types are edible. Persimmon is a common fruit in Korea, and is regarded as one of the most popular autumn fruits.
Ice Hongsi is made from a red-ripe persimmon, which goes through a freezing process. Later, it becomes a natural fruit sorbet that contains the sweetness of nature.
10. 화채 (Hwachae: Traditional Korean Punches)
Hwachae is a popular summer dessert made by adding various fruits to cold honied water. There are around 30 types of hwachae depending on the main fruits used in the recipe.
It is also a cool and delicious dessert that cuts through the summer heat, and the seasonal fruits in hawchae replenish the sweat and help boost the immune system, reduced by the heat in the summer.
Popular Korean Drinks
11. 수정과 (Sujeonggwa: Korean Cinnamon Punch)
Sujeonggwa is a traditional Korean drink that is made by boiling ginger and cinnamon with honey or sugar to make dried persimmons and pine nuts float.

In the past, Sujeonggwa was regarded as a luxury drink. Because cinnamon was not produced on the Korean Peninsula, it had to be imported, and honey and sugar were also hard to get. You can think of Sujeonggwa as special as a truffle or caviar. Therefore, Sujeonggwa was a drink served only on special occasions, even for high-ranking aristocrats, including royal family events.
12. 식혜 (Sikhye: Sweet Korean Rice Beverage)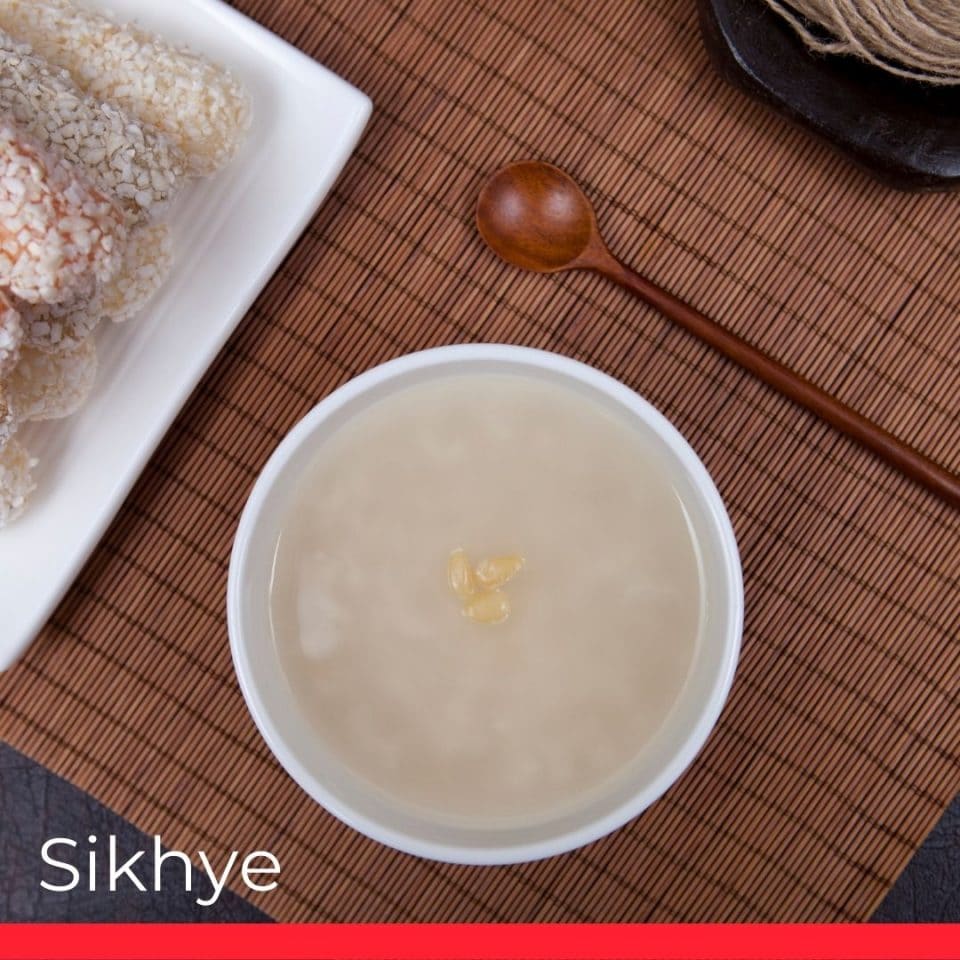 Sikhye is a traditional sweet drink made of fermented malt barley and rice. The sweet taste comes from the flavors of the grains. Because it is fermented, like yogurt, and contains a lot of fiber, sikhye aids digestion.
It is a complex process to the make sikhye, but, luckily, for those who prefer convenient beverages, canned sikhye can be bought from stores and supermarkets in Korea.
13. 오미자 차 (Omija Cha: Magnolia Berry Tea)
Omija means 'five flavors', as this tea actually tastes sweet, bitter, sour, spicy, and salty (trust me!). The reason for this is that omija is a very unique fruit. The tea is made by sweetening dried omija, then placing it in boiling water and leaving to sit overnight. The next morning you can enjoy this 'dessert' as the omija will be properly brewed.

Omija tea is particularly recommended in summer, when the hot weather makes people sweat a lot. It is said that omija tea helps people endure the heat and feel less thirsty.
14. 매실차 (Maesilcha: Plum Tea)
Plum tea is a traditional Korean tea made from Maesil (plums). It is usually made by mixing plum syrup with hot or cold water.

Many Koreans drink a cup of plum tea after a meal as a healthy beverage. This is because the tea is known to prevent food poisoning and has excellent detoxification properties so aids digestion.
Modern Korean Desserts and Sweets
In the 2000s, Western coffee culture came to Korea. With it came the demand for a variety of desserts that go well with coffee. Now it's very easy to find all kinds of foreign desserts including French, Italian, etc. Furthermore, you can also taste Korean fusion desserts that have modernized traditional Korean desserts.
15. 팥빙수 (Patbingsu: Shaved Ice with Sweet Rea Beans)
Patbingsu is probably the most well-known of all Korean desserts outside of Korea. Ask Koreans what their favorite summertime dessert is and I can guarantee that many of them will answer Bingsu.
Patbingsu is the most popular type of bingsu. 'Pat' refers to sweetened red beans, which are added on top of ice flakes. Adding chewy rice cake, small pieces of jelly or soybean powder will give it a distinctive taste, too. Shaved milk often replaces the ice since it makes bingsu easier to mix and taste even better.
However, patbingsu is not the only kind. Some nutritious toppings can be added, and, these days, bingsu is often customized with favorites such as fruit, green tea powder, yogurt, and other ingredients.
16. 황남빵 (Hwangnambbang: Hwangnam Bread)
There are other famous cities in Korea besides Seoul. Gyeongju is an old city that represents a thousand years of Silla dynasty history. As well as ıts distinct culture, you can find a very famous Korean dessert, typically known as Hwangnambbangg.
Hwangnam bread was first made in 1939 in Hwangnam-dong, Gyeongju, the suburb that gave this particular bread its name. Red beans are mixed with eggs and wheat dough by hand, then this artisan bread is shaped and baked without any artificial sweeteners or preservatives, keeping only the sweetness of its original natural ingredients.
17. 호두과자 (Hodu-gwaja: Walnut Cookies)
Hodu-gwaja originates from Cheonan in Korea. Hodu means walnut in Korean and they are cookies filled with red bean paste and walnuts.
For Koreans, hodu-gwaja is one of the most popular snacks found at rest areas on expressways, where many Koreans stop to grab a bite. Some people even stop not for the rest but to satisfy their cravings for this famous dessert snack.
18. 빼빼로 (Pepero)
Pepero is a biscuit stick dipped in chocolate, which is easily found on store shelves. It is a famous snack not only because it is so tasty but also because of its unique style.
Because of its shape, about 65 percent of annual Pepero sales are made on 'Pepero Day', which falls on November 11th: the date, 11/11, being similar to the shape of the sticks. People exchange Pepero as a demonstration of their love and appreciation for each other.
19. 허니 브래드 (Honey Bread)
Honey bread is a very popular dessert in Korean cafes. Thick bread is divided into nine parts filled with whipped cream and then topped with honey, caramel syrup, and cinnamon powder. Its original name was Honey Butter Bread.
It always surprises people the first time they come across it because of its size. However, once it is smelt and tasted, it goes in a blink. It's just that delicious, and it goes well with coffee and tea.
20. 인절미 토스트 (Injeolmi Toast: Honey Rice Cake Sandwich)
This fusion dessert may sound a bit strange to some of you because of the combination of rice cake and bread. However, I guarantee that injeolmi toast will not disappoint.
Injeolmi is one of the popular tteok (see number 1 above to find out more) and is made by steaming and pounding glutinous rice flour. It's usually covered with powdered dried beans.
Once injeolmi tteok is ready, it's very simple to make injeolmi toast. Place some butter in a heated pan and fry the bread, shaking it back and forth, until golden. Spread honey on one side of the bread, put on sliced injeolmi, drizzle over 1/2 tablespoon of honey and cover it with another slice of bread. Put in the microwave for 30 seconds or until the injeolmi has gently melted. Cut the bread into bite-sized pieces, sprinkle powdered dried beans evenly over them and top with another 1/2 tablespoon of honey and some almond slices.
21. 달고나 (Dalgona: Korean Sponge Candy)
Dalgona is very similar to honeycomb toffee candy. It's made by melting sugar and a little baking soda. Depending on the region, it is sometimes called 'ppopgi (뽑기)'. It was a favorite dessert for Korean children in the mid to late 1900s because it was cheaper and sweeter than regular desserts sold in stores.
You can often see street vendors selling dalgona in Korea. Vendors imprint the candy with different patterns before it completely hardens and takes the shape of a star, fish or heart. Some vendors will even play a little game, offering a free candy if you can eat the candy around the pattern without cracking it.
22. 계란빵 (Gyeran-ppang: Egg Bread)
Together with hotteok, many people enjoy Gyeran-ppang in winter. It is both sweet and savory.
The dough is made by mixing flour, baking powder, milk, eggs, butter, sugar, and salt. Then, the dough is put in the Gyeran-ppang machine and a whole egg is cracked on the bread batter into each slot. It is cooked until golden brown.
23. 붕어빵 (Bungeo-ppang: Korean Fish Shaped Pastry)
Bungeo-ppang is similar to the Japanese pastry Taiyaki, but it's simpler because it mostly comes with one filling: sweetened red bean paste. It's grilled in a fish-shaped mold.
It's regarded as a winter dessert; however, there is a way to enjoy bungeo-ppang in the hot summer. Then you can find a vanilla ice-cream version of bungeo-ppang called Bungeo Samanco (붕어 싸만코).
24. 꽈배기 (Kkwabaegi: Twisted Korean Doughnuts)
Kkwabaegi is simple, sweet, fluffy, spongy, and twisted. It's also a nostalgic dessert for adults since, as children, most of them would have bought kkwabaegi after school.
It is made with glutinous rice flour and melted butter. The dough is deep-fried in oil and tossed in sugar and cinnamon powder. Like most fried breads, it tastes better when it's hot. You can enjoy the original taste of twisted bread by eating when it just comes out of the oil, or by heating them up.
25. 뚱카롱 (Ddungcaron: Fat Macaron)
Ddungcaron is a compound word: Ddungddunghada (fat in Korean ) and macaron. When macaron, the French dessert, was introduced to the Korean market a decade ago, it captivated Koreans. Since then, more fillings (almost three times more than an original French macaron) have been added.
In some cases, fruit such as strawberries are added, and cheese or thin crackers are included between the two parts.