Best 7 Culinary Schools in Hong Kong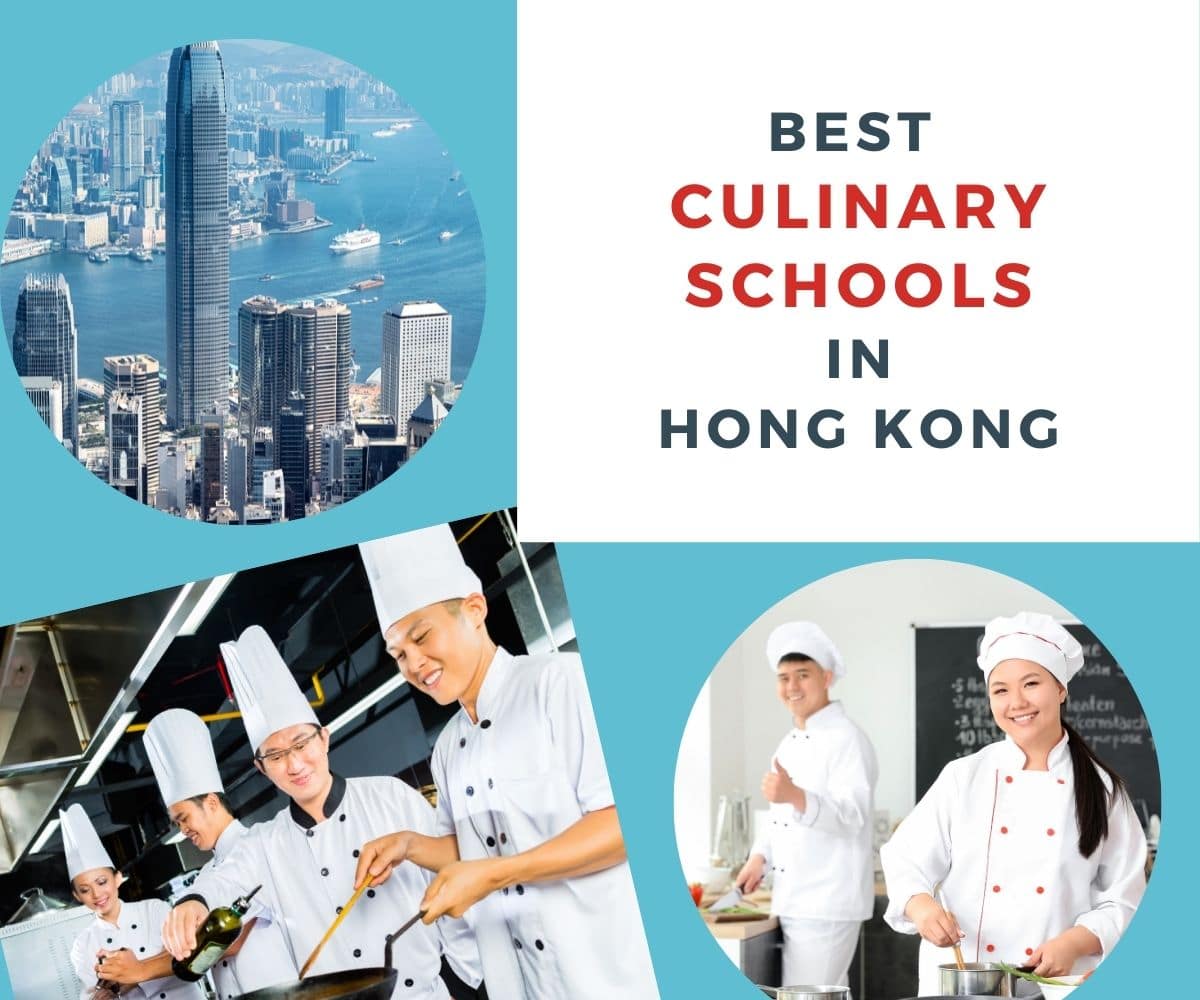 There's perhaps no better place to study culinary arts in Asia than Hong Kong. Asia's top financial hub, Hong Kong is also regarded as Asia's culinary capital and a top regional educational hub.
Hong Kong is home to world-class culinary institutions and a wealth of top culinary establishments, among them 66 Michelin-starred restaurants.
We did the research and listed some of the best culinary schools in Hong Kong.
1. Institute Culinaire Disciples Escoffier, Causeway Bay
Located in Hong Kong's Towngas Cooking Center, the Institute Culinaire Disciples Escoffier has a renowned culinary arts program allowing students to earn a Diploma in Culinary Arts or a Double Diploma in Pastry Arts. This school features stunning spacious kitchens equipped with individual workstations so students have their own space when cooking.
Besides its regular instructors, the Institut Culinaire Disciples Escoffier invites guest chefs from around the world to visit the school to tutor students. Students will also be given helpful guidance as to how to prepare for their future in restaurants, bakeries, and other food industries.
In addition to diploma programs, this cooking school has Discovery Workshops where you'll learn how to make lemon meringue tartlets, macarons, coq au vin, quiche lorraine, and ratatouille. Regardless of the program signed up for, students will learn how to master basic kitchen skills and how to communicate in the kitchen. The tuition for the programs varies and can be found by contacting the school.
Website: Institute Culinaire Disciples Escoffier
2. Thei, Chai Wan
Founded in 2012, THEi gives culinary students first-hand experience in the food industry as they learn how to use important kitchen utensils and devices as well as create delicious meals and desserts.
THEi offers a Bachelor of Arts in Culinary Arts and Management that allows students to dive into cooking-themed classes like Catering Management, Food Styling, Cuisine Culture, Regional Chinese Culinary Arts, Menu Development, and Food Supply Chain Management. Culinary students can also sign up to take one of the school's numerous electives, like Chinese Tonic Food Business and Food Photography.
Thei also requires students to take language courses so they understand how to properly communicate in kitchens around the world. This degree lasts about four years and each semester is broken up into different sections to help prevent students from feeling overwhelmed with their studies. Prices for the classes are $3,032 per credit point. Those interested in applying must do so within a certain time during the year as THEi has strict registration deadlines.
Website: Thei
3. VTC International Culinary Institute, Kowloon
As part of Hong Kong's Vocational Training Council, the VTC International Culinary Institute has hosted over 2,000 culinary students since its opening a few years ago. Programs offered at this culinary institute include a Higher Diploma in Culinary Arts, Basic Food Hygiene Certificate, Diploma in Chinese Cuisine, and Certificate in European Pastry. Those studying for a degree here will not only acquire knowledge in world cuisines, but master basic kitchen skills.
Many classes are taught by some of the planet's most famous chefs, like Joan Roca, Lanshu Chen, and Alain Passard. The facilities at VTC International Culinary Institute span over nine floors that are packed with training kitchens and restaurants, fragrant herb gardens, and a wine cellar.
Classes are held throughout the year and last anywhere from a few months to four years. Tuition depends on the program you sign up for and can be found on VTC International Culinary Institute's website.
Website: VTC International Culinary Institute
4. Chinese Culinary Institute, Hong Kong
The Chinese Culinary Institute was founded to teach the fundamentals of Chinese cuisine. Classes at the institute are designed for both beginners and professionals and are led by expert chefs who will guide students during their studies.
Some programs culinary students can sign up for include a Higher Diploma in Culinary Arts, Diploma in Chinese Cuisine, Certificate in Sushi Preparation, and Certificate in Cruise Cuisine. Students will work in the cooking school's training restaurant and lounge as well as in its four high-tech kitchens and food science laboratory where they can experiment with flavors and textures. Toward the end of their degree, culinary students will be sent to work as apprentices in local restaurants.
Once a student has graduated, they can then apply to earn the Chinese Culinary Institute's impressive Certified Cook title. Prices for the programs vary and a few entrance requirements, including a trade test, are required before students are admitted.
Website: Chinese Culinary Institute
5. International Culinary Institute, Hong Kong
Located in Hong Kong's Southern District, the International Culinary Institute offers a handful of programs culinary students can attend that will teach them how to make various types of international cuisines, such as American, Asian, European, and Mediterranean.
The International Culinary Institute offers both full-time and part-time programs, some of which include a Higher Diploma in Baking and Pastry Arts, Higher Diploma in Classic Western Cuisine, and Professional Diploma in International Culinary Arts and Management. Depending on the program attended, students will take classes that focus on topics like contemporary plated desserts, food safety, gastronomy trends, menu planning and design, and catering events and service management.
Students will be guided by master chefs and be given the chance to work in some of Hong Kong's most prestigious restaurants. The classes are taught in both Chinese and English. The programs cost anywhere from $700-$4,000 and last about 1-2 years.
Website: International Culinary Institute
6. Hong Kong Culinary Academy, Kwai Chung
Hong Kong Culinary Academy offers two programs culinary students can earn a degree in. The first is an Advanced Diploma in Hotel Culinary Management. This three-year degree is geared toward younger students looking to first enter the industry.
Some classes taught for this degree include Knife Skills, Intro to Baking, Gastronomy, and Kitchen Management. Once students have successfully graduated from this program they can move on to the academy's Bachelor of Arts in Professional Culinary Arts. This degree lasts two years and will build on students' previous culinary knowledge as well as move on to topics like communication in the kitchen, food cost control, culture and gastronomy, and hospitality marketing.
Tuition for both these degrees is $18,000 and a few prerequisites are required before being admitted into a program, such as having English proficiency and passing an admission interview. For those interested in learning more about the culinary arts but don't want to spend time on a degree, this academy offers small daily courses that will teach you how to make bread and European desserts.
Website: Hong Kong Culinary Academy
7. Hong Kong New Oriental Culinary Training, Hong Kong
As part of the Xinhua Education Group, Hong Kong New Oriental Culinary Training was established to teach Chinese cuisine while also touching on international dishes.
This culinary school offers a large number of classes you can sign up for. One of its most popular is the OpenFire International Cuisine Course where you'll learn how to make dishes from around the world, like baked duroc pork chops with fried rice and braised morel mushrooms.
There's also a West Point Baking Course that will teach those interested in the pastry arts how to make sweets like Japanese cheesecake, matcha cake, and pound cake. In addition to these, Hong Kong New Oriental Culinary Training has a handful of themed courses that focus on certain topics, like coffee brewing and how to make dumplings. The classes are held in Cantonese, Mandarin, and English and last about two hours. Prices vary depending on the course taken.