Best 20 Culinary Schools in Europe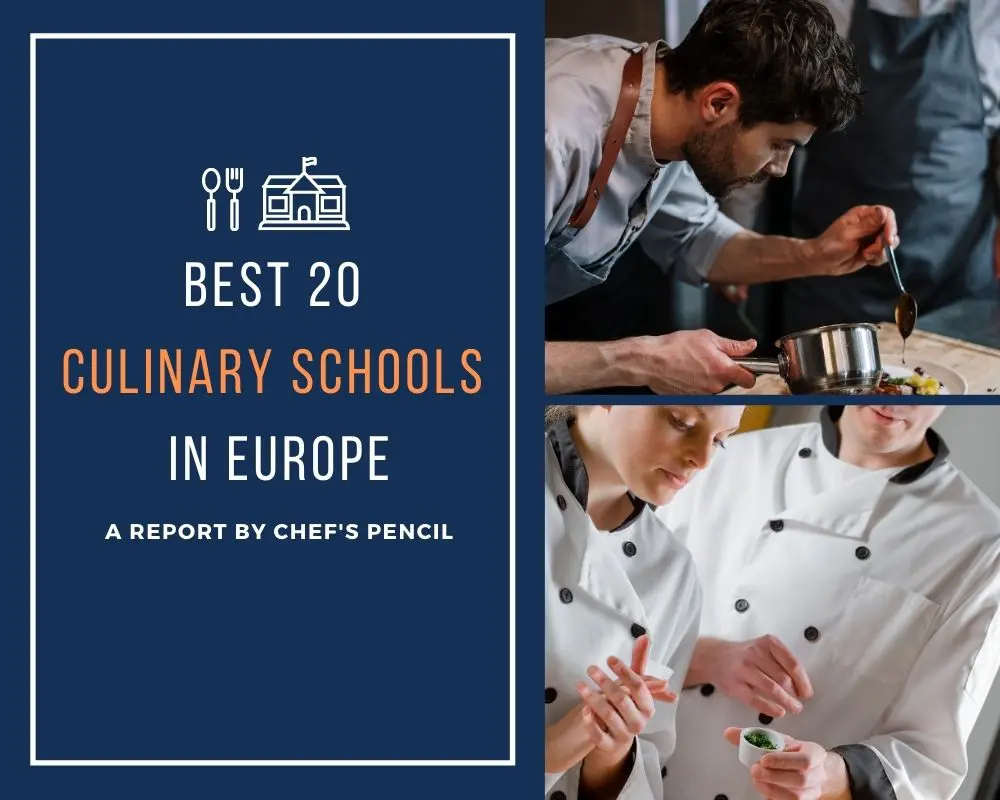 It has never been easy making it in the culinary world. It requires stamina, dedication, and a passion for food. Many have started out on the road only to be chewed up and spat out, unable to cope with the demands and competition of the sector.
However hard it was in the past, the future looks to be even more demanding given the devastation Covid-19 has wrought on food service and hospitality.
It might feel a bit crazy thinking about a career in gastronomy right now, but if you feel you have an instinct for food and just an inkling of commitment, don't be put off – do get the right start. And that means taking a serious look at culinary schools.
With it being almost impossible today to find a kitchen job that will train you up, why not take a few months out and invest your time in one of the best culinary schools in Europe.
Not sure which they are? That's why we've used our professional knowledge and insight to provide an overview of the 20 best culinary schools Europe has to offer.
Gastronomicom International Culinary Academy, Agde, France
Sitting on the coast in the south of France, one hour from Montpellier, is the beautiful resort town of Agde, home to the Gastronomicom International Culinary Academy.
Established in 2004, the school now hosts international students for courses in French cooking, pastry, and the French language. All courses are conducted in English.
With a philosophy of best products, wonderful discipline, excellent teachers, a family atmosphere, and passion, "always passion", and a maximum of 16 students per class, this is a school focused on providing the optimum environment for learning.
The campus, with two 110m2 fully equipped professional kitchens and a classroom for learning French, provides the opportunity to learn gastronomic French cooking and patisserie to a 1 Michelin Star Level in fantastic conditions.
Another exciting feature that the school offers, which is unique among Europe's top culinary schools, is the option to live in a beautiful seaside resort located just 10 minutes from the school.
The school offers a range of courses for professionals and beginners lasting from 1 month to a year and ending with certificates and diplomas in cooking, pastry, and the French language awarded by French government ministries.
The school offers paid internships at fine dining restaurants in France such as Relais-Chateaux and other prestigious establishments referenced in the French Michelin Guide.
University College of Hospitality Management and Culinary Arts of Sant Pol de Mar
Ranked first in Spain and in the top 30 worldwide in Hospitality and Leisure Management by World University Rankings, and sitting on the southern Spanish coast 50km from Barcelona, this University has much to offer students embarking on a career in food.
The school boasts a pioneer university model. It has a training hotel on premises and a learning methodology in which students gain experience working with real customers from their first day, providing students with a professional profile tailor-made for the industry.
As well as Hospitality Management and Events and Restaurant Service, this school offers a Bachelor degree, Masters, Diplomas and speciality courses in Gastronomy and Culinary Arts, some in taught in Spanish, some in English.
Students come here from more than 40 countries and the teaching staff includes doctors, professors and serving professionals.
Famous alumni include Xavier Pellicer, Benito Gómez, Ramon Freixa, and Jose Carlos Fuentes, among many other accomplished chefs.
Ferrandi Paris: The French School of Culinary Arts and Hospitality Management, Paris, France
With three campuses in Paris, one right in the center, and another in the sumptuously beautiful wine region of Bordeaux, Ferrandi Paris offers the opportunity to take in the French lifestyle and culture while learning French cuisine.
The school is renowned for its high quality, prestigious teaching. Its philosophy is hard work and high standards are the only ways to achieve excellence. It expects mastery of each technique, provides practice in real-life situations, and encourages acquisition of managerial skills, and creativity. With a distinct entrepreneurial spirit and close links to the industry, the school trains students from France and 30 different countries, making it vibrantly international.
Its 100 years of history feeds into the unique range of courses it offers in both vocational (CAP Post-BAC) and a Bachelor's in Culinary Arts and Entrepreneurship. This program teaches students to master excellent culinary techniques and develop managerial and entrepreneurial skills.
The Bachelor's is taught at the Bordeaux campus, where students benefit from the expert knowledge in wines and spirits from the Worldsdom and IPC Wines & Spirits programs. With classes of between 12 to 14 students, 35 kitchens and four training restaurants, learning conditions are excellent.
Famous alumni include Chef Arnaud Donkele, voted as the Best Chef in the World in 2019, Chef Mathieu Viannay, winner of the Meilleur Ouvrier de France award, Nina Metayer, Pastry Chef of the Year in 2016 & 2017, or Carolina Bazan, Latin's America Best Female Chef in 2019.
Paul Bocuse Institute, Lyon, France
This leading international school prides itself on being modern, innovative, and working to the highest standards of excellence. It is one of an elite group of internationally-renowned higher education institutions, offering courses in hospitality, food service, and culinary arts management.
With a clear leadership, management, entrepreneurial focus gained through practical experience, the school empowers students with the skills they will need to face the challenges of tomorrow while encouraging them to develop their own creative identity.
The school offers a 3-year undergraduate bachelor's degree, 4-year bachelor's with honors degrees, and 5-year master's degrees. And with a range of 30 different award-winning courses to choose from, students can shape their own unique learning experience.
A full 50% of the bachelor course are spent gaining professional practical experience at the school's own restaurants and 5-star hotel, where students get to test their skills out in real-world situations and with demanding clientele.
With its very own Center for Food and Hospitality Research, the Institute keeps its eye on food management practices and the relationship between humanity and food in the changing and demanding challenges of our modern world. And with a new campus opening in 2022, the Institute is clearly going for growth.
Famous alumni include Korean Chef Lee Young-hoon, the first Korean chef to win a Michelin star in France, Chef Prakash Seetul, Executive Chef at the St. Regis in Doha, Qatar, or Chef Olivier Barre, Executive Chef at the Four Seasons, Seychelles.
College of Food and Hospitality Management: University College Birmingham, UK
This is a school with a long history, reaching back to the 1800's Victorian era. Today it is renowned for its professional standard kitchens, award-winning training restaurants, and state-of-the-art food development facilities.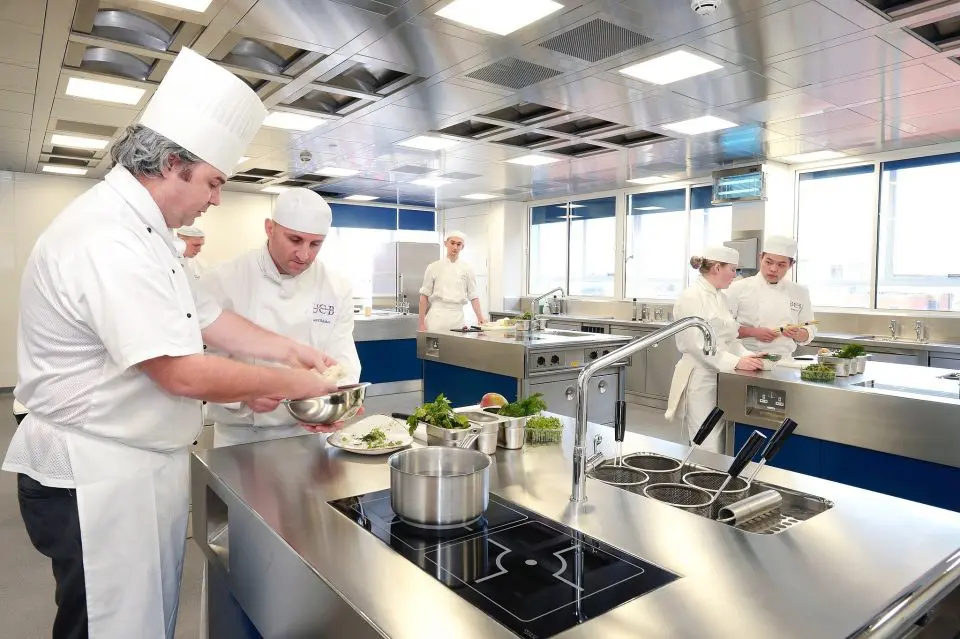 The facilities are good enough to host an array of prestigious chef competitions and culinary contests, including Michel Roux Jr's annual scholarship contest, the British Culinary Federation's Chef of the Year finals and Team England's training for the Bocuse d'Or.
The school offers innovative apprenticeships, industry-led college courses, and degrees accredited by the University of Birmingham. With a strong practical focus, the school offers practical training at Michelin-starred restaurants and at companies like Mars working on product development, and hands-on experience in the campus restaurants.
And all that experience can be put to the test through a range of industry competitions – Nestle Professional Toque d'Or, Zest Quest Asia, BCF Young Chef of the Year, and others. Taught by award-winning staff and opportunities to participate in masterclasses by celebrated chefs and food industry experts.
The school offers a solid, professional start for those who want to be executive head chef at a 5-star hotel, manage a high-profile restaurant kitchen, or create new products as a development chef.
Successful alumni include Chef Brad Carter, chef owner of Carters of Moseley, a one Michelin-starred restaurant in Birmingham, Leo Kattou, Head Chef at the one Michelin-starred Simpsons Restaurant, or Claire Hutchings, winner of UK's Masterchef Professional TV show.
Le Cordon Bleu, Paris, France
One of the most famous cooking schools teaching the most famous cuisine, Le Cordon Bleu now has 20 locations worldwide where it teaches the techniques of French cooking, four of them in Europe: Paris, the world capital of gastronomy, fashion and luxury, guaranteeing an unforgettable cultural experience; London, the financial capital of the world with a rich variety of international cuisines and lifestyles; Madrid, a gastronomic center of Spain where traditional mingles with sophisticated avant-garde; and Istanbul, where Europe meets Asia and the two cuisines meet and mingle.
The school's programs include a range of diplomas in Culinary Arts and Management, short courses for the beginner and the curious, and professional training for those taking their career one step higher.
Each of the four European schools offers Le Grand Diploma, the Diploma in Pastry, and the Diploma in Culinary Arts. Le Grand Diploma is an intensive program in classic French culinary techniques that combines both the Pastry and Culinary Arts Diplomas.
The Diploma in Cuisine covers basic to advanced techniques that apply to any type of cuisine and the Pastry Diploma opens up the world of Patisserie and the craft of pastry and confectionary making and decorating.
The Paris and London campuses offer a full range of courses, including management, wines, and nutrition, and in London you can study for a Diploma in Plant-based Culinary Arts. The Madrid and Istanbul campuses offer the main Diplomas, with Madrid also offering their exclusive Diploma in Spanish Cuisine.
Culinary Arts Academy, Le Bouveret, Switzerland
If you like the idea of studying on the Lake Geneva shoreline and taking your meals on a balcony overlooking the water, this is the school to choose. With two campuses, Le Bouveret on Lake Geneva and Lucerne in that city's center, it provides ideal locations.
But it's not just the scenery that appeals. Culinary Arts Switzerland last year became the first Swiss culinary school to be awarded the coveted Recognition of Quality Culinary Education mark, a renowned international endorsement from the prestigious World Association of Chefs' Societies and is the only culinary school in the QS World University Rankings, which befits a school with such an impeccable, world class reputation.
Thanks to numerous partnerships with the likes of Ritz Paris, the Ritz Escoffier, and Cesar Ritz School, students benefit from a very rich expertise and exceptional internship opportunities in some of the most renowned institutions in the world.
And with input and guidance from top chefs, including Chef Anton Mosimann (OBE) and the first Swiss female chef to be awarded a Michelin star, Irma Dütsch, both friends of Culinary Arts Academy Switzerland, students can expect first-class training to set them up for a life in food.
Apicius, Florence, Italy
Founded in 1997, Apicius International School of Hospitality is now a thriving center of cuisine, wine, and hospitality – a respected leader in academic, professional, and career oriented education.
Set in the beautiful Italian city of Florence, the school has state-of-the art facilities including the Ganzo, Sorgiva, and Dimora learning labs that link students with the local community for experience in hospitality, catering, and management. It also has its very own pastry shop, Fedora, that showcases student work.
The School of Food and Wine Studies offers a full range of courses and two four-year bachelor's degrees, one Hospitality Management and the other Food and Wine Studies. Being "The Amerian University in Florence", students also have the opportunity to transfer their coursework to a US bachelor's degree program. Their Certificate Career Programs, one or two years, are unique for their combination of in-classroom experiential learning and practice in the field within the dynamic local community.
The streamlined program features four areas of study with a common core for the first year. For the second year, each area of study offers a choice of four specialization areas. Options are available for direct access to second year specializations.
Successful alumni include Melissa Miranda, Chef and owner of the popular Seattle restaurant Musang, Sean Walklin, Assistant Professor at the University of Alaska Fairbanks, or Maximilian Zedelmaier, Chef and Culinary Instructor with Electrolux Professional.
Basque Culinary Center, Spain
On a Spanish hillside near the coastal resort of Donostia-San Sebastian, in the city that host some of the most famous Michelin-starred restaurants in the world – stands the Basque Culinary Center.
A location to die for and yet here you can learn at a pioneering academic institution committed to research, innovation, and the promotion of gastronomy and nutrition.
Attached to Mondragon University, this relatively new establishment, created in 2011, promotes gastronomy as a lever of social-economic development through the Faculty of Gastronomic Sciences and its Center for Research and Innovation, a unique project in Europe.
The school is housed in an award-winning building surrounded by the Spanish hills and equipped with state-of-the-art facilities for effective and practical learning. It includes an Experimental Workshop where students design their own gastronomic project incorporating the three key areas: kitchen, front of house, and management.
The school offers a Bachelor's Degree in Gastronomy and Culinary Arts and a range of Master's degrees. All training is based on 5 pillars: culinary studies, service and front of house, business management, culture, and applied sciences.
Successful alumni include Chef Safe Cruz, Head Chef at the one Michelin starred Gofio, Maria Gomez, who won a Michelin star and two Repsols with Magoga, or Carolina Sanchez and Iñaki Murua, who head the one-starred Ikaro restaurant.
Ecole de Cuisine Alain Ducasse, Paris, France
On the edge of Meudon Forest and just 10 km from the centre of Paris, stands the brand new, purpose-built flagship campus of École Ducasse. Set to open in autumn (2020), this 5,000 square meters of cooking school is set to become a global standard in culinary and pastry arts training.
In 2019, the school partnered with Sommet Education, a Swiss education group specializing in hospitality management, and rebranded as École Ducasse with the signature "Master more than cooking".
The new campus offers a range of courses from basics to specialist. The 3-year Bachelor programs in Culinary and Pastry Arts involves practical, managerial, and entrepreneurial skills – more than cooking. Other programs are the "Essential" intensive short courses of two months; diploma programs of two, four and six months for the passionate and the career changer; and signature programs providing those all-important English skills for young professionals.
The school places importance on practical, hands-on training programs, offering career-changers and food enthusiasts the experience and training for becoming established in the food and beverage industry, giving them the competencies required for a chef, manager or entrepreneur in the international restaurant industry.
Successful alumni include the famous pastry chefs Cedric Grolet and Jerome de Oliveira, Chef Li Ji-Won, who won his first Michelin star in 2020, or Indian Chef Shaheen Peerbhai.
Westminster Kingsway College, London, UK
Based in the heart of London, and a part of the Capital City College Group, Westminster Kingsway College operates across four campuses – King's Cross, Victoria, Soho, and Regent's Park.
The school has an excellent reputation in Culinary Arts and Hospitality, and boasts itself on its extensive gastronomic practice and proven excellence. The college is committed to innovation and high performance in hospitality and culinary arts and has links and collaborations with the international hospitality industry, leading chefs' associations, and principal figures from the world of gastronomy.
Offering speciality certificates, a Grand Escoffier Diploma, foundation degrees, Bachelor of Arts and Bachelor of Science degrees, the school has a full range of courses. The programs are designed to fit those from the very young and passionate to adults taking a turn into a new career, for those in work and wanting to study part time and those who want to immerse themselves full time in training.
Notable alumni include Jamie Oliver, Ainsley Harriot, Kathy Burke, and Michelle Collins.
BHMS, Lucerne, Switzerland
Located in stunning Lucerne, with a backdrop of the Alps, is the Business and Hotel Management School.
At its city center campus, and four other training facilities within walking distance, the school offers a Culinary Arts Program infused with the traditions of French and Italian cooking.
The Program combines a hands-on approach to culinary operations with more advanced techniques and creativity. Students develop contemporary skills in food preparation and presentation, à la carte cuisine, pastry and desserts and kitchen management before going on to practice their skills with international and contemporary menus in a working restaurant environment.
The Culinary Arts Program consists of a Diploma and Higher Diploma, with direct entry for students who already have a year's accredited training, leading to a Bachelor's Degree providing training in new product development, molecular cuisine, applying technology, and team management as well as food service management.
There is also a Postgraduate Diploma for those with degrees in other fields wishing to retrain in gastronomy.
Successful alumni include Chef Gleb Kadin, Executive Chef at Velvet, Russia, Chef Sudhanshu Kumar, Chef de Cuisine at the Mandarin Oriental Hotel in Doha, Chris Miller, Head Chef at the Compass Group, Switzerland, or Varghese Joy Thoppil, Executive Chef at the InterContinental Hotels Group in Nairobi, Kenya.
University of Derby, Buxton, UK
Nestled in the beautiful Peak District of the UK is the vibrant spa town of Buxton. And in Buxton is the Devonshire Dome, a prestige banqueting and events venue where students can study for the highly regarded Bachelor's degree in Professional Culinary Arts (Top up).
With seven high specification kitchens including an induction powered training kitchen, specialist equipment for off-site events and pop-up restaurants, a bistro, and two licensed bars this is an inspiring setting to push the boundaries of culinary art. Students get first-hand experience preparing contemporary, fine-dining dishes for the Dome Restaurant, which has received the highest possible rating in the AA College Rosette scheme, applauding students' enthusiasm.
The BA (Hons) Professional Culinary Arts (Top up), accredited by the Institute of Hospitality, is for those who already have an appropriate foundation degree or HND with at least a merit grade profile.
The school's Industry Networking Day offers the opportunity to make invaluable industry contacts in Michelin-starred restaurants and luxury hotels.
Students here have worked with national hotel chains, international corporations and local food producers, breweries and restaurants on real-world projects to broaden their expertise.
The school also offers masterclasses by visiting experts and participation in leading industry competitions. Past students have been finalists in the Toque d'Or three times and excelled in the Country Range Student Chef Challenge, Zest Quest Asia, Hotelympia, and the Tabasco Student Street Food Brunch Challenge.
Successful alumni include Adam Thomason, Executive Head Chef at Wimbledon.
GASMA Gastronomy, & Culinary Management Campus, Spain
Spain has become a world leader in cutting-edge, culinary research. GASMA Campus of Cardinal Herrara University based in Castellón, boasts some of the best avant-garde facilities in southern Europe, supporting its commitment to culinary research.
The school offers a personalized, multidisciplinary practical training following its core principles of practice, sharing and reflecting, all designed to help students learn how to think and know what to do. With a strong focus on practical experience and with Michelin-starred chefs offering masterclasses, their courses promise to equip students with what they need to achieve their goals.
And with students from 65 different countries, this is a truly international campus where you can share in a world of gastronomic knowledge and know-how. All courses are taught in Spanish, and the Bachelor's degree is also taught in English.
International Culinary Institute, Switzerland
Situated in the ancient city of Lucerne on the shores of the lake, the ICI International Culinary Arts School has breathtaking views of the Alps and Rigi and Pilatus mountains.
It is the culinary arm of the prestigious International Management Institute, and is accredited by leading international organizations and educational institutes: Oxford Brookes University, British Accreditation Council, Eduqua, and the International Organization for Standardization.
The school offers a Diploma and Bacherlor Degree in International Culinary Arts following a range of courses. There is a hands-on approach to gastronomy, with 30% of courses providing practical experience, and courses are inspired by a wide range of culinary traditions.
Taught by expert professionals, with a maximum of 10 students per class, students have the space and attention to develop a true passion for food and a desire for excellence – which they can then apply on a paid internship at top kitchens in Switzerland or abroad.
Despite the intense courses, it's not all work – the school encourages down time and there are many opportunities for sport and excursions in the surrounding locality.
Successful alumni include Darren Teoh, Head Chef Dewakan, one of the best restaurants in Asia, Edwin Phua, Executive Director at Chef At Work, Singapore, and Mia Sallehudin, a cook turned novelist and author The Knife's Got Reflections.
CAST Alimenti: The Italian School of Culinary Arts, Brescia, Italy
What better way to learn Italian cuisine than immersed in Italian culture. Cast Alimenti is in Brescia, Italy, an ancient Italian town nestled in the beautiful Lombardy region, a half hour's drive from Lake Garda.
The school was established over 20 years ago with the aim of bringing professionalism to the art of Italian cuisine. Now with 19 world championship titles, it can boast of being "the school where world champions are born". And that success feeds into the classrooms and kitchens of the school in the seriousness of the training, preparing students for their chosen profession.
The school is fully up-to-date boasting laboratories equipped with state-of-the-art technology, and incorporating multimedia into the learning process.
With Diplomas in Italian Culinary Arts and Italian Pastry Arts taught by experts in the field, the school promises to keep their future chefs in step with the times and ready to face the challenges of today's market. You will study traditional and modern cooking systems, aesthetics and pairing to enhance creativity, an organized, rational, and efficient way of working, and the correct use of specific equipment.
There are also a host of top companies offering internships and a number of masterclasses run by starred chefs, experts in ınternational cuisine.
Ferrières School of Hotel Management, Gastronomy, and Luxury, Paris, France
And what better place to learn about Luxury than in a Château 25 km from Paris. With a hotel and restaurants, educational buildings and innovation center, and gorgeous chateau gardens, Ferrières sets out to be the school of choice for those wanting to enter the worlds of hospitality, gastronomy, and luxury goods.
As well as core subjects, the school aims to teach the interpersonal skills and luxury codes of yesterday and today, giving students the key to success tomorrow.
The school offers a range of foundation courses, a Bachelor's course, designed for students wanting to go straight on to working as pastry chef, sommelier, chef, or in management roles, and a Master of Science course offering a unique instructional approach and assessment through handling immersive projects where students navigate real-world situations.
All courses have an international dimension: study abroad, internship opportunities around the world, and courses taught in English starting the 3rd year.
Part of its progressive education experience is the offer of a guaranteed permanent contract after graduation with one of their partners in Hospitality, Food Service, and Luxury: a contract for a full-time, long-term job paid at industry rates.
It also offers a Work & Study course that allows students to finance their studies and to combine professional practice with academic learning.
And unique to Ferrières is PAP – Programme for Accelerated Professionalization. Here, students follow an immersive learning process in Hospitality, Gastronomy and Luxury units, in a real-world context, combining classroom training with immersive experience.
Lenôtre Quai Henri IV, School of Culinary Arts, Paris, France
In the French countryside, just one hour's drive from the center of Paris, in 1971, Gaston Lenôtre set up his first training school. It houses 12 classrooms equipped with professional equipment for bakery, chocolate, pastry making and cooking.
His second campus is a little less conventional: the first cooking school on water. This floating school is a 200 m2flagship sitting on the Seine in the center of Paris, moored at the prestigious Yachts de Paris. It contains two fully equipped modular spaces.
A third campus is due to open in March 2021. The 2,300 m2 Lenôtre School in Rungis will house 13 classrooms, relaxation and dining areas, and a biopony vegetable roof garden, as well as the latest generation equipment all in bright, new buildings.
It is located close to the Cité de la gastronomie, a major development promoting sustainable food and responsible gastronomy that is due to open in 2024.
Clearly a school embracing creativity and innovation, the school's credo is "Learn by doing" and offers certification courses in cooking and pastry-making, advanced workshops for professionals looking to broaden their skills, and tailored support to create value and ensure long-term food service projects.
Leiths School of Food and Wine, London, UK
Set in leafy west London, Leiths is well-placed for the unique access to industry that it boasts. With high quality assurance, the school is a popular industry hiring ground and offers bespoke career support and advice.
The school's professional chef diploma in food and wine is their most comprehensive, professional course for preparing students for any career in the food industry.
With a thorough approach to building timeless culinary techniques, as well as learning progressive industry approaches, the course ensures a rounded portfolio of lifetime skills in food and wine. It also covers useful, practical career skills such as kitchen health and safety, understanding the importance of sustainability, large scale catering, and scaling up for restaurants.
The school houses state-of-the-art kitchens, including equipment found in professional kitchens, and lecture rooms. Teachers are expected to be as passionate about teaching as they are about food and are skilled and experienced teachers and chefs.
The training at the school is grounded in fundamental culinary techniques and supported by practical and theoretical teaching, ensuring a thorough knowledge of the science behind the food. The school offers a wonderful and powerful future network built among the students they meet. With 8 students to 1 teacher, this is a dedicated and intimate learning environment.
Culinary Institute of Barcelona, Spain
A beautiful city, with beautiful architecture, blessed with beautiful food – both Spanish and Catalonian. Barcelona is the capital of the Catalan region, a culture with its very own distinct cuisine.
The CIB takes pride in skills over knowledge, while teaching students to improve, to question, to imagine, and to search for new possibilities, focusing on the emotional rather than the rational and giving students the skills to naturally innovate and adapt to change.
The school boasts a teaching model used in Silicon Valley adapted to international gastronomy to develop a new type of professional who can provide valuable solutions and in which technology, creativity and innovation are key.
With four cooking classrooms – three kitchens and a patisserie workshop equipped with the latest technology, two digitized amphitheaters allowing students to download directly to mobile devices, and four dynamic classroom designed so every student is in the front row, the school provides cookery courses that nurture creativity and innovation and inspire restaurant leaders.
Whether you want to become a chef, have experience and want to specialize, or want focus on management, the school has well designed courses to meet all needs. If you want to "have it all", you can work towards the Gran Chef Diploma.
Students are awarded the Gran Chef Diploma on successful completion of the Haute Cuisine Diploma, a culinary specialism, a management specialism, and six months' internship at one of 100 restaurants linked to the school.
---
Related: The Best Culinary Schools in America