15 Most Popular Serbian Desserts 
Serbia is often described as sitting between the east and the west. The influence of various cultures is noticeable in its history and architecture, and the cuisine. This article will look at the incredible and varied deserts that come from Serbia and its diverse cultural heritage.
1. Krofne (Donuts)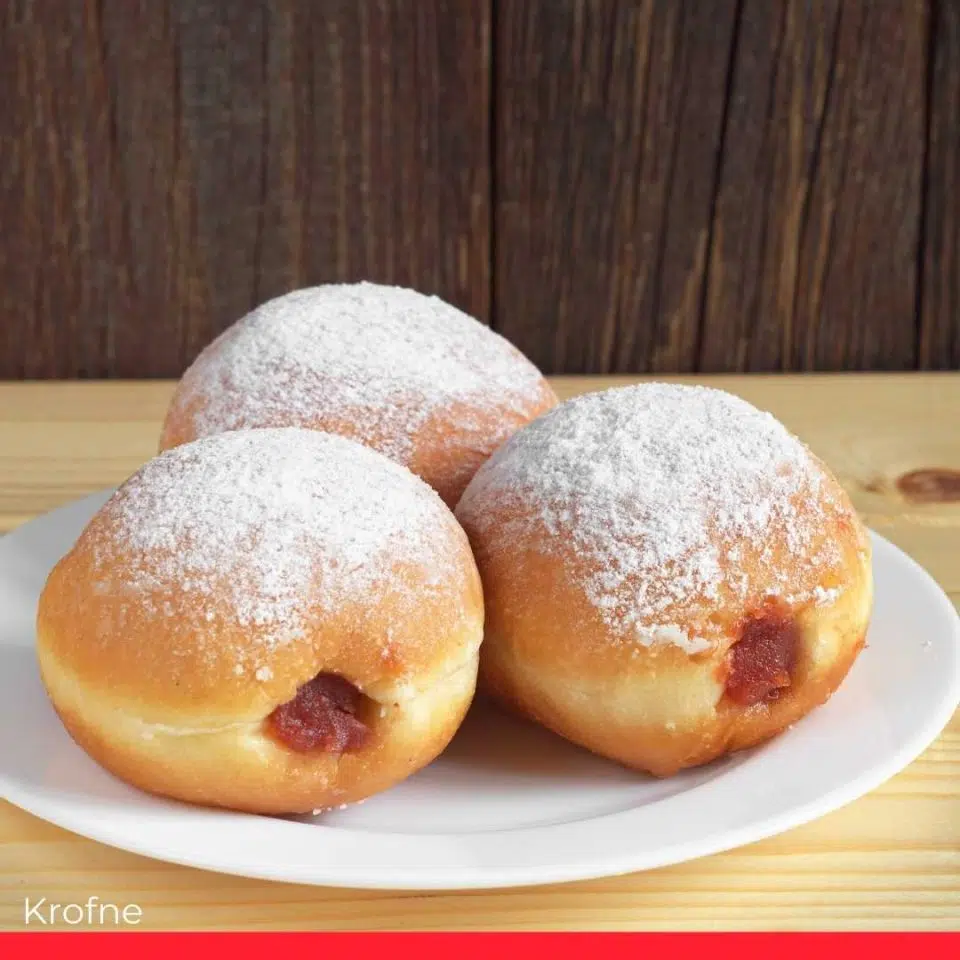 Unlike American donuts, those from Serbia are all round and golden brown. They are made from sourdough that is deep-fried in oil, and if you want to go old school, they should be fried in pig fat.
Krofne can be covered with sugar or filled with jam, usually plum or apricot. But today, you can find them filled with all sorts of sweet delights. Artisans are reinventing the krofna in Serbia.
2. Šnenokle (Eggs in Snow)
Eggs in snow is a favorite all over Serbia. The origin of šnenokle is probably linked with the Austro-Hungarian empire. But the dish is eaten and served regularly in households throughout Serbia.
Šnenokle is made with eggs. The whites are used to make fluffy pillows, and the yolks are used to create a sweet liquid. The pillows float in a golden custard-like pool. This treat is refreshing when served cold and is a staple at Christmas gatherings.
3. Ruske kape (Russian Hat)
This chocolate and desiccated coconut combination is a tasty delight served during the cold winters. As the name suggests, this dessert looks like a tall soldier's hat covered in snow. The center of the dessert is made with a soft and moist chocolate sponge, which is then rolled in the coconut.
The combination of chocolate and coconut is excellent. Each taste helps the other to create a well-balanced dessert. Plus, they are often served in bite-sized pieces so you can enjoy the texture and taste all at once.
4. Oblande (Caramel Waffles)
This dessert is made from a combination of thin, crunchy waffles and a caramel filling that often contains nuts. Oblande can be found on tables throughout the year, mainly because it is delicious and easy to prepare.
A rich caramel cream with nuts goes between each layer of waffle, repeated up to ten times. The result is a layered caramel delight with a waffley crunch. It is often served cut into diamond shapes.
5. Slatko
Slatko, or simply "sweet", is a famous Serbian jam. The difference in how they make it is in how the fruit is treated. Instead of breaking down into an almost liquid state, the fruit for slatko is kept whole. You are eating whole fruit in a sweet and often tangy liquid.
This delight is often made from forest berries gathered from the wild, but you can also find plum and apricot. Also, one of the rarest is made from rose petals. However, you can also find slatko made with watermelon peel by skilled Serbian hands.
Slatko is often eaten at traditional events such as family saint dais. But it is also enjoyed in the morning with a hot cup of coffee.
6. Vasina Torta (Vasa's Cake)
Vasa's cake is a dessert with a story. Supposedly, in the early 1900s, a guy named Vasa took his wife to Vienna to give birth in a better hospital. Upon their departure from Belgrade, his mother-in-law gave him a cake she had made as a sign of gratitude. Simple and sweet!
This dessert consists of a sticky sponge stuffed with a chocolate and orange filling. The fact that the old lady used oranges when she made the cake accents its importance since they were a luxury fruit at the time.
7. Gomboce
Gomboce is a sort of dumpling made from potato dough. After boiling and crushing potatoes, regular wheat flour is added. The two are combined until the dough comes together and can be stretched. This is then filled with whole fruits, jam, or chocolate. The dumplings are rolled into a ball and boiled.
After boiling, they are rolled in breadcrumbs that have been caramelized with sugar. This dessert is mainly served hot. The combination of the filling, dumpling dough, and crunchy bread crumbs is ideal for stimulating all the senses.
Gomboce is traditionally served after a tomato soup made with the leftover dumpling dough and is often eaten as a meal in itself.
8. Lenja Pita sa Višnjama (Old School Cherry Pie)
The lenja pita or lazy pie is a staple in many homes throughout Serbia. This is an easy dessert to make, and it takes less than an hour.
Everything is measured by cup and mixed together. Milk, eggs, oil, flour, and baking powder make a sweet and moist sponge. During the baking, the oven is opened up and sour cherries are added on top. Once back in the oven, it all nicely browns up together. Once chilled, it can be sprinkled with icing sugar and served with tea or coffee.
9. Reforma Torta (Reform Cake)
Reform cake is a decadent, layered, creamy delight enjoyed throughout the year. The cake is made from layers of a walnut-based sponge and a chocolate filling. It is often finished with a layer of chocolate filling or chocolate glaze sprinkled with crushed walnuts.
The cake is believed to have originated after WWII and is often eaten at celebrations and other festivities.
10. Sweet Pies
Pies are a staple dish in Serbia and are eaten throughout the land. You can find many different variations, both sweet and savory. In essence, they are thin-crusted pies made from sourdough. However, the dough is stretched till it is almost translucent, and then it is rolled with whatever filling is preferred.
The result is a many layered crunchy pie. The more usual sweet fillings are apples or sour cherries.
11. Salenjaci (Fat Cakes)
Salenjaci, or fat cake, is a guilty pleasure for many Serbians. Mainly consumed in the north of the country, people throughout Serbia enjoy it.
You could say this is a variation on a Danish pastry. The only difference is that raw pig fat is used instead of butter. That may sound like a deal-breaker, but the end result is wonderful. The dough is layered and pig fat is spread over each one. Then the dough is frozen, and the process is repeated, just like a Danish pastry.
Finally, it is baked with apricot jam and walnuts, and once cooled, icing sugar is sprinkled on top. This dessert is eaten during winter because it so rich and filling.
12. Sourdough Sweet Rolls
This dessert is often eaten as finger food at parties and other celebrations. Basically, they are sweet, sourdough rolls made with jam or chocolate and shaped into a crescent. They are served with a golden-brown crust.
13. Caramel Candy
Caramel candy can be found at various fairs throughout Serbia. It is sold in two forms: hard caramel, often with nuts in it, which is almost translucent and you suck it rather than chew it, and the softer version which comes in two colors, light and dark brown (the dark one being more bitter).
The caramels can be found at special fairs that pop up throughout the year, mostly around saint's days or other public celebrations.
14. Makovnjača (Poppy Cake)
Makovnjača is a poppy strudel that is mainly eaten during the winter. There are two variations of this cake. One is made with a thin and crunchy crust and the other with sourdough. Both types of poppy cake are stuffed with poppy seeds and sugar.
The difference between the two is in the texture. One is crunchier and the other spongier. Regardless, if you love poppy seeds, you will enjoy this dessert.
You can find it in restaurants or during winter fairs in cities throughout Serbia. Also, it is good sprinkled with icing sugar and eaten along with a cup of mulled wine.
15. Vanilice (Little Vanillas)
The last dessert on our list is a popular Serbian Christmas cookie. These bite-sized little vanillas are served during Christmas, it is enjoyed by young and old alike. 
The cookie is made from a dough containing eggs, flour, butter, and vanilla – and no yeast. The dough is rolled out and cut into the size of a large coin.
They are then baked until golden yellow, but not brown, then covered in icing sugar. Two biscuits are stuck together with a layer of apricot jam. They are then chilled and, if you like, sprinkled with more sugar. The little vanillas are served in bite-sized pieces and enjoyed after feasts with the family.
---
Related: Most Popular Serbian Foods
Related: Most Popular Foods in the Balkans
Related: Most Popular Serbian Cheeses
Related: Most Popular Serbian Drinks