12 Most Popular Croatian Desserts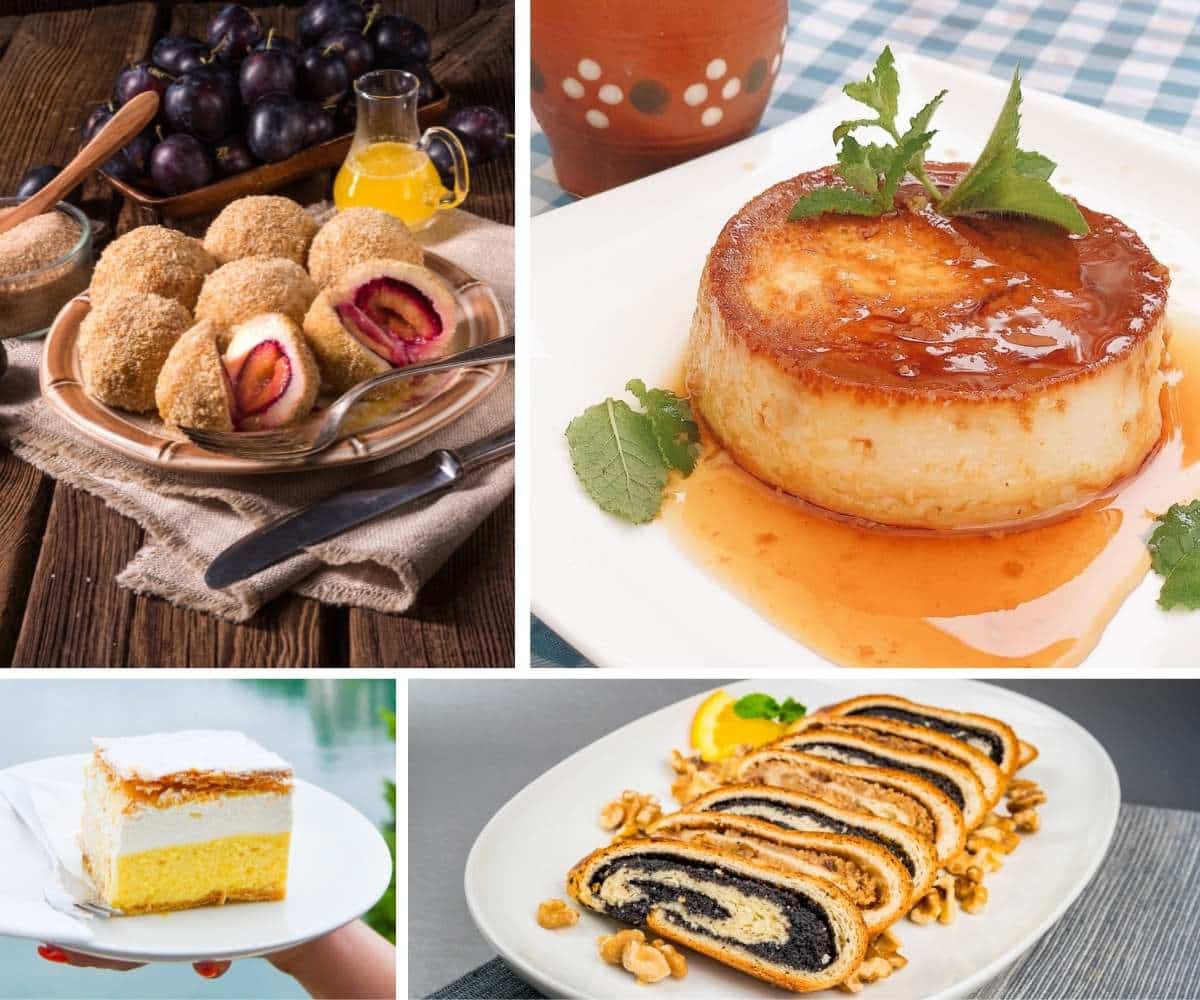 In order to summon the sweet tastes and smells of Croatian cuisine, you have to step far into the past.
The spirit of centuries-old recipes handed down from generation to generation still permeates the Croatian cookbooks. Each part of Croatia is unique and has its own traditional cuisine, but simple, modest, peasant ingredients always come through. The fact that the recipes have not changed for hundreds of years and can still stand alongside contemporary desserts speaks volumes for their quality.
The recipes were always seasonal, which is why it is not surprising that certain desserts were related to religious holidays scch as pinca for Easter, salenjaci, kuglof, and gingerbread for Christmas, or kroštule and pokladnice for carnival.
From Slavonia and Baranja, through Zagorje and Međimurje, to Istria and Dalmatia, Croatia is full of multicultural recipes that invoke the taste of childhood, the smell of grandmother's kitchen, and strong hands withered with age rolling out the dough. Here are some of them.
1. Knedle sa Šljivama (Plum Dumplings)
Boiled potato dough wrapped around freshly picked sweet plums is a favorite homemade dessert you can usually enjoy at the end of summer and the beginning of autumn.
Plumb dumplings are boiled in salted water, fried in lard, and then sprinkled with breadcrumbs and sugar. They are also often made with cottage cheese or apricots.
2. Rapska Torta (Rab Cake)
Legend has it that Rab cake was first baked in 1177 when Pope Alexander III had to shelter on the island of Rab to avoid a shipwreck due to a storm. To show him their respect and devotion, the local nuns prepared Rab cake for him.
The original recipe is located in the monastery of St. Andrew and is written in cursive, but according to legend, it does not contain any measurements for the ingredients.
Recipes for Rab cake are available today, but the ingredients and measurements vary according to season. In the summer, the recipe calls for a smaller number of eggs, while the use of almonds in the winter mandates more eggs because of the cold and low humidity.
The basic rule is that the mixture must be moist, and no one can tell you the right measure; you just have to have a feel for it.
The production process itself is also quite demanding. In the past, almonds used to be ground by hand, but even today, with all the kitchen gadgets available, it still takes a lot of work to roll out the dough, which has to be as thin as paper and rolled into ornamental ringlets. This dessert is hard to make, but it is worth every drop of sweat infused in making it.
3. Salenjaci (Lard Puff Pastry)
These jam-filled cookies/cakes are also known as Croatian pork fat croissants due to one of their main ingredients – lard. They are most often made at pig slaughter time, when the lard is fresh and available to everyone.
They have become less popular these days, especially in the past ten years, due to health concerns as lard is believed to be unhealthy.
Salenjak is also known as a cake with a thousand layers, thanks to the fact that the dough is folded four times. Every household has its own recipe; some make them with yeast, some use milk instead of mineral water, and some replace lard with margarine, which makes them an excellent alternative for vegetarians, though then we call them fake salenjaci.
Even when made with margarine, salenjaci is just as tasty and flakes just as nicely.
4. Kroštule (Deep Fried Dough)
Kroštule are a traditional Dalmatian and Istrian delicacy made of fried sweet dough sprinkled with sugar, usually prepared in February at the time of carnival.
These crunchy treats are made with egg, sugar, and flour, often with the grated rind of lemons or oranges, giving them a lovely refreshing smell.
The dough is quick to make, and when rolled, kruštulas are twisted into knots, deep fried, then sprinkled with sugar while still hot.
5. Orahnjača and Makovnjača (Walnut or Poppy Seed Rolls)
Orahnjača and makovnjača are yeast dough rolls made for Christmas, Easter, or other holidays. Orahnjača is filled with crushed walnuts, milk, and sugar, while makovnjača is filled with a mixture of poppy seeds and raisins soaked in rum.
These rolls are sweet, fragrant, and, what's best, reasonably easy to make, even for beginners.
6. Rožata (Egg Pudding with Caramel)
Rožata is a traditional Dalmatian dessert, a variation of crème caramel or flan. It's an egg cream with caramel made with simple ingredients: milk, eggs, sugar, and a rose liqueur called Rosalin or Rozulin, which gives it a recognizable taste and smell, and is also responsible for its name.
Under the name rozata, this autochthonous dessert of the Dubrovnik region has been proposed for inclusion on the UNESCO list of protected intangible heritage.
7. Skradinska Torta (Skradin Cake)
Skradin cake, whose recipe has been passed down through the generations since the 14th century, has traditionally been prepared for wedding ceremonies in the area of ​​Skradin. The brides would bake it themselves on their wedding night to impress their husbands.
Skradin cake is made from walnuts, almonds, eggs, and chocolate with variations of orange and lemon zest, rose liqueur, maraschino, cinnamon, and vanilla.
It is always covered in chocolate, decorated with almonds or walnuts, and is best enjoyed with a glass of Ambra prosecco.
8. Međimurska Gibanica (Međimurje Layered Cake)
Međimurska gibanica is one of the most famous desserts of northern Croatia. It consists of at least four layers of stretched dough and as many as four different fillings that give this dish a recognizable taste and moistness. It combines the flavors of poppy seeds, cheese, walnuts, and apples.
By today's standards, it is a high-calorie cake, but that is not strange if you bear in mind the fact it hails from Međimurje, a peasant area where work was hard and living even harder.
This meant people had to eat foods that gave them enough energy for the most challenging tasks, and this cake certainly follows such a philosophy. Međimurje gibanica is an example of an imaginative combination of readily available ingredients, which together make the most harmonious results.
9. Samoborske Kremšnite (Vanilla Slice or Custard Slice)
Kremšnite is a dessert that is popular throughout Croatia, hailing from a small town called Samobor, about twenty kilometers from the capital city, Zagreb. They are a combination of cream and layers of puff pastry on the top and bottom lined with whipped cream.
The puff pastry has to stay perfectly crispy, and the cream, made from flour cooked with eggs, milk, and sugar, has to be similar in thickness to fresh pudding, which takes between 12 and 15 minutes of brisk mixing with a whisk.
10. Fritule (Fritters)
These deep-fried crispy delights are made with flour, eggs, dry yeast, warm water, milk, or yogurt, often combined with rum-soaked raisins, lemon, or apples.
They are quite simple to make at home but are a delicious offering of street kiosks, where you can buy them on your way back from a walk or during festivals. In the past, they were eaten only sprinkled with sugar, but today they are eaten with a wide variety of syrups, from chocolate and caramel to forest fruits.
11. Zlevanka (Sweet Corn Pie)
Zlevanka is a traditional dessert of northern Croatia, popular in Zagorje, Međimurje, and Podravina. Zlevanka varies depending on the part of the country, but the one common ingredient is corn flour, to which wheat flour or semolina is sometimes added. Although zlevanka can be savory, it is most often baked sweet with the addition of sweetened milk.
Some recipes don't give any measurements; they just state that the amount of ingredients depends on the feeling and the available material. In fact it is said that a real zlevanka is made without measuring and that your heart should guide your hand.
12. Licitarsko Srce (Licitar Heart)
In the northern part of Croatia, Zagorje, cookies have served as an inspiration for making toys and souvenirs made out of the sturdiest of materials: gingerbread.
They are baked in the shape of a heart, cherry, porcini mushroom, horseshoe, and babies and are richly decorated, most often in red and white. Licitarska srca are given as a pledge of love, sold as memories all over Croatia, used as Christmas tree ornaments, and, since 2010, are included in the UNESCO list of intangible heritage.
From yeast dough and dumplings to fritters, Croatian cuisine is diverse. Based on tradition and recipes passed down from generation to generation, Croatian cakes are a source of heritage. Elegant in their simplicity, they capture the palate and hearts of all those who try them.
Taste some of the delicacies from the list yourself, and we guarantee that you, too, will become a lover of Croatian desserts.
---
Related: Most Popular Croatian Foods