7 Great Almond Flour (Meal) Substitutes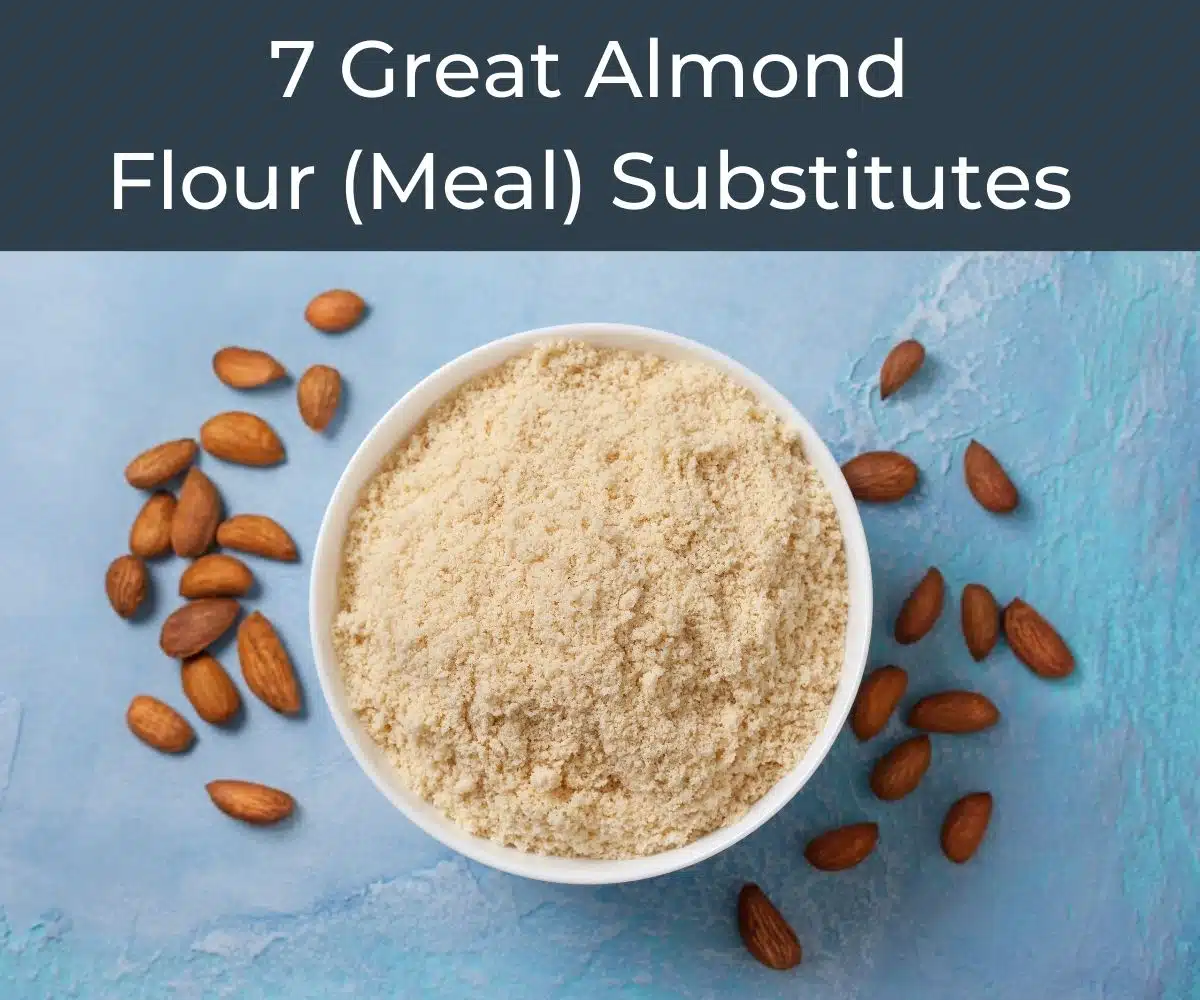 Almond flour (or almond meal, as it is sometimes known) is made from finely ground raw, peeled almonds. It is slightly sweet and makes delicious, gluten-free baked goods! High in nutrients, especially fiber and protein, almond flour is a great alternative to any flour!
Almond flour is popular in gluten-free baking because it produces soft baked goods. In vegan communities, it is prized for its high protein and in keto baking circles, it is well known for being the low-carb flour of choice.
All around, it is an excellent product that many people trust. The downside of almond flour is that it can be quite expensive – much more expensive than regular flour – and it is of course not suitable for anyone with a nut allergy.
Almond flour can be found in most stores, and especially in health-food stores, but if you can't find an almond meal, it is super easy to make your own! All you need is a high-power blender or a nut mill. You'll need raw, peeled almonds (whole or slivered, slivered are a bit easier to work with!) and then pulse them in a food processor or blender until they are very fine. That's it!
You can store this flour in the fridge for a longer shelf life, or use it right away. If you can't find almonds or don't want to go on the adventure of making your own, here are some other great ideas to use in place of almond meal.
1. White or All-purpose Flour
All-purpose flour can be used in a 1:1 ratio to almond flour in most recipes. The best benefit of all-purpose flour is that it can be found in pretty much any grocery store for a reasonable price!
All-purpose flour is probably the closest substitute on this list, but many people don't like to use it because it is stripped of all the nutritional qualities of whole wheat, which is something to consider depending on your needs. It also contains gluten, so it may not be suitable for everyone.
2. Cashew Nut Flour
If you think almond flour is fancy or rich, wait till you try cashew flour! It can be made in the exact same way as almond flour, but make sure you use dry, raw, unsalted cashews. They may need to be dried out before using because cashews are super high in fat, much higher than almonds.
Cashew flour will have a distinct cashew flavor, which, if you're anything like most of the world, you will absolutely love! This option is also gluten-free and contains nuts (of course!) so keep this in mind.
The only downside we can see with this option is that cashews are one of the most expensive nuts there is, making this one a pricey option.
3. Pecan Flour
Another awesome almond meal alternative, pecan flour is becoming more popular for its superior flavor! When peeled and ground, pecans offer an amazing flavor and incredible nutritional qualities! But why stop at pecans?
You can make an almond flour substitute that you can use 1:1 with just about any nut, or any combination of nuts, including but not limited to hazelnuts, brazil nuts, walnuts, and more.
The only things to be mindful of are those folks with nut allergies and the higher cost of nuts. Using nuts will definitely increase the cost of your recipe, even if you make these nut-based flours at home.
4. Sunflower Seed Flour
A great alternative to those expensive nut-based flours is a seed-based flour, because seeds have a lot of the same nutrition qualities but are much less expensive. Sunflower seeds can be bought in bulk and ground into a fine flour that can certainly be used in place of almond flour, but truthfully, you can use most seeds!
Pumpkin seeds also work great, as well as flax! It is important to note that almond meal is fairly light in color whereas sunflower seed flour will be dark and even slightly green. This may impact your final recipe.
Also, these seeds have a stronger flavor than almonds so anything you're making won't be quite as neutral in flavor. If you need a neutral flavor, it may be better to select a plain flour from this list instead. But if you're game to try something a little different, give a homemade (or store-bought) seed flour a go!
5. Cassava Flour or Tapioca Starch
Tapioca flour, sometimes called tapioca starch or tapioca powder, is made from the starchy part of a cassava root and is used as a flour or thickener.
It is a staple food in India, South East Asia and the Caribbean a, providing the main source of protein and other nutrients. In its powdered form, it is bright white and very finely ground and probably most closely resembles cornstarch. It is relatively affordable and easy to find.
Cassava flour uses the whole root and is fairly close in texture to almond flour. The only thing to note about these two options is that almond flour can be used and eaten raw, whereas tapioca and cassava flours need to be fully cooked. If you're looking for a raw option, we suggest coconut flour (see below.)
6. Coconut Flour
Coconut flour is ground, dried coconut meat, and like almond flour, is very popular in certain diets because most people can consume coconut flour.
It is suitable for anyone who is vegan, gluten-free, low-carb, keto, or just about anything else. It does not contain any of the main allergens of soy, corn, or nuts, and is very low in sugar and carbs.
It is used in baked goods, but also to thicken sauces and other recipes. Coconut flour is a versatile flour but tends to be quite expensive. It is becoming more popular as plant-based and keto diets become more popular, but it can still be tricky to find in some areas. It can be consumed raw, like almond meal, and makes a very close substitute for almond flour in most recipes.
7. Oat Flour
Like almond meal, oat flour is nutrient dense while being gluten-free. It is easy to make at home by simply grinding rolled oats in a food processor until they are quite fine, and will add nutritional value to even the most decadent of baked goods.
We highly recommend giving oat flour a try! Like almond flour, oat flour is very affordable and versatile, along with being easy to make at home if you cannot find it in the store.
---
Almond meal is such an excellent flour option for anyone with allergies (other than nut allergies!) and makes tender, delicious, nutritious baked goods. It can be used in cookies, cakes, doughnuts, or just about any baked good, either on its own or in combination with any of the flours on this list.
Any of these alternatives listed here will work well, especially coconut flour which is probably your best bet. Cashew or other nut flours will also work well and if you're feeling adventurous, feel free to make your own homemade seed flour or oat flour and give it a whirl!