16 Popular Indian Breakfast Foods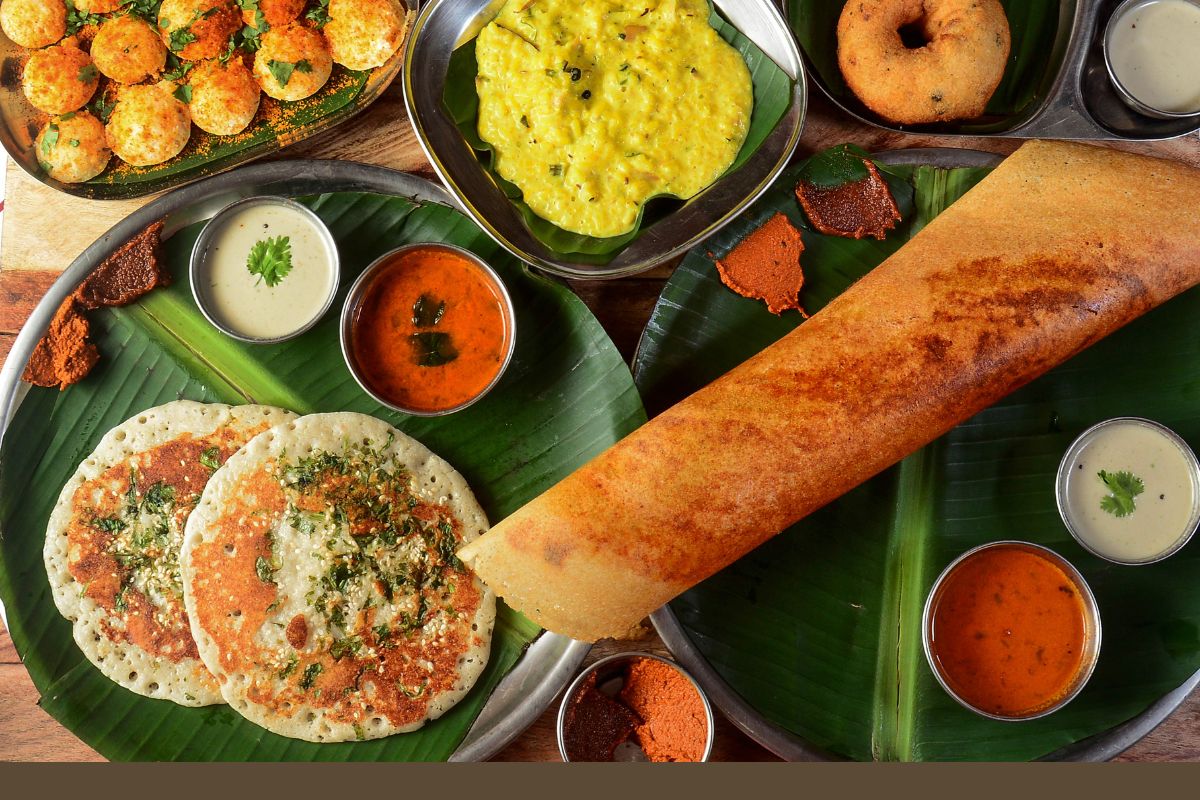 India is known for its rich, colorful and vibrant cuisine. What is less know is the importance of breakfast, and every state in India has its own variation of breakfast dishes. The Western perception of Indian food is that it is heavily spiced dishes paired with copious amounts of oil and butter.
This is far from the truth, in fact, as the traditional Indian philosophy on food is that it is about nourishment for the body and mind, which is what makes breakfast, the first meal of the day, so important.
Lets take a look at the diverse tasty, healthy Indian breakfast options that various parts of the country have to offer.
1. Poha from Maharashtra
Poha is a staple breakfast dish in Maharashtra and is a popular breakfast dish in the streets of Mumbai. It is made from flattened rice and is very easy to prepare. The dish is flavored with mustard seeds, curry leaves, green chilies, onions and peanuts. It's a light and healthy breakfast option.
The poha is first soaked in water and a tempering of the ingredients above is added to hot oil. When the aromas from the ingredients are released, the soaked poha is topped and mixed. Turmeric powder, hing, green chilies, peanuts and desiccated coconut are added to give it a final garnish. It is served with a curd and mint chutney.
Variants are locally known as kanda poha (with onions) and kanda batata poha (with onions and potatoes).
2. Dosa from South India
Dosa is a popular breakfast dish in South India. It is a thin crepe made with a fermented batter of rice and urad dal. The batter is spread thin on a tava and served with chutney, sambar and potato filling. It is a filling and delicious breakfast option.
The humble dosa has been transformed into a variety of avatars: some prefer grated cheese and butter, others prefer stewed chicken in coconut milk. But the most tradtiional combination of this irresistible delicacy is a pairing of sambar and coconut chutney. Samabar is a lentil stew seasoned with whole spices and a medley of vegetables including potatoes, onions, tomatoes, beans etc.
My personal favorite would have to be the gun powder dosa, a crispy dosa topped with a fiery mix of roasted lentil and nut powder seasoned with chilies, garlic and hing. Dosa can be found all across the country but the best cities to try them out would include, Bangalore, Chennai, Mysore, Udupi, Madurai, Salem.
3. Aloo Paratha from Punjab
Aloo Paratha makes breakfast across North India very tasty. Most of North India is suited to cultivating wheat, hence this dish is popular across the Gangetic planes. It is a simple wheat flour based flatbread stuffed with a spicy potato filling. The paratha is cooked on a tava and served with yogurt, pickle and butter. It is a filling breakfast option and perfect for a cold winter morning.
Modern variations include cottage cheese, shredded cauliflower and a mix of other toppings. In fact, the paratha is a blank canvas for the chef's creativity. Butter or ghee is always served as an accompaniment along with a spicy yogurt and fresh mint chutney. The parathas are thick and hearty and are the perfect carb packed dish for a hard day of physical work.
4. Misal Pav from Pune, Maharashtra
Misal pav is a spicy breakfast dish originating from Maharashtra. The dish dates back to the 17th century and is attributed to street vendors in Pune who increased its popularity by serving it as a staple for the working classes.
It is made from sprouted moth beans (a variety of lentils similar to green moong dal) and mixed with a fiery roast and ground spice mix. It is served with pav, also known as a bread roll, and topped with onions, coriander and sev (chickpea flour blended with salt and seasonings and deep fried into crispy bits).
It is the perfect breakfast dish for spice lovers and is packed with fiber, carbs and protein, so it makes a great start to your day. The pav is usually toasted with butter, making it even more tempting.
5. Puri Sabzi/Puri Halva from North India
Puri sabzi is an all-time favorite breakfast dish from North India. It can be found widely in the wheat cultivating belt and is a staple for most households. The dish consists of deep-fried bread made with whole wheat flour and served with a spicy potato curry, known as aloo sabzi.
The sabzi, or palya as its known down south, is made with a tempering of green chili, onions, turmeric, ginger, mustard seeds, and curry leaves.
The dish is usually accompanied with a sweet semolina pudding known as halwa. The halwa is seasoned with cardamom powder, saffron, ghee and jaggery and topped with slivers of almonds and pistachios. It is a heavy breakfast dish but perfect for a lazy Sunday morning. It can be found on most street side eateries that offer it freshly made early in the mornings.
6. Idli from Tamil Nadu, Karnataka & Andhra
Idli is another popular breakfast dish from South India. With its origins being contested between the states of Tamil Nadu and Katakana, modern day research suggests the dish could have been influenced by Indonesian traditions.
It is a steamed cake made with fermented rice and urad dal (white lentils) batter. The variety of rice used is similar to Arborio or risotto rice. It is served with a ground paste chutney consisting of fresh coconut, green chilies, ginger, and roasted chickpeas, plus sambar, a lentil soup with vegetables and spices. Idlis are light, fluffy, and easy to digest, making them a healthy breakfast option.
Variations of this dish include stuffed idlis, idlis made with semolina, and idlis made with a batter of millet and lentils. Not only delicious, it is definitely considered one of the most pocket-friendly breakfast options.
7. Chole Bhature from Punjab & Delhi
Chole bhature is a famous breakfast dish from Punjab and its neighboring regions, including the national capital of Delhi in North India. It consists of spicy chickpeas (chole) stewed with a medley of spices in a creamy rich sauce and served with deep-fried bread (bhature) similar to puri.
The dish is usually accompanied by pickles and onions. It's a heavy breakfast dish but perfect for those who love spicy food. It is a well balanced dish of carbs, protein, vitamins, minerals and fiber. The perfect accompaniment for this dish is a thick glass of lassi, a sweetened yogurt based smoothie.
8. Upma from Udupi, Karnataka
Upma is a savory porridge-like dish that originated in South India. It's made with semolina, vegetables, and spices. Upma can be eaten plain or with chutney or pickle on the side. It's a quick and easy breakfast option that's also light on the stomach.
Semolina was introduced to the subcontinent by the British as an attempt to curb famines that rocked the country during the early part of the 20th century. The dish is very mildly flavored with aromatics such as ginger, curry leaves, mustard seeds, and ghee to give the dish a delicate yet profound flavor. A mix of carrots, beans, and peas is also added to make the dish more nutritious.
A sweeter version is pineapple kesari, a similar semolina porridge seasoned with freshly chopped pineapple, jaggery, cardamom powder, and cloves. A combination of the savory upma and sweet keasri is popularly know as chow-chow bath in Karnataka. It is best enjoyed with a hot cup of filter coffee freshly brewed to perfection and topped with creamy milk.
9. Kachori & Jelebi from Varnasi, Uttar Pradesh
These fluffy deep fried kachoris are stuffed with a savory mix of cumin, mashed green moong dal, and hing and are usually served with a potato stew. Delicate on the palette and the tummy, kachoris have reached cult status and become as important as taking a dip in the Holy Ganges.
This mix of savory kachori and warm, sweet, freshly made jelebis is a match made in heaven, and coming from the holy city of Varnasi is testament to that.
Though heavy on carbs, fats, and sugars, this is a treat for the senses and is well worth the calories when you consider the energy required to traverse the meandering paths of the holy city when visiting temples and ghats.
Jelebis are made from a batter of refined flour and baking soda, which is deep fried over a low flame and seasoned with saffron-flavored sugar syrup to give it the iconic saffron hue and glossy texture we have all come to know and love. The Ram Bhandar, located a stones throw from the famous Manikarnika Ghat, is over 150 years old and is one of the most beloved breakfast spots in the city.
10. Akuri & Toast from Mumbai, Maharastra
India has a sizeable community of Parsis living across the country who belong to the Zoroastrian religion. This community originally hailed from Persia, now Iran, and fled to India after the Arab conquered their country. Fully integrated with the local population, they have shared their culinary traditions and adopted local ones to give rise to a unique fusion of food.
Their cuisine is best portrayed in the Irani cafes of Bombay, which still have an old world feel to them and welcome you with the charm and splendor of bygone eras.
Akuri is a creamy egg dish, similar to scrambled eggs, seasoned with cumin garlic onions cilantro salt and turmeric. It is cooked to a runny, creamy texture and served hot with a side of buttered toast or pav. It must never be overcooked and must has a glossy finish when served table side.
11. Appam and Stew from Kerala
This is one of the most famous breakfast combos from the state of Kerala. It pairs crisp and fluffy rice hoppers with a creamy delicate aromatic stew made from freshly squeezed coconut milk and either lamb or chicken for protein. For added fiber and vitamins, root vegetables such as carrots and potatoes may be be used, topped with a starchy mix of green peas and beans to round it off.
The go to choice of aromatics for seasoning this light stew is fresh slivers of ginger, cracked black pepper corns, curry leaf, cinnamon, green cardamom, and lightly crushed fennel seeds tempered in virgin coconut oil.
Delicate in flavor and packed with aromatics, this is a popular dish in most Syrian Catholic households in Kerala and can also be found on most breakfast menus.
Light pink meat such as chicken and lamb complement the flavor of the stew, making it an unforgettable experience anyone who tries it.
12. Banana Buns from Mangalore, Karnataka
Mildly sweet with a hint of cumin and a wonderfully rich aroma of banana come together to form the delight of this fluffy, deep fried bread. It is a traditional delicacy from coastal regions of Karnataka and is popularly known as a Mangalore bun across other parts of the state.
It is usually accompanied with a spicy coconut and green chili chutney and grated coconut combined with ghee and crushed palm sugar.
It is an absolute delight and is best enjoyed when still hot. It is a quick and easy breakfast option and is the perfect way to utilize overripe bananas. Variations of the classic recipe include a mix of sorghum and finger millet blended with jaggery. Though they are commonly referred to as buns they are similar to pooris, but a tad thicker, made with a naturally leavened dough.
13. Ros Omelette and Pav from Goa
A popular treat in the markets of Goa, this is a humble yet satisfying delight at any time of the day. The dish combines a thin silky omelet with a spicy, creamy chicken xaccuti curry served alongside a rustic whole wheat Goan Poe.
The thin omelet is fried in a flat skillet and then topped with freshly chopped onions, cilantro, and chilis. The chicken xaccuti is a creamy coconut-based curry made with a blend of roasted ground spices, and the aromatic and spicy gravy makes for a perfect combo.
Scoop it all up with a warm poe (traditional whole wheat Goan bread coated with wheat bran) and loose yourself to a medley of flavors.
Sandeep's Gaddo, a store in Garcia de Orta garden near the Panjim Church, is one of the oldest and most famous places to try this quintessential Goan treat.
14. Puttu and Kadalay Curry from Kerala
A traditionally Nadan dish, this originated in the rice paddies of Kerala. Known for their ingenuity in using rice, this recipe requires a variety of coarse, roasted rice flour.
The flour is combine with salt and grated coconut, packed into cylindrical steamer mold, then steamed for 20 minutes. This process infuses the flavor of freshly desiccated coconut into the steamed rice flour.
The curry to accompany the puttu consists of black chickpeas cooked in a rich and spicy curry thickened with coconut milk. The consistency of the curry is thinner than most chickpea curries from the North, which helps to moisten the relatively dry puttu.
The curry is flavored with a mix of roast and ground whole spices tempered with shallots, chilis, ginger, garlic, and curry leaves. The perfect way to complete this divine combo is to pair it with a large glass of chai and a ripe banana.
The banana is mashed into the puttu and then topped with the chickpea curry. The glass of chai helps to to wash it all down.
15. Pesarattu from Telanga and Andhra
Green moong dal is soaked overnight before being combined with a mix of whole spices. Mixed into a smooth batter, it is then thinly poured into a cast iron skillet. This forms a think crepe with a fluffy center, rather different to a dosa, as a dosa is a naturally fermented leavened batter with a fermented flavor tone to it, while the pesarattu is sweeter.
It is served with a traditional ginger chutney known as allam pachadi and a coconut chutney. Some regions in the Telugu speaking parts of the country also stuff the pesarattu with upma (savory semolina porridge). The crepe itself is fresh, earthy and aromatic, making it a refreshing break from traditional dosas.
A similar dish known as cheela is prepared in the North. This is crispier in texture but consists of similar ingredients.
16. Bise Bele Bath from Mysore, Karnataka
Originating from the royal courts of Mysore, this dish is a beloved breakfast recipe throughout Karnataka. The name literally translates as hot, sweet and tangy porridge. A combination of red chilis, lentils, jaggery, and tamarind form the base of this wholesome dish.
Similar to a North Indian Khichdi in consistency, the base of the dish is overcooked rice that is mashed into a thick porridge-like form. The rice and lentil mix is cooked, till mash-able, with a medley of seasonings which give it a unique flavor. It is served with boondi, a savory, spicy chickpea flour caviar fried till crisp, and freshly ground green chili and coconut chutney.
Peanuts, cashews and raisins are added to enrich the porridge, which speaks to its origin as a dish served to the royals.
---
Related: Most Famous 50 Indian Desserts
Related: Most Popular Indian Snacks
Related: 20 Popular Indian Curries
Related: 15 Popular Indian Christmas Foods