Top 15 Most Popular Foods in Togo
Togo is a small West African country, located between Ghana in the west, Benin in the east, and Burkina-Faso in the north. Colonized by the French in the 1900s after they seized control over the territory from the Germans during World War One, today it has 8.6 million inhabitants.
It's a beautiful green country, with a tropical climate and three major seasons divided into two monsoons and one dry season and with an abundance of fruits, vegetables, and medical herbs growing all year long in quantity, quality, and variety.
The country has a high population of traditional farmers and traders, two of the main providers of the country's rich organic supply of food and vegetables for national consumption and international exportation. The most-exported Togolese products that you can find in Europe are coffee, cacao, avocado, soya beans, and exotic fruits and vegetables.
These are the top 15 most popular Togolese dishes that are both unique and diverse in taste, smell, and overall sensory experience. These mouth-watering dishes will leave you with an experience that's worthwhile, and if you're into hot and spicy food, then you'll love some of these dishes.
1. Akoume – La Pâte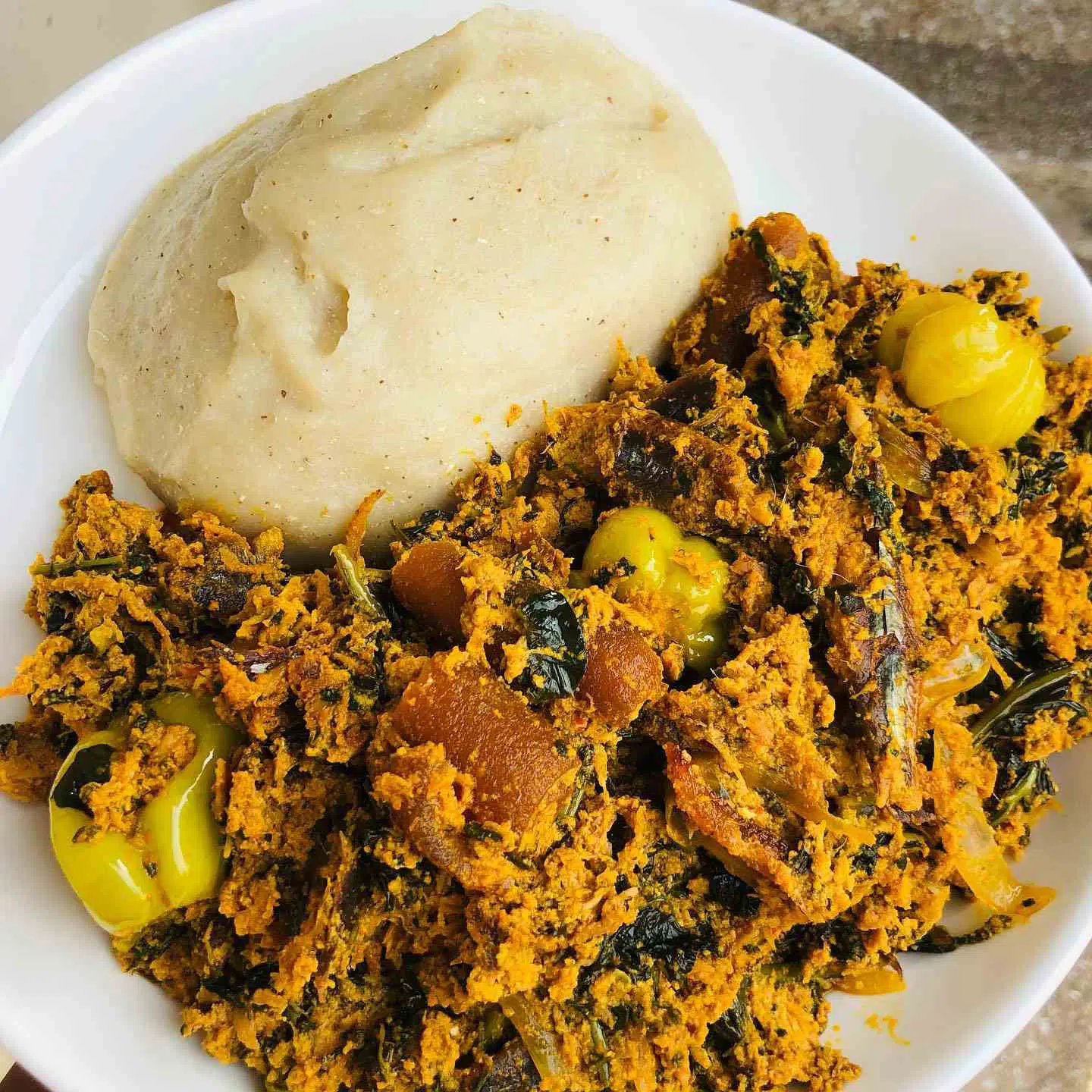 Togolese people have a great love for this dish, and it is a huge part of the culinary culture, as it actually forms the base of Togolese cuisine and is the most appreciated food in Togo.
The dough is prepared in two different ways. It is either made from millet and corn, similar to the Burkinabe dish Tô (porridge made from millet or sorghum flour), or it is made from soaked fermented flour (émakoume).
Akoume is often served with a sauce. There is a variety of sauces that go with this dish, some of which are adémè, gboma, ébéssési, and dékoudessi. The sauces are made from a wonderful blend of fresh ingredients, such as tomatoes, peppers, onions, herbs, and spices. Akoume with these flavorful sauces is definitely a must-try dish for anyone.
2. Fufu
Fufu is a staple yam, cassava, or plantain paste. It is pounded in a mortar, but with the arrival of Foufoumix, which is a Togolese invention, many people have abandoned their mortars. Fufu is accompanied by a clear sauce or a peanut sauce, with fish, beef, or chicken.
It is the most typical dish of Togo. In family or street food, fufu is everywhere, with a big variety of sauces. And if you want a traveling secret: when looking for good fufu, follow the sound of the mortar. Most of the time, you'll find two or three women pounding together in a perfect rhythm. It's the recipe for a nice moment and good fufu.
Editor's Note: Fufu is a popular dish in neighboring Ghana, Nigeria, and throughout Western Africa.
3. Ayimolou
One of the daily dishes that Togolese people love, it's rice and beans cooked together, with a tomato sauce added on top. This dish is generally shared on one big plate. Be careful, though, if you don't eat pepper! The tomato sauce added on top of the dish may contain spices. In many Togolese cuisines, peppers are commonly used to add some heat to the meals.
4. Djenkoumé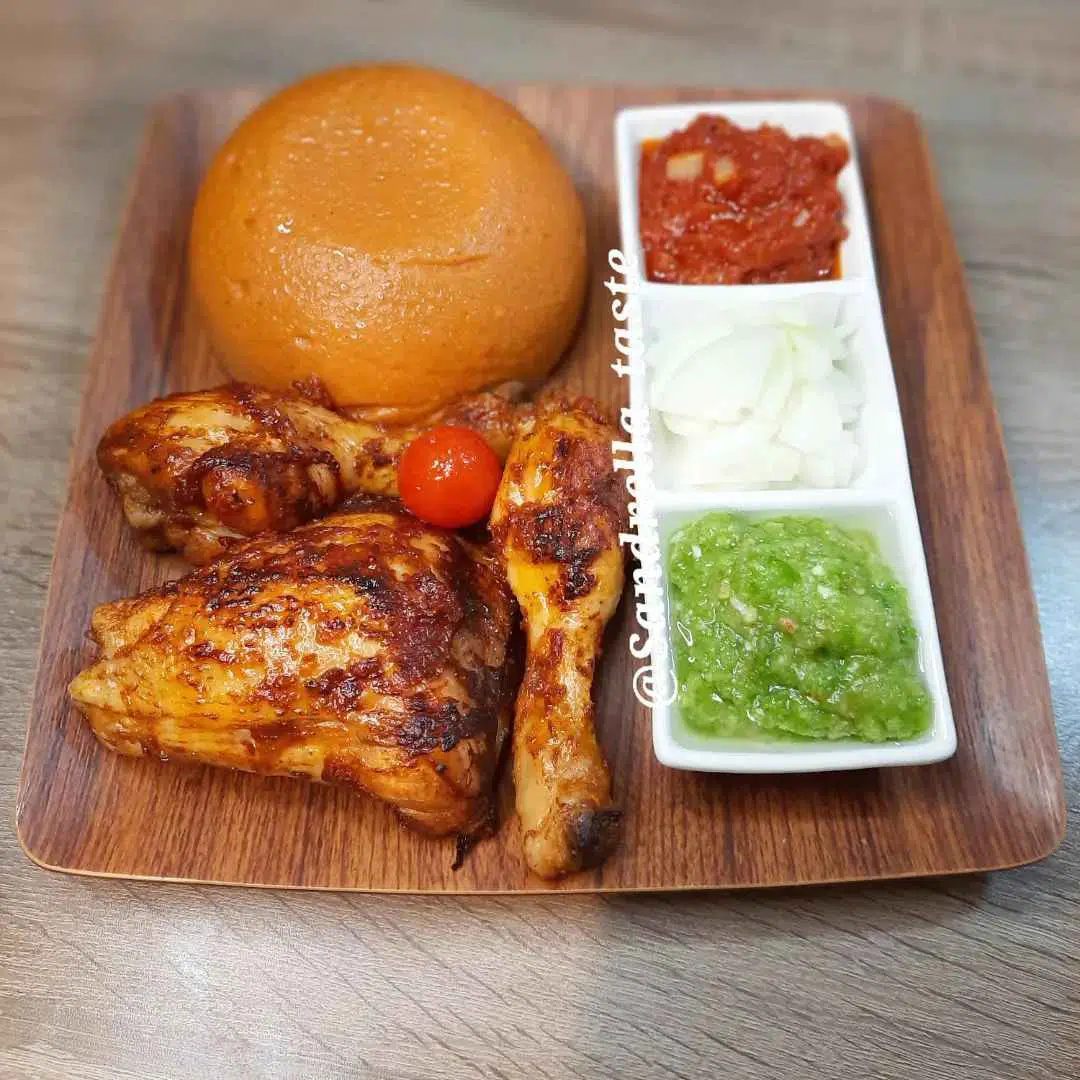 Djenkoumé is a traditional torrefied corn dough with tomato, garlic, ginger, and local red palm oil. It's recommended to mix it with grilled chicken. It has a thick consistency and is also called cornmeal cake.
Corn is a much-loved and widely used ingredient in Togolese cuisine because it's easy to find locally and can be used in many different ways. It's a key part of everyday meals, providing lots of tasty cooking options.
5. Pinon
Pinon is one of the most popular dishes in Togo. It's made out of gari, which is cassava flour. It's a mix of a lot of flavors such as ginger, bay leaves, garlic, pepper, and onion. It can be cooked white or red if tomatoes are added. Then, it's added to boiled meat, generally goat or pork.
6. Kom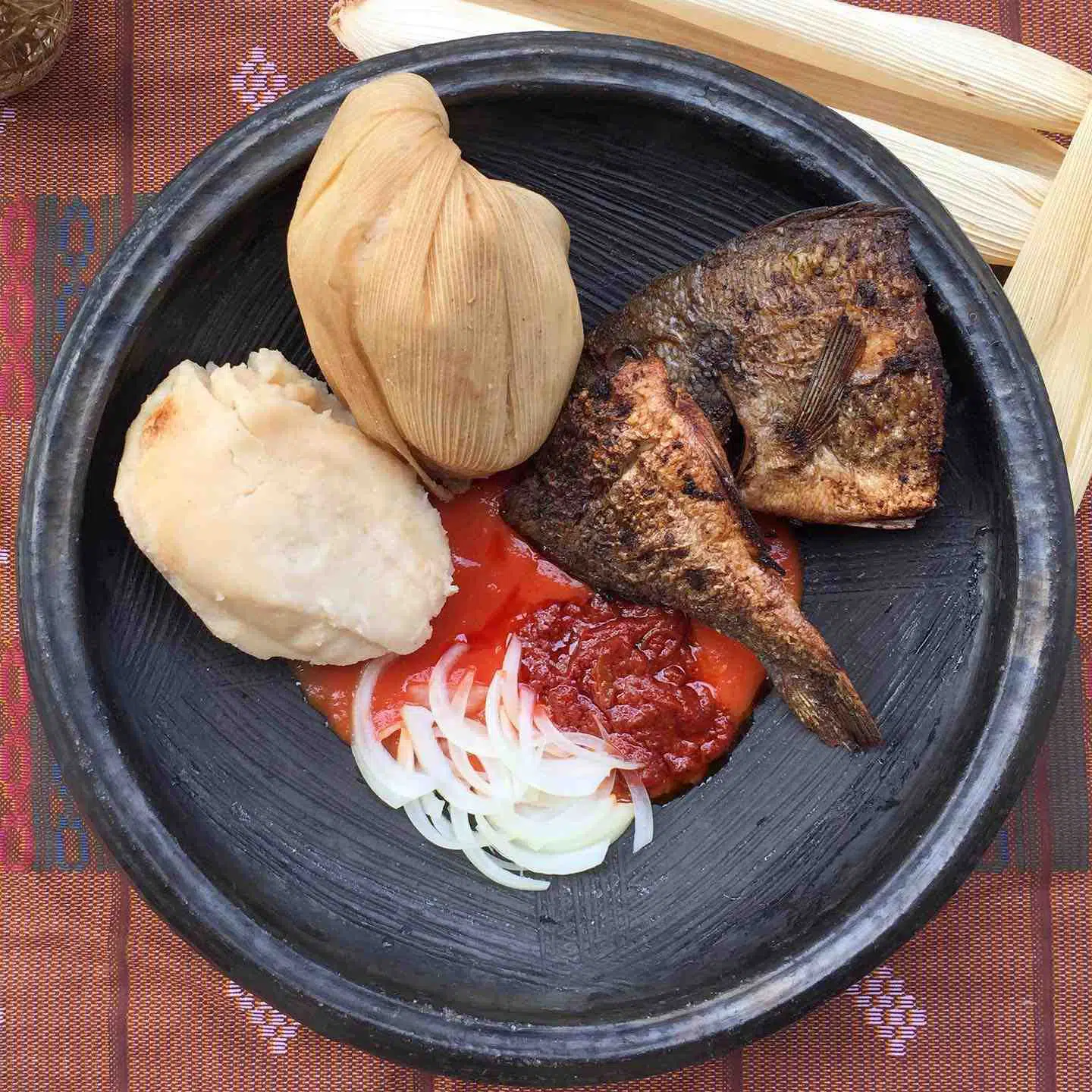 Kom is a specific dish of Togo. Deliciously spicy, it demands a specific cooking technique. The corn flour that is used to make Kom has to be cooked using steam. The Togolese mix of tomatoes, onions, and pepper adds an amazingly tasty flavor to the dish, and it pairs perfectly with fried fish.
7. Ablo
To prepare Ablo you need to use fermented corn flour. Use steam to cook it and make little pancakes from it. The texture of Ablo is light and fluffy, almost like a cloud on your tongue! It is usually served with different vegetable sauces.
As with Kom (above), it's not an easy dish to prepare, but the dexterity of Togolese chefs is very impressive. Ablo is a favorite dish during gatherings and celebrations, bringing people together to enjoy its delicious taste and appreciate the skill of Togolese chefs.
8. Gboma Dessi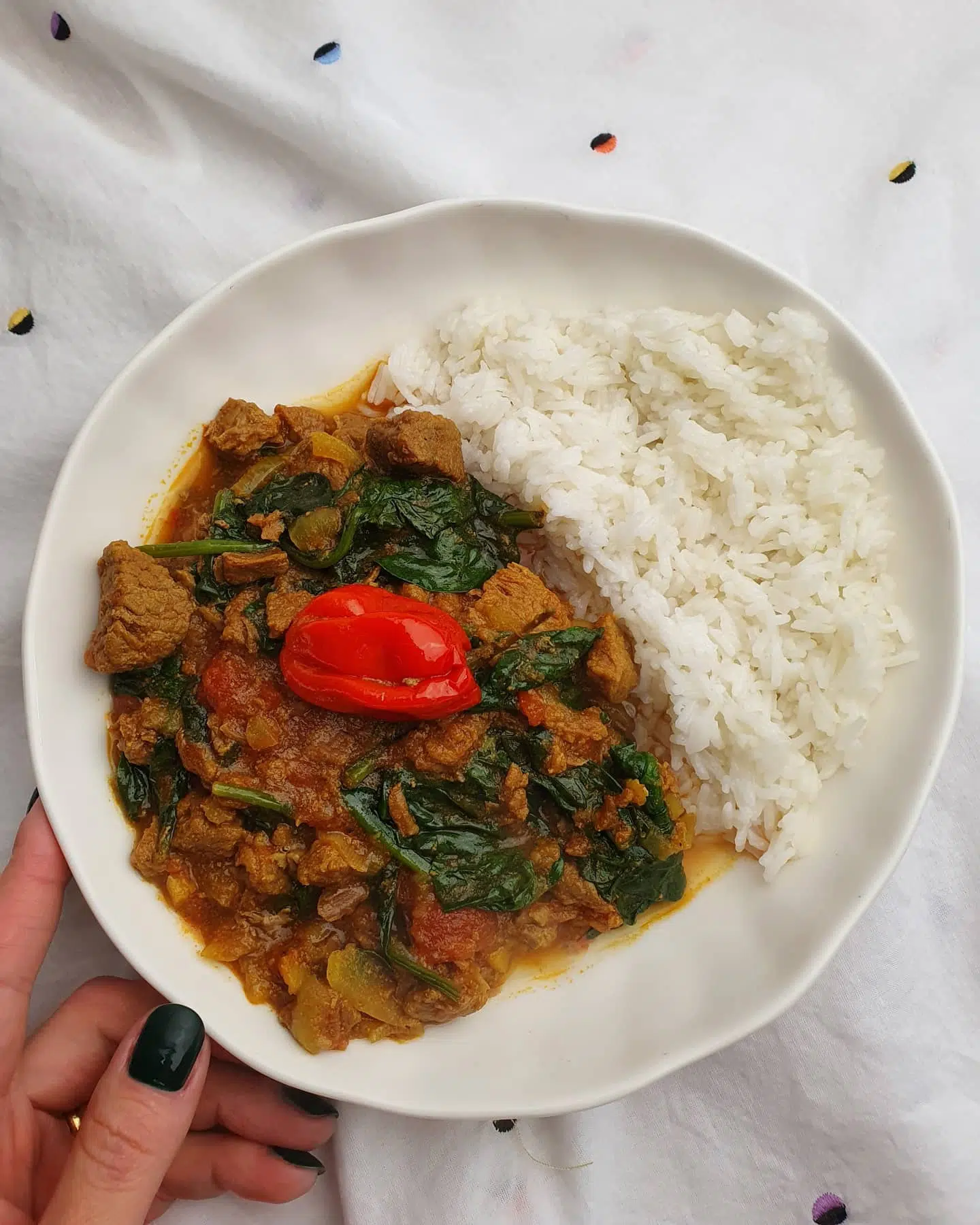 If you have the chance to try Gboma Dessi, don't miss it! This spinach sauce is fantastic. From the moment you taste Gboma Dessi, it feels like you're experiencing a burst of all the flavors you need at once. It's so satisfying that planning to eat only half of the meal wouldn't be possible – you'll want to enjoy every last bite!
It's mostly served with seafood, smoked fish, or shrimp cooked in tomato sauce, but it can also be eaten with beef.
9. Akpan
Desserts in Togo are not really a thing, unlike in Western cultures. Togolese desserts mostly consist of fresh tropical fruits such as pineapple, banana, or mango.
However, if you happen to walk along any of the streets in a city or village, you're likely to encounter what looks like frozen milk in small transparent sachets. Known as Akpan or Akassa, it actually contains a type of fermented maize yogurt enjoyed both in Togo and Benin.
Akpan is made by combining fermented corn kernels or powder made from it with condensed milk, and it is either refrigerated or cooled with ice in a bowl after being poured into the sachet.
To enjoy it, Togolese people simply make a tear in the plastic of the sachet with their teeth and suck the akpan directly into their mouths, but you can pour it into a glass or serve it in a bowl.
10. Groundnut Soup
The groundnut (peanut) is a staple crop in Togo that is used to make a variety of traditional dishes. One of the most common of them is Groundnut Soup.
It is made with groundnut that has been ground into a paste-like peanut butter (the main ingredient and primary taste); the soup also contains a powerful and pungent infusion of uziza seeds (also called Piper Guineense in English) and bitter leaf (this is similar to spinach), with a slight bitterness to its taste.
The soup gets an even stronger taste from the addition of fresh ginger, which is complemented by other ingredients that include onion, tomatoes, eggplant, and okra. Left to infuse and simmer, the soup becomes rich and potent with all of these flavors.
11. Gawu
Gawu is a savory donut or fritter made from beans that have been ground. The beans are mixed with tomato, pepper, onions, and different spices, depending on the desired taste you're trying to achieve when you make it yourself, but regularly when it's sold commercially on the streets, fewer ingredients are added before being ground into a paste.
The paste is seasoned with salt, then shaped into flattened spheres and deep-fried in oil. Traditionally, this would have been the native palm oil with its red tinge. It is believed that "Gawu," which was originally called Akara, developed among the Yoruba people of Nigeria before spreading across West Africa.
Among the people of the Yoruba tribe in Nigeria, akara had a symbolic role in mourning the death of an elder and as a sign of victory in battle. Popular at breakfast, this is when you'll find akara at their freshest, although they are cooked throughout the day as a snack food, too.
12. Palm Fruit Soup (Deku Dessi)
Palm fruit soup, also known in the Togo Ewe language as "Deku Dessi," is a popular African soup. The soup is made from the juice of pounded palm fruit. The recipe and style of preparation vary depending on the region, culture, family, person, and taste.
Originally, palm fruit soup was made from the juice extracted from cooked and pounded palm nut fruit called "Deku" in the Ewe language.
The palm fruits are first cooked until the outer skins are really soft and tender. After that, the whole fruits are then gently pounded in a special mortar to separate the flesh from the nut. When well pounded, it is then sieved to separate the skin and fiber from the nut inside; the juice extracted is then used to make the paste that is used to make this palm fruit soup.
The fibrous part left after straining is discarded or dried and used as a fire starter. Nuts can be cracked and eaten as a snack or used to produce palm kernel oil. Palm fruit soup can be served with rice, fufu, gari, Banku, or Ablo.
13. Koklo Meme
Koklo meme is the Togolese style of grilling chicken; it's a traditional recipe that the Togolese people take pride in preparing and showcasing. Koklo meme is usually prepared with chicken legs since chicken breasts tend to get over-grilled and dry out.
The chicken is placed on a grill over an open flame until cooked through, and the meat takes on a smoky flavor. When grilled to perfection, the drumsticks remain full of their natural juices too.
Marinated with ginger and garlic mixed with traditional spices beforehand, these flavors are enhanced further by adding a chili sauce after grilling. It's normally drizzled over the legs, but can also be served on the side.
14. Yassa
Originating further west, in Senegal's Casamance region, yassa has also been taken into the hearts (and stomachs) of the Togolese, and is a regular offering in restaurants in the country. It probably became popular here because it shares many common ingredients with those found in Togo.
At the same time, Yassa is one of those dishes that changes slightly depending upon the chef cooking it, with no fixed recipe agreed upon.
Fiery with spicy heat, Yassa comprises marinated chicken (or sometimes fish) heaped with caramelized onions. Its accompanying sauce has a zestiness that comes from using lemon juice, which both complements and lifts the dish, while the heat comes from a hot variety of chili pepper.
The chicken and onions are first marinated with lemon juice and some mustard, and then browned in a pan, preventing the juices from escaping while they cook. The onions and chicken are then placed in a pot with the chili still whole and put in the oven to fully cook through so that the chicken falls from the bone and the onions are sweet. Yassa is usually served with rice.
15. Brochettes
The French name indicates the origins of brochettes far better than anything else could. Easy to find on the streets alongside Akpan, brochettes are what many people would describe as a kebab.
They consist of pieces of meat or fish fed onto metal skewers and barbecued over hot coals. Brochettes form an inexpensive street food but also make a regular appearance on the menus of restaurants throughout the country.
Usually, red meats such as mutton, goat, or beef are used, so that the natural fats within the meats make them tender and succulent. Pork is less commonly used because of the country's Muslim population. The pieces of meat on the skewers are sometimes accompanied by chunks of onion. Brochettes also normally come served topped with chili powder or hot sauce.
A word from the writer:
Here is the food knowledge I've learned while traveling in Togo. Most of these food techniques are used in different countries in Africa, with a wide variety of ingredients. Also, even in Togo, which is a small country, you won't eat the same fufu in Lome or in Kara, for example. Each region has its unique way of preparing food. It's an endless discovery for the foodie that I am.