17 Best Cooking Classes for Passionate Cooks Around the World
Holiday trips can be so much more than just travel, sightseeing and enjoying good food. Instead, you can get busy and dive into the core local traditions through a hands-on culinary experience to understand the culture of the place.
Cooking classes can be the main purpose of your trip or an additional experience that will enrich your travels with knowledge and skills. They also make a perfect gift for cooking enthusiasts.
When you want to go beyond and follow your passions, you could take a culinary course leading to a diploma that can be the start of an exciting career change.
From highly experienced professional chefs with visionary approaches to talented and friendly home cooks, any experience you choose will be unique and memorable.
Travel with us around the world and discover some of the exciting cooking classes out there.
Your passion for food and eagerness to enrich your culinary knowledge will be fully fulfilled at the French school established by legendary Michelin-star chef Alain Ducasse.
What better place to brush up your skills than a Parisian Institute right? A gourmet gift is very unique and thoughtful and offering a voucher to your loved one for a course they always dreamed of will be something to remember. Courses can be picked from the calendar by date or by theme.
For example, on the "Well-being kitchen" course, the Vegetarian Cuisine and The Wok in all its States programs inquire into innovative and healthy recipes, vitamin cocktails, all there is to know about colourful vegetables and much more.
The "Cooking for kids and teens" type course is designed for all kids and teens from 6 to 13 years interested in exploring the art of making delicious foods. Cooking moments can be shared with parents in special classes designed for fun cooking duets under the benevolent eye of the chef.
You'll no longer be a stranger to the flavors and colors of Southern France as you learn to cook from chef Alain Ducasse's recipes. There are several classes in English too and the adult courses are paired with wines of the Rhone Valley.
Prices: from €90 depending on choice of course;
When visiting the beautiful city and canals of Venice, you might as well cross the kitchen doors and heart of Enrica Rocca, who is more than happy to share her passion for good food.
She will take you to market for a first lesson on how to shop for the right ingredients such as beautiful vegetables like San Erasmo Island artichokes, shrimps, clams, prawn, scallops, pork ribs or sausages. According to the time-old Venetian tradition, before heading home, a stop will occur at a local bacari (Venetian bar) for a spritz.
Known as the "cooking countess", Enrica's approach to sharing her talent and knowledge of Venice and its produce is relaxing and fun as she follows Italian and Venetian traditions with creativity.
When cooking with Enrica, the kitchen quickly transform itself into a hive of activity seen in a typical Italian home, with lots of chatter over the chopping and the occasional chink of a wine glass being refilled. This is what Enrica Rocca's cookery school is all about – friendly, lively and really rather brilliantly flamboyant.

CHARLOTTE CHAPUIS
The Half Day Cooking Classes to Full Day Cooking with Rialto Market included, Wine Pairing Cooking Classes and Corporate Cooking Classes will make a memorable imprint on your trip to the "floating city."
Pricing: starting from $310
Private meals and cooking classes are held by passionate locals who are more than happy to share their local food treasures and market experiences.
The Traveling Spoon is a fantastic company that connects travelers and foodies with the best home cooks around the world. Go for a personal and unique experience with cooks that will open up the warmth of their kitchen to you and finally their soul.
Gain some beautiful memories and beautiful friendships while you travel abroad and learn to prepare authentic Greek phyllo dough from scratch in Christina's Athens kitchen, or join local Dhaka, Bangladesh celebrity chef Nahid as she teaches you how to make authentic Bengali cuisine.
Share the joy of a homemade meal in a local's home while you hear all about their cultural and culinary traditions passed down through generations. Traveling Spoon operates in 60 countries and you too can become a host if you want to share the passion.
This is the power of travel and food – to be able to connect with someone from a completely different part of the world and realize, as you cook and share a meal together, that despite our cultural differences, we are all human and share the same values.

Aashi, Traveling Spoon
The magical setting of Casa Luna invites you to immerse yourself in the world of Balinese and Indonesian cuisines, seasoned with age-old traditions, local hospitality, and spiced with fascinating culinary myths.
The Casa Luna Cooking School is a world-famous culinary center with classes part demonstration and part hands-on, where participants learn about the exotic herbs and spices used in ceremonial and everyday dishes with a focus on their unique healing properties.
The course includes a visit to Gianyar night market at dusk where you can experience the ambiance of a Balinese pasar.
With a daily theme, you learn to cook Balinese delicacies like spiced fish in banana leaves, black rice pudding, Mie Goreng, Green coconut crêpes, Lawar, Gado-Gado, Balinese chicken satay, Sago pudding and much more.
The lavish Balinese feast are then enjoyed together with homemade hibiscus tea or rice wine.
Prices: Rp 400,000 – Rp 500,000 per person for Cooking Classes and Market Tours (~$30 USD)
Executive Chef Daniele Turco offers an indigenous culinary experience featuring demonstration classes and visits to markets, wine tasting, themed courses, and indulgent ingredients.
Italian cooking classes range from a half-day to more intensive programs that allow for a more in-depth look at various aspects of food preparation.
The Indigenous class is a 3-hour cooking class where you can learn to make an exquisite three-course lunch or dinner using local seasonal ingredients that are an essential part of Venetian Cuisine.
Half-day classes teach more about local products, seasonality, and how to choose and select them. You'll also be introduced to the typical Venetian aperitivo with cicchetti at a traditional Bacaro.
Stay & Cook is a three-day program where you can enjoy the city and learn more about Italian food. It also includes visits to Rialto Market to hand-pick fresh ingredients and a tasting of the famous Venetian aperitivo.
Pricing: starting from €245 per person
Cook in Rio, Rio de Janeiro, Brazil
Your holiday in Rio must start with a cooking class at Cook in Rio so book your first day to meet chef Simone Almeida.
Former students say that she will illuminate the rest of your trip with all that you will learn about Rio culture, about Cariocas, and about exploring Rio. Consider yourself warned because she's side-bustingly funny and causes students to burst caipirinha thru their nostrils as they crack up at her jokes.
Discover exotic ingredients, techniques, and flavors that you can take home and use in your dinner parties in just a half-day cooking class.
In the Seafood Moqueca Class, you learn about fish (or veggie) moqueca, make white garlic rice, banana toasted farofa, flambeed sausage with onions, grilled white cheese with pepper jam, lime and passionfruit caipis and a coconut alcoholic drink called Batida de Coco.
The second option is the Feijoada Class, where you learn pork and bean feijoada, Brazil's most famous meal, white garlic rice, banana toasted farofa, seared garlic kale with orange slices, flambeed sausage with onions, grilled white cheese with pepper jam, lime and passion-fruit caipis, and the Batida de Coco drink.
Pricing: starting from $75 per person;
Does a kitchen with a fantastic view where you can pick your own olives sounds amazing or what?!
At B&B Finca Las Encinas you will learn how Christopher Columbus changed the culinary history of Spain and what flavors make Andalusian cooking so special. I can tell you one or two of the secrets: it's the rich aroma of the fruity extra virgin olive oil and the finest Sierra Subbética product that you'll be cooking with.
There are four course packages to choose from to learn in a fun and relaxing way all about Mediterranean cuisine while staying in an idyllic place.
While teaching traditional and modern techniques, the interesting cultural background of ingredients and recipes are also discussed.
You'll learn how to cook at home some of the delicious, exotic dishes such as shellfish soup with fino wine, clams with saffron, chilled almond soup, monkfish with preserved lemons and tomato compote, hake with almond garlic mayonnaise and fresh tomato salsa, partridge with mint and pistachio, poached pears in lavender fragrant honey, fresh fig tart, Coffee and brandy flan, and, last but not least, tapas.
Our cooking courses are informal, casual and full of laughter yet very informative where you could learn a lot of useful and practical tips and skills which you would actually use in your own kitchen.

Personal interaction is a focus of our course so the class size is very small because we believe that anyone can cook but to cook successfully requires a basic skill supported by a positive attitude and my husband Chef Clive´s good sense of humour and his laid-back nature will help anyone achieve it.

Maki
Pricing: starting at ~$400 USD
Have you wondered about how and what we eat might influence everything that we do during the day?
The complex relationship between food and consciousness is one of the things that the program "Mindfulness and food" explores at Macalla Farm in Ireland. Besides their main business, this is a yoga retreat, visitors are welcomed to Bed & Breakfast and attend the cooking courses hosted here.
Seems like the best place to be for "Mens sana in corpore sano" and a good gift voucher not only for our friends who are concerned for a healthy lifestyle but for our loved ones too, for them to take better care of themselves.
Food courses include vegetarian lessons where surplus fruits and vegetables grown in their organic garden are transformed into preserves and chutneys, fermented pickles, and kimchis. I, for one, am very curious about the making of elderflower champagne as well as various cordials and mead from their own harvest honey.
One of our greatest passions at Macalla Farm is the growing, preparing and eating delicious and nourishing vegetarian and vegan food, from seed to fork, as local and seasonal as it gets.

Ciara Cullen
Participants are taught the skills of making sour dough bread and can also take home the starters. To reconnect to your inner self, the nature and nurture the body Clare Island off the west coast of Ireland makes the perfect destination.
Pricing: ~$400 USD including food, accommodation, cooking and yoga/meditation tuition.
Take a culinary travel vacation on the Blue Zone Greek island of Ikaria for a very personalized experience cooking healthy food and learning the secrets of longevity and living well.
The cookbook author and celebrity chef Diane Kochilas's goal is to teach about food, life, and longevity in a way that is both practical and intuitive.
Find out how to cook greens that you'll actually crave in dishes, discover techniques for transforming vegetables into rich flavorful spreads, dips and sauces, learn how to build a Mediterranean flavor palate for marinades with a few basic ingredients and to grill and roast lean meat and seafood for healthy, mouthwatering main course variations.
For her book, The Glorious Foods of Greece, Kochilas was rewarded the Jane Grigson Award for Excellence in Research by the International Association of Culinary Professionals in 2002.
She also won best cookbook in the IACP International Category, in 2015, a Books for a Better Life Award with her Ikaria: Lessons of Food, Life & Longevity from the Greek Island Where People Forget to Die, and was listed for an Art of Eating Award.
Here are some highlight activities that you can experience along with culinary workshops: visiting traditional beekeepers and tasting local wild honey; cooking and tasting fresh, seasonal ingredients from the garden; wine tasting, drinking the wine that Odysseus is said to have drunk; learning the culinary and medicinal value of herbs and wild plants in foraging walks; and milking the neighbor's goats and making cheese with the fresh milk.
Pricing: $3,750 per person
Casa Mãe, Lagos, Portugal
Near the sea and close to the sandy Casa Mãe beach, a blue and white hotel with a modern wing and 19th-century townhouse can host your dream holiday.
Expand your cooking skills in a sunny and happy place with an enchanting panorama. Right beneath the city walls lies the estate with a swimming pool and a garden that provides produce for the kitchen where farm-to-table cooking classes take place.
Try the black garlic and tell us all about it or experience a "sail, fish and grill" trip, spending an afternoon out in a boat then grilling or making ceviche with the catch (bass, sole, bream, mackerel or red mullet) the next day.
Pricing: $73 USD for vegetarian workshop and $89 USD for fish or meat workshop (drink and meal included).
The best way to end an Istanbul tour is at Cookistan cooking classes ran by the Aysin and Aysun sisters.
Learn about the culture of Turkish food while cooking Süleymaniye Soup (Ottoman Style Soup), artichokes with vegetables and orange juice, caramelized pumpkin dessert with walnuts and tahini, and other 3 course meals according to the season.
Before getting busy in the kitchen, you'll first be touring the neighborhood, visiting local shops and genuine artisans making pastries and bread, unlike any other tourist places a foreigner will go, to gather the necessary ingredients. Gonca will be your professional tourist guide.
You may not be a passionate home cook but by the end of the day in the friendly and interactive company, when you sit down to table to enjoy the fruits of your work in the cozy sisters' loft, you will certainly change your idea.
Turkish cuisine will feel effortless when prepared in the company of old friends, who by the way, speak both English and German.
Cookistan Istanbul Cooking Classes show you that nothing is easier than preparing a range of mouthwatering Turkish treats.

Aslı Yallagöz, Cookistan
Pricing: $110 USD per person
Learn the art of pasta, bread baking, and pastry making in a 12th-century castle nestled in the beautiful Tuscan hills, Italy.
Aurora Baccheschi Berti and her chefs offer short professional courses while accommodating you at the hotel. You'll be cooking with hand-picked ingredients from the organic kitchen garden, following family recipes from Aurora's published cookbook, and by the end of your stay, you will have mastered dishes like papa al pomodoro, ravioli maremmani, and tiramisu.
That will make an impression at your next dinner party for sure.
On top of that you'll have the best holiday experiences while truffle hunting, wine tasting, olive harvest or wine harvest in late October in the family vineyard which produce an award-winning organic red. Did we mention thabm
Pricing: cooking class package with 3 nights reservation for two – ~$560 USD.
A variety of cooking classes seasoned twice a day by street food tours is what they serve at Hanoi Cooking Centre in Vietnam. Guests with more time on their hands can take the 5-hour street food tour to 5 of the best-known street food venues across Hanoi with a market tour included.
The Market Tour & Lunch or Dinner package is for guests with limited time but who still get the taste of a truly authentic Hanoi culinary experience.
Choosing one of the six Vietnamese Cooking Classes, you'll discover the flavors, history, and culture of Vietnamese cuisine: BBQ class, Spring Rolls, Vegetarian, Food from The Coast, Hanoi and The Northern Highlands, Vietnamese Street Food. You're expected to come hungry because all workshops conclude with enjoying the dishes prepared. A Hanoi Cooking Centre apron and recipe cards will be presented as a souvenir.
Guests are able to prepare dishes under the expert guidance of our team of professionally trained chefs at their own work station and included in every class and tour is a visit of one of the last remaining wet markets in Hanoi.

The local market is both a treat and challenge for the senses and the chef accompanying the clients is able to demystify the local produce and encourage guests to taste along the way.


Cao Thanh Thuy, Operations Manager, Hanoi Cooking Centre
Pricing: 1.380.000 VND (~$60 USD)
Los Dos, Mérida, Mexico
It is said that no travel to Mérida, Mexico is complete without taking a tour at Los Dos cooking school, the first and only in the country devoted exclusively to Yucatecan cuisine. Describing himself as "weaned on chili", chef David Sterling moved from New York in 2003 to open Los Dos, featuring the kitchen of his dreams.
He then went on to write the authoritative cookbook on Yucatecan gastronomy called YUCATÁN, Recipes From a Culinary Expedition that received two James Beard awards and his second book MERCADOS, was released posthumously in 2019. Mario Canul, Sterling's sous-chef, and right-hand-man took over as head chef for Los Dos.
The three cooking class options are "The Taste of Yucatán", which is a 7-hour deep-dive into the amazing and relatively unknown world of the cuisine of the Yucatán Peninsula.
With the "Cocina Económica" half-day experience, you'll get to cook a signature recipe of a real Mayan family at a local pueblo. Private Classes with Chef Mario are available if you have a specific area of interest with regard to the local cuisine.
There are also Tasting Classes which are a great immersion into the flavors of the Yucatan, guided by Chef Mario in places you probably wouldn't find on your own: Cantina Crawl, One Day Chocolate Indulgence, Yucatán Express, Street Eats.
All-inclusive Culinary Packages available year-round by request include "Yucatán Three Day Culinary Workshop", "Yucatán One-Week Culinary Workshop", "Three-Day Chocolate Fantasy Workshop", "Los Dos Maestros Three-Day Workshop", or, on selected dates with seasonal cooking classes, "Day of the Dead Special" and "Guadalupe Day Special".
All-inclusive culinary packages start from $1,925 4 nights per person
Do you love sushi? Then learn to make it like a pro in just 90 minutes at Japan's premiere Sushi School, near Tsukiji Fish Market!
Tokyo Sushi Academy will teach you the secrets of Japanese culinary arts and brush up your knife skills in the 1-day Ramen workshop or a full 6-week course.
Master the sashimi knife in the 5-day Sashimi Course, where you'll get acquainted with 3 kinds of raw fish a day and learn the Otsukuri and Tsuma/Ken technique for adding beauty to the sashimi plate.
The Japanese cuisine course lasts 5 days, just enough to learn Grill & Fry techniques like Yaki-tori, Kushi-yaki, Yaki-zakana (Grilled Fish), Tempura, Tonkatsu, Kushi-age, and more. You'll make an impression with your deep tempura knowledge for sure!
Over 10 days the International Sushi Chef Course intensively covers sushi techniques and washoku cuisine with popular seafood found in international markets.
Enthusiasts will be instructed on everything there is to know about sushi making, from Japanese knife handling and raw fish preparation to a deeper knowledge on the 4-week sushi course. You'll master the Edomae style sushi that preserves the ancient wisdom of chefs in Tokyo (Edo), such as Kobu-jime and Su-jime, and how to make sushi with more than 20 kinds of seafood.
And the most popular course is the 6-week Total Course, which combines the 4-week Sushi Course, 5-day Sashimi Course and 5-day Japanese Cuisine Course. It comes with a discount of 54,000JPY off the total price.
The chefs teach in Japanese but an English translator is always present. Prices start from $64.
If you want to dive into the world of Moroccan spices while on holiday in Marrakech, the fun begins with classes offered by Faim D'Epices. A car will pick you up from your guest house and drive you to an adventure of an enchanting alchemy made of scents, flavors, and traditions.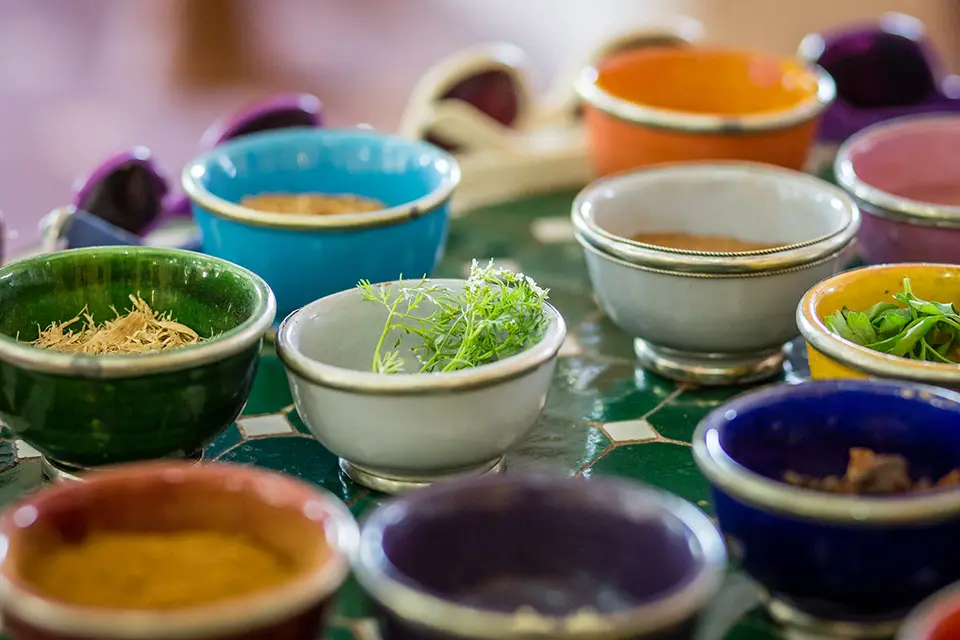 Michel and Philippe are the hosts and professional cooks who will teach you how to use the rare spices that you purchased as souvenirs from the market, so you can recreate at home the dishes enjoyed during your stay.
Moroccan meals will no more be a secret to you but a feast featuring bread, salads, sweets, and main course that will impress your friends and family. The facilities are kid friendly and French and English are spoken as Michel is a Parisian who moved to Morocco, being so irredeemably in love with the local food, spices, and cooking.
Price: €55 per person
Take a culinary journey back through time and join celebrated foods that provide a true taste of Downton Abbey through classes in traditional English cookery.
Whether you dream of making cheese, enriching your cooking with "lost skills" of artisan food production, or changing your career path by opening a small business with products that carry the taste of your passion, this is the place to be.
The School of Artisan Food in Nottinghamshire, United Kingdom, is a not-for-profit operation that offers a large variety of classes in baking, butchery, and cheese making.
Just to mention a few interesting ones: Festive Introduction to Chocolate, Christmas Baking, Foraging & Wild Food Cookery, Festive Pie Making, Mindful Bread, Festive Favorites, Curing & Smoking, Venison in a Day, Make Your Own Sausages, Sticky Buns and Fruit Breads, and many more that include, among others, ice cream, pizza, and pasta making.
Matching your time availability and needs you can choose from weekend classes, one-year courses, and advanced diplomas in baking. The school also has courses that focus on the business side of the food industry: while lectures from chefs are not uncommon, neither are the talks from lawyers, accountants, and other business experts.
Located on a 15,000-acre estate in the legendary Sherwood Forest, the School of Artisanal Food has won several awards for its consistent excellence.
You can make someone really happy with a gift voucher by choosing any value over £25 and allow the lucky recipient to choose which course or special event they would like to join. Santa, if you're watching, this would be the perfect present for me. Thanks in advance!
Price starts from £0 – and that's no typo, there are 2 free classes on Open Day.