Traditional Christmas Dinner in England; English Christmas Desserts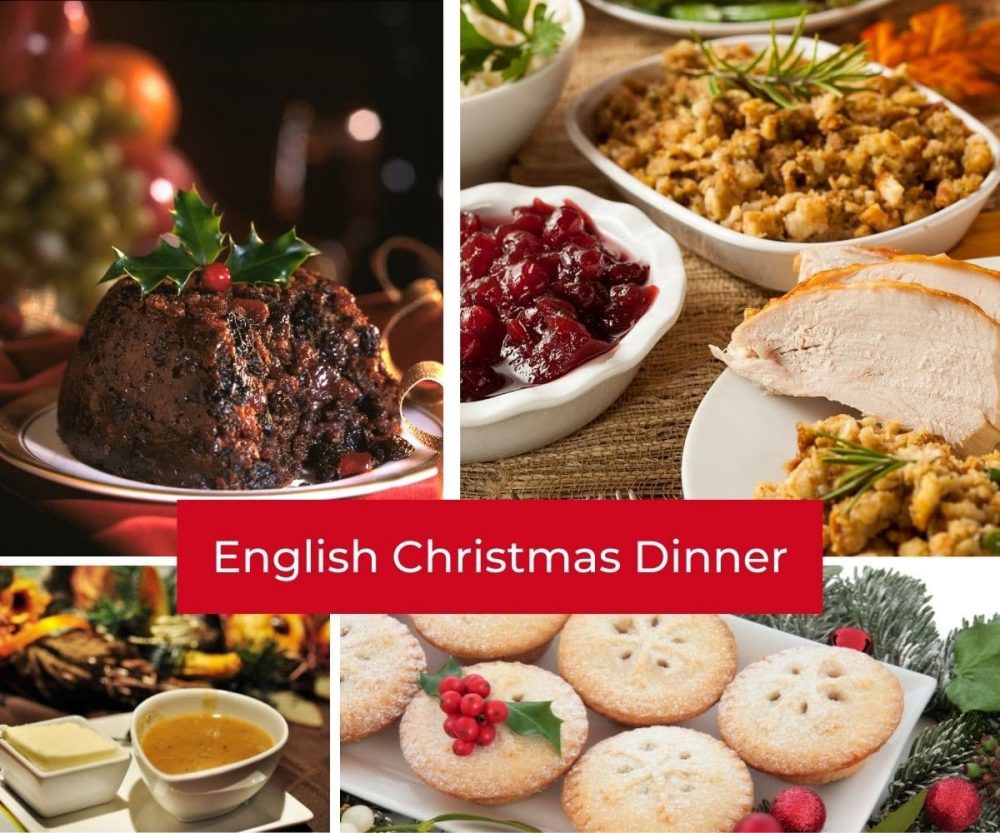 Come the end of October, the shops begin filling up with just about everything wrapped up as Christmas fayre: biscuits, chocolates, donuts, cheese crackers, nuts, and dates – it is all given a festive feel and the shopping starts early.
This is probably the most food-centered holiday of them all in good old Blighty, and we go to town. Larders are stocked, freezers are stuffed, and drinks cupboards are refilled – constantly as the festive season approaches. Christmas eve, Christmas day, Boxing Day, and any weekend on either side are crammed full of gastronomic delights.
But it is the Xmas dinner that is the celebratory feast of the year, the pride of the house, talked about in pubs and cafes and workplaces before the meal, as plans are devised, and after, as the culinary successes and disasters are shared in a post-Christmas appraisal.
Each to their own, as they say over here. And that applies to the main feast as every household has their own favorite veggies, sauces, or sides and preferred methods of cooking the gravy, the turkey, and the pud. But there are some essential components that go to make up the perfect English Christmas table.
The Turkey
This has been the prized centerpiece of Christmas dinner since the 16th century, when Henry VIII ordered it for the meal, making it instantly popular. "If it's good enough for royalty, it's good enough for us" is the old adage that also made the full English breakfast the iconic meal that it is – those lords and ladies certainly loved to feast, and the commoners knew themselves to be equally worthy.
But the turkey remained a luxury good until way into the 19th century, which is why Charles Dickens had Scrooge bring the impoverished Cratchits a turkey to replace their lowly goose.
Today, it is found on every table that isn't vegetarian or vegan or determined to buck the populist trend. And it is the most talked-about feature of the Xmas-meal conversation: Fresh or frozen? Farm or supermarket? Whole bird or crown? And that's just for sourcing the bird. Some families have their own tradition of visiting a local farm, "We've been going to Gobble Farm for our turkey for years!", to pick out the one they fancy.
Then comes how to cook it. Grandma's handed-down technique? Or Jamie's, Delia's, or Gordon's? Because the key thing is to make sure that white meat isn't dry. And if you have kept to Grandma's perfected method for cooking it, you are bound to consult a TV cook or two for ideas for using up the leftover meat for the next two, three, or four days.
The Stuffing
Chestnut. Highly popular with turkey, and rightly so, sweet chestnut has a long tradition… or does it? Originally thought to have been brought over by the Romans, more recent research says the oldest sweet chestnut tree in the country is only 381 years old. The Romans left 1,611 years ago.
However it got here, we are happy it did because nothing goes with a succulent turkey quite like a sweet chestnut stuffing… except apricot and almond, or fig and walnut, oyster and bacon, or a very simple sage and onion – because let's face it, the bird is big enough for two.
The Christmas Sides
It is not unusual across the fair British Isles to have two meats on the plate at Christmas – turkey, and pork. In England, that combination is represented by pigs in blankets, or pork sausages wrapped in bacon. They are quintessentially English.
Also very common is a side of Yorkshire pudding – a batter tipped into hot oil and baked. It is crispy and light and delicious. It was originally devised as a way of filling up bellies in the absence of meat. But that doesn't stop it remaining a firm favorite.
The Veggies
Here we come to household favorites. Many homes will serve up the same vegetables year after year – it isn't Christmas without spiced red cabbage, after all.
But there are some that are particularly popular.
Roast potatoes, roasted in goose fat or lard; roast parsnips, delicious even when overdone and chewy as toffee; Brussel sprouts, no one likes them but they turn up every year, best slightly crunchy and doused in melted butter; mashed potatoes, with all the butter and cream you've been resisting all year so it's really soft and creamy and beautiful with a forkful of red cabbage and a covering of gravy; spiced red cabbage for a strong sharp contrast to the mashed potato of course.
The English have been derided for years for their poor attempts at gravy. The French scoff at our use of gravy cubes or granules. But it's not our fault we've been plied with convenience food adverts telling us how daft we are to spend time in the kitchen. That is changing, reflected in the popularity of TV chefs.
A good gravy, made with the giblets, meat juices, a little wine and, please!, very little flour – if any, brings the delicious plate together, uniting the meat and veggies.
The Sauces
This is Christmas after all so a simple gravy is just not enough. The delicate turkey meat pairs well with a full range of sweet, savory, and spicey flavors, which is useful for giving variety to leftover turkey dishes.
But the overall top sauces for the main meal are bread sauce and cranberry sauce.
Bread sauce evolved from our insistence on using up stale bread. Bread and milk infused with bay leaf and cloves and finished off with butter and cream is an absolute English classic.
Cranberry sauce is most likely a gift from the US, thank you very much, as the first printed recipe comes from an 18th-century American cookbook – the first printed American good book in fact. But we like ours slightly tart and acidic rather than the heavily sweetened US version.
The best Christmas pudding will have been made weeks before with dried fruits soaked in rum and aged in the pantry, allowing the flavors to mingle and fuse.
The most common Christmas pudding is bought from the store and warmed up in the oven. They used to be boiled for ages but today they can even go in the microwave.
Some traditions really need to be kept.
And serving the pud with brandy butter is definitely one of them: butter, whipped till it loses all color, beaten up with brandy, and left to harden in the fridge. It should always be presented on the table with a glacé cherry stuck on the top. Of course, some prefer simple cream – or both!
Not everyone goes for the traditional plum pudding so there is usually a trifle alternative. Sherry trifle, preferably, which would always make it too difficult to choose. A bit of both, I think.
Teatime
Because Christmas dinner probably ended around 2 or 3 in the afternoon, everyone is surely a little peckish come 5 or 6pm!
Out comes the Christmas cake, or the yule log, or the mince pies, and the sherry and the whiskey, and a good old English brew.
Time to loosen the belt.
---
Before you go, check out our round-up of the most popular English desserts and dishes.
Related: 18 Delicious English Desserts