20 Most Popular Foods in Bali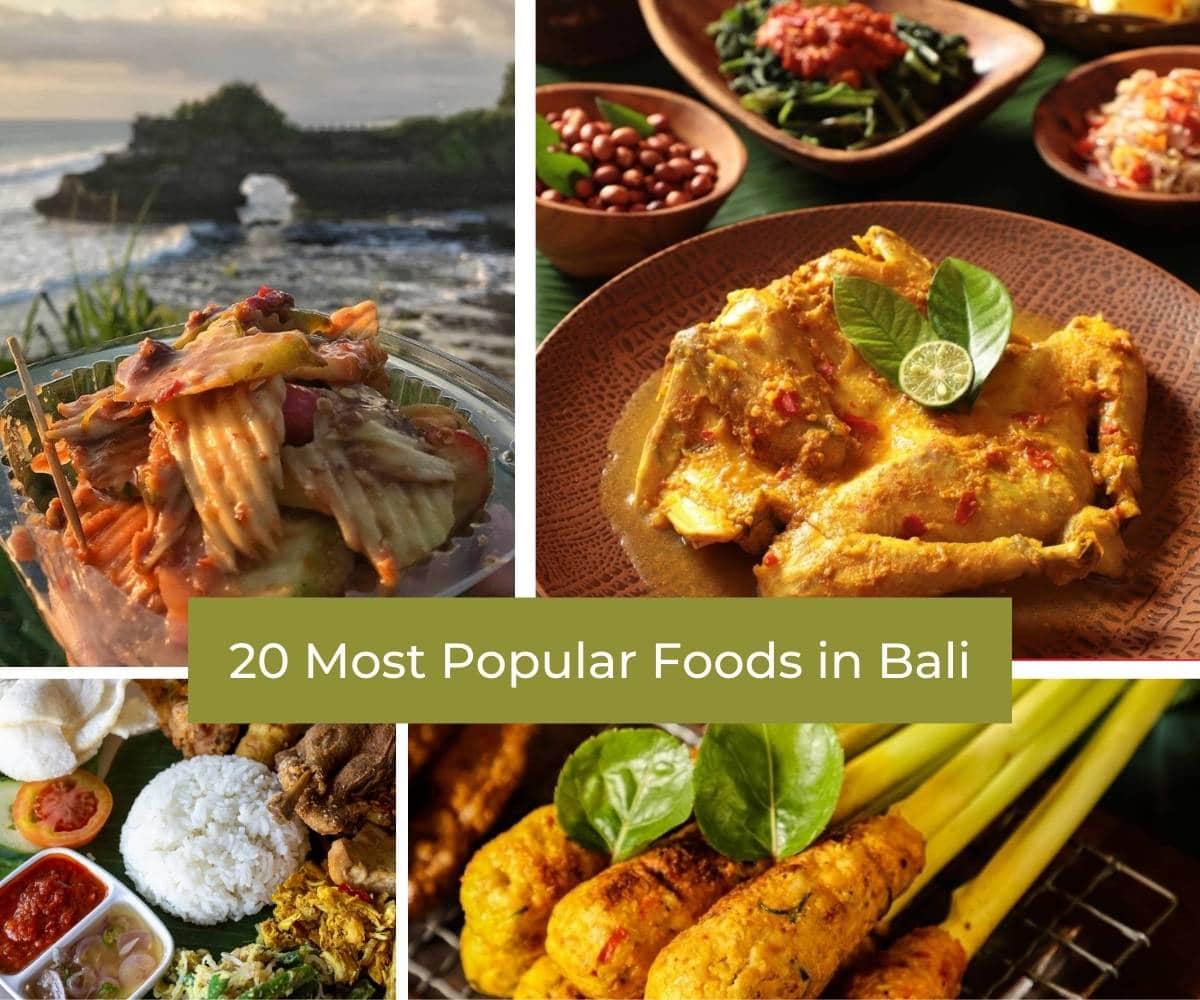 Bali is known for its beautiful beaches, rich culture, and cozy villas overlooking paddy fields. But with a rich culture often comes various dishes that resemble the daily lives of the locals and what they eat.
While spending your days at Kuta beach is certainly an ideal way to spend your time in Bali, you shouldn't miss the rich culinary culture that Pulau Dewata has to offer. These are the 20 most popular foods in Bali.
1. Babi Guling
Babi guling is a traditionally roasted whole pig that has become Bali's staple food for Indonesians and foreign tourists. When translated, babi guling means pork roll, and it's precisely that. This dish is made of a whole pig marinated in Bali's signature spices and roasted using a skewer. The name comes from how the pork (babi) is slowly rolled (guling) above the fire.
Since Indonesia is predominantly Muslim, plenty of domestic tourists try to avoid this delicious dish. But the Balinese are mostly Hindi, so it's no surprise that babi guling is a popular dish among the locals.
2. Nasi Campur Bali
If we're talking about Balinese food, it's not quite complete without mentioning nasi campur Bali, or also known as nasi rames. This rice dish is typically served with vegetable salad (urap), shredded meat, and sate lilit (Bali's signature food).
There are typically three variants of nasi campur Bali: nasi campur babi (pork), nasi campur ayam (chicken), and nasi campur pedas (spicy). If you're in to experience the taste of Bali, we'd recommend trying the pork variant since it's served with Bali's famous babi guling pork.
3. Nasi Jinggo
Nasi jinggo is another Balinese rice dish with a unique serving style in that it is presented in a cone-shaped banana leaf. The dish itself is pretty simple: rice with shredded chicken, sambal goreng, tempeh, and noodles.
Some restaurants also offer other topping such as sate lilit or salted eggs. This dish is an excellent choice if you're looking for a quick and filling bite to eat since it's chock-full of carbs and protein that will get you going for the day. Nasi jinggo is also a staple Balinese wedding food, thanks to its simplicity and affordability.
4. Ayam Betutu
Ayam betutu is another traditional dish originating from Gilimanuk, Bali's harbor city. It is a slow-cooked chicken dish with various Indonesian spices that give it a delicious and mouth-watering aroma.
As one of Bali's staple dishes, you can find various restaurants around the island offering ayam betutu as their signature dish.
5. Serombotan
Serombotan is a traditional Balinese spicy vegetable salad originating from Klungkung. It typically has various vegetables, but the main ones are eggplants, spinach, kale, snap peas, and bean sprouts.
The vegetables are boiled and chopped into smaller pieces. Restaurants usually serve serombotan in a bowl with a savory-spicy sambal nyuh sauce and unyah sere limo (salt, lemongrass, and lime juice). Sambal nyuh is a sauce made of grated coconut mixed with chili, garlic, shrimp paste, sugar, and salt.
6. Sate Lilit
If you ever tried sate or satay in south-east Asian countries, you're probably familiar with the concept: skewered meat. But sate lilit is unique. Instead of skewered chunks of meat, it's minced meat wrapped (lilit) around a bamboo or lemongrass stick. Sate lilit is typically made from tuna, but some restaurants offer chicken meat as well.
Unlike other types of sate, sate lilit doesn't have a staple sauce type to go with it. Instead of adding sauce during the serving, sate lilit has all its flavor mixed into it during the mincing process.
7. Sate Plecing
Sate plecing is a Balinese variant of sate made from pork with Balinese sauce with its signature spicy taste. In its essence, sate plecing is quite similar to other varieties of sate that you can find throughout south-east Asian countries. What makes sate plecing different is the sauce used to serve it: sambal plecing.
Sambal plecing is a spicy (or sweet) sauce made from chili pepper, shrimp paste, and tomato with optional sugar for the sweet variant. It is often extremely spicy, which is why there are now restaurants offering less-spicy or sweet variants.
8. Tum Bali
Tum Bali is a traditional Balinese dish made by cooking well-seasoned meat inside a wrap made from banana leaf. Tum Bali typically uses chicken, beef, or even pork depending on the type of meat you like the most.
The locals like to mince the meat they use for tum Bali to ensure the flavor seeps well into the dish. If you ever want to cook tum Bali for yourself, it's quite simple. Mince the meat you'd like to use, pan-fry it with garlic, shallots, shrimp paste, chili pepper, and vegetable oil. Everything should be either minced or chopped to make the flavors blend well.
Once it's done, put everything on a banana leaf, roll it up and seal each end with a stick. Steam the meat-filled banana wrap until it's done.
9. Bebek Timbungan
Bebek timbungan is slow-cooked duck with Bali's rich spices that bless it with a delicious taste and aroma. The cooking process for bebek timbungan can take up to 12 hours: 4 hours of marinating and 8 hours of steaming.
Timbungan refers to a cooking method in which the food is cooked using a bamboo container to enrich its flavor. The containers are half-tubes made by cutting a bamboo in half. Other than duck, there are also other timbungan dishes such as fish, chicken, pork, and vegetables.
The ducks used for this dish are typically adult ones, which is why it requires a long cooking process to ensure it's well-done to the bone. Balinese people usually enjoy bebek timbungan with a side of pan-fried kale and a variety of sambal sauces.
You can expect a super tender duck with a flavorful taste from bebek timbungan, since its long cooking process allows the meat to soften and soak up all the delicious spices.
Bebek timbungan is a pretty versatile and popular dish around Bali and Indonesia in general, so it should be easy to find restaurants that serve it.
10. Sate Pentul
Sate pentul adds to the arsenal of authentic Balinese variety of sate. Sate lilit and sate pentul share the same looks as they are both minced meat on a stick. However, instead of using a bamboo stick like the typical sate, sate pentul uses rolled-up lemongrass as a stick.
The lemongrass stick adds a hint of delicious aroma when the sate is cooked, which adds a whole other layer of culinary experience that you must try on your next visit to Bali.
11. Rujak Buleleng
Rujak buleleng is a Balinese spicy fruit salad that can be the perfect companion to the tropical vibes on the paradise island. Like other fruit salads, rujak buleleng contains chunks of fruits such as pineapple, guava, jicama, and mango, but sometimes there are also sweet potato and cucumbers in the mix.
The dressing used for rujak buleleng is made from brown sugar, vinegar, shrimp paste, chili peppers, and slices of wild banana. The ingredients are crushed on a stone bowl called cobek until they blend into a paste consistency.
The sweet, sour, and spicy all mix in a bowl of fresh fruit salad that you can enjoy together with a cold glass of iced tea on a beach.
For more info on local fruits, check out our story on the most popular fruits to try out in Bali.
12. Ikan Asap Sambal Matah
Bali is an island and fishing is a major source of income and employment for Bali's coastal communities, therefore local fish is a key ingredient of the Balinese cuisine.
One such example is Ikan asap sambal matah . Ikan asap means smoked fish, while sambal matah is a traditional Indonesian sauce/dressing made from chili peppers, garlic, lemongrass, and lime leaves.
The fish used in this dish is smoked using coconut husks, which gives it a unique scent and smoky flavor. Using coconut husk to smoke the fish also means it's going to take some time to cook all the way through. The reasonably long smoking time allows the fish to become tender and melt once you put it into your mouth.
The fresh and spicy taste of sambal matah complements the smoky deliciousness of the fish, which makes it a perfect lunch dish to enjoy on a beachside or sunny day.
13. Bulung Kuah Pindang
Another fish-based dish from Bali, bulung kuah pindang is a blend of seaweed and fish broth. Pindang itself is a fish preservation method that involves drying, salting, and boiling various types of fish, and in this dish, only the broth is used.
The seaweed is boiled using freshwater and is then served with pindang broth and sprinkles of traditional Balinese spices to give it a savory and spicy flavor.
This dish is a perfect choice if you're looking to eat a local vegetable dish with a different take from the usual salad. There are plenty of roadside restaurants throughout Denpasar that serves bulung kuah pindang.
14. Jukut Urab Bali
Urab is a traditional Indonesian vegetable salad, but jukut urab is Bali's unique take on the dish. While Javanese urab is seasoned with salt, pepper, and a bit of chili pepper, jukut urab offers a fresher take with a squeeze of lime juice to top it off.
On a plate of jukut urab, you'll find various vegetables such as long beans, beansprout, spinach, and carrot. Even for the Indonesian palate, the taste itself is relatively spicy, so beware if you're not used to spicy food.
15. Bubur Mangguh
Bubur mangguh is a Balinese rice porridge that originates from Tedjakula village. This dish consists of rice porridge, peanuts, chili peppers, shredded chicken, and urab, making it different.
The porridge is typically cooked with coconut oil, salt, and bay leaves, so you can still eat it without any topping. Once the porridge is done, additional spices such as shallot, garlic, candlenut, chili pepper, burnt turmeric, pepper, and salt are added into the mix to perfect the taste.
Since bubur is a traditional breakfast dish in Indonesia, you can usually find bubur mangguh street vendors in the early morning. Still, some restaurants also offer it throughout the day.
16. Entil
Entil is a traditional Balinese rice cake wrapped in nyelep or talengidi leaves. Since entil isn't seasoned, it's best to consider this food a replacement for rice, though it's not completely bland as entil is cooked using coconut milk.
The Balinese usually enjoy entil with a side of spinach, beansprouts, long beans, sambal kelapa, and sambal goreng. The savory taste of entil combined with the spicy sambals and a complete round of vegetable protein is a perfect dish to fill you up.
17. Laklak
As one of the traditional Balinese dishes to stand the test of time, laklak is a condiment that you can't miss when you come to visit the island. Laklak is a traditional Balinese rice cake made from rice flour, salt, coconut milk, suji leaf water, and pandan leaf water.
The suji leaf water and pandan leaf water aren't essential, but these ingredients give laklak a naturally green color. But aside from that, the pandan leaf also leaves behind a delightful scent that makes laklak even more irresistible.
Laklak has a savory taste and a smooth texture on its own, which is why it is normally served with a dollop of melted brown sugar and shredded coconut topping.
18. Batun bedil
Balinese dishes are mostly spicy and savory, but batun bedil is a sweet condiment. Batun bedil is a sweet soup containing chewy balls made from tapioca with a sprinkle of shredded coconut on top of it.
The chewy balls are quite simple to make. You only need to mix sticky rice flour, tapioca, and salt. Once the dough reaches a chewy consistency, shape it into small disc-shaped balls.
However, the sweet soup is a little bit more complex to make. You'll need coconut milk, brown sugar, salt, and pandan leaves. Put all of the ingredients in a pan and bring them to a boil. Once it's done, you'll need to add a mixture of water and rice flour.
Once everything is mixed together, throw in the chewy discs that you made earlier into the soup.
Batun bedil is very similar to another one of Indonesia's sweet dishes, candil. The only noticeable difference is in the shape of the chewy flour balls. In candil, the flour balls are perfectly round, whereas in batun bedil, they are more of disc-shaped chewy balls.
19. Sudang Lepet
Sudang lepet is a traditional Balinese salted fish that you can easily find throughout Singaraja or Buleleng. The dish contains thinly shaped salted fish with an extremely crispy texture—it's almost like eating fish chips.
As simple as the dish itself may be, it takes a lot of effort to make sudang lepet. The fish needs to be sun-dried. Once the fish is completely dry, it needs to be roasted on a low-burning coal flame. The fish for sudang lepet has to be flattened by smashing it to achieve a thin and crispy shape.
While sudang lepet is technically already cooked, Balinese people prefer to fry it again before consuming it. The locals normally enjoy sudang lepet with a drizzle of coconut oil, a squeeze of lime juice, a side of sambal matah, and of course, rice.
20. Jimbaran's Seafood
While seafood (other than fish) is not traditionally associated with Balinese cuisine, beachside seafood dining in Jimbaran is an experience you shouldn't skip when you visit Bali. Jimbaran beach is one of the most famous beaches throughout Bali, and what makes its reputation is the culinary experience.
All along the beach, you'll find restaurants and stalls selling various seafood that you can enjoy on the beach. They normally set up tables in the afternoon, and you can enjoy the glorious sunset while munching on your favorite seafood.
Recreating these dishes is certainly something that you can do at home, but there's more to Bali's culinary richness than just the food. The vibe, ambiance, and fresh breeze of air in Bali also contribute to the deliciousness of every bite you take.
---
Learn more about Indonesian cuisine with our round-up of the most popular foods in Indonesia, most popular desserts in the country and the most popular street food in Jakarta.