10 Most Delicious Italian Gelato Flavors
It would be hard to imagine a holiday along the swirling coast of Naples or through the ancient streets of Rome without the accompaniment of a deliciously creamy and colorful ice cream. Indeed, this wonderful invention is an essential symbol of the Italian Dolce Vita culture, which has been appreciated worldwide for centuries.
Gelato History
Though it is well known that gelato is an Italian invention, most people may not know that the first people to actually mix ice with fruits were the Egyptians, back in 2500 BC. The Romans later drew inspiration from the Egyptians and adopted the ritual of covering with honey the ice from Vesuvius and Mount Etna.
Interestingly enough, the famous Italian explorer Marco Polo first introduced the use of milk, as he had seen during his travels in Asia in the 13th century, thus setting the foundations of the ice cream we know today.
However, gelato started becoming an integral part of the everyday lives of Italians in the 15th and 16th centuries, thanks to the architect Bernardino Buontalenti, who invented the first refrigeration system. Later on, Caterina de' Medici, wife of King Henry II of France, was responsible for spreading gelato to neighboring European countries, together with the Sicilian fisherman Francesco Procopio, who opened an ice cream shop in Paris in the late 1600s, making gelato increasingly popular and requested.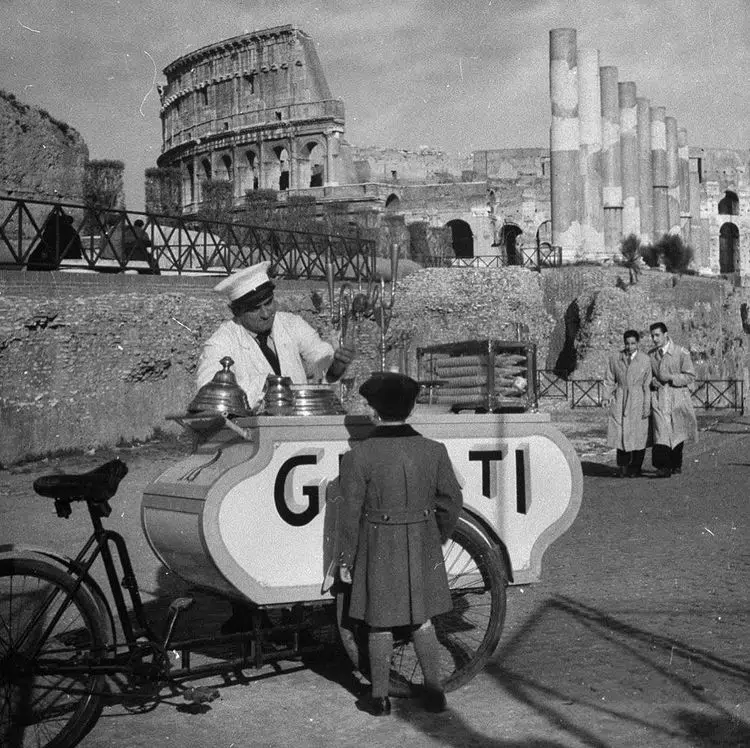 The history of global industrial ice cream, however, started when Giovanni Basiolo first introduced it to America in the early 1800s, and thanks to the refinement of the new hand-crank freezer, it soon became a widespread commodity, considerably changing the humble Italian artisanal tradition of making gelato.
Today, ice cream shops can be found pretty much everywhere, offering an enormous array of flavors and combinations that will leave you standing for hours unable to make up your mind.
Most Italian gelaterie tend to divide their flavors between fruit ones, which are usually made with water, and milk-based ones, which can also contain egg. However, despite the large variety of flavors, when it comes to ice cream, we cannot say that Italians enjoy daring or are enticed to try something new.
Nope, when it comes to ice cream flavors, Italians would rather stick to their own traditions and rarely accept the daring combination of tastes that are found abroad.
So, let's go and find out which are the most popular flavors enjoyed by Italians!
1. Cioccolato
The undisputed king of all flavors is undoubtedly chocolate. Characterized by a rich and lingering taste, this flavor has been an all-time favorite for decades, and not only with kids!
Most gelaterie will generally have multiple variations of chocolate flavors, ranging from cioccolato al latte (milk chocolate), to cioccolato fondente (dark chocolate), or even extra-noir… a real paradise for true chocoholics!
2. Fragola
Strawberry definitely gets the second place in the rankings as the timeless Italian summer flavor. It can be made with water, or milk to give it more of a creamy consistency.
Either way, with its fruity and thirst-quenching taste and with the additional benefits brought by the fruit itself, this flavor is perfect to keep you nourished and refreshed during the hot summer months.
3. Limone
Lemon flavor completes the trinity of the timeless Italian flavors, bringing together several decades and generations of an ice cream-loving nation.
Limone, additionally, is seen in Italy as having magical health properties by boosting the immune system and aiding digestion. This makes it a popular after-dinner treat, and it is usually served in a small bowl called coppetta.
4. Menta
Also sometimes called "Cioccomenta," this delicious flavor perfectly blends the freshness of mint with the crunchiness of chocolate chips, closely resembling the taste of After Eight chocolates. No wonder it's a worldwide all-time favorite!
5. Stracciatella
Stracciatella is another very popular flavor in the Italian gelaterie, as well as in most ice cream shops abroad. This milk-based ice cream with chocolate shavings was invented by Enrico Panattoni, an ice cream maker from Bergamo, who had taken inspiration from his previous invention, stracciatella soup.
6. Bacio
Bacio literally means "kiss" and it derives from a popular Italian round chocolate with a crunchy hazelnut inside. Bacio is a great romantic way to describe the sweet fusion between chocolate and hazelnut… an irresistible love-spreading combination!
7. Fior di Latte
Literally translated as "Milk flower," this seemingly simple and plain flavor, in reality, captures the pure essence of Italian ice cream-making expertise in its simplicity and completeness.
Fior di latte is nothing more than milk and sugar, yet it needs nothing more to wholesomely satisfy your soul! It represents the basis from which most of the milk-based flavors are made, and it is often used as a barometer to assess the quality of the gelateria.
8. Pistacchio
Characterized by its captivating matte green color, pistachio is another milk-based flavor loved by all Italians! But some do more than others: Sicilians are, in fact, particularly proud of their "Gelato al Pistacchio di Bronte," made with a special variety of local pistachios, grown in the areas around Catania.
A must-try when in Sicily!
9. Nocciola
Characterized by a delicate, nutty taste and a soft and creamy consistency, hazelnut is another staple in almost all gelaterie in the country.
The best hazelnut ice cream is believed to be made in Piemonte, as this area is the number one region in Italy for the production of hazelnuts. Nocciola is a deliciously versatile flavor, which can be perfectly paired with almost any other!
10. Tiramisù
Of course, the Italians have also made an ice cream flavor out of one of their greatest sources of culinary pride. Tiramisù ice cream adds a wonderfully refreshing dimension to the unique taste of the coffee and mascarpone-based dessert. An irresistible combination that will no doubt have you asking for more!
---
Related: 20 Most Popular Italian Desserts
Related: Best 22 Italian Christmas Cookies
Related: Top 25 Italian Foods and Dishes
Related: Top 20 Southern Italian Foods
Related: Most Popular Italian Cakes and Pies
Related: Best Healthy Ice Cream Brands