16 Most Popular Italian Easter Foods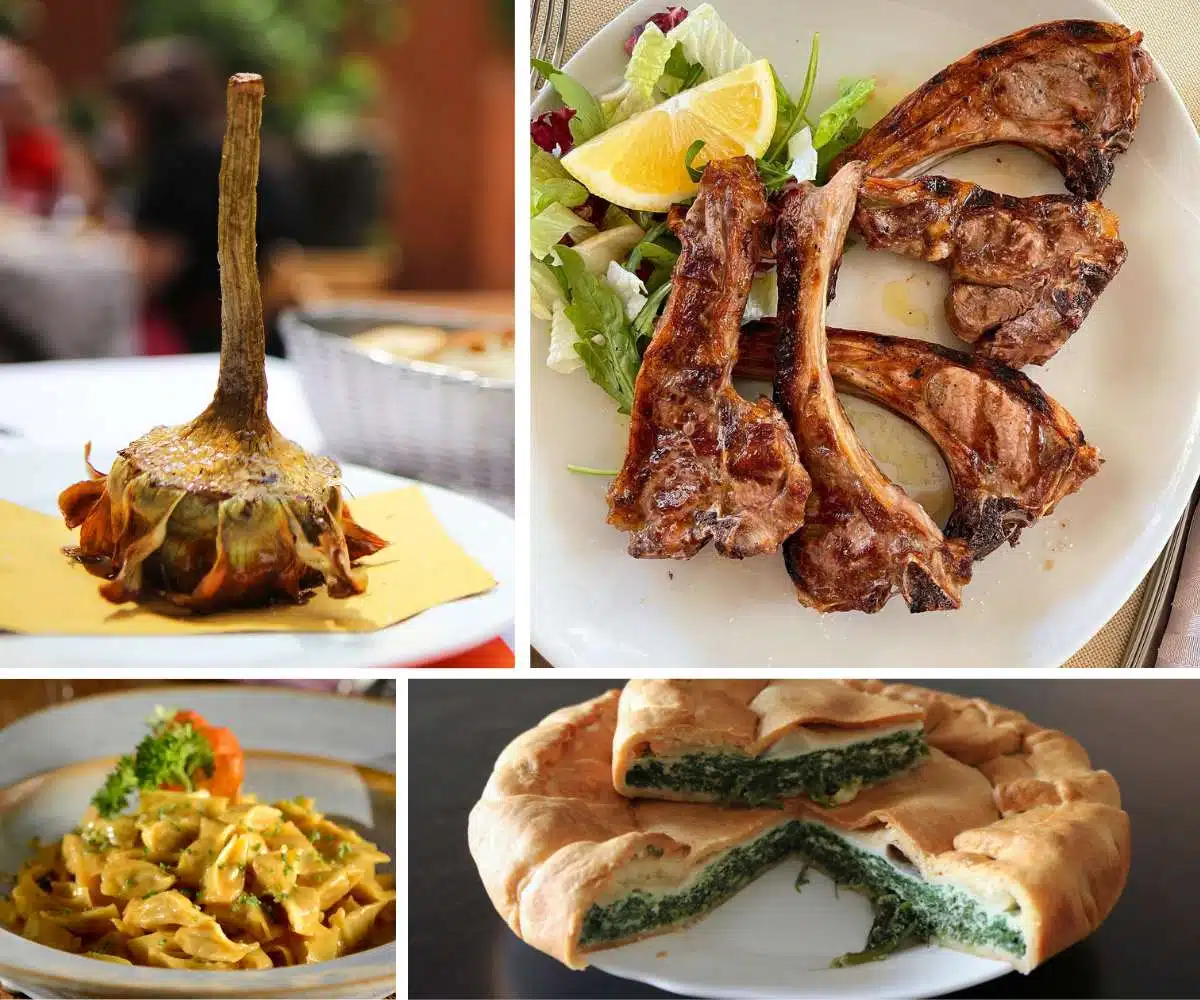 After Christmas, Easter is the second most celebrated religious festivity in Italy. Predictably revolving around cooking and eating wonderful delicacies that have been passed down for generations, Easter Sunday is a time to share joy around the table with loved ones.
However, Easter in Italy is not only a time for families to gather – more people are now taking a famous Italian expression literally. The idea of "Natale con i tuoi, Pasqua con chi vuoi" is becoming commonplace, meaning that "Christmas is to spend with the family but Easter can be spent with whomever you like."
And so, Pasquetta, a modern concept originating after World War II, has become increasingly popular amongst young people as a day to celebrate with friends, traditionally by having a picnic out in nature or a warm lunch at a friend's house.
Nonetheless, many Italians still prefer to stick to old customs and this is remarkably visible in the countless ancient recipes full of religious symbolic value that continues to garnish the tables of Italy with irresistible smells and colors today.
Let's find out more about the most appetizing Italian Easter dishes!
1. Abbacchio alla Romana (Roast Lamb)
All over Italy, the highlight of Easter lunch is undoubtedly lamb, a symbol of purity, goodness, and of Jesus' sacrifice for humanity. Whether roasted with potatoes, slow-cooked in rosemary and onions, or drenched in truffle, lamb is by far the main protagonist in every Italian household.
Typical of Roman cuisine, abbacchio alla romana is one of the multiple ways of cooking lamb, deliciously seasoned with rosemary, garlic, salted anchovies, and a generous dash of white wine.
2. Easter Eggs
Until recently, the custom of taking hard-boiled eggs to church on Easter morning was decidedly widespread, especially in the south of Italy where religious traditions are faithfully respected. Although this tradition is slowly being lost, eggs remain a major symbol of the Easter festivity.
The cultural significance associated with eggs is said to have originated in the Renaissance, following Medieval times when eggs were a forbidden food. The emergence of strong superstitions, such as the belief that eggs laid on Good Friday would turn into big bright diamonds, soon led people to gift eggs to one another, which is now a centuries-old Italian tradition.
3. Torta Pasqualina (Easter Pie)
Literally called "The Little Easter Cake," torta pasqualina is another major symbolic recipe associated with Easter. In fact, according to tradition, the tart was said to be made using thirty-three layers of pastry, in honor of Jesus' age.
Nothing more than a puff pastry tart filled with spinach and eggs, this easy recipe is an ever-present delicacy in every Italian household.
4. Casatiello Napoletano (Stuffed Easter Bread)
Dating back to Greek and Roman times, casatiello is a traditional Neapolitan savory doughnut-shaped tart prepared for Easter. A combination of cheese, salami, and lard is added to the dough and, once baked, the pie is decorated with eggs, which are said to represent Jesus' crown of thorns.
According to tradition, Casatiello must only be eaten on the three holy Easter days: Holy Saturday, Easter Sunday, and Easter Monday.
5. Polpettine Pasquali (Easter Meatballs)
We all know that kids love to hide wonderfully decorated and colorful chocolate eggs during the Easter holiday, then race one another to see who gets the best surprise inside. However, it's not always eggs that contain the surprise – sometimes the very surprise is the egg itself!
Similar to traditional lamb and Parmesan meatballs, a soft-boiled egg is hidden in the heart of a crunchy, thick layer of rich and tasty minced meat: the true highlight of the Easter lunch!
6. La Crescia
Originating from the Marche region, crescia is an easy and tasty savory cake with a typical bready consistency yet a crunchy outer layer.
Predominantly made with cheese, crescia is ideal to be paired with Italian cured meats and a glass of full-bodied red wine, which makes it a perfect food to take on a sunny Easter Monday picnic.
The term "crescia" derives from the Italian verb "crescere" which means "to grow" and is a clear reference to the large dome shape of the pie.
7. Torta al Formaggio (Tuscan Cheese Pie)
Another version of the crescia is indeed the typical Tuscan torta al formaggio. This Tuscan dish is not typically the first thing you'd think about when you think of cheesecake.
This cheesy savory pie is a traditional Parmesan- and Pecorino-based dish which, much like the version from the Marche region, has a large dome shape, a spongy consistency, and a wonderfully cheesy taste.
8. La Corallina
Just east of Tuscany, in the region of Umbria, torta al formaggio is routinely enjoyed with a slim slice of tasty, cured ham, called Corallina.
This pork sausage is characterized by large succulent cubes of fat which provide its distinctive melting consistency, making it one of the most loved cured meats in the region.
Corallina is traditionally stuffed inside a crunchy bread bun and relished on the typical Easter Monday walk.
9. Impanata Ragusana
Reminiscent of the Spanish empanadas, impanate ragusana is a traditional savory pastry from the Sicilian town of Ragusa, which, in fact, dates back to the Spanish domination of the island.
Typically filled with a slow-cooked chunky lamb stew and eaten during the Easter lunch, these golden hard-crust pies are a real source of pride for the locals. Check out this article about popular Sicilian foods.
10. Agnolotti del Plin
Filled with the customary Easter lamb meat, these typical Piedmontese ravioli are a never-missing dish for the traditional families in the region. Despite their simple and humble appearance, agnolotti del plin is an incredibly long and laborious dish.
This is clearly reflected in its multi-faceted and sophisticated taste, which requires nothing more than a simple, delicious butter and sage sauce.
11. Brasato al Barolo (Beef Stew in Barolo Wine)
Piedmont is perhaps the only region in Italy where the main Easter lunch dish is not lamb, but rather a particular type of beef.
This meat is reared in the area of the Langhe, located in the east part of the region. The meat is left to marinate in the renowned Barolo wine together with celery, carrots, onions, juniper berries, cloves, and cinnamon for nearly 12 hours.
The result is a succulent and flavorful chunky stew which is typically enjoyed on a bed of creamy polenta.
12. Spaghetti alla Chiantigiana
Spaghetti alla chiantigiana is a traditional Tuscan dish, originating from the beautiful, hilly area of Chianti and typically eaten on Easter day.
What distinguished this sauce from the typical ragù is nothing more than the addition of extremely refined regional Chianti wine, which, according to the locals, is said to be unmistakably recognized at every forkful.
13. Impepata di Cozze
As tradition dictates in Naples, the typical dish for the Maundy Thursday dinner is a spicy, garlicky mussel soup, encapsulating all the scents and flavors of the exceptional Parthenopean seafood cuisine.
The current recipe, however, is considerably richer than the humble seafood soup once introduced by Ferdinand I of Bourbon who, in order not to renounce the pleasure of food, devised this simple yet extraordinary soup. Centuries later it has now become the Italian culinary symbol of Holy Thursday.
14. Carciofi alla Giudea (Roman artichokes)
Nothing beats these exquisite Roman artichokes to balance your Easter lunch with fibers and vitamins. These lightly fried lemon-drenched artichokes are a traditional recipe from Rome's Jewish quarter.
In fact, their name "alla giudea" or "alla giudia" refers to their ancient preparation by the Jews both on Kippur, the Holy day for Judaism, and for the springtime feast of Pesach, the Jewish Passover, which roughly coincides with Christian Easter.
15. Fiadoni (Cheese Ravioli)
Fiadoni is a delicious, flavorful cheese ravioli dish prepared in Abruzzo during the Easter holidays. The recipe varies considerably according to the area or family custom.
Characterized by a soft, bready consistency, fiadoni are ideal to be sliced in two and filled with cold cuts, making them the ideal starter for a traditional Italian Easter lunch.
16. Italian Easter Egg Cookie
Cudduraci, also called colluraci, collure or cuddhure, are traditional Italian Easter cookies from Calabria, the famous Southern Italian region which occupies the southern tip of Italy.
These cookies are also popular in other Southern Italian regions where they are found under different names: in Sicily they are called pupi cu l'ova, and in Puglia scarcelle.
They are shortbread cookies formed into various shapes: rabbits, doves, bells, fish, baskets, all of which carry one or more hard-boiled egg in the center.
Cudduraci have a very romantic history: maidens used to give them to their sweethearts as a symbol of their love. The eggs, in fact, represent prosperity, fertility, rebirth and good luck.
---
As you can see, the variety of traditional Italian foods served during the Easter holiday in Italy is vast, each dish offering a unique dive into the cultural flavors of this gorgeous, diverse country. If you visit Italy during Easter, your palate will undoubtedly be treated to some very special cultural delicacies.
Related: Famous Italian Easter Cakes & Cookies
Related: Most Popular Italian Desserts
Related: Most Popular Italian Starters and Appetizers