15 Tasty Hungarian Dessert Recipes You Need to Try
Just like every country, Hungary's cuisine has a rich and famous history. We have the ingredients, the flavors, the desserts that best characterize our sweet-toothed nation. Our traditional and world-famous desserts and our pastry chefs (József C. Dobos, Károly Gundel, János Rákóczi) are our true gastronomic pride.
Hungary will not disappoint visitors craving desserts! Let's see which ones everyone should try at least once in their lifetime!
1. Somlói Galuska (Somlói Dumplings)
The origin of this delicious dessert is quite interesting: the first time it was made was for the 1958th Brussels World's Fair and it got its name from Somlyó Hill in Fót. During the fair, somehow it was misspelt, which is why it's called now Somlói – without the y.
It contains three different kinds of sponge cake (plain, chocolate, and walnut) layered with syrup – made with hot sugar syrup, vanilla sticks, lemon and orange zest – vanilla cream and apricot jam on top. The layers are studded with raisins soaked either in rum or sweet Tokaji Aszú wine.
The name "dumplings" comes from how it is served: using a spoon to tear "dumplings" out of the prepared layers. Finally, whipped cream and rum chocolate sauce are added on top.
2. Rigó Jancsi (Gypsy John Cake)
Does every Hungarian dessert have a story? Well, the traditional ones definitely have: this delightfully simple cake is named after Jancsi (Johnny) Rigó – the famous gypsy violinist who fell hopelessly in love with Clara Ward, daughter of the industrial magnate Eber Brock Ward from Detroit.
Their romance was forbidden because Clara was married to a Belgian prince, so they ran away together, and their scandalous affair inspired a baker in Budapest to name the square cake after him. The Rigó Jancsi consists of two layers of lush chocolate sponge cake with a light layer of apricot jam.
The cake is filled with rich chocolate and whipped cream and topped with chocolate glaze… well it's a heavenly chocolaty treat with a bittersweet love story.
3. Dobos Torta (Seven-layer Sponge Cake)
One of the best and most original desserts in Hungary is the almost 140-year-old Dobos cake, or Dobos torta. Dobos cake was invented in Budapest in the 1880s by József Dobos (Hungarian patissier and owner of a gourmet deli) and premiered at the National General Exhibition of Budapest.
Guess what? The first ones who tasted this delicious and unique cake were Franz Joseph I and Empress Elisabeth of Austria (Princess Sissi).
The expert pastry chef aimed to create a cake that could be stored without refrigeration and last longer than the whipped cream desserts that were fashionable back then. The iconic cake consists of seven thin buttery-sponge cake layers, six layers of rich chocolate buttercream, and a layer of hardened caramel covering the top. It's highly recommended that you try this delicious piece of art if you visit Hungary.
4. Rákóczi Túrós (Rákóczi Curd Cheese)
You will notice that most of the emblematic Hungarian desserts are named after its founder. Rákóczi túrós got its name from János Rákóczi (Hungarian confectioner and chef). This sophisticated dessert debuted in 1958 at the world exhibition in Brussels.
Every pastry shop in Hungary offers this cake; however, there might be differences in how it looks. The base is a thin shortcrust pastry made with butter followed by a layer of sweet curd cheese filling. After that comes the delicious magic: strips of meringue cross each other on top of the cake like a sweet and delightful grid… filled in between with apricot jam.
5. Gundel Palacsinta (Gundel Crepe/Pancake)
Hungarians love pancakes, which here are more like paper-thin crepes. It is our favorite dessert when prepared sweet or even savory and filled with meat. Sometimes it can be served as a main course after a rich goulash soup but mainly is a popular dessert in Hungarian households. But there is one which acquired fame beyond the frontier: the Gundel crepe or Gundel pancake.
This dessert is the delightful creation of Károly Gundel (one of the most important Hungarian chefs). But legend has it that Lola Matzner, Sándor Márai's wife (Sándor Márai was a famous Hungarian writer and journalist), gave her family crepe recipe to Károly Gundel to make it for this occasion. The pancake was an overwhelming success and was added to the Gundel restaurant menu.
Let's see how Gundel crepes are made: the crepe batter is made with soda water (sparkling water) to make it lighter. The quarter folded crepes are filled with rum-walnut filling, fried in butter and served hot with warm chocolate sauce on top. Well, most certainly this is the most famous pancake in traditional Hungarian cuisine before the savory Hortobágy meat-filled pancake.
6. Madártej (Hungarian Floating Island)
Craving a refreshing and tasty dessert after the huge Sunday lunch on a hot summer day? Every grown-up has this nostalgic memory of madártej – "bird's milk".
With French origin (œufs à la neige – "eggs in snow"), this easy-to-make cold dessert was a favorite because it calls for ingredients that are always available at home: eggs, sugar, milk, vanilla extract, and a pinch of salt.
The vanilla custard (crème anglaise) is made with milk, egg yolks, vanilla, and sugar. The floating islands (from the French le flottante) come from the fluffy egg whites carefully cooked in milk. But why is it called bird's milk? In ancient times, delicacies that were almost impossible to obtain (the ones that we can only imagine) were called milk of the birds.
And did you know that this easy-peasy dessert was Julia Child's favorite?
7. Szilvás Bombóc (Plum Dumplings)
Here's a riddle: it can be a dessert, a main course or even a side dish (eg. with pork dishes). What is it? Yes, these are the famous Hungarian plum dumplings.
We usually make them in late summer and autumn, depending on the plum season. The dough is low-budget and easy to prepare: all you need are mashed potatoes, egg, and plain flour.
After rolling out the dough, cut it into squares and put a small plum on each. for a warming fall feeling, sprinkle the plums with cinnamon sugar. The final part of the recipe is putting the dumplings into boiling water and after a few simmering minutes they are ready to be covered in sweet, buttery, and nutty breadcrumbs. This is a traditional soul warmer on a windy fall afternoon!
8. Esterházy Torta (Eszterházy Cake)
This cake is special in many ways. Firstly, we can't decide its true origin. According to some, it is connected to the famous Esterházy family. Some sources mention Miklós Esterházy, while others state that the cake was made for Pál Antal Esterházy, since he was known to be a real gourmand.
Secondly, the recipe can vary depending on what kind of nuts are available. The thin sponge cake is mostly made with ground walnuts but these can be replaced with almonds or hazelnuts. The cake is filled with hazelnut buttercream made with egg yolks.
The speciality of the cake is its top: it is traditionally topped with glace icing and a chocolate cobweb pattern. Delicious, light and tasty, this is Esterhazy cake!
This cake is so delicious that it has become one of the most popular cakes served in Vienna, capital city of neighboring Austria.
9. Szalagos Farsangi Fánk (Ribboned Carnival Donuts)
Carnival season is unimaginable without donuts in Hungary. This mouth-watering "fánk" can also be considered a symbol of the end of winter and the beginning of spring.
This old-style dessert brings back a lot of sweet memories (probably not just for me): my grandmother stood next to the stove making dozens and dozens of ribboned donuts for her grandchildren, with such love.
We ate them with homemade peach marmalade or witch's foam (whisked egg white with strawberry jam). The ribboned donut is named after the ribbon-like white stripe running along the sides which is formed during the deep frying.
And lastly here's a tried-and-tested trick to keep your donuts nice and ribbony: fry them in plenty of oil and while the first half is cooking, make sure you cover your frying pan until they are golden brown. Turn them over and fry the other side without the lid.
10. Kókuszkocka (Hungarian Coconut Squares)
This dessert was very popular in 1980's and 1990's Hungarian cuisine, although shredded coconut is not a common Hungarian ingredient. The secret of this old-school dessert is its base: a soft and fluffy honey cake. A pastry chef's worst nightmare is a dry cake, so to avoid this, the recipe contains a nice amount of sour cream.
After making a thick cake, it is cut into squares. The squares are dipped into a hot chocolate sauce – always best to have a tipsy cook put the dark rum into the chocolate – and rolled in shredded coconut.
Its origins are faraway Australia and their traditional lamingtons: it was named after the Governor of Queensland, Baron Lamington. Australians often cut it in half and spread it with jam.
11. Puncsszelet (Hungarian Punch Cake)
Like a real punch in the face, this is pink and sweet and strongly flavored with rum. Some say it originates from Vienna, where they call it "Punschkrapfen". Hungarian punch cake is unique because it's not filled with buttercream, but with sponge cake cubes soaked in a rum-sugar syrup.
To make the creamy filling, you can use orange juice or rum to soak the sponge cake; cocoa, chocolate or coffee for the color and flavor; dried fruits or jams to hold together the filling… basically, whatever you have lying around in your pantry. Well, it is the perfect combination of elegance and chaos.
Classy because of the shinny soft pink fondant cover (and no this is not the usual roll-out fondant, but it's a pink glace icing) and chaotic because of the filling. It is therefore a must-taste dessert for visitors to Hungary.
12. Almás Béles (Hungarian Apple Pie)
Hungarian apples are world-famous and sometimes we use them in our sweet cuisine, we don't just distil pálinka from them. Almás béles is also a very popular dessert for grandmothers to treat their grandchildren. It isn't a typical apple pie because the Hungarian version is more dough-focused. It's a square of soft, buttery pastry that is rich and doughy.
The shredded apple (remember to hand press the juice out) is mixed with cinnamon, sugar, and lemon juice. The apple filling is covered with another layer of pastry. It's a dessert that goes well with any meal and is easy to devour as a hand-held treat!
13. Képviselő Fánk (Cream Puffs or Representative Donut)
After the riddle of plum dumplings here's a mystery about Képviselő fánk: I tried to find its origin online but there are almost no written records of where, when, and who first made it. And the biggest mystery about this mouth-watering dessert is we have no idea where it got its name.
Rumour has it that the name of the donut has something to do with the Hungarian parliament and its representatives (képviselőfánk means "representative donut"). The donut may have been sold in the Parliament's buffet, where politicians would rush out for a bite between votes. All in all, it's Hungary's answer to the French cream puff.
It is made from a light and flaky choux pastry that's filled with vanilla cream and whipped cream. I'm not a member of the Hungarian parliament, but I definitely vote "yes" to képviselőfánk!
14. Mákos Guba (Poppyseed Bread)
If you have a bunch of leftover bread or pretzels at home, you have to try this unique dessert. The main ingredients of guba (Finno-Ugric origin meaning knot or rounded) are roughly ground poppy seeds, sugar, milk, and almost dried bread.
Traditionally, we use crescent-shaped bread called kifli. The drier the kifli, the tastier the guba. It's usually served with creamy vanilla sauce. According to Hungarian legend, the poppy seeds bring wealth and luck to those who eat them. So if you want to be lucky, try out this dessert!
Another popular poppy seeds-based dessert is poppy seed pasta, which is especially popular around Easter in Hungary.
No Hungarian Christmas table would be complete without the shiny and richly filled beigli.
Traditionally, there are two types of filling: walnut, and poppy seeds, each with their own symbolic meaning: walnut protects our home from evil hexes, while poppy seeds signify prosperity and welfare. The innumerable tiny seeds were originally meant as a fertility charm, to ensure a plentiful harvest in the coming year. In addition to traditional fillings, new flavors are popular too, like chestnut cream with raisins, or Nutella.
The real beigli is characterized by its shiny, marbled, slightly cracked look. What is the secret? It's the egg wash, first with the yolk, then the whites.
---
Related: 12 Delicious Hungarian Cookies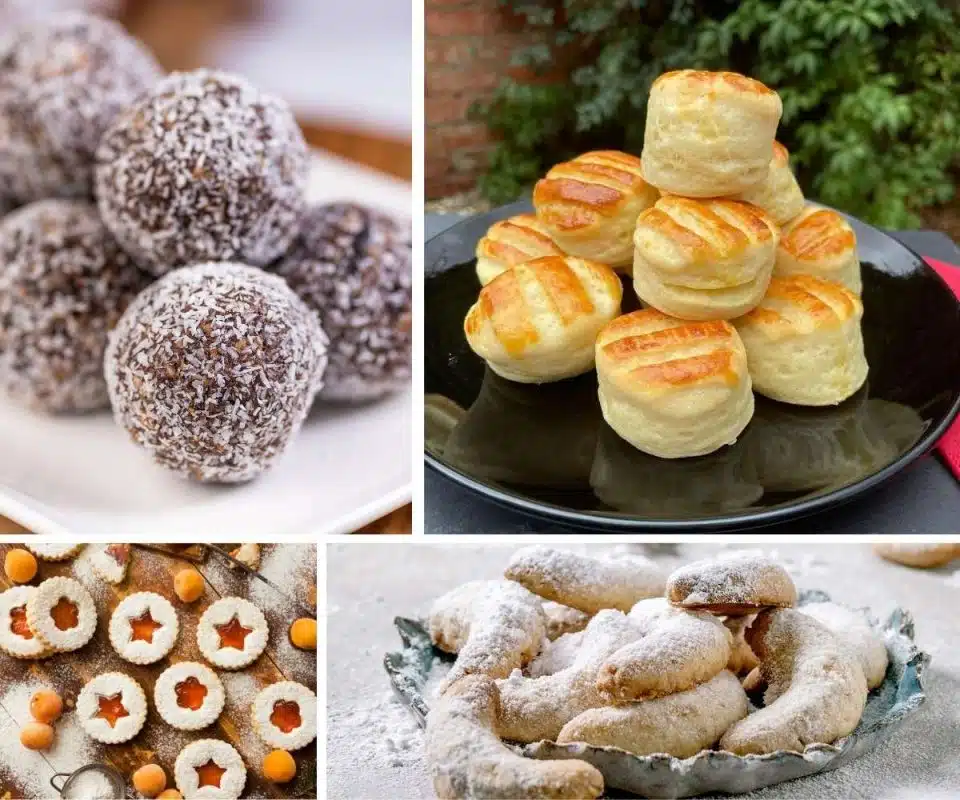 Related: Popular Hungarian Christmas Foods
Related: Most Popular Hungarian Cheeses