Gourmet Strawberry Cheesecake with Yuzu Ice Cream & Meringue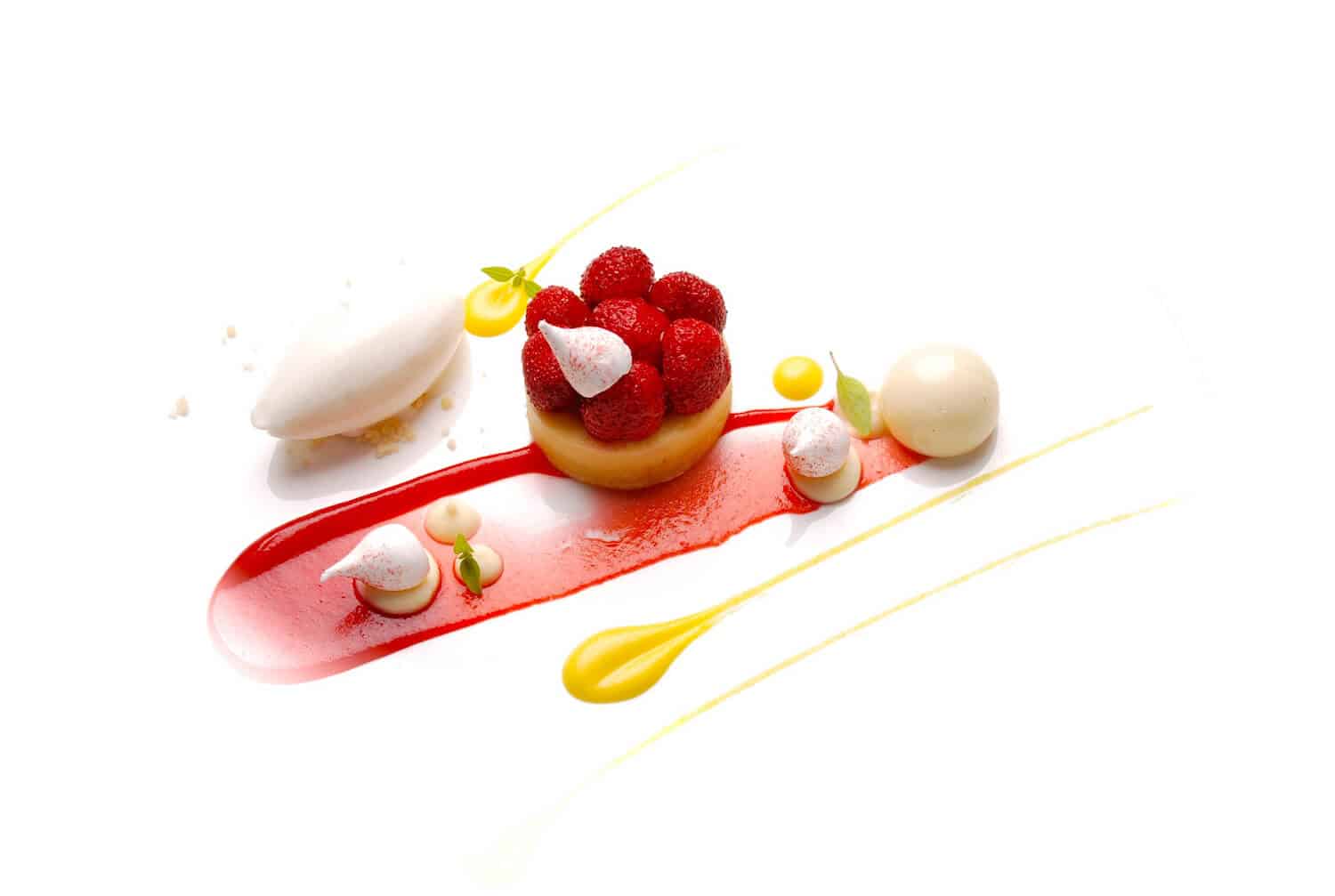 This amazing and sophisticated strawberry cheesecake recipe is brought to you by Chef Matteo Ferrantino.
This delicious strawberry cheesecake is best served with Yuzu ice cream, meringue and strawberry puree. Enjoy!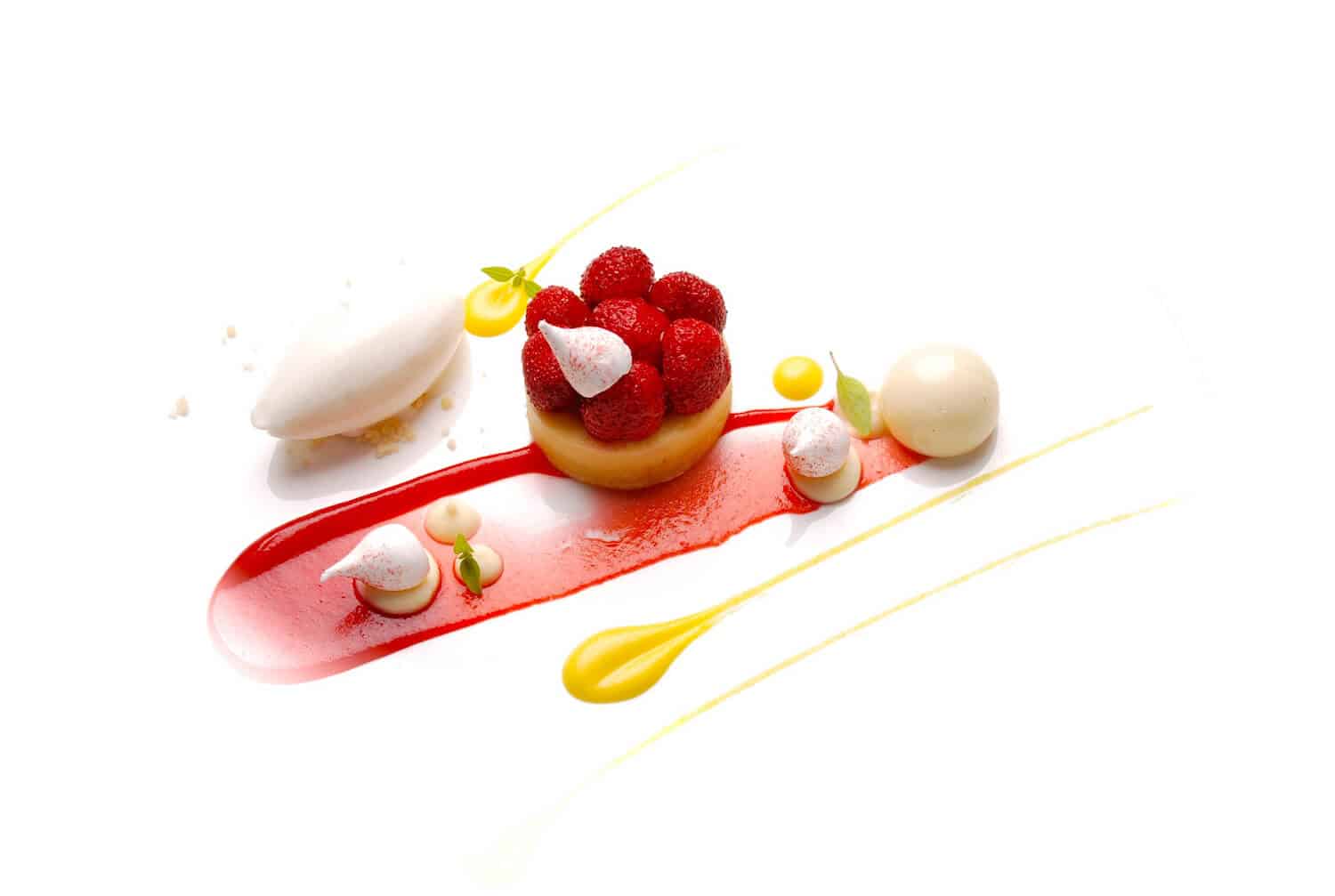 Strawberry Cheesecake with Yuzu & Meringue
Looking for a magnificent strawberry cheesecake recipe that will wow your family and friends?  You are in the right place. This sophisticated dessert is amazing and will impress everyone without a doubt. Serve the cheesecake with Yuzu ice cream, meringue and strawberry puree.
Ingredients
STRAWBERRY GEL
450

grams

strawberry puree

50

grams

raspberry purée

150

milliliters

water

4

grams

Agar-agar

if you dont have this ,the taste will be the same, but the texture will be a little more liquid

50

milliliters

strawberry liqueur

20

grams

sugar
YUZU ICE CREAM
880

milliliters

milk

250

milliliters

cream

65

grams

powdered milk

220

grams

sugar

35

grams

dextrose

7

grams

ice cream stabilizer

4

yuzus
CRUMBLE
100

grams

butter

100

grams

sugar

100

grams

almond flour

100

grams

flour
MERINGUE
50

grams

egg whites

100

grams

sugar
CHEESECAKE
800

milliliters

cream

400

grams

cottage cheese

120

grams

sugar

70

grams

powdered milk

2

eggs

1

vanilla pod

sliced lengthways, or 1 tsp vanilla extract
PASTRY
200

grams

icing sugar

60

grams

egg yolks

3 yolks

300

grams

butter

soft

500

grams

flour

pinch

salt
Instructions
Strawberry Gel
Mix all the ingredients together and bring to boil and let cool.

Once cold, blend with a hand blender and pass through a fine strainer to obtain a smooth texture.
Yuzu Ice Cream
Make a hot infusion with the milk, cream plus 1⁄2 yuzu zest so that the milk and cream obtain the citrus flavour.

Leave to cool.

Mix together dries ingredients (powdered milk, sugar, dextrose, ice cream stabilizer)

Dissolve the dry mixture into the cooled milk and cream infusion.

Heat to 82 C and cool rapidly once it reaches the temperature. When cooked add the yuzu juice and the rest of the yuzu zest (depending on the taste)

Leave to mature for 12 – 24 hours

Pass through a sieve and put in ice cream machine.
Crumble
Mix together all ingredients with your fingers to obtain a loose crumble and cook in the oven at 160 degrees C for approximately 10 to 15 minutes until it becomes slightly crunchy.

Meringue

Heat the egg white and sugar to 50 degrees C.

Beat until firm.

Put in a pastry-piping bag and pipe small meringues approximately the size of a grape.

Dry in the oven slowly at approximately 80 degree C until they are dry.
Cheesecake
Beat the cottage cheese (quark), cream and milk powder together.

Whisk the eggs and sugar in a bowl until thick, pale and foamy, add the vanilla seed and fold in the cheese and cream mixture.
Pastry
Mix everything together in a food blender.

Roll out.

Place in a lightly greased cake tin of approximately 28 cm in diameter.

Pour the cheesecake mixture on the top.

Cook in the oven for 25 minutes at 180 C.

Leave to cool for 2-4 hours
Notes and Plating
Should you wish to make mini strawberry cheesecakes like in the picture, use a cake cutter to cut your desired size.

Add fresh strawberries and decorate the plate with puree, meringue, ice cream and sprinkle with crumble.
Notes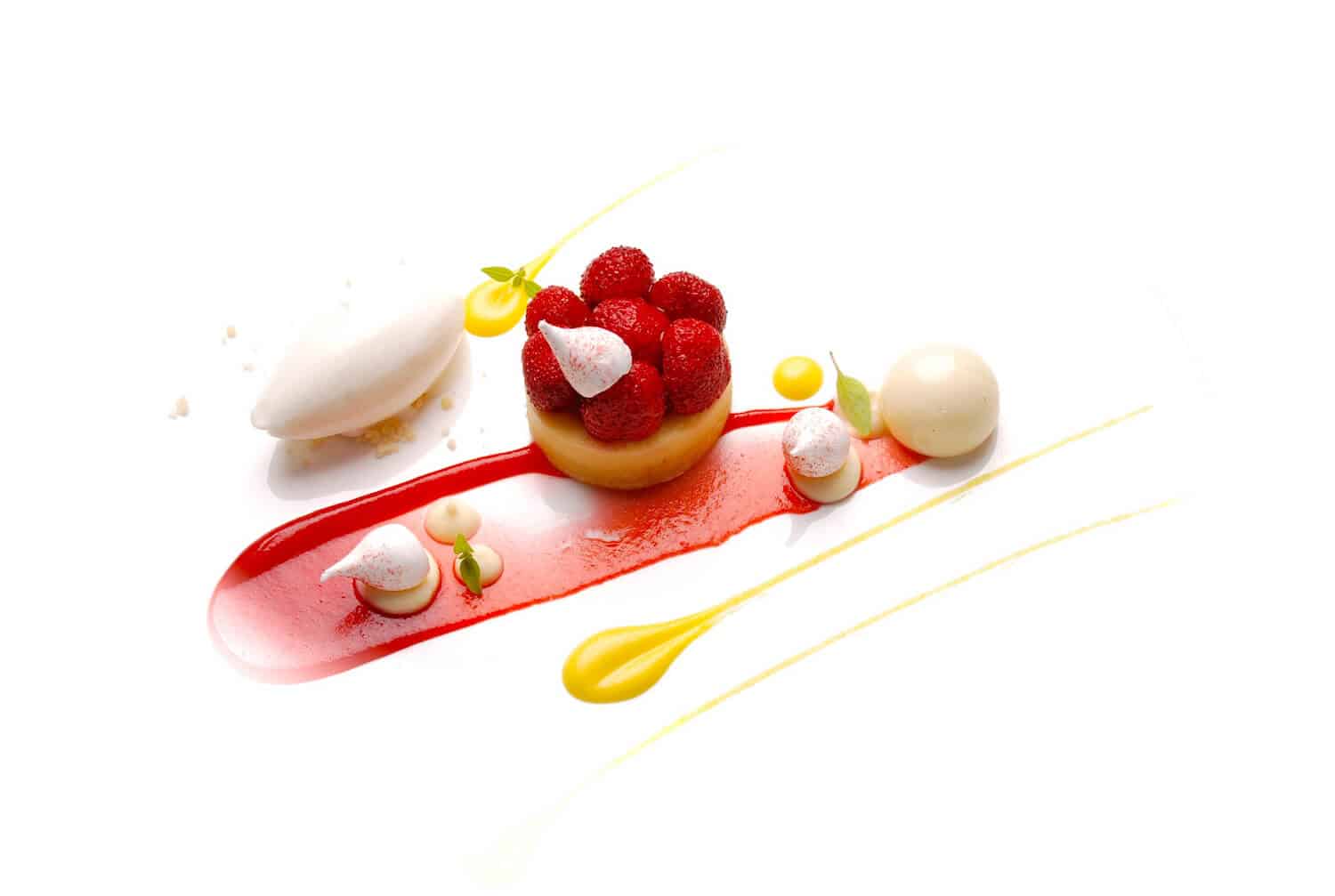 Related: Blueberry Banana Cheesecake
Related: Amaretto Cheesecake
Related: Snickers Cheesecake
Related: Black Forest Cheesecake
Related: Blackberry Cheesecake